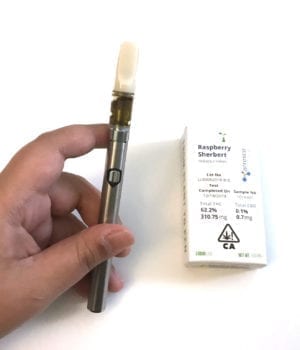 REVIEW OVERVIEW

SUMMARY

A review of Friendly Farms' cartridges full-spectrum live resin sauce. Friendly Farms live resin sauce cartridges are available in California.
Friendly Farms cartridges are filled with full-spectrum live resin sauce. All cartridges have no additives. Friendly Farms live resin sauce cartridges are available in California.
Pros:
Tastes like smoking the plant itself
Full spectrum & distillate free
Compatible with any 510 battery
Cons:
Limited availability, depends on location
Sauce may leak in high heat
Recommendations: Make it more widely available and so it does not leak.
Licensing Information: Medical Mfg. CDPH-10003556 Adult-Use Mfg. CDPH-10003556
Unboxing video of Friendly Farms' Raspberry Sorbet (hybrid) 500 MG full spectrum live resin sauce cart.
Friendly Farms is one of the best companies on the market
Justdab is another  company we reviewed producing live resin carts. Friendly Farms claims that their carts are additive free. For the consumer, this is great news.
Friendly Farms donates $1 to homeless children for every cartridge they sell. They also try to make their live resin sauce carts as affordable as possible. They're not sold at ultra low budget prices, but for the quality, the carts are worth it.
Friendly Farms vape carts use new generation CCELL hardware, currently the best cart hardware
For hardware, Friendly Farms is using one of our favorites: the new generation CCELL cartridge, particularly the TH2 series. This cart is reliable, hits hard, and has an extremely low failure rate. Carts breaking or not working halfway through is a common thing. This happened when Bert reviewed the Brass Knuckles Napalm OG cartridge. There were no issues with efficiency since the new generation CCELL is the most efficient cartridge style currently out.
Vaping Friendly Farms has great taste and hits strong
In general, smoking sauce cartridges are an experience. They pull different and taste different. It's like dabbing versus traditional vaping.
Friendly Farms cartridges taste like the strains themselves. The effects are bolder on the body and resemble an effect similar to dabbing. Because the carts are full spectrum, it means most of the compound found in the plant's trichomes are present. Traces of CBD are mentioned in the packaging. CBD is good for the body because it acts as a buffer for the THC present in the extracts.
Beyond their partnership with Connected Cannabis Co. (a brand known for producing designer weed), the quality of Friendly Farms is premium. Why? Because they chose to produce a meticulous product and eliminate additives found in most high-end vape cartridges.
What's different about Sauce carts?
Brands like Heavy Hitters, Bloom Farms, and Brass Knuckles all have premium quality marketing behind their names. Friendly Farms live resin sauce carts, however, has the full-spectrum game behind theirs.
Most of these brands use distillates, which, in my opinion, tastes a little tangy. The packaging and experience might be of a higher quality because of how they're produced but it doesn't eliminate how processed these vape cartridges are.
Sauce carts, however, try to maintain the integrity of the plant by maintaining the compounds present in most live resin extracts.
Why Friendly Farms is Worth It
Personally, I find most Friendly Farms live resin sauce carts last long. The taste is great. I cannot stress enough that smoking them feels like smoking the plant itself.
The effects are mostly positive with little to no anxiety due to having CBD in most of their extracts. The packaging is great and pulls from their strains' individual COAs which shows the legitimacy of their products.
I would vape Friendly Farms live resin sauce again
The last strain I tried was their Raspberry Sherbet. Prior to that experience, I've had Friendly Farms' Gelato #33, White Fire OG, and Wedding Cake from their Connected x Friendly Farms collection. All have yielded positive results and this one, with Raspberry Sherbert, was very positive.
It took me a while to make a dent on the cartridge. One hit is strong enough to give me that full body high.
Concluding My Friendly Farms Review
Friendly Farms live resin sauce carts are great. They last a very long time and boast producing distillate free, full spectrum vape cartridges. The quality of their sauce is great and it feels like the user is dabbing.
It takes time to get through an entire cartridge; mostly due to the effects lasting long and the cartridges hitting well. These are definitely worth the buy. You can learn more about Friendly Farms here.