REVIEW OVERVIEW

SUMMARY

Korova cartridges deliver excellent quality distillate in a stylishly designed cart utilizing the latest in CCELL technology. The only thing holding it back from a perfect 10 on oil quality is the lack of easily verified lab testing.
Korova began their career as a humble kitchen business making edibles in California in 2010 and gradually have expanded both in scale and into many other products. Recently they have made their entry into the pre-filled vape cartridge game. Filled with high potency distillate and using the latest in CCELL tech for solid hits. With eye catching packaging marked with their signature three eyed cow, Korova cartridges aim to impress.
Korova cartridges are available in California, Nevada and Arizona. In this Korova cartridge review we'll be trying out the Super Silver Haze cart and see why they made our best list of THC vape carts for California. They probably will make our Nevada list once we try it out there.
Pros:
Excellent strength distillate

Dense, flavorful hits with thick vapor

Exemplary flavor profile

Eye catching packaging
Clean and accurate test results
Cons:
Particularly harsh hits leave a sore throat after more than a couple hits

Recommendations: While the packaging does look nice much of it isn't very legible. Including lab tests in the packaging would also make this an easy choice as one of the best.
Licensing Information: C11-0000578-LIC
UPDATE 4/29/2019: Korova has responded and stated they will be making their lab tests more visible on the packaging. They also sent a COA which we have added to this post.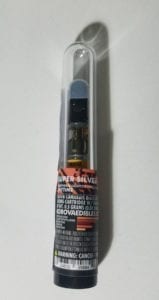 Korova cartridge delivers on flavor and potency like few others
While one gets the expected performance out of the CCELL cart on offer here the distillate that Korova puts in them stands head and shoulders above many. It's potent and thick and delivers thick clouds of vapor that you'll feel quick. The flavor of the Super Silver Haze strain was a particularly tasty citrus and very lightly pine accented taste that was deeply enjoyable It's a bit harsh on the lungs though and prone to leaving you wheezing with particularly deep or multiple hits. This is only a side note thanks to the potency it delivers on.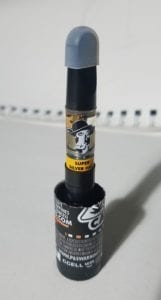 CCELL never fails to impress, but the Korova vape doesn't stop there
The Korova cart makes use of the newest CCELL design, delivering reliable excellent performance. But they don't slack on the appearance just because they got reliable hardware. The ceramic reed-style mouthpiece is a matte black, making for a very professional finish when combined with their three-eyed cow logo cleanly printed on the cartridge in stark black and white. The information band over what would otherwise be the plain metal housing helps to make this cartridge feel distinct as well. Each cart is color coded depending on the strain within. The performance and efficiency of the cart is, as expected from CCELL's latest offerings, excellent and stands among the best.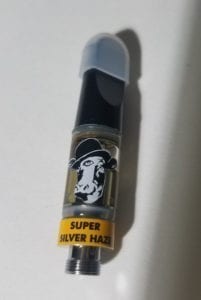 Hard hitting and a good value
The distillate Korova makes is incredibly potent and sets in fast. The flavor was excellent and full bodied, not flat or artificial like some distillates and no chemical flavors whatsoever. On most occasions one or two hits was enough for me and it lasted about a week of heavy use.
Because this is a distillate and not CO2 oil its excellent flavor persists all the way down to the very last hit. This allows for an incredibly enjoyable experience and at a decent price point of $35-40 for a half gram. The only major caveat to this distillate is that it tends to be a bit harsh on the throat. This makes it something of a one hitter quitter for most. Even with that in mind though its high THC content makes more than one unnecessary.
The high it delivers is long lasting and euphoric, with plenty of creative energy abound. Keep in mind its potency, as it can quickly get to be a bit much and send you into a napping frenzy instead of a creative one.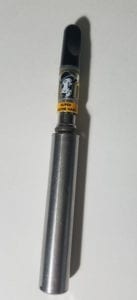 Detailed test results show Korova is clean and strong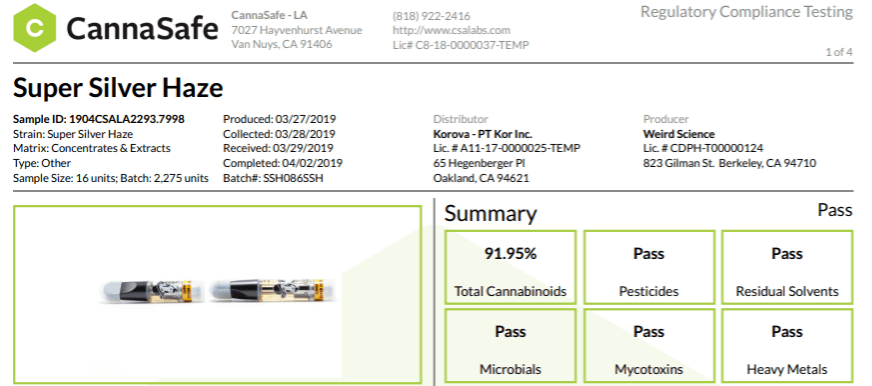 Korova sent us their test results after we sent them our review. They then replied back with the test results for the strain I tested and here they are. Clean all around and the strength is legit! We will be posting the full test sheet on our oil vape pesticides page.
Plenty of hits, highly efficient, great deal
The Korova cart manages to brings its A-game on number of hits and efficiency, even if helped by CCELL on the latter. There is almost no distillate left in the tube at all by the end, after a full week of use. Its thick concentrate never drains quickly even when taking large hits. This isn't the cheapest cart you can find but for the number of hits you get at the strength they are it's an excellent deal by just about anyone's measure.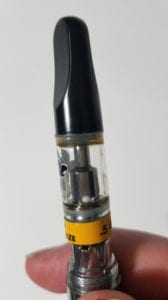 Knocked out of park with the Korova THC cart
Korova delivers all the way across the board with only some minor exceptions. Its shortcomings are very few. A problem with label legibility and a lack of access to easily verifiable lab testing for them. With these simple fixes this company could easily beat out some of the best out there. Even as they are they make it into the running and are a brand I would happily consider picking up again and even prefer. They aimed to impress and they hit the bulls eye on it, it's hard to ask for much better.
Concluding this Korova cartridge review…
Overall I would rate Korova's cartridges well and truly above average. They come with a hearty recommendation to any who enjoy a delicious flavor as well as intense potency and good value. The lack of easily verified testing results is a problem but it's a common one and is the only sincere concern with these.
With this being the company's first foray into pre-filled vape carts it bodes well for their future improvements. You can find Korova carts near you here. You can read more about Korova on their website found here.
What do you think about Korova vape cartridges? Comment below or post in our forum!