REVIEW OVERVIEW

SUMMARY
Here we take a look at the cartridge by Trendi. This particular one is a collaboration with Reina. This cart is pretty impressive. The only downside to this cartridge is that the packaging looks a bit misleading. It says LR in the name of the cartridge, which makes you believe it's live resin but then if you look at the ingredients it does not contain live resin. Overall there is nothing to complain about here. The price is good, the oil lasts a good amount of time, it's strong, the taste is good, not harsh and it has real cannabis terpenes.
Pros:
Good Taste
Oil last a good amount of time
Strong
Uses real cannabis terpenes
Cons:
Not available in more areas
Recommendations: A little clearer packaging and we hope to see this in other states soon.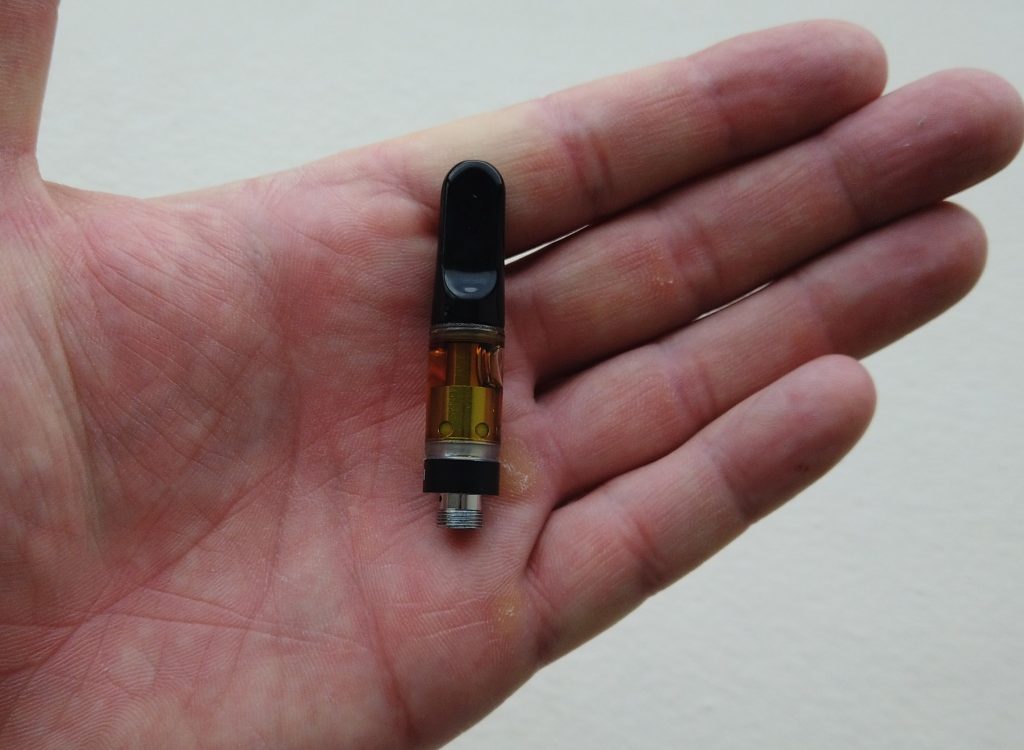 Trendi cart is a high-quality cartridge
There is not really much to complain about except for the wording on the packing. It might be just a typo. Even at full price, these are pretty strong and something I would recommend trying. The other Trendi carts we tried before were also collaborations. One was with The Grower Circle and the other one was also with Reina. So that seems to be a pattern with Trendi products. So far, the four half grams of live resin and this cartridge have all been great. And definitely something we would recommend.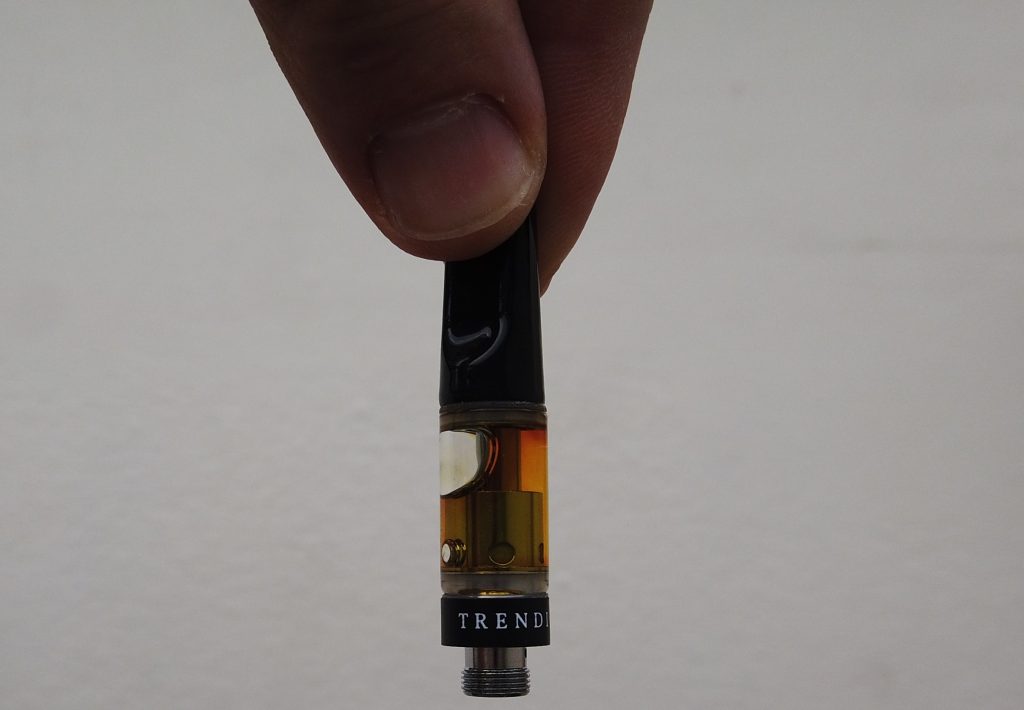 Trendi uses  CCELL TH2
Trendi uses the standard high-quality CCELL TH2 carts. They are very efficient and have a very low failure rate. Trendi has made a wise choice when choosing this hardware since there aren't many competitors out there that can outperform it. Some hardware out there might hit harder but it would also vape out faster.
This Trendi cart is impressively strong
Despite the fact I have cracked the glass, this thing still worked out through the cartridge. I was really impressed with the Trendi cart strength. Nothing to complain about here and definitely, it's one of the stronger carts out there. You probably won't find a lot of carts out there that are stronger. It's really top level when it comes to strength.
A better than average distillate taste
It tastes like distillate but it's better than most. So I won't say that the Trendi cart, particularly the one we have tried here, taste as good as some of the best tasting distillate carts. However, it's definitely above average. A big part of that is that it uses real cannabis terpenes, as opposed to botanical terpenes, which gives a more natural taste and makes it less harsh. The flavor on this cart is still enjoyable, but if the flavor is more important to you, then some other carts that I would say taste better are: Cannavative Live Clear, AiroPro Live Series, Fuze Live Resin, MPX Live Resin, and probably one of the best-tasting cart ever – Remedy Live Resin.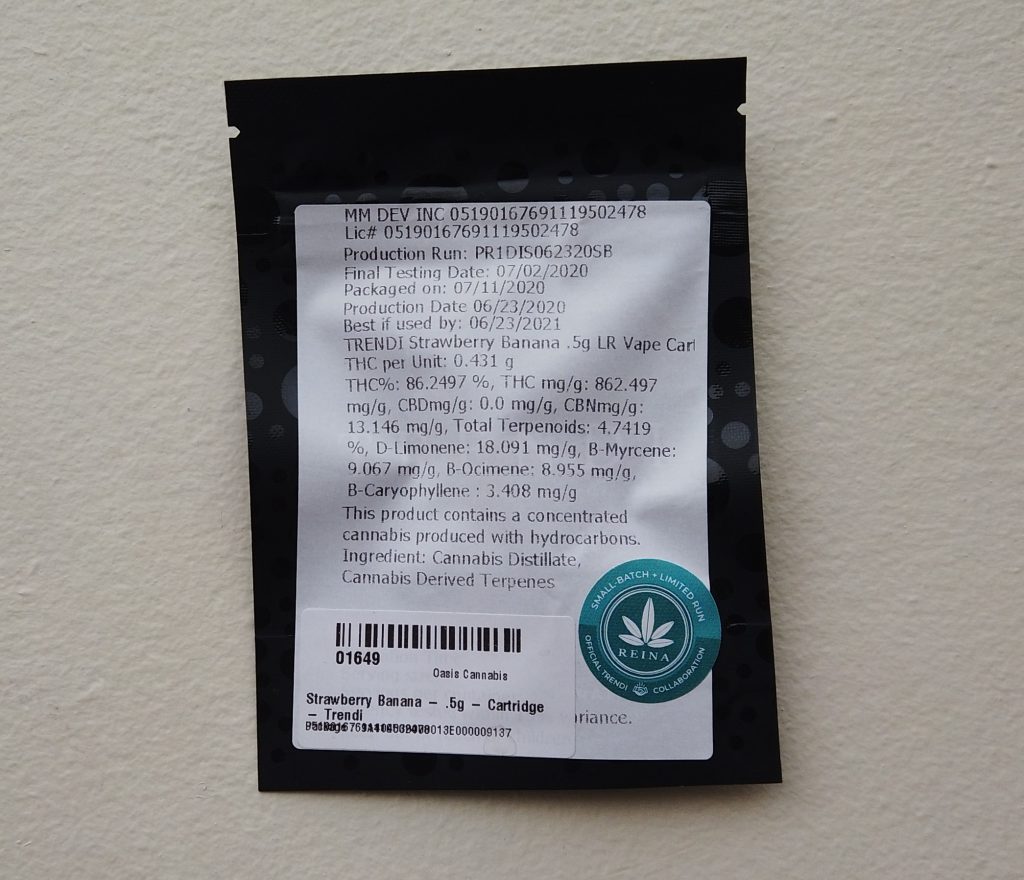 Oil quality is excellent on the Trendi cart
Oil quality stayed consistent throughout the cartridge. There was no color discoloration when we got it and there was no discoloration towards the end.  The oil was also thick and it contained no additives. This is a great quality oil.
You get a lot of puff because the oil is thick
This is not the absolute thickest oil you ever tried but it's definitely in the top 25% for oil thickness. The bottom of the thickness would be something like RAD Vape and I would say the thickest oil we have tried so far would be Vader Extracts. I would say that the Trendi cart is slightly thicker than some of the Cannavative Live Clear carts and slightly less thick than Roots cartridges. Overall you will get a nice number of puffs out of it. I mostly hit it at 4.0 or 4.2 volts and these last in line with other good quality thicker distillate carts.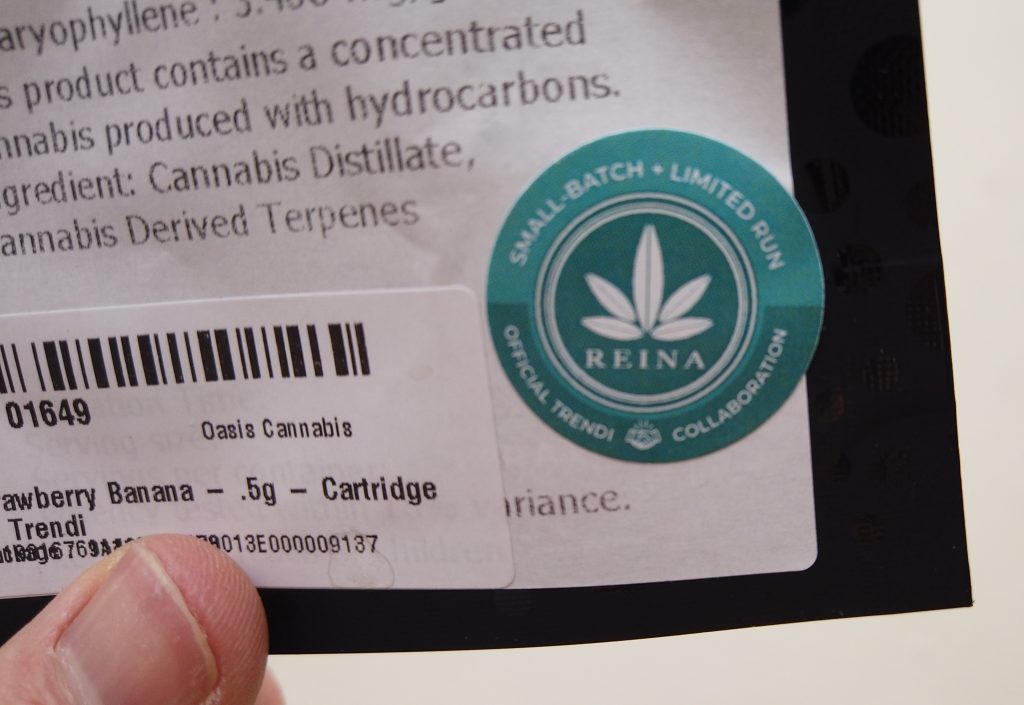 Great value and in some surprising areas
Before Nevada, Trendi showed up in many places. You can go way north to Wendover and you can go all the way down to Las Vegas and you will find Trendi. When it comes to value, and I should also put it in perspective, that it depends on the dispensary that you are shopping in at the time. If you go to West Wendover, Nevada to the Deep Roots Harvest dispensary you will find Trendi carts for $45  a pop. That sounds expensive but compared to the other Deep Roots Harvest cartridges I would say that the Trendi is a better value. DRH cart is actually pretty good, but Trendi does seem better so far.
In Las Vegas, you will find Trendi carts sometimes on a deal and it's definitely worth it. Even at full price, these carts are worth it, and it's something I would pick up because I like the flavors and I like the fact there are collaborations and you are getting some special collaboration products that you won't see elsewhere. On top of that, although this review is not about their Live Resin because I dabbed those too fast. Those were excellent as well and presented a great value. I got two grams for $49 at Planet 13 dispensary and it really performed well.
Concluding our Trendi cart review
The Trendi cart turned out to be impressive. The only time I have seen Trendi items before was on social media. I thought I should definitely give it a try and I am glad we did. Really great products, good prices and we hope to see them available at more places as time goes on.
You can find more about Trendi here.
Have you tried these interesting Trendi carts? What did you think of them? Let us know in the comments or on our forum.