REVIEW OVERVIEW

Design and Build Quality

9

SUMMARY

AiroPro Live Flower Series is one of the strongest cartridges by a significant margin.
IMPORTANT UPDATE 3/11/21: AiroPro has now rebranded its distillate as AiroPod. Their products now look like this: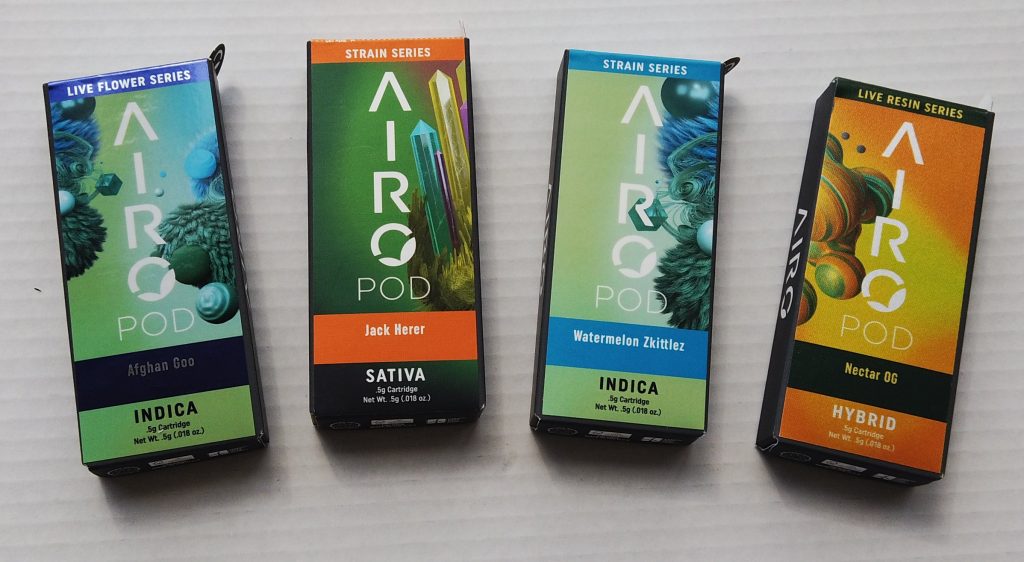 Same company with their website at Airo Brands. The below review is a legacy review for their old cartridge product line. We will have to get around to reviewing their new product line.
---
AiroPro has been one of our favorite brands for a while. But, some people never liked the more artificial type flavoring that strains like Mountain Mist, Sumatran Sunrise, and Oz's Orchard. So, AiroPro decided to make something that tastes just like flower and they got it right. These cartridges taste more like an actual flower than any of the cartridges I have tried so far, even though it's distillate.
AiroPro recently came out with the strongest live resin cartridge we tried so far, but the Live Flower Series tasted better and is slightly stronger on effects. Their distillate with the cannabis terpenes added in tastes right on point.
Pros:
Excellent taste
Very strong
Quality oil
Cons:
AiroPro battery dies sometimes
Recommendations: It would be nice to see this in a glass cartridge.
Licensing Information: LVPCA Licence #35786145068445853965
Check out our video review below and keep reading on for the more in-depth review.
AiroPro Live Flower Series maintains high strength, improves taste
You may have seen our original AiroPro review, or go over the basic distillate cartridges that they originally came out with. I'm not totally sure, but I got a feeling that these were not using actual cannabis terpenes because they had flavors that seemed unnatural. I am not that concerned about that, as long as everything is done safely. Airo Vapor has sold over 3 milli0n units without a health complaint.
The Live Flower Series is really another level of a cartridge, they pretty much took everything that is already perfect in AiroPro and just added better flavor. For those who demand natural cannabis terpenes, AiroPro has brought it. For this review, we used two different strains: White Rhino and Skunk #1.
AiroPro cartridges are designed and built by CCELL
AiroPro cartridges are CCELL carts in different bodies. The core is the same as other CCELL cartridges but it uses a magnetic bottom. This style of vape pen is also used by another company called Phenopens.
Unofficial AiroPro battery alternative: UWOW Storm
AiroPro carts are also compatible with the UWOW Storm battery. Just don't use the magnetic adapter that comes with it. Pop it right in and it goes! We don't think it's been figured out by most yet that AiroPro works on those batteries, but it works better than using the standard one.
Glass would be nice in the future
The only thing that I could think of the build as an improvement is a glass cartridge. I'm not sure about the contents of plastic, but I do like glass more than plastics. Other than that, everything on the build is pretty solid.
Oil quality on AiroPro Live Flower Series is top-notch as expected
AiroPro makes super high-quality oil no matter what state you go to and whether it's distillate or live resin. The Live Flower Series I have only seen in Las Vegas, Nevada so far but I'm sure this will be spreading to other states.
AiroPro is also available in California, Colorado, Washington, Oregon, and Arizona. The quality of the oil seems to be the same exact consistency as the prior AiroPro cartridges just the flavor is different. Therefore, it's super top-notch. You can tell they're using quality products and quality methods in producing exceptional quality results.
AiroPro still one of the strongest
Whether it's Live Flower Series, Live Resin or the original distillate AiroPro, AiroPro is strong. I personally find the distillate cartridges to be stronger than Live Resin except for AiroPro's. AiroPro's Live Resin is stronger than a lot of distillate cartridges on a side note.
However, here with the Live Flower Series, it is distillate and I think it is slightly stronger than AiroPro's own Live Resin and it is on par with other distillate AiroPro cartridges on strength. I do prefer this Live Flower Series taste over the other artificial flavors and that I think overall it is a better cartridge. However, strength seems to be pretty comparable between the two distillate versions of AiroPro.
After trying hundreds of vape carts, AiroPro's Live Flower Series tastes the best
At this point we've tried hundreds of cartridges. Not a hundred brands, but hundreds of different cartridges. AiroPro's Live Flower Series is the best tasting by a substantial margin. Particularly the Skunk #1, it's just super excellent and flavorful. The other one as well also tastes really good.
The taste of AiroPro actually reminds me of the taste of some of the flower from my favorite cultivators, Remedy. We previously reviewed the Remedy cartridge which is pretty good too, not as good as AiroPro. However, on taste, the flowers from Remedy is very similar to the cartridges of AiroPro. For those of you that are not familiar with Remedy, they are one of the consistently best flower cultivators in Nevada.
Efficiency is always top-notch in AiroPro
There's nothing to complain about efficiency with AiroPro. You're basically going down to the last drop since its a CCELL and it hits very efficiently and strong when you get a hit. There's really nothing wasted here.
Number of puffs is good because puffs are strong
On AiroPro, we marked the number of puffs a little bit higher because each puff is way stronger. Technically, you will get fewer puffs on an AiroPro than you would on a regular cartridge, but the fact that AiroPro hits really strong per puff makes each puff more effective. And thus, the score here is better.
Value is great, AiroPro now the same price as other THC carts
Now that the AiroPro has the same price, its an even better value. Recently, Essence – Tropicana West and other dispensaries have been marking AiroPro to the same price as other cartridges. It used to be that an AiroPro cartridge was $52 and all of the other cartridges are $46. Now, that the AiroPro has the same price creates even a more exceptional value. I still bought AiroPro when it has a higher price because it is an exceptional quality cartridge. But now, at the same price with all of the other cartridges, its an even better deal.

One Great Accessory – The wood Cover
As with every Toast cover you know and love, this Toastlet is crisply laser cut and carefully finished by hand for welcome warmth and serious style. Their beveled design gives the AiroPro vaporizer an unexpected geometric flair that will surely be the talk of your next smoky get-together.
All Toast cases feature:
Long-lasting, high-quality adhesives
Naturally durable, gorgeous, responsibly-sourced wood veneers
Sleek bump-&-scratch protection
Easy removal without any sticky residue
You can get this interesting accessory here.
Concluding our AiroPro Live Flower Series review…
Overall, the AiroPro Live Flower Series is one of the best cartridges out there. It got that same super strength that you expect from AiroPro. It uses quality CCELL hardware and the price is the same as other cartridges. It also tastes substantially better. The other thing that I like about AiroPro is that it is a multi-state brand like Select Elite. It can show up on one of these states, pick up an AiroPro and you're guaranteed to get some strong effects.
You can find AiroPro vape pens and cartridges near you here. Learn more about AiroPro on Airo Vapor's website.
Have you tried any AiroPro Live Resin carts before? Post your review below! Questions or comments? Post below or in our forums!