REVIEW OVERVIEW

SUMMARY

Yocan delivers a quality hit with the Trio that's easy to fill.
Here we review the Yocan Trio. This vape pod system is three in one. It comes with three types of pods: One for THC or CBD oil, one for eJuice and one that hits solid concentrates. A great part about these pods that is great is you don't need a syringe tip to fill it.
UPDATE 11/19/2020: A reader reports that the Yocan Trio is no longer in production. Yocan Vaporizer's website doesn't seem to list the Yocan anymore. We will tentatively leave this post up pending confirmation.
Pros:
Easy to fill
Hard hits
Compact 
Button push
Three heat settings
Cons:
Recommendation: A coilless wax atomizer in quartz would be a nice addition.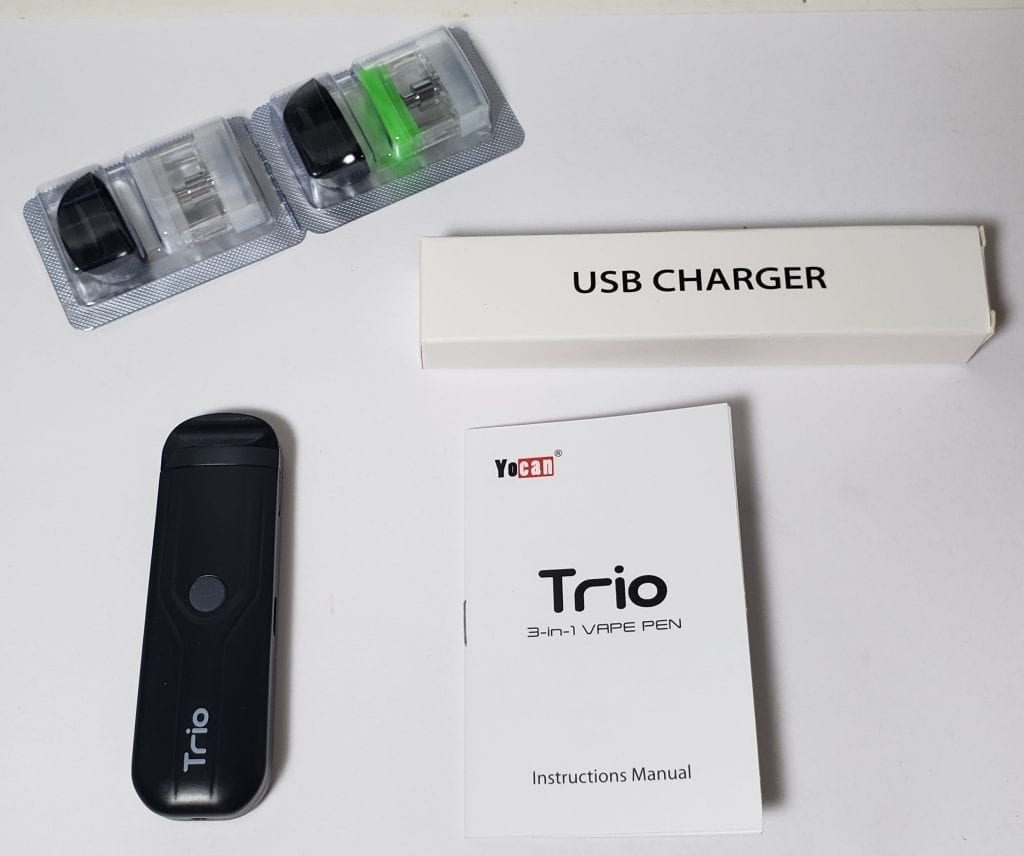 Yocan Trio is solid for hitting THC oils
In our review of the Trio vape we mostly will focus on using it for THC oil, which is what the majority of people that buy it will be using. For this review a W Vapes syringe was used. The same exact oil, Wunderdog OG, was also used on our reviews of the CCELL Dart and Uno. That way we can fairly compare the hardware.
It's obvious there are already better options for the other two uses: concentrate and eJuice. A coilless atomizer would be optimal here but it's likely the current battery could not power it. For eJuice, there are thousands of options out there now and none of us here actually hit eJuice to review that part.
Awesome easy to fill design, decent build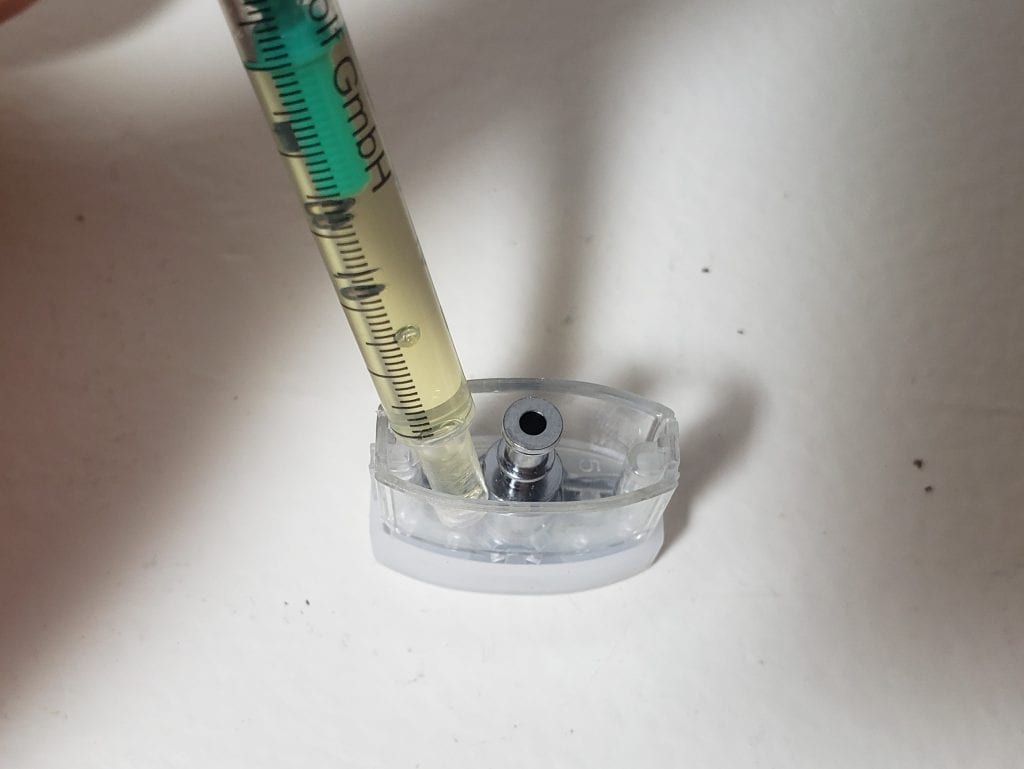 The first thing that stands out on design is the larger space to load concentrates when you take off the rubber top on the atomizer. You don't need a syringe tip to fill the Trio pod. W Vapes includes a tip, but many brands do not. Even with the tip a tiny bit of oil is lost going through it and it's an extra step. With this design we can just load up on the standard blunt end most syringes have.
Dimensions are small, compact
The size dimensions for the Trio are:  3.2″ (H) x 1″ (W) x 0.56″ (D). Overall a real compact setup that's easy to carry.
Button push for the Yocan Trio, good if you like it
I prefer button push to pull draw most of the time. Not that there are not good pull draw devices like the Palm and Silo batteries, but it's nice to have the option to pre heat you hit a bit. Also you are not wasting any breath on that initial activation of the device. However, you might prefer pull draw and if so, the Dart and Uno are better options for you.
Trio vape pods are leak proof
There's no way for these to leak. They are setup the same way Stiiizy pods are. There is no hole on the bottom for them to leak from.
Build is not bad, but not quite Vessel or PCKT level
First let's put price in perspective. The Yocan Trio is $33.99, the PCKT One Plus is $59.95, and the Vessel battery is $100. There are discounts you can find for each and see our deals page for more info. The Trio is the only one that includes empty pods.
The Trio is on par with CCELL's build quality when it comes to pod systems. This seems almost like a push button Uno, which is great. The best feeling builds so far for cartridges/pods has been from Vessel and PCKT Vapor.
The batteries are expensive, but they do feel higher end. However,  I do not expect a product that is 1/3 the cost to be the same build quality.
YoCan Trio atomizers hit hard, but smooth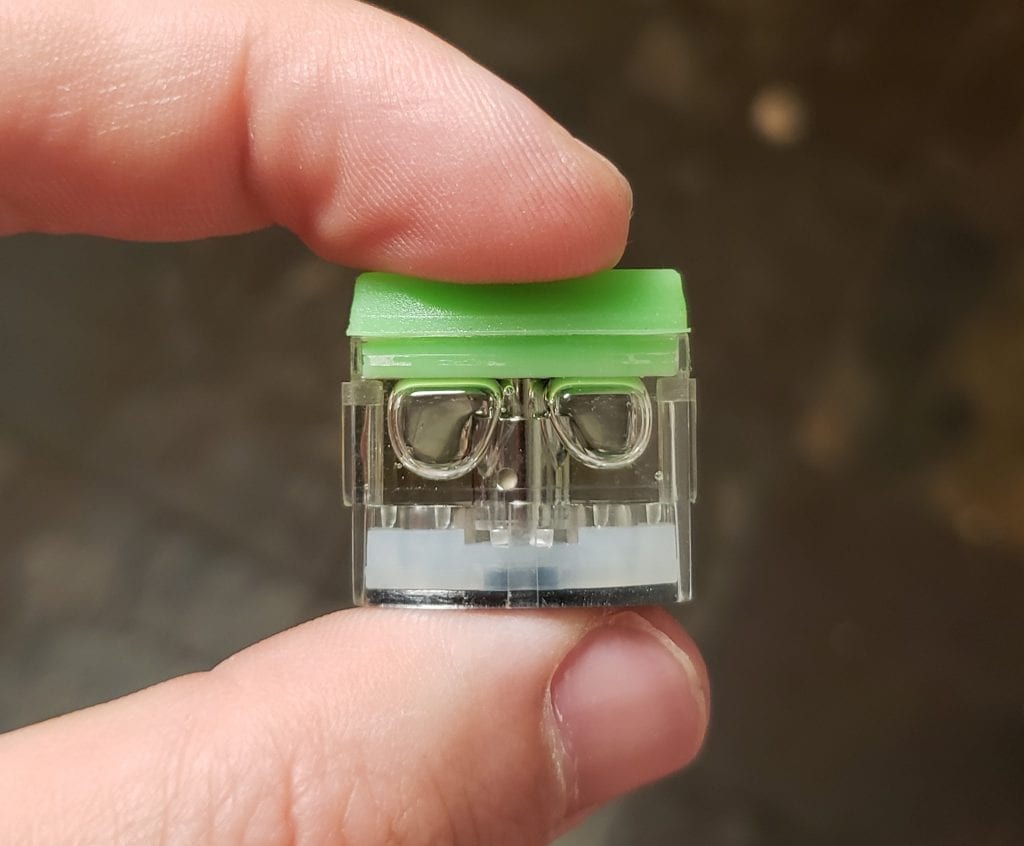 These pods did not give off any scratch-like feeling on the throat. I get substantial hits off the pod and the W Vapes oil is smooth which also helps. It hits very similar to the Dart and Uno.
Taste is true to oil, nothing off or metallic
Everyone who has tried a good amount of carts has come across that metallic taste many cheap carts are known for. None of that here. The Trio delivers taste exactly as expected. Using the same oil I am familiar with the taste and nothing gets altered through the Trio vaping system.
Properly placed oil intake holes on Trio pods make them fairly efficient, but some wax is lost in corners
Hole placement is one of the biggest factors in efficiency. Most of the major brands for carts and pods have been good about making their products more efficient lately, and Yocan is no exception. Intake holes are placed very low which means almost all the oil is going to get sucked up well, however there is a little bit of gap in the corner.
The Dart and Uno have this same issue. They really need to angle the bottom of the pod so it feeds to the hole with nothing left in the corner.
Battery lasts a while
No issues with battery life on the Trio. Capacity is 500maH and that's impressive given the Yocan Trio's compact size. The CCELL Uno has a 350maH battery, so Yocan is packing 42% more capacity. Not a bad upgrade.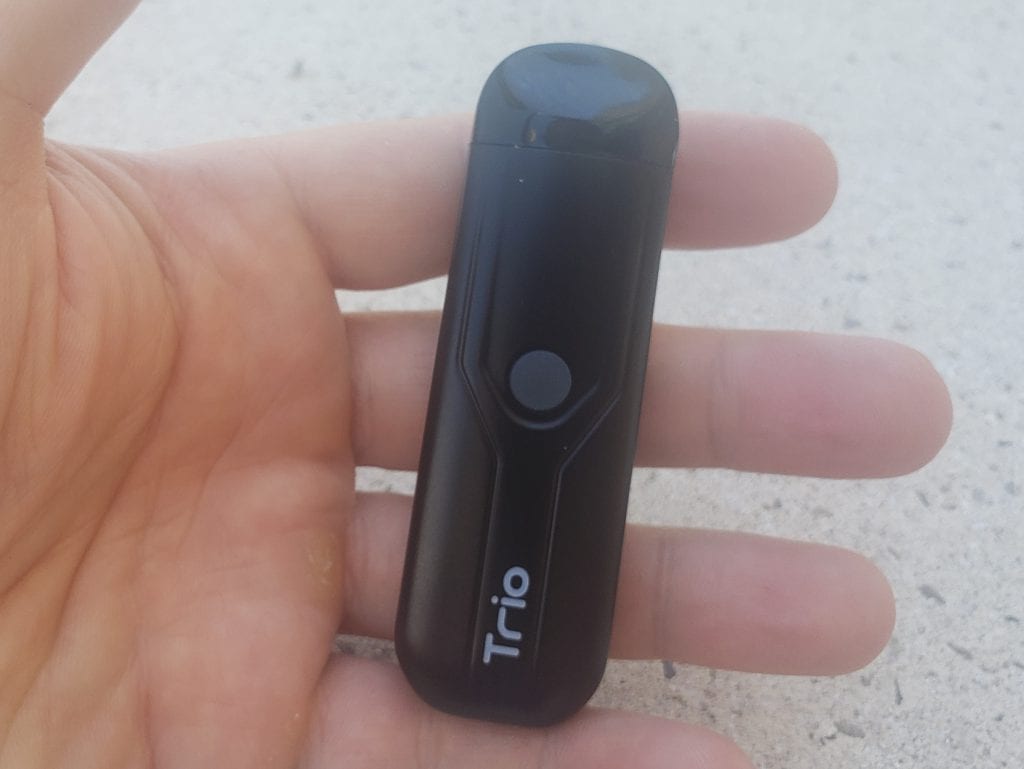 At $33.99 it's a good value
That's the suggested retail price and some places might have it cheaper. That includes a pod for THC/CBD oil, a pod for eJuice, and a concentrate atomizer.
As many have come to realize, quality distillate and CO2 oils in good vape hardware are now as effective as most wax pens for solid concentrates. You might not see that reality reflected on many review sites that try to sell you expensive wax pens, since they won't get a fat commission selling a product at $33.99 like the Trio.
Replacement pods are low cost at $5
Most of our readers are getting it to use with THC oil and they should be able to get about 5 uses out of a pod. The pods can hold 1ml, so basically you can go through 5 grams of CO2 or distillate oil on one pod. Replacement pods are about $5, which is not a bad deal at all.
There are cheaper pod systems out there, like the ALD vFire that's only $22. It uses the same heating core as the Stiiizy, but we do think this hits a bit better.
Concluding our Yocan Trio review
The Yocan Trio delivered very similar hits to the Uno and Dart but with a button push. There's no doubt similar technology exists and the companies making these products are trying to make theris better than the other.
The Uno and Dart aren't available to purchase at retail yet, while the Trio is. If you have access to THC oil you can't go wrong with the Trio. You may also want to check out our post on the best and worst cartridge designs of 2019. It covers different pod styles as well and can guide you to find the product that will work best for you.
You can find the Trio vape on Yocan's website.
Have you already tried the Trio? Leave your review below! Question or comment? Post below or in our forum!