REVIEW OVERVIEW

SUMMARY

The Brass Knuckles GG4 cartridge gives a light citrus-flavored vape. It takes a minute, then creeps up and sits you down.
If you're looking for a concentrate that's easy on the breathing tubes yet still floats you away, tune in! The Brass Knuckles GG4 Cartridge, better known as Gorilla Glue, provides a light citrus-flavored vapor. The intake is gentle on the lungs, but don't let that fool you. Give the GG4 a minute or two. It'll creep up on you like glue does when it dries. Keep in mind that this is a strain-specific review.
Be sure to examine our general Brass Knuckles cartridge review and Napalm OG review for more info on their line of products. Now on to the Gorilla Glue strain specific Brass Knuckles review!
Below is a video review of the cartridge and below that is the more in depth written review.

The Brass Knuckles GG4 cartridge gives a light, citrus-flavored vapor and creeps up on you!
What does it mean to have a light vapor? Well, it means it's not hot on windpipe coming in or on the exhale. Furthermore, the Brass Knuckles GG4 doesn't expand too much. It's nothing if you compare it to the Brass Knuckles Jack Herer cartridge. Don't let the light vapor of the BK GG4 cartridge fool you. If you take an extended draw, it'll set you off on a coughing spree.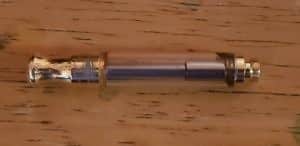 As you exhale the Brass Knuckles GG4 vapor, there's an unmistakable citrus tinge. According to the info that Brass Knuckles provides there is also a hint of vanilla. We think the vanilla is discreet at first but does come through with a touch of pine in the aftertaste. Another discovery about the BK GG4 cartridge is its creeper effect. If at first you feel it isn't potent, just give it another minute!
Durability is a bonus with Brass Knuckles cartridges
Though we give high marks to the durability of the cartridges in both our general Brass Knuckles Cartridge Review and our Jack Herer Review, it's good to go over it again. Things can change over time. We see the same cartridge design as usual with the Brass Knuckles GG4. It uses a sturdy metal mouthpiece and a strong glass tube. The inside metal core holds up as do the 510 threads that connect to your battery.
Brass Knuckles GG4 Hybrid is potent but takes a minute for full effect
After the citrus, pine, and vanilla flavors leave your tongue, you might think the oil isn't potent. We suggest you sit back and relax for just a minute or two longer. Our experience wasn't one of immediate euphoria. There is no denying the delay effect of the strain. It creeps up and settles any initial concerns about potency. Below is a video of me trying to get a harder hit out of it.

Short on flavor to strain accuracy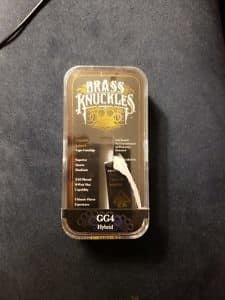 Gorilla Glue #4 (aka Original Glue) is a cross between Chem's Sister, Sour Dubb, and Chocolate Diesel. The flavor profile is one that most enthusiasts describe as piney and sour, with a chemmy tinge. We do taste the sour in the citrus and just a touch of that pine in the Brass Knuckles GG4 cartridge. Where the vanilla comes from we don't know, but we don't taste any chocolate.
Value pricing of Brass Knuckles GG4
The delivery service we use for the BK cartridges charges $50.00. That's for 1 gram of oil and it is a decent price, especially since they bring it over. Anything over that is asking too much in our opinion. Find the BK carts for $45.00 or lower and you are getting a good deal.
Cartridge design features
For the most part, the cartridge design remains the same as in our other reviews to date. Users still complain about the change over to a reverse flow design. We still find that the Brass Knuckles GG4 cartridge is tough to hit. You have to pull very hard to get vapor out. We haven't run into one that clogs completely, but there are reports of it happening.
The Brass Knuckles quality guarantee
Brass Knuckles guarantees nothing but the highest and purest quality oil in their cartridges. In our BK Jack Herer Cartridge Review, we reported complaints that independent testing revealed pesticides. The testing by SC Labs has always shown the oil to be clean and Brass Knuckles reaffirms that sentiment. They claim they never had an impurity problem, but rather a counterfeit problem. Be sure you're receiving an authentic BK cartridge.
Final view of the Brass Knuckles GG4 cartridge
DabConnection gives high accolades to the Brass Knuckles GG4 cartridge. We love almost everything about it. We do have to say how much of a disappointment it is that the draw issue still isn't fixed. Brass Knuckles has to figure out why that is occurring and take care of it. Their oil is way too good to suffer frustration when trying to take a vape. We hope they sort it out soon because we adore Brass Knuckles cartridges, and the GG4 is no exception.