REVIEW OVERVIEW

Design and Build Quality

10

SUMMARY

AiroPro Live Resin cartridges are the strongest live resin cartridges by a significant margin.
IMPORTANT UPDATE 3/11/21: AiroPro has now rebranded its distillate as AiroPod. Their products now look like this: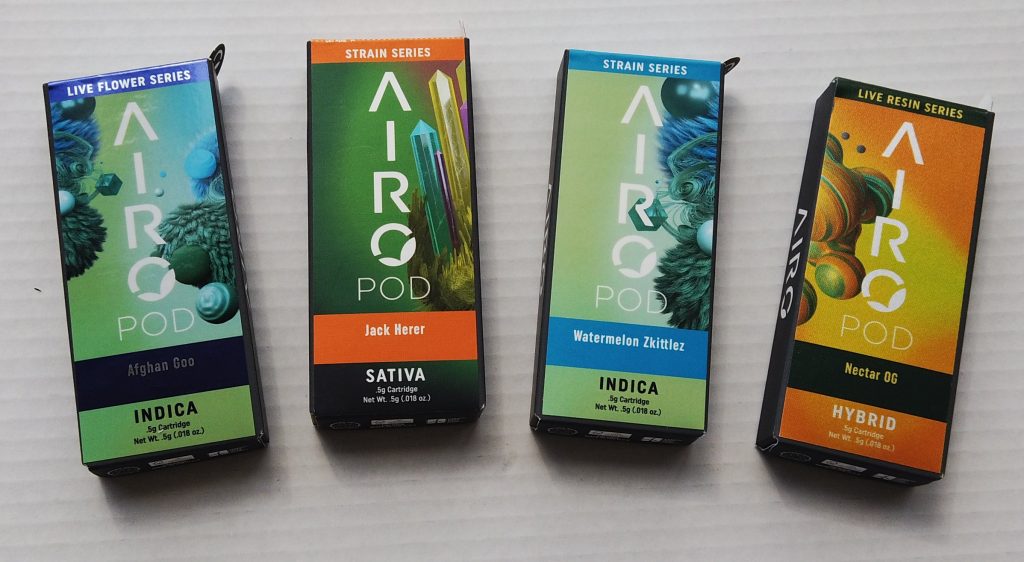 Same company with their website at Airo Brands. The below review is a legacy review for their old cartridge product line. We will have to get around to reviewing their new product line.
---
AiroPro is a company that now makes 3 different types of cartridges. There are standard distillate cartridges, live flower series, and live resin. Here, we are reviewing the Live Resin cartridge. We anticipate this to be available in California, Colorado, Washington, Oregon, Nevada, and Arizona just like their other cartridges. However, this one we did pick up in Nevada.
AiroPro and now their Live Resin series as well, make our best cartridge list for both California and Nevada.
Pros:
Great oil quality
Very strong
Thick vapor
Excellent hardware
Tastes great
Cons:
Uses more oil faster than other vaping systems, but each hit is harder
The battery does not work with other cartridges by default
The battery can be picky
Recommendations: The battery indicator light while hitting it would be nice. And if they can Include an adapter with the pen that works optimally with the standard 510 threaded cartridges, that will be a great addition.
See below our video on the AiroPro Live Resin and continue reading this for a more in-depth review
AiroPro Live Resin is in a class of its own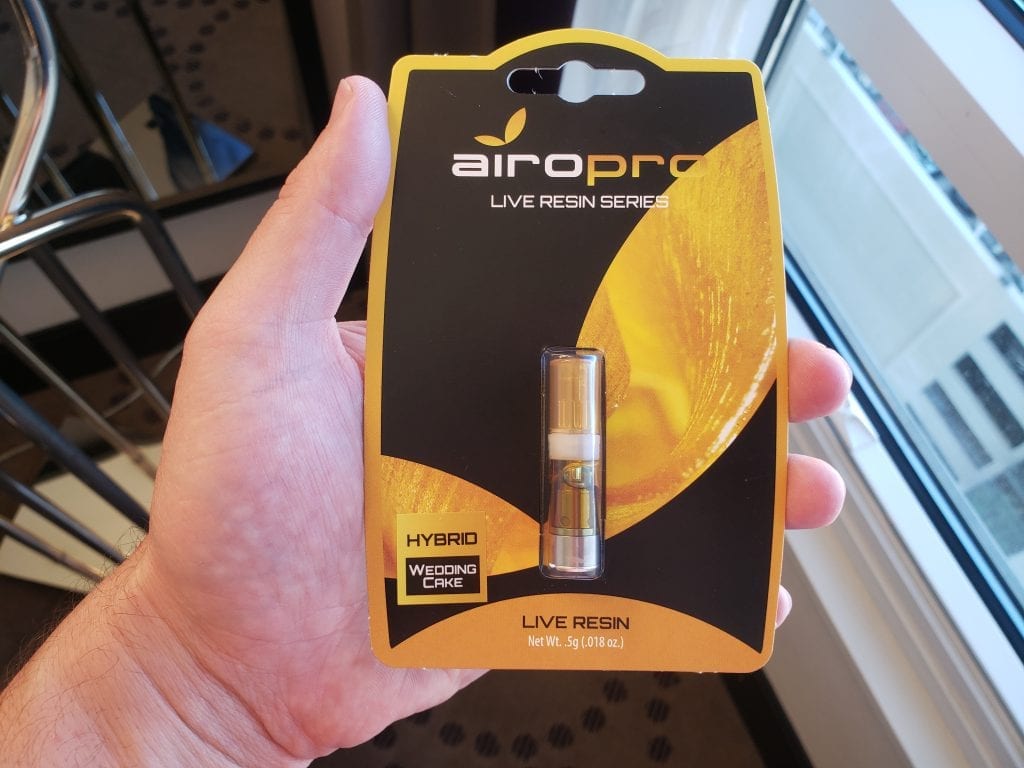 You can't deny how strong these live resin cartridges are. They are on par with the strength of the other AiroPro distillate and Live flower series cartridges which is quite a feat.  Here we are using the Wedding Cake strain.
Previously, we reviewed other live resin cartridges here such as Remedy, Raw Garden, and Binske. While all of those 3 are pretty good, and I would say Remedy is the best of those 3, AiroPro is substantially stronger than all.
This is the first live resin cartridge I have hit that is basically on par with distillate when it comes to straight strength effects.
AiroPro carts are available in multiple states and they really follow all proper procedures in making their products, making sure that the consumer's health is protected. Airo Brands has sold over 3,000,000 units without a single health-related consumer complaint.
Design and build is awesome, its basically a more powerful CCELL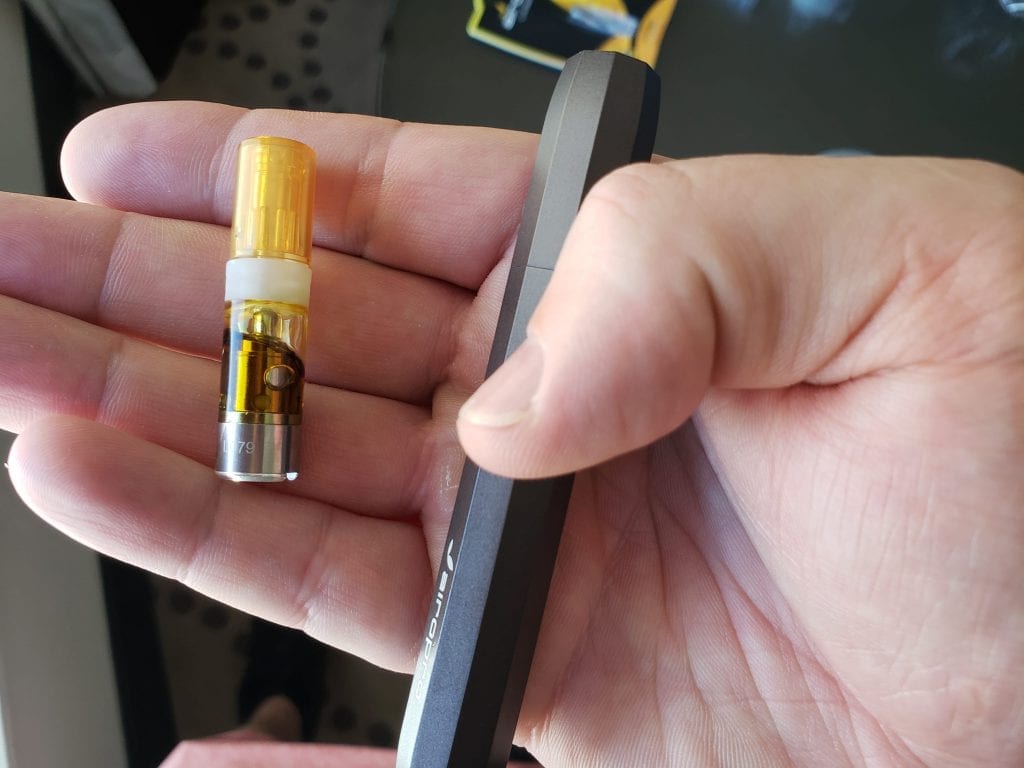 AiroPro uses CCELL cartridge that is magnet-based. It is not 510 threaded, but with the right adapter, the battery can work with some other cartridges. With the wrong adapter, it just doesn't work at all. You'll need an exact, correctly fitting adapter to make the AiroPro work for other cartridges.
Only design flaw shows when the AiroPro battery is dying
The battery for the AiroPro carts overall does a great job. As we mentioned in our original AiroPro review, there is no indicator light to tell when it's dying. The vibrations described below explain how to tell when it is.
How to tell the battery is dying
The battery vibrates in a way to tell you if it is dying:
One pulse – 30% battery left
Two pulses – 20% battery left
Three pulses – 10% battery left
Oil quality is top-notch, expected from AiroPro
AiroPro live resin was not lacking in any way. The oil state is consistent quality throughout the entire cartridge and you can tell it is quality live resin. It did not taste like a trim live resin as the BLOOM FARMS cartridge did. AiroPro tastes like it's from nugs.
AiroPro Live Resin comes in high on THC and feels extremely strong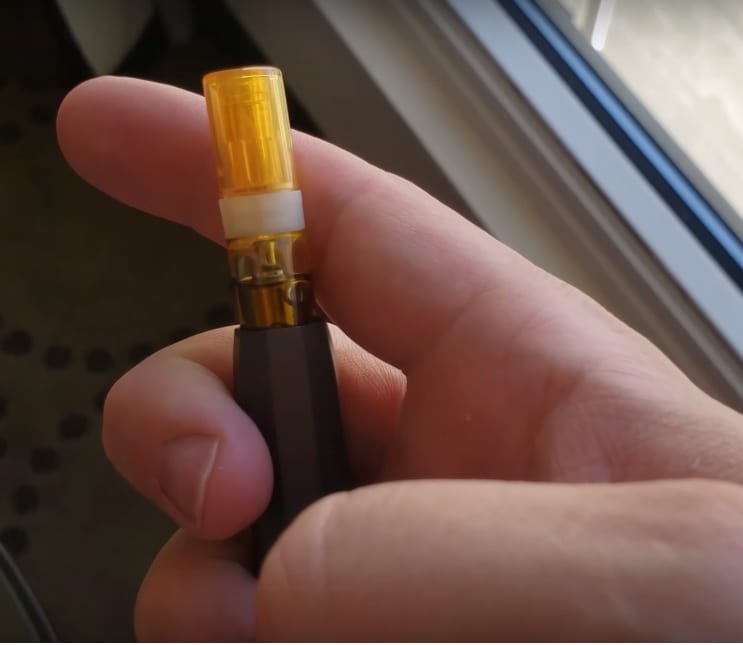 AiroPro Live resin tests high and feels very strong. There really is no comparing this to other live resin cartridges, it is substantially stronger. I think in the future, we might see ones that may get close, but right now AiroPro is far ahead.
It might be the hardware, it might be the processes. I'm not sure, but this live resin cartridge is actually on par on strength with a good distillate cartridge.
The taste is just like live resin
The taste of AiroPro live resin was pretty standard for live resin. It did not taste like a trim run live resin, it tastes like a nug run live resin. The BLOOM FARMS cartridge we tried on earlier seems like it was made from trim. I would say that as far as straight taste, the Remedy Cartridge and Binske's most recent cartridge do taste a little bit better than the AiroPro.
However, it's a minor difference. AiroPro taste is almost on par with Raw Garden and tastes better than BLOOM FARMS. However, I would pick AiroPro's version over anything else out there right now since it's stronger.
Efficiency is as good as it gets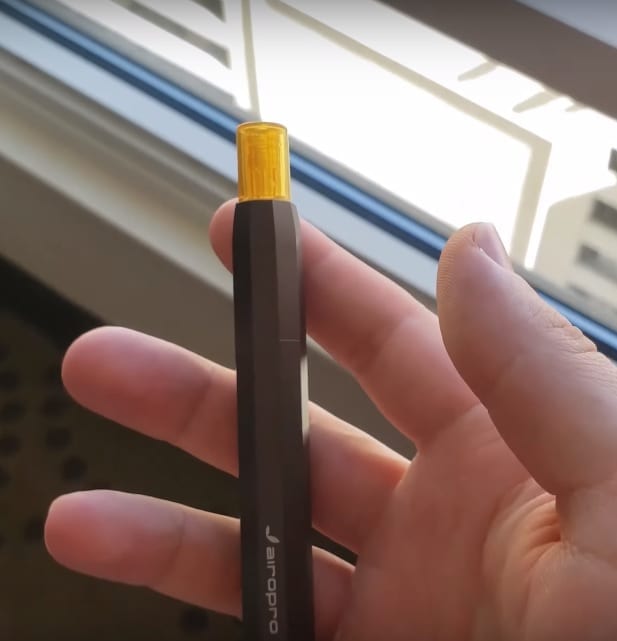 AiroPro is basically a repackaged CCELL with a different bottom. It also vibrates and produces a little bit more vapor. Nothing that you can complain about here, perfectly efficient. It does use more oil faster than some other cartridge systems, but you are getting a stronger hit, which means it still is just as, if not, more efficient.
The number of puffs is a bit reduced, but each hit is bigger
Hits are bigger than of a regular battery and cartridge. This reduces the number of puffs but not in a bad way. The score has been adjusted higher here rather than just basing it off the actual number because overall, you are getting good value per puff here and that is the true purpose of the category.
Excellent value considering recent price drops and stronger cartridges
AiroPro is currently one of the strongest brands available anywhere. The only cartridges that really can even contend with AiroPro on strength are Roots, Aces Extracts, Select Elite and Cannavative. AiroPro made our best cartridges list in both California and Nevada. Lately, they lowered the price of AiroPro cartridges, and now they are the same price as everything else.
Previously, an AiroPro cartridge would be $52 and another cartridge would be $46 at Essence on West Tropicana in Las Vegas. However now, they're all the same price. Considering you can get the battery for $15 if you buy it without the case, AiroPro is a great value.
Concluding our AiroPro live resin review…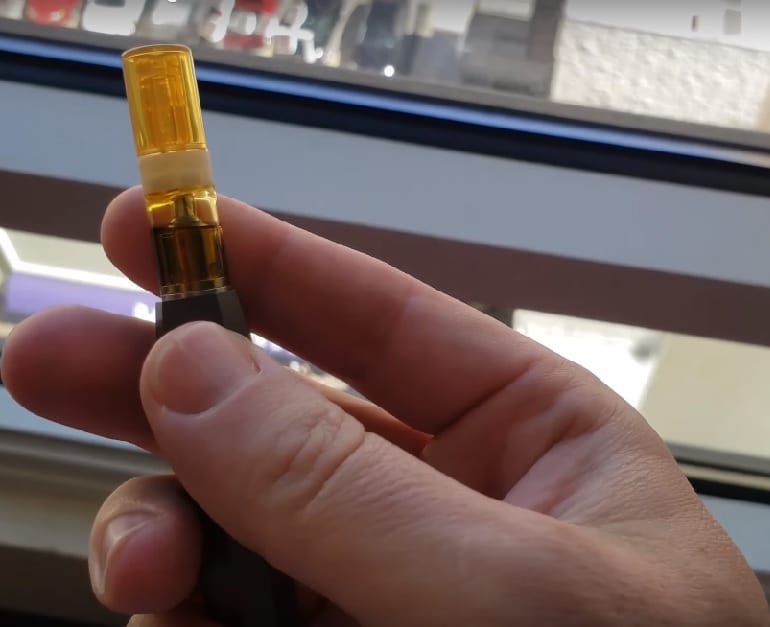 This cart from AiroPro turned out to be my favorite live resin cartridge of all time. We're hitting a lot of cartridges on this site from multiple states. Myself having gone to California, Nevada, and Colorado, I'm trying as many carts as I can. AiroPro consistently shines wherever you get it.
You can find AiroPro vape pens and cartridges near you here. Learn more about AiroPro on Airo Vapor's website.
Have you tried any AiroPro Live Resin carts before? Post your review below! Questions or comments? Post below or in our forums!