Glo Extracts is yet another THC vape cartridge brand which has drawn a lot of controversy to themselves for being an unregulated street brand. Just like a million other fake carts out there, Glo Extracts does somersaults to try to look legit without being legit.
As always, we have reached out to the company to ask if they could direct us to their licensing in case we missed it, and of course, have received no word back.
Eleven websites registered for one fake brand!
UPDATE: In the year and a half since this post was written, it has attracted nonstop attention from spambots. You may see some comments from spambots below this post. The funny part is, several of them all insist to represent the "official" "real" Glo Extracts "company," while linking to different registered domains!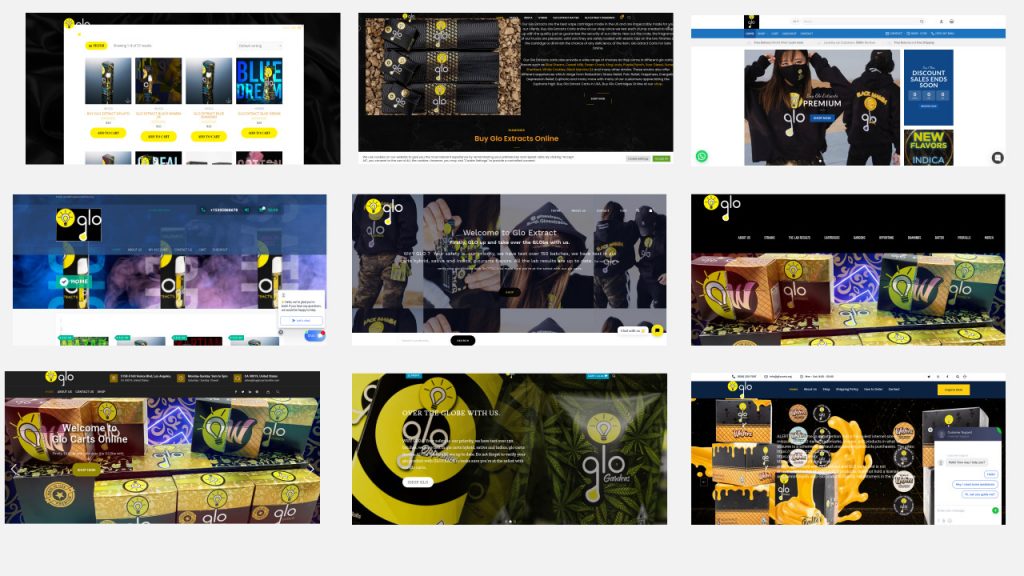 So we put on our domain-investigating hat and set out to discover how many different domains are registered and active trying to claim themselves the only "official" Glo Extracts company?
The answer will shock you! We find eleven total domains all claiming to traffic in Glo Extracts carts.
buyglocartsonline.com
buyglocartsonline.org
buygloextracts.com
glocartsonline.com
glocarts.org
gloextract.com
gloextractofficial.com
gloextractofficials.com
gloextractonline.com
gloextractscarts.com
gloextracts.org
Mind you, these do not include parked or inactive domains, nor the ones open for sale. It is a safe bet, as we always say for ANY website claiming to sell THC carts online, that all of these are scams which will eat your payment and send you nothing.
Still, this is an impressive count for just a fake cartridge brand. Beyond all question of a doubt, everything with "Glo Extracts" on it is 100% fake, phony, boof, vitamin E acetate, poison, radioactive garbage. There was never a licensed brand under this name. There has never been a drop of actual pure marijuana oil going into a Glo Extracts cartridge ever.
Furthermore, this whole Glo Extracts operation has moved beyond mere fake cart packaging. It is now something more like a pyramid scheme. It is impossible to sell these carts to end consumers at this point. Instead, the Glo Extracts "brand" is hustled on DHGate to street cart plugs.
So hey, listen up street plugs! If you're going to sell boof, better pick any other brand of packaging besides Glo Extracts. This brand is burned. If you think you can get people to buy these, you're retarded and deserve to have strangers punch you in the nose for even offering.
The rest of this post appears as originally written, though at the time we hadn't discovered the other ten domains of this scam operation.
Glo Extracts has a verification system at least
Yes, black market cart brands are doing this now! Touted on Glo Extracts' own website, their verification process is called "GLOTRACK" and has the purpose "to verify the authenticity of their Glo products."
This is ironic, for reasons which should be obvious. Where is there a single, licensed, regulated dispensary from which to purchase a Glo product? There are none. Therefore, the only thing that verifying with "GLOTRACK" does is confirm that your plug obtained packaging from somebody at Glo as opposed to obtaining the packaging from another source.
That is nice, but what about verifying the CONTENTS? Since there is no regulation or control over the distribution of these products, verifying the package is the exact opposite of doing something useful. There's still no control over the distribution points.
Glo Extracts is counterfeited everywhere
The verification process for packaging is the response to the plethora of knock-off packaging sold on DHGate and Vapes Wholesale. In fact, we mentioned them in our top ten most frequent black market cart brands back before we checked this company out.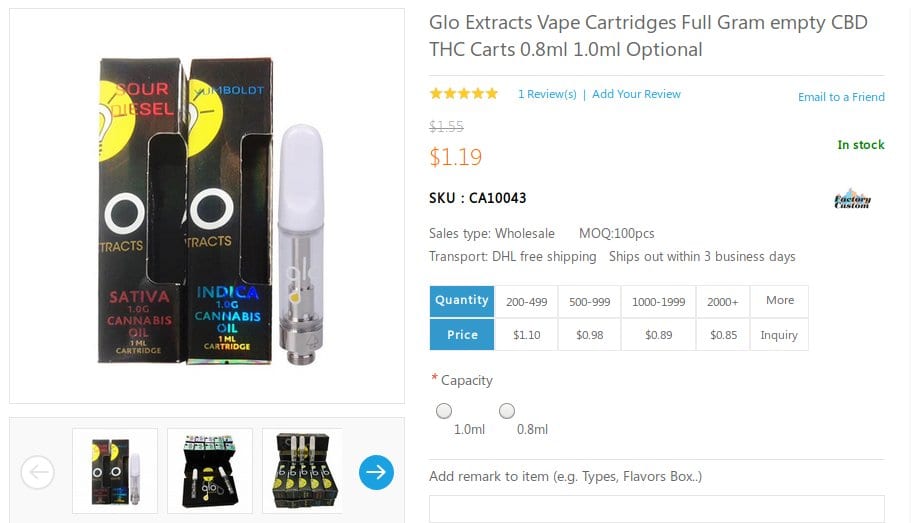 Glo Extracts also made headlines as one of the black market brands alongside Rove in a Staten Island NYC raid in January 2020.
At the very least, your take-away should be that if you encounter a Glo Extracts product on the street, chances are good that it's bunk. Temporarily, the package verification will confirm that this empty package came from whoever is in charge of the verification app before being filled with whatever contents.
Mark my words, I have a prophecy for you: The verification process will be duplicated too, just like counterfeiters have copied QR codes, COAs, package design, hologram print, legal disclaimers, and everything.
Wide counterfeiting is just what happens when you insist on running an unregulated brand. This is why we have branding in the first place. An unsecured brand will be counterfeited with impunity, and there's nothing you can do about it. A brand that is legally registered to an entity has a claim to sue counterfeits.
Glo Extracts are sold widely on the black market
We find online retailers offering this product at price points which make it obvious that something besides cannabis oil is in the cartridges.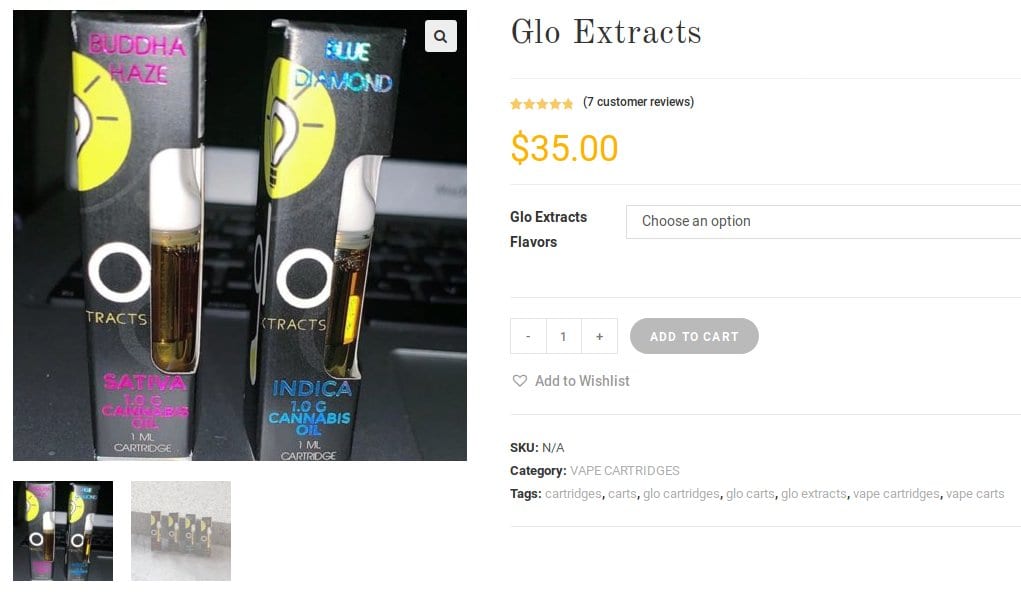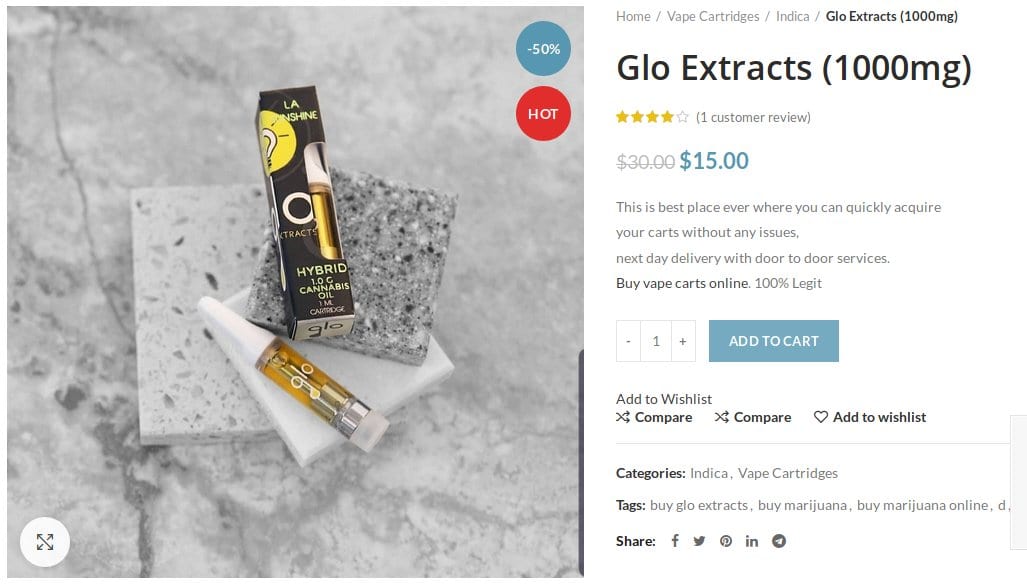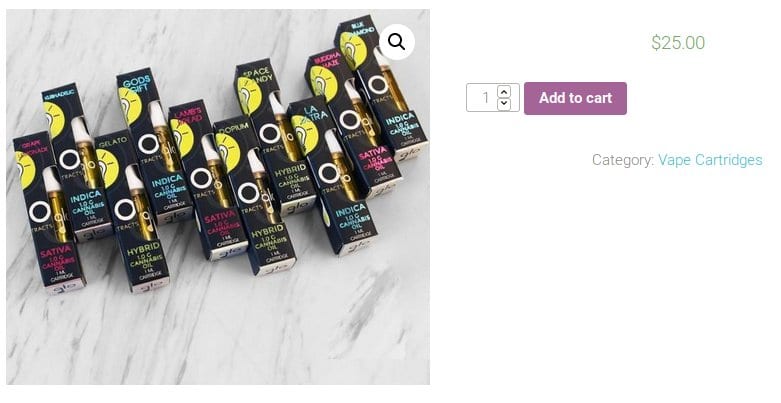 The Glo brand also buys a lots of review sites. This review, this review, this review, all bought off. This point isn't worth debating. It is plainly obvious to anyone. We usually don't even care about astroturfing on behalf of street brands, but Glo really saturates the web with it.
We find no less than…
Instagram accounts claiming to be Glo Extracts. Of course, sorting out the real McCoy would be less troubling if one of them had a LICENSE.
Glo Extracts posts R&D lab test results as a claim of compliant testing
In what has become a frequent bone we have to pick with street brands of vape carts, Glo Extracts puts up a page full of cannabis laboratory testing result COAs (Certificate of Analysis). Unfortunately, all of them are clearly marked to not be compliance testing results.
This is a frustrating issue since the public seems to be largely unaware of the difference, and most laboratories and enforcement have not yet begun to address this issue.
The two laboratories represented on Glo Extracts' COAs are CannaSafe and California Cannabis Testing Labs (CCTL).
For the record, CannaSafe has a clear guide to understanding COAs. Kudos to CannaSafe! From that page, CannaSafe says:
> "If you are presented with a COA that is labeled R&D, it does NOT qualify as a valid COA for the product you are purchasing."
As for CCTL, their FAQ does say:
> "Can I submit product for testing if I don't have a license?" "Yes, we can do R&D testing as long as you are a valid medical patient."
This does serve to indicate one of the purposes of R&D COAs.
Refer again to our guide on the difference between Compliance testing and R&D testing. Here again, this problem only seems to crop up in California.
Unlicensed, unregulated brands like Glo Extracts may contain anything
There is a deadly epidemic of lung illness tied to black market cart usage. Vaping-associated pulmonary injury has so far claimed 64 lives and hospitalized more than 2700 users. Unregulated vape carts could contain heavy metals like lead, pesticides, cut such as Honey Cut, or simply bunk. Or they could be fire if you're lucky. But a lot of people in the hospital right now weren't lucky.
If anybody has more information on where these are circulating, please feel free to help us protect public safety by sharing it with the community here in the comments or in our forum.