REVIEW OVERVIEW

SUMMARY

The Yocan Evolve 2.0 Vaporizer is a discrete and simple to use battery. It comes with everything you need for all your vaping purposes.
The Yocan Evolve 2.0 is such a simple and easy device to use, you won't have any sort of complication with it. It's a similar-looking Yocan Trio. This all in one vaporizer is a one-touch button and can be used for three different purposes; concentrate, e juice, and thick oil. Here we talk more about the pros and cons of this Yocan.
Pros:
Simple and easy
Discrete
Convenient
Cons:
Gets clogged easily
Top piece fragile
Button may get stuck
Recommendations: Perhaps having a lock when placing the pod with the battery rather than it being magnetic.
The Yocan Evolve 2.0 Vaporizer gives everything you need for any vaping needs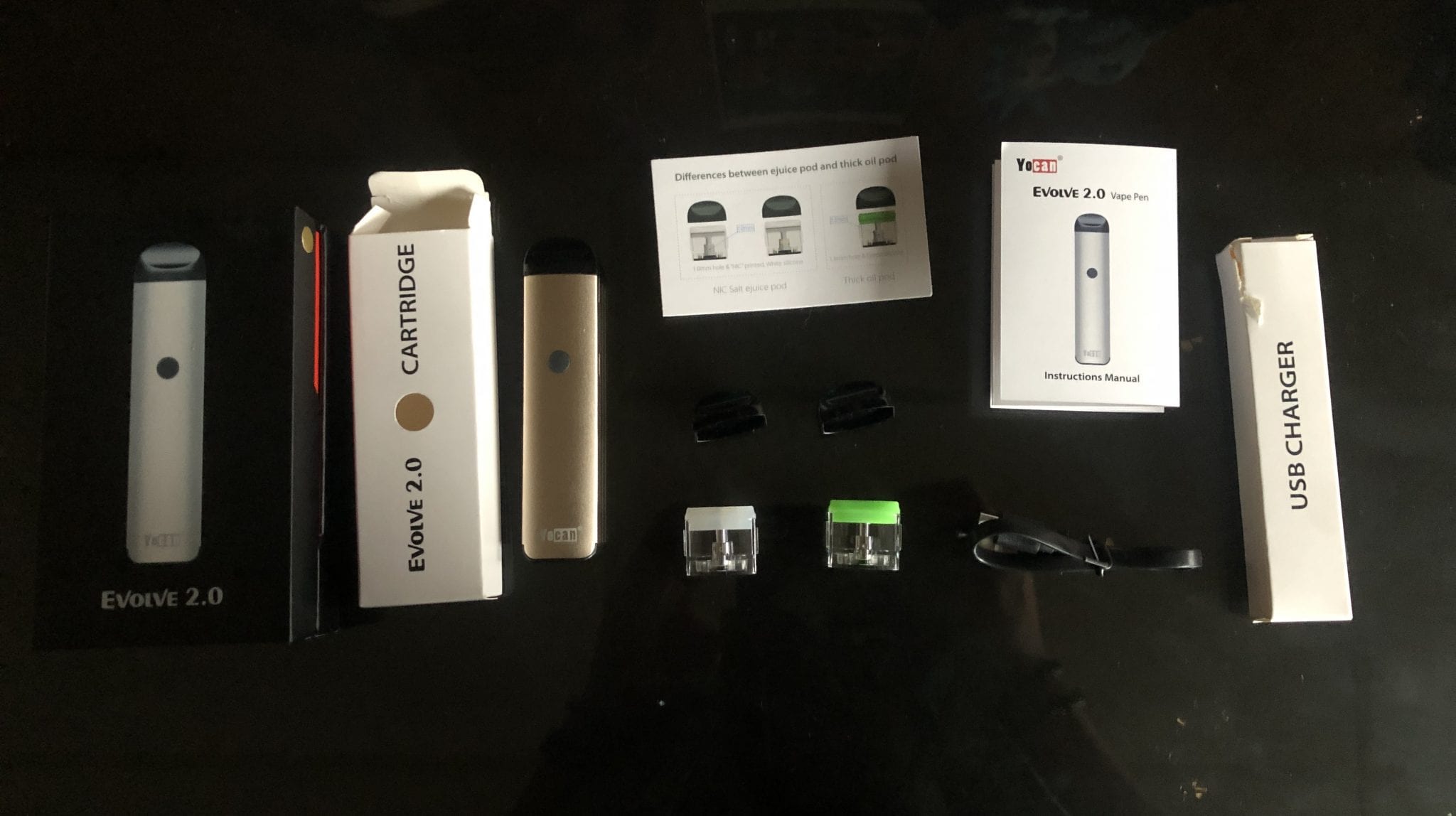 Unpacking this Yocan I could tell that his was going to be a simple and easy battery to use. And it is a very simple dab pen, but it also comes with three different kind of pods for different uses along with a charger.
Comes with a concentrate pod, an e juice pod and a thick oil pod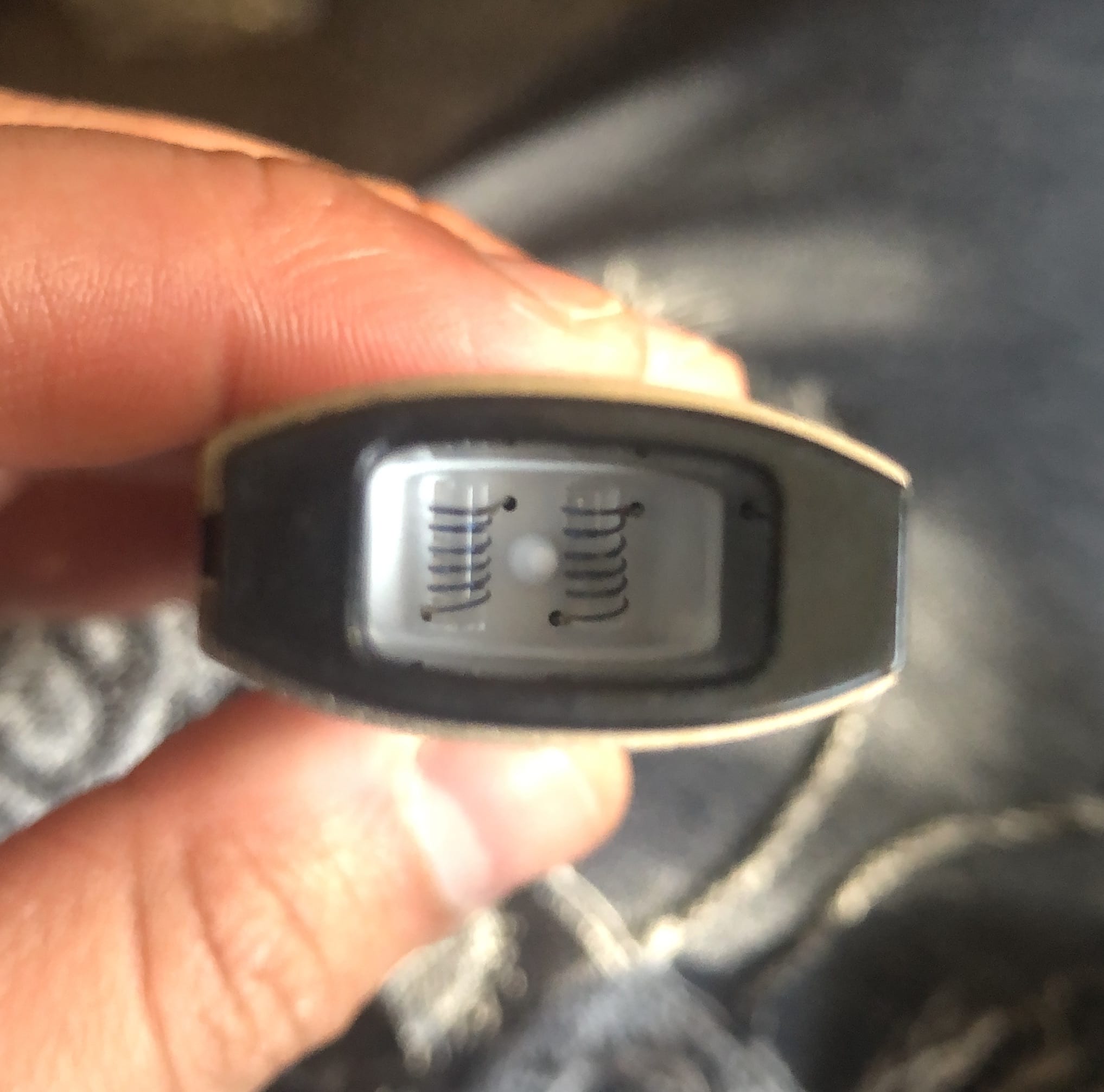 First off, the primary pod it comes with is the concentrate pod. This is the all black pod, and it comes with 2 quartz coils. Because it's a double quartz, it does give decent rips. There are a few cons about this pod, one is that the mouth piece gets clogged very easily. Another thing is the top piece from the pod, it may slip off easily and is somewhat fragile. I dropped it once the right when I got it and it ended up cracking. Last, right before you know to replace your pod, the wire might start coming apart and it will hit a lot weaker. You will easily be able to tell when you need a new pod simply by looking at the quartz coil inside the pod.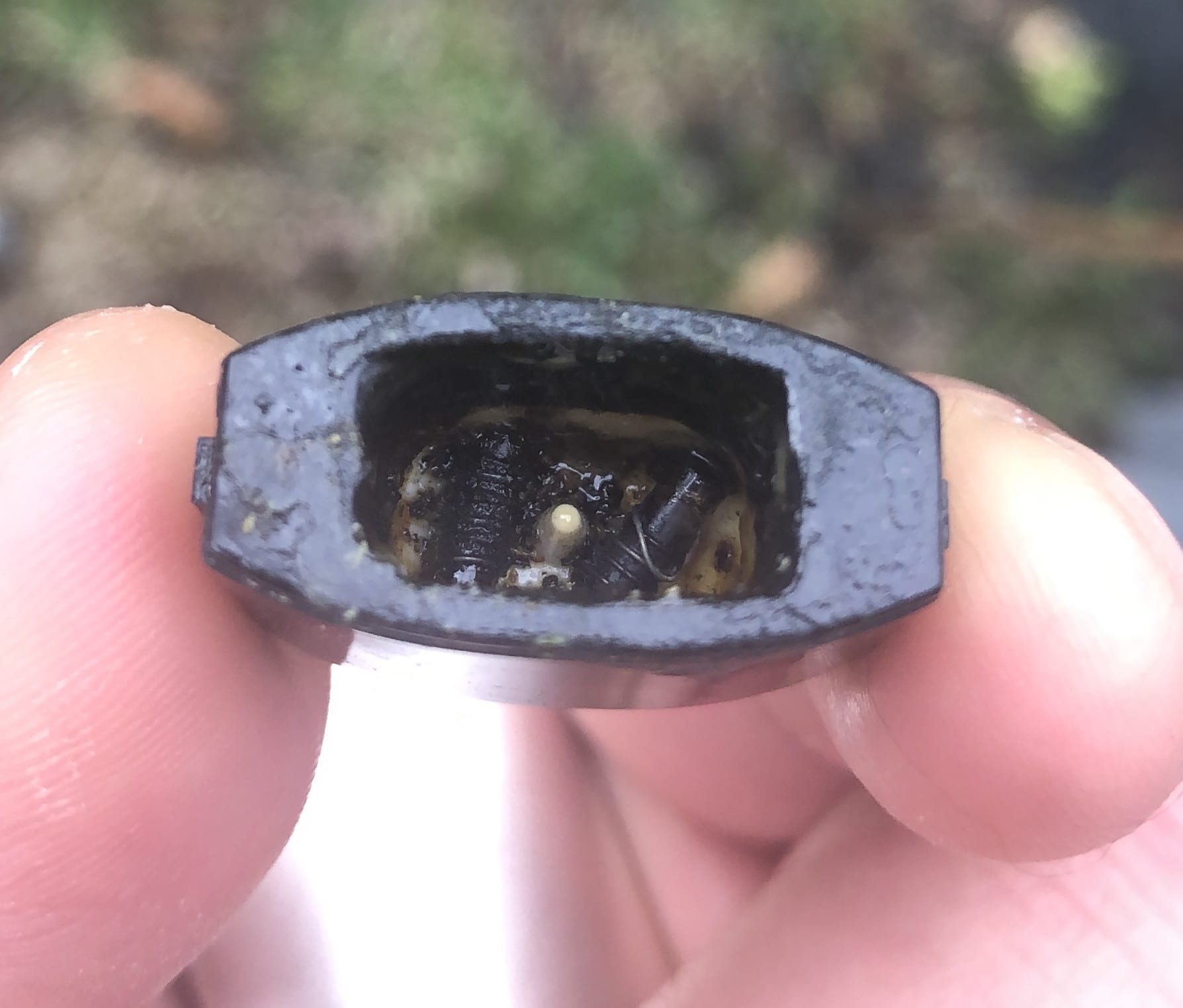 As for the other two pods, one is for e juice and the other is for thicker oil. Pretty self explanatory for the vape juice. As for the pod that has a green plastic inside it, this pod is meant to be used for thicker oil. Oil such as distillate, CBD juice, etc. 
Simple design and very easy to use
The Yocan Evolve 2.0 is a very easy and straightforward device to use, it's just like any other vape/dab pen. Simply press the button 5 times to turn on and off. Press the button 3 times to change the temperature settings and 2 times for 10 second auto heat. With the auto heat, I wasn't a huge fan just because I personally felt that it would hit lighter rather than just holding on to the button.
As for the design, it does look a lot more like a vape rather than a dab pen. This can make it very discrete, unlike other dab pens that have a glass tip or mouth piece.
Low temp gives more taste while high temp gives more smoke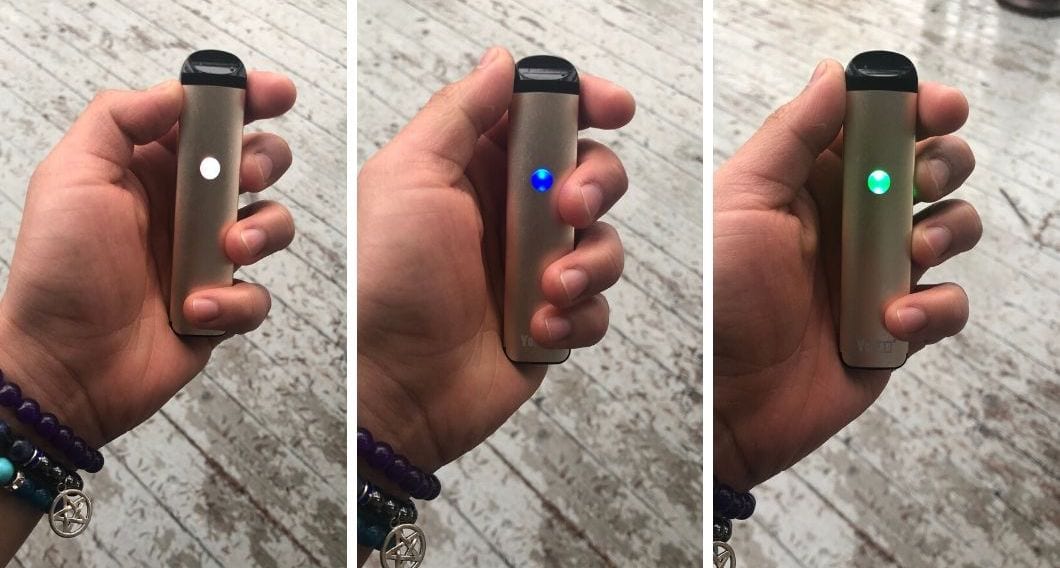 When you put the temperature setting to the white light (low temp) the taste is at its best. Mid temperature will still give a good taste, but low temp gives a lot more flavor to it. Aside from that, it can conserve your dabs if you need to.
As with high temp, you'll have to pack it a lot just because if you don't, than you might either get a harsh hit or burnt taste just because you didn't pack it enough.But when you pack it just right, it gives a very strong hit following with thick smoke. Not too strong or harsh, but the right temperature.
Smooth and efficient hits
As mentioned earlier, this dab pen has 3 different temperature setting modes you can change. It doesn't necessarily say the exact temperature, but it shows by changing the color of the light. There's white for light hits, blue for medium and green for the strongest temperature setting. 
Honestly all of them surprisingly hit really nice and smooth. The setting I mainly use for dabs is the blue, mid temp. It gives a really smooth dab and provides fairly thick smoke. The strongest option is good too, but it will just finish most of your dabs a lot quicker than using the other two options. As with the lowest temperature option, it still gives very good and smooth hits. Surprisingly, it gives thicker smoke than I'd expect it to. This option is amazing for trying to conserve your concentrate.
For it's price, this Yocan is definitely worth it
The price for this Yocan Evolve 2.0 is $34.95 and for this price I think it is well worth the cost, especially if you like vaping e juice, CBD and/or distillate. Obviously there are more dab pens that hit stronger but with that they will be more pricey. Apart from that, this battery is the only battery I've seen where it comes with three different pods for different vaping purposes. Usually every dab pen comes with multiple pods, but only for concentrate purpose. This is the only dab pen I've personally seen where it comes with a pod to vape, let alone a pod for thick oil/distillate.
Overall, the Yocan Evolve 2.0 is a convenient and discrete battery
If you're looking for something inexpensive, convenient and discrete, I highly recommend you to try this battery for yourself. As mentioned earlier, the fact that it comes with three different pods for different vaping purposes just makes it much better. The concentrate pod itself is still very good and efficient if that's the only reason you'd want it for. Regardless, the simplicity of it and different types of pods it comes with is the main reason I personally like it. You can get the Yocan Evolve 2.0 Vaporizer here.
What was your experience with the Yocan Evolve 2.0? Leave a comment below or discuss in our forum!