REVIEW OVERVIEW

Design and Build Quality

8

SUMMARY

Dabwoods cartridge revealed to be a decent cartridge. The oil is fairly dark and thin, but the cartridge itself provides smooth hits. Although the cartridge was alright, we hope to see more background info on the company soon.
Dabwoods is a popular cartridge brand, known for being the first backwoods flavor vape cartridge. Although people confuse this company with Dankwoods, Dabwoods is its own company primarily selling vape cartridges and merchandise. These cartridges may give smooth hits and a nice high, but there isn't authentic information on the company to be found online.
Pros:
Smooth taste
Good hardware
Cons:
Oil not that strong
No lab results
Recommendations: More information on the company background to show if it is an authentic company or not. Make the oil stronger.
UPDATE 9/11/2019: DISCLAIMER: In light of more recent news, it has become apparent that black market cartridges, counterfeit cartridges, and fake brands of cartridges have become more widespread than we had ever realized. We urge readers to apply their own discretion, and caution that at no point should readers assume that a review of a cartridge on our site is a guarantee of its safety. We advise readers to always verify their cartridges as coming from a legitimate source.
Dabwoods cartridges might be unregulated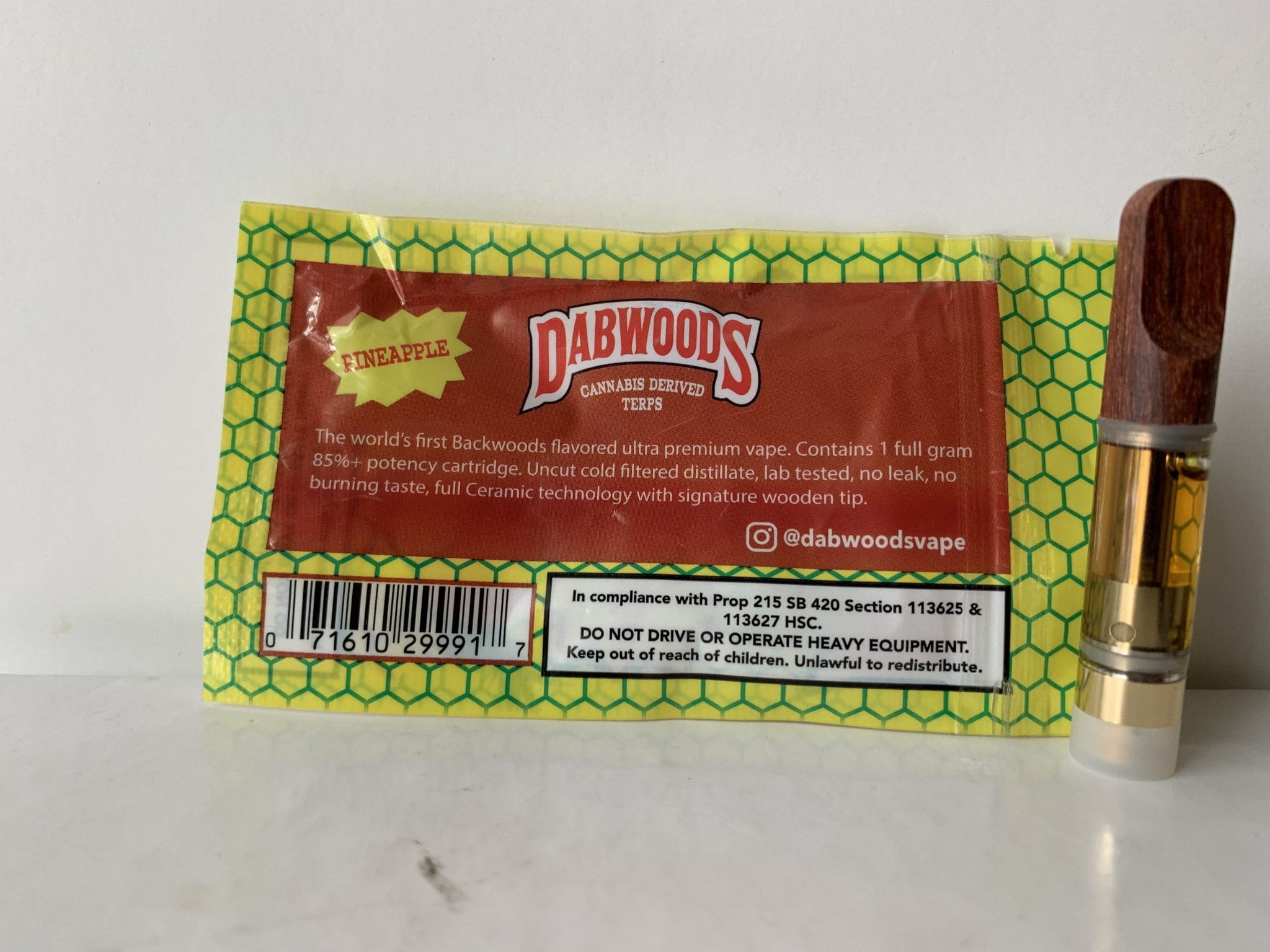 First off, there is no legitimacy as to wether Dabwoods is a legit company or not. After some research, we couldn't find any background nor official website. Another thing is that they may claim to be over 85% THC, but they have no lab results to their name. The only thing that we were able to find was an Instagram page saying that they are located in California.
Because of this, there are probably are more fakes than there are real ones. Also they don't have any information as to how to identify real and fake carts.
Dabwoods Pineapple gives a mellow high
The flavor that we picked up is a hybrid and it gives a nice and relaxing high. The high is lighter than I'd like it to be and it doesn't last too long. It may not be as strong in our experience, but it does give very smooth and soothing hits.
Thin and fairly dark oil on the Dabwoods vape cart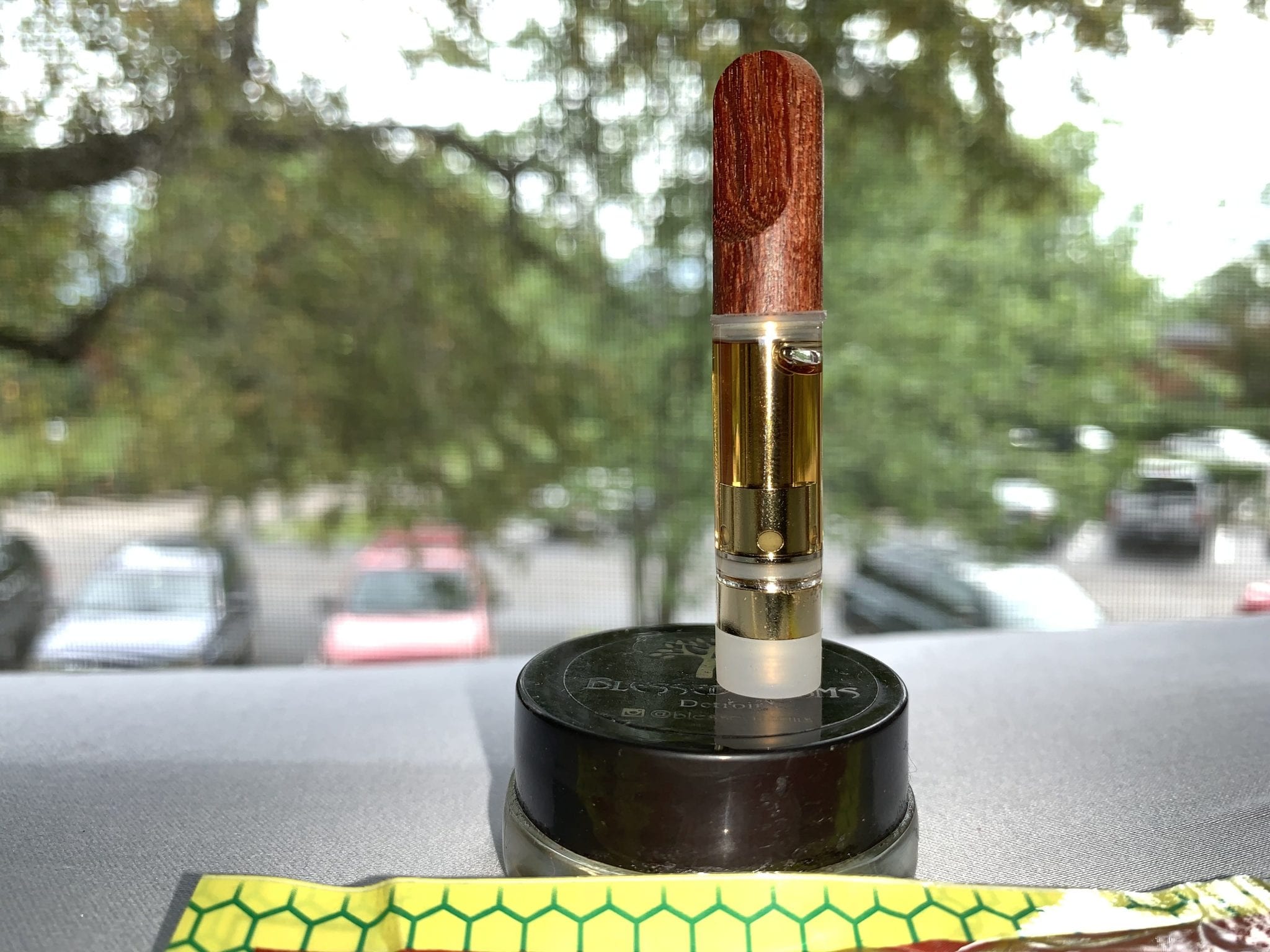 At first glance, we weren't a huge fan of the oil quality. It seemed dark to us and it is somewhat runny. Even though the oil is thin, it was still pretty efficient and lasted a decent amount of puffs. Besides that, the taste is better than what the oil quality seems.
This cartridge gives a light, piney taste to it
This particular flavor that we picked up gives more of a piney taste rather than pineapple. Moreover, Dabwoods do give somewhat of a backwoood taste to it. Moreover, it gives off a wood/oak like taste to it. This could be because of the wooden tip, but overall the flavor is sweet and smooth, giving a good mixture of terpenes.
Good hardware allows smooth and efficient hits
Something Dabwoods prides themselves of is their ceramic cartridge with the wooden tip. It does give nice comfort to the lips and is very efficient. At first glance, the cartridge did seem too look like a CCELL. But unlike an authentic CCELL, there is no labels underneath the cartridge itself and it has a plastic ring rather than clear underneath the atomizer. It's also not a fake CCELL because they are not trying to counterfeit anything, it's just a clone. Regardless, the cartridge gives soothing and easy hits.
Another thing we noticed about the wooden tip is that we believe that it might affects the taste of the cartridge as mentioned earlier. This may not be true, but in our experience we believe that the wooden tip gave off a wooden/oak like taste.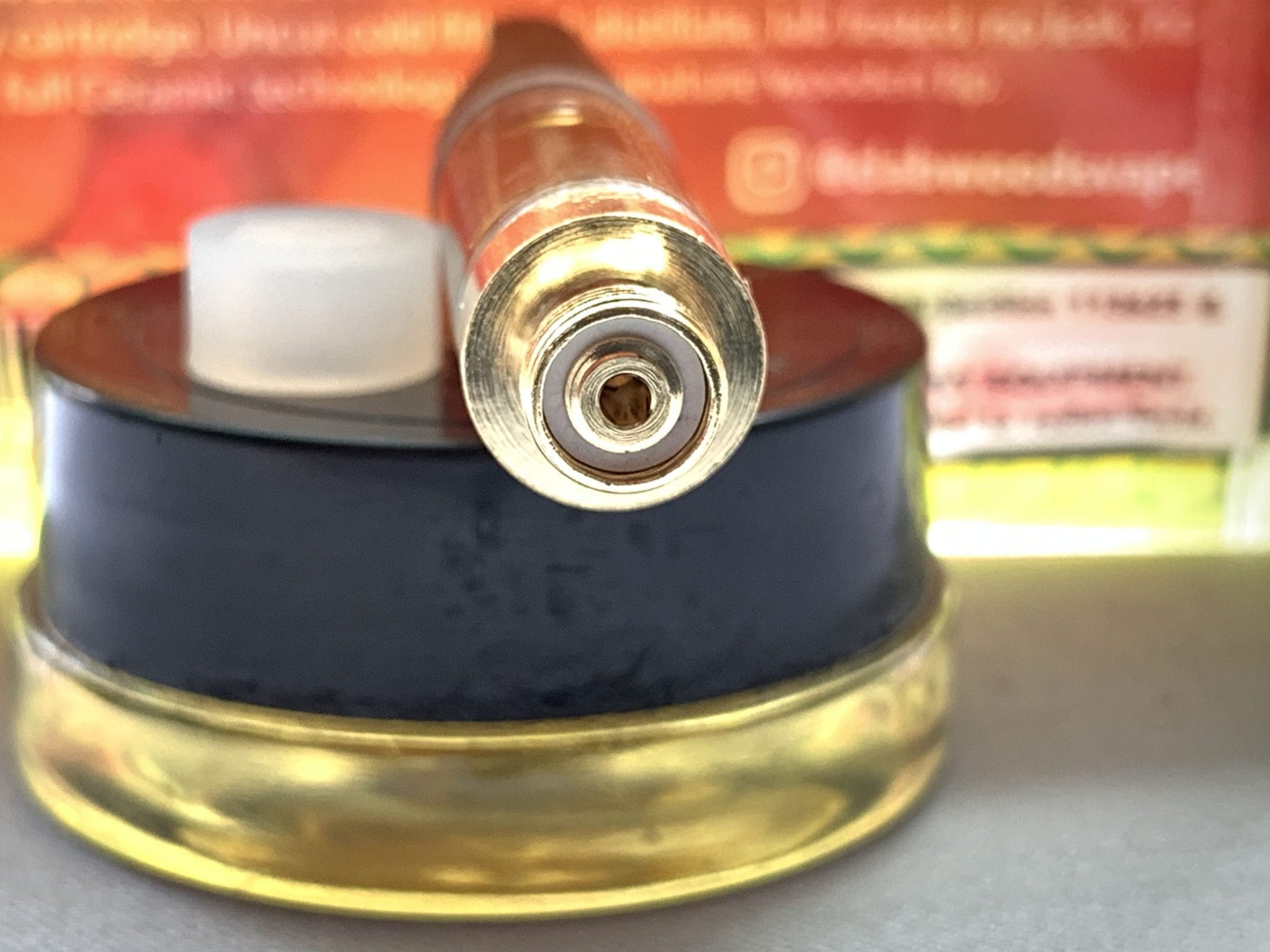 Packaging is sold online
What I didn't like the most about this cart is the fact that they sell the packaging online on eBay. This allows vendors to pre-fill them with what ever they want inside the cartridge. This makes it susceptible to having pesticides, you can't be too sure what exactly you're smoking.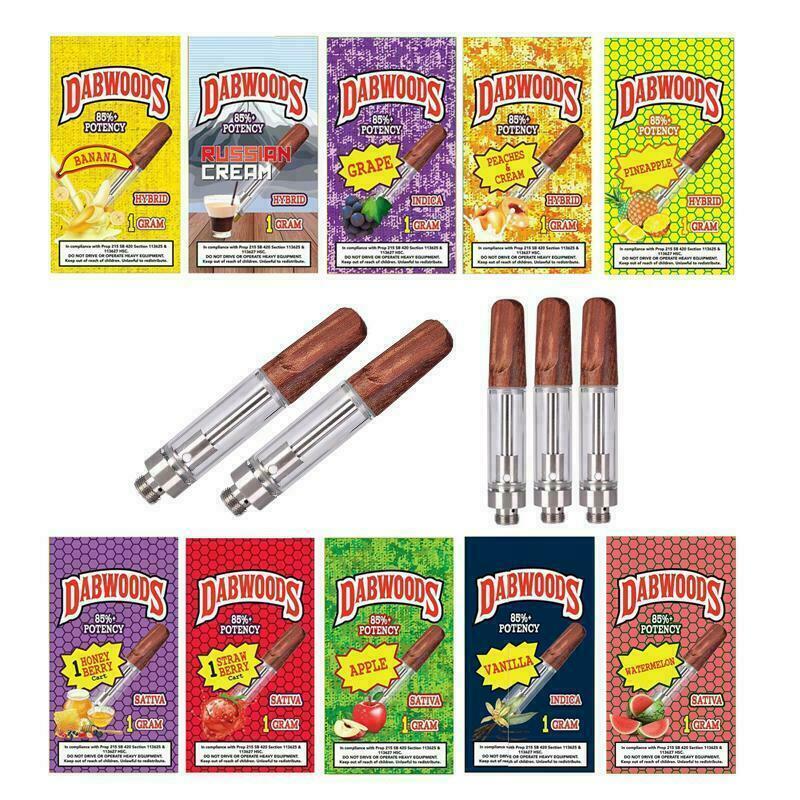 Dabwoods official flavors:
Banana
Russian
Grapes
Peaches & Cream
Pineapple
Honey Berry
Strawberry
Apple
Vanilla
Watermelon
UPDATE 3/19/20: Recent new form of DabWoods packaging seen here.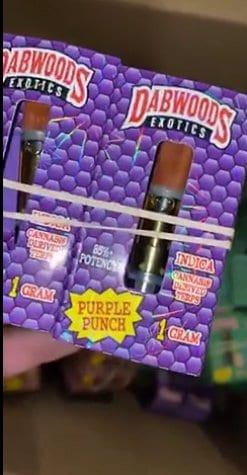 To conclude, Dabwoods cartridge gives smooth and light hits
Overall, the Dabwoods cartridge is decent and does give smooth hits. The oil quality can improve, but the taste is decent and it does give clean hits. The main thing about this company is that there are many fakes out being distributed. We aren't even sure if the one we have is a fake, there isn't any authentic information to be found online as to if they're legit or not.
Have you tried Dabwoods cartridge? Post your review below! Questions or comments? Post below or in our forum!