So hey, Green Wednesday is upon us! For those of you cannabis fans who will be doing your Green Wednesday shopping for yourself or for gift ideas on your list, we present the first ever award ceremony which I totally made up myself. The Golden Buddhas are these little statues I somehow possess, possibly on a head shop run, that pop up in random photos of products I review on here. Over the past year, I've even hinted in some reviews at a "possible Golden Buddha award" contender.
DISCLAIMER:
Our Golden Buddhas are not to be taken scientifically. They're based on the best stuff reviewed this year by "Penguin" Pete only. Check the name credited as author of this post; Dab Connection has had some 20-odd steady reviewers over the years. Thus, the answer to "why didn't this product win?" is "Pete didn't try it this year." The answer to "Why didn't you have an award for [insert category]?" is "Pete didn't try anything in that category this year worth noting." These are just the products that impressed me overall. You're savvied up to that, on with the program…
One more note: All of the products on this list are legally available in all 50 US states, except a couple (the THC non-edibles) which require a rec-legal state. That way you can look for deals on this list for Green Wednesday, in case you're doing some holiday gift buying at your local dispo or online retailer.
Click through the listings to find our review and vendor link.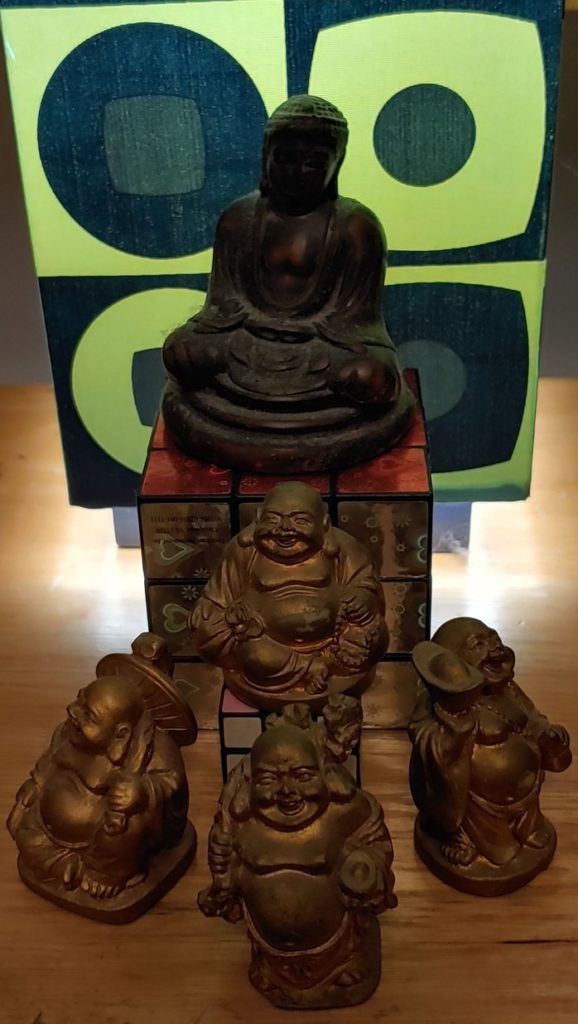 1st Annual Golden Buddha Awards
For outstanding performance as a credit to the US Cannabis Industry. And the winners are…
–
Boxes: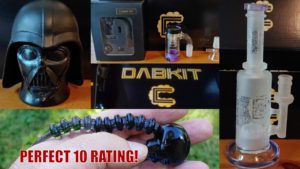 Best Box: Cheefkit The Dab Box
The Cheefkit The Dab Box just blew us away. Not just on dollar value for the price, which is the rule for box sets, but in the imaginative selection chosen with high quality and variety in mind. I'm still using lots of stuff from this box, with the dab rig my favorite daily dabber.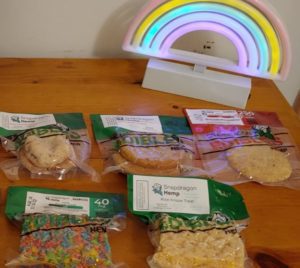 Best Edible Subscription: Snapdragon
Since my earlier review, when I'd only nibbled a couple of the treats, I've had the occasion to snack through the rest of the box. They are tasty, quality treats with great delta 8 + entourage effects from the full spectrum, and in fact hit better than some THCD9 edibles I've had.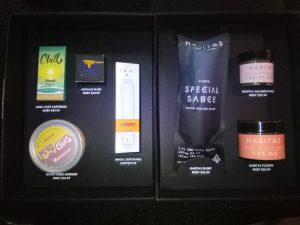 Best Alt-Cannabinoid Subscription: InHeal
Finally that miracle of miracles, an altcan selection that is legal to ship, and with outstanding items! Three of us Dab Connection review staff at the time took a shot at reviewing it, and all three found something to whoop about. Considering it was mostly delta 8, HHC, and other minor cannabinoids, the box packed some punch.
–
Cannabis Consumables: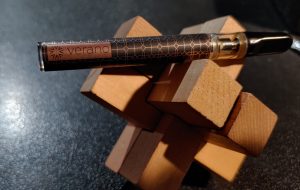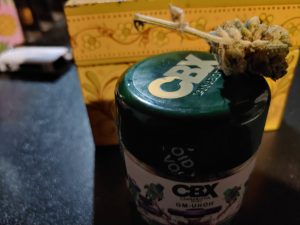 Best Oil Cartridge or Oilpen: Verano Travelers
Best Flower: CBX Cannabiotics GM-Uhoh
Both of these were from recreational-legal states, because I don't just sit around Iowa all day. Part of my 4/20 event, the one with the zombie. Never mind, just visit that link, you'll figure it out.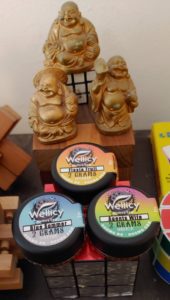 Holy smoking clovers, not only are these the best delta 8 dabs I have ever had, but some of the best dabs I've had, period, no matter what cannabinoid. I'm going to be poking around the rest of Wellicy's stock to see what other goodies I can uncover.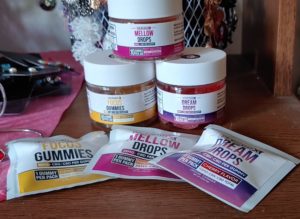 Best Gummies: BioWellnessX (review 2_)
The cannabis gummies market has some hard competition, with many contenders ensuring a tough pick this time. BUT, out of all the edibles gummies I've tried, BioWellnessX has the largest selection of alternative cannabinoids, offering accessible lab tests, accurate potency, and consistent high quality. For the medical and therapeutic user, they get my top recommend. For the recreational user, they have a few deltas of THC worth checking out too, for you party animals.
–
Cannabis Hardware and Accessories: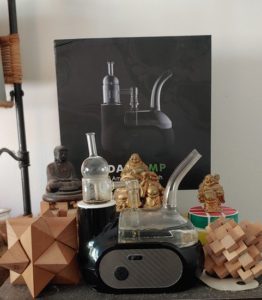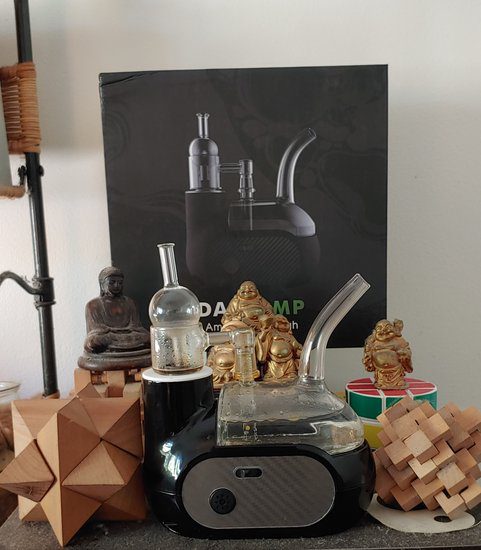 I know that I have not established a series of reviews here for eRigs, but trust me I have used my share. I think the DabLamp is at least worth checking out for its unique look and features.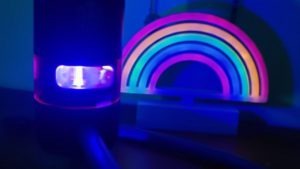 Best Innovation: Hitoki Trident
As a wee little penguin chick reading golden age science fiction novels a way up north snuggled in my igloo, I always knew that someday in the future I would be smoking weed with lasers. Worth it for the show-off factor alone.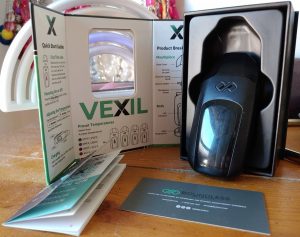 Best Electronic Dry Herb Vape: Boundless Vexil
Another category full of hot contenders! We tried so many dry herb vapes this year, they could fill a book. Out of them all, with some very good candidates, the Boundless Vexil has remained a solid, dependable favorite for its ease of use, hand-friendly build, dependable function, and doing all that while looking boss too.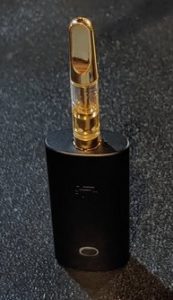 Best Cartridge Battery: PCKT Two
Yet another category with no shortage of contestants. We have had to review our way out from under heaps of cartridge batteries in every possible style. The PCKT Two wins for its sheer attention to quality, with a solid build and design. It's so good that it won me over to socket-style batteries.
–
Shouties:
Little shout-out to my home stompin' ground: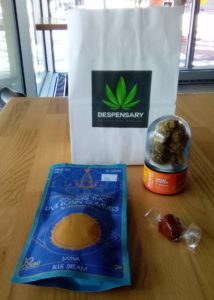 Best Dispensary in Des Moines: Despensary
This is NOT a category with a lot of competition. In fact, Despensary is the only thing I can find close to a full-fledge dispensary that serves recreational customers (others in Iowa need a med card). They don't have an easy job under the oppressive laws of this state, but they earn points for making that difficult job look easy. The Despensary is a credit to the cannabis legalization era.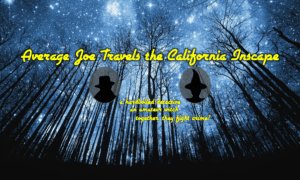 Best Horror-Comedy Podcast Theater Production:
Average Joe Travels the California Inscape
Hey, did you know I also write for a podcast? Yeah, me and some other authors (published ones, even!) plus voice and sound engineering talent. It's wacky, it's off the wall, it's chock full of homages and references to cult pop culture. Think H.P. Lovecraft meets Rick 'n' Morty. No, not that good, but damn amusing 20-minute episodes.
–
Happy Green Wednesday 2022! Have a very green Christmas!
Readers, you're welcome to share your Green Wednesday recommendations in the comments below! Which of your local dispensaries have the best deals?