REVIEW OVERVIEW

SUMMARY
Your humble penguin is caught lately between the drive to sample all the cannabis edibles on the market, and the need to keep my weight down to reasonable levels. Since I make a whole living from writing (they said it couldn't be done…), mine is a sedentary lifestyle (everyday everyday type type type!) which requires calorie management. Nevertheless, what with the holidays and all, one is obliged to indulge in the occasional treat.
Snapdragon Hemp has served my treats for the month, with their Delta-8 THC Edibles Subscription Box. This is the standard size 6-item box, with one "super strength" extra thrown in (I'll explain in a bit).
Pros:
Tasty treats!
Well-rounded assortment
Good range of potency
Vacuum-pack preserves freshness
Clearly labeled ingredients and dosage
Full spectrum effects
Cons:
The price at $39.99 per month might be a bit steep for some
Recommendations: Perhaps offer more customizable options? E.G. "Cookies assortment" or "Rice Krispies collection"?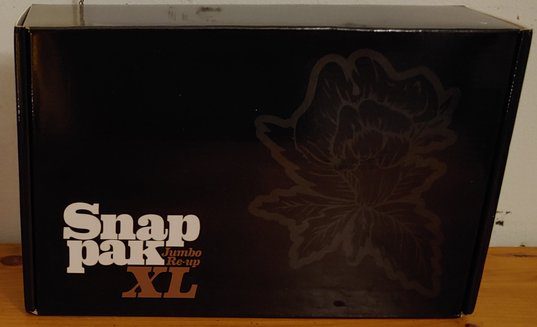 Snapdragon Boxes Offer a Broad Assortment
This is definitely a box of quality edibles. The Snapdragon website mentions that the assortment may differ from one box to another depending on availability. They offer both THCD9 and delta 8 boxes, mine is all delta 8. My box is cataloged as follows: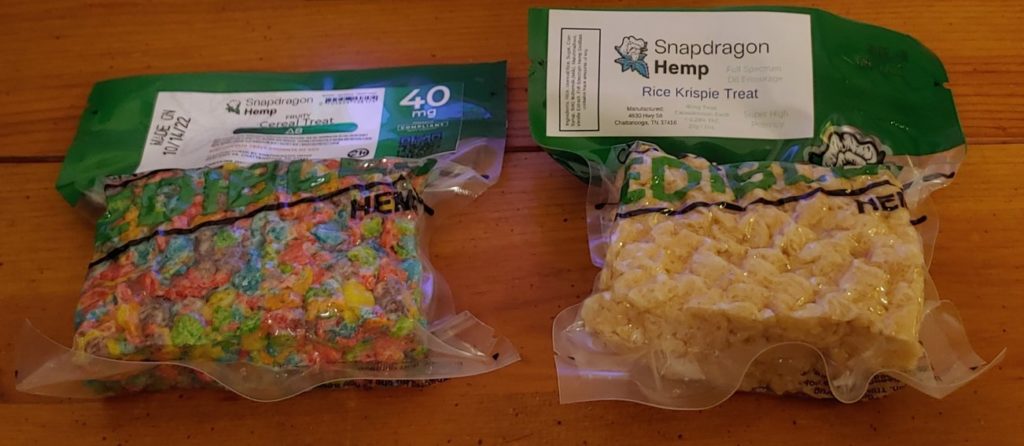 Rice Krispie Treat – plain – 40MG
Rice Krispie Treat – fruity – 40MG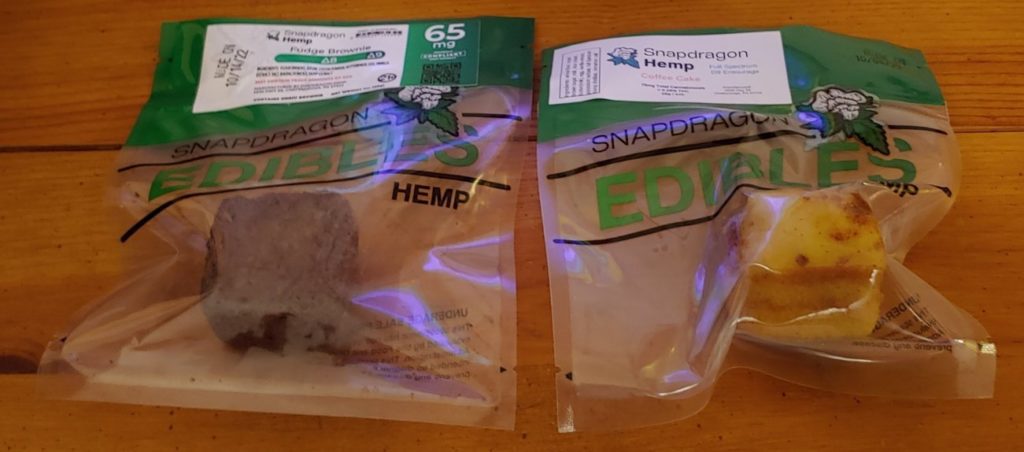 Fudge Brownie – 65MG
Coffee Cake – 75MG

White Chocolate Macadamia Cookies – 2-pack – 30MG total
Peanut Butter Cookies – 2-pack – 40MG total
Super Snickerdoodle Cookie – super-strength extra – 250MG
That last one is a bit intimidating! I'm saving it for a day off.
I mean, obviously my tolerance is through the roof reviewing products for this gig. Yes, granted, this is delta 8, kid brother to our favorite isomer #9 of THC. Scoff all you want, but 200+MG of anything ought to at least be a heavy load for any of you. If not, God, take a 1-day tolerance break already!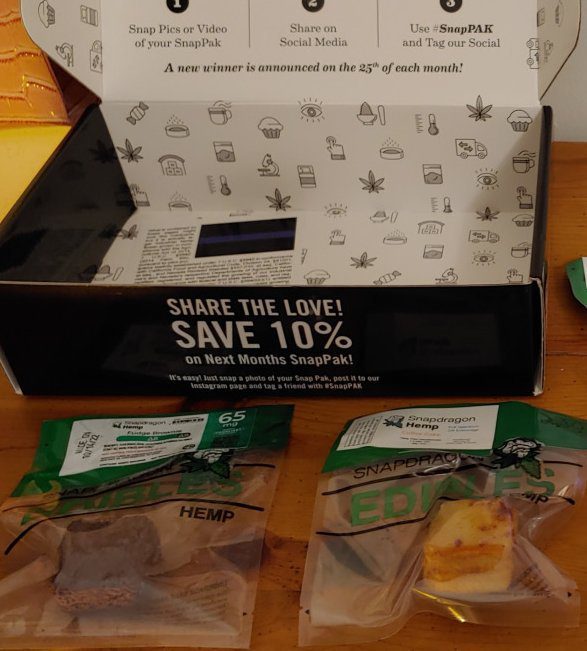 So Far, So Munchy!
I have only enjoyed 2 of the items so far, the coffee cake and the chocolate macadamia cookies. Both of them were of satisfactory freshness considering the shipping delay. Both of them were tasty and satisfying with no cannabis taste to them. And both of them feel just like what you would expect from the labeled potency.
Delta 8, as we reiterate in our altcan guide here, has effects similar to THC at just about exactly half the strength. For the most part, that stays relevant at doses lower than, say, 100MG. After that breakpoint, you almost can't distinguish the effects of delta 8 from THCD9. Snapdragon Hemp edibles include full spectrum effects from cannabis-derived terpenes as well. When you add entourage effects to delta 8, it mimics the effects of full-THCD9 cannabis even more closely. So, bottom line, these edibles should feel similar to the equivalent full-cannabis dosage in an edible, but with more alertness and less brain fog.
UPDATE | Finishing the box :
Over the last few weeks since this review, I've munched my way through the rest of the box – except for the 250MG beastie, which I'm saving for New Years. I can report that every edible in this box was just as satisfying as the first, with potent effects as listed on the package. The vacuum-pack helps keep the freshness preserved, so you can space these out over the month. Made for some memorable wake-and-bakes!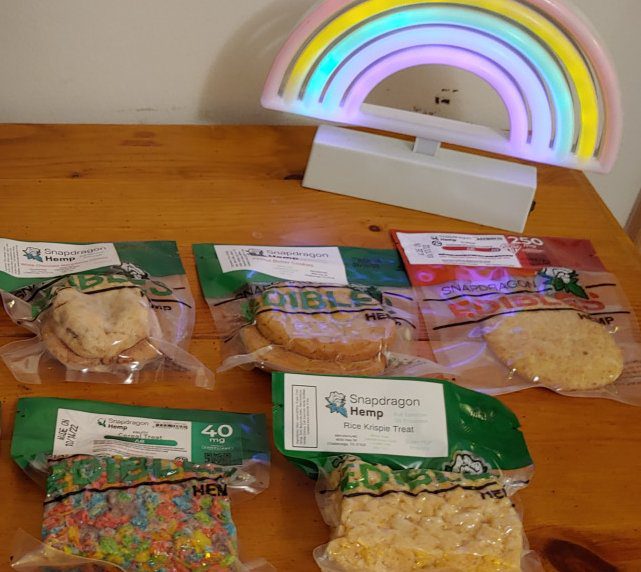 The Snapdragon Hemp Edibles Subscription Box – Great Holiday Gift!
I would recommend the Snapdragon Subscription at $39.99/ month for the monthly six-pack. Even though that price adds up over a year, most cannabis fans have a monthly "weed budget" amply able to cover it. That $40/month breaks down to roughly $6.66 per cookie (heh heh, no devil jokes, I promised Bert). At the rate grocery prices are going, a plain old regular brownie at the store is getting up to that price. So far out of 2 out of 7 of the milder treats, these have every bit of potency I see listed on the label.
Aesthetics-wise, the "eating" part of the treats are as enjoyable as you can get from pre-packaged baked goods. They were no grandma's cookies fresh from the oven, of course. But they list the ingredients and dates on all the products packaged individually, very clearly. The dates on the goods are mostly from the recent month. We are just reviewers here so I'm fine if they had to ship the fresher samples out to the paying customers.
Snapdragon Hemp has 2 edibles subscriptions, find them at that link. They look like they have a broad offering of other products, too.