REVIEW OVERVIEW

SUMMARY
Cartridge batteries: You've seen them big and small, cheap and expensive, simple and complex. But you haven't seen it all until you've seen the PCKT Two system, which is both a bit pricier but also an upgrade to the whole vape cartridge experience.
See our video review of the PCKT Two here. This device has some extended features and tweaks, so the video makes things much clearer when you see the device in action.
Pros:
Sleek and attractive design
Good instruction manual
Versatile (when including peripherals)
Customizable
Good performance
Extends into a refillable cartridge system
Great packaging
Cons:
Found a cartridge it won't work with? (might also be the cart)
Instructions could be a bit more detailed
Recommendations: Maybe check the compatibility with those cartridges?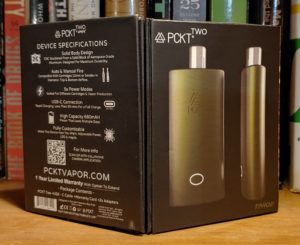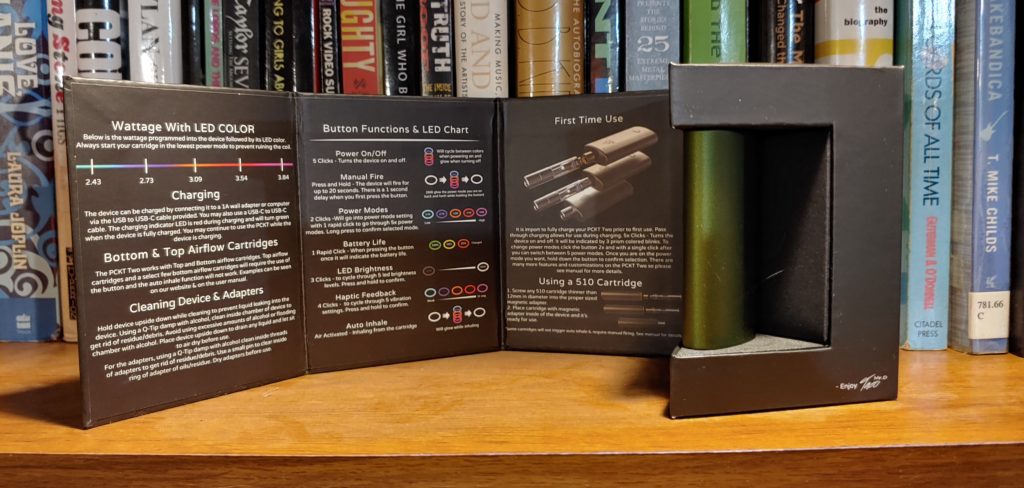 The PCKT Two is Advanced Vaping
While pricier than your average vape battery at $79.95, the PCKT has a lot to recommend it. It's a solid-well-thought-out design. The PCKT is an enclosed vape cartridge system where you thread on an adapter for a magnetic connection.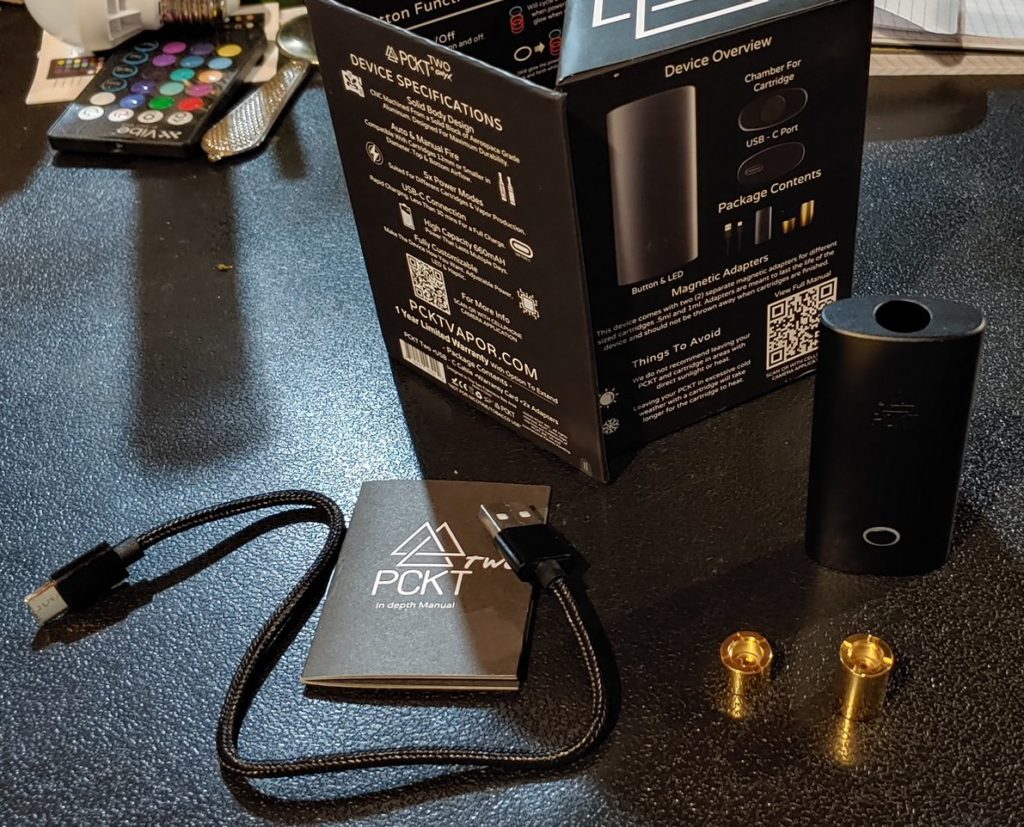 The base battery comes with:
the battery itself
USB charger
two threaded adapters (one each for gram and 0.5-gram cart sizes)
In addition, PCKT offers a full line of refillable cartridge blanks, for those of you who process your own oil. They have other peripherals too, such as the "Extendo" adapter which puts the cartridge all the way out where you can see the oil.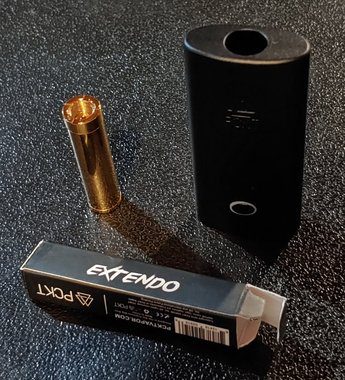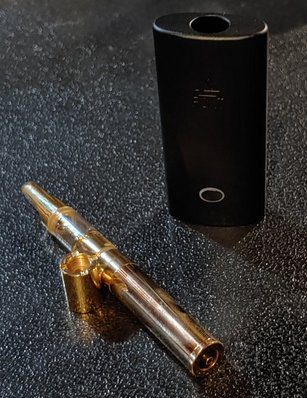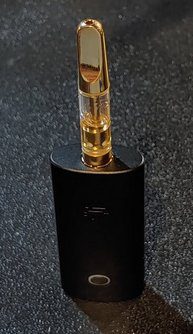 I know most of you could care less about the packaging, BUT – We're here to encourage good practice within the industry, so I must compliment the sturdy and innovative triangle box design which protects the unit from damage during shipping, printed out with the colorful instructions.
But now for the features and requisite controls:
5x – turn on / off
4x – set haptic feedback
3x – set LED brightness
2x – set power modes (voltage levels)
1x – check battery charge
In the case of setting haptic feedback, LED brightness, and temperature, the system works the same: You activate that mode, then single-click to cycle through the settings, then long-click-hold to finalize that setting. The voltages are:
Cyan – 2.43 V
Blue – 2.73 V
Orange – 3.09 V
Red – 3.54 V
Purple – 3.84 V
Finally, the PCKT Two has two usage modes: Hold the button for manual fire or draw-on-demand. According to the packaging, not all cartridges will work with the draw-on-demand feature.

Good Quality Performance
I rarely find much to complain about when it comes to drawing on a vape, anyway, since these days the fundamental design problems seem pretty ironed out. But it bears mentioning that the PCKT Two gave me thick vapor clouds and brought out every nuance of flavor and effects in the cartridges I have tried. These days I tend to go for the lower voltage settings, and the PCKT Two performs here as well. Even at the lowest setting, the unit draws perfectly. You get a good, solid puff every time. The PCKT Two brings its A-game for the serious cartridge user.
I Found a Cartridge That Won't Work?
The PCKT Two works with both bottom and top airflow cartridge designs. The trouble with that is, I'm not always sure which cartridges have top or bottom airflow and it's not like all cartridge packagers are studious in telling you.
So I have found one feisty cartridge which won't work with the PCKT battery but will work with other batteries I have lying around. It's a URB Finest Flowers live resin 1 gram. To be fair, it is a non-standard cartridge design with a plastic tube mouthpiece, but it still has 510 threading. When I try to use it with the PCKT, with any adapter, trying to use it makes the button light up and the haptic feedback buzz, signifying that there's no cartridge detected. The unit does the same thing if you try to fire it empty.
I'm going to mark this up to a quirk, probably the cart's error. But readers, please do let us know what cartridge/battery combos you have found that are incompatible!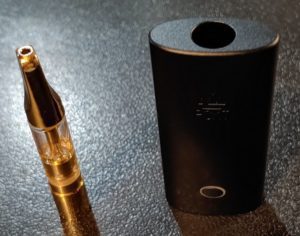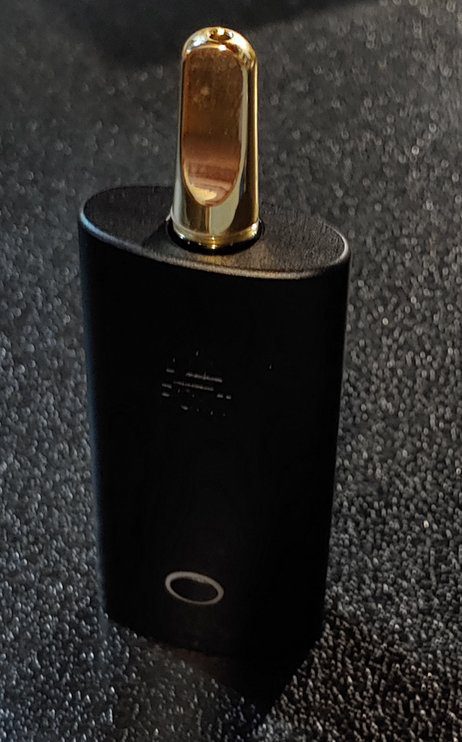 The PCKT Two is Luxury Vaping
I can't speak to the refillable cartridges because I don't fill my own carts. Considering the steady stream of products I have to review, that would be like baking my own fruitcake when I get bombarded with them every Christmas. But the cartridge blanks they sent along do appear to be sturdy and solid in build, and only a few dollars each.
The PCKT Two is compact and discreet, fitting snugly in the palm. It's easily portable, albeit you'd want the whole cart + adapter ready to go. The magnet and adapters are secure enough that the cartridge stays seated even when shaken upside-down. With the exception of the glitch with the URB Finest Flowers cartridge, I couldn't find any flaws.
I will say though that the PCKT Two may not suit those who prefer simpler, no-frills vaping. There are plenty of less feature-filled vapes on the market. The price tag, nearly $80, might be a bit much for the budget user and the features may feel like overkill. Setting the haptic and LED level is nice, but let's face it, you will likely set each of these settings once and then forget they are there.
For me, the PCKT Two looks like it will be my go-to vape cartridge battery for a while. Let's see how it does long-term in the performance department! Find the PCKT Two here.
Readers, share your wisdom about vape batteries, PCKT, and cartridge incompatibilities here in the comments or in our hip forum.