REVIEW OVERVIEW

SUMMARY
Howdy, cannabis fans and fanciers! We're back with part 2 of our review of the InHeal Box, which retails at $99 for a selection of 8 items. In part 1, Ben gave his thoughts on the concentrates end of the box, and later Denise gives her thoughts in part 3 (and some sharp California prop 65 labeling facts, while she's at it). Here is part 2, where we join the Present Author in an overview of the edibles and smokeables, to wit:
Though each item is sold separately, InHeal (+ plus their subsidiary Habitas) offers this whole Box as a unit as well. So we're reviewing items as individuals and then considering the value of the whole package. By all means, if you were going to buy these eight items individually anyway, you would save money buying the Box.
See our video review of the InHeal / Habitas Box here, supplemental to this post.
Pros:
Great selection
Good documentation
Generally good quality overall
The Box is a huge savings over the individual items
Some innovative hemp products
Cons:
Moonrocks are harsh
Individual items are pricey
Recommendations: Work a bit on the delta 8 flower to stay competitive. Back to the drawing board with the Moonrocks.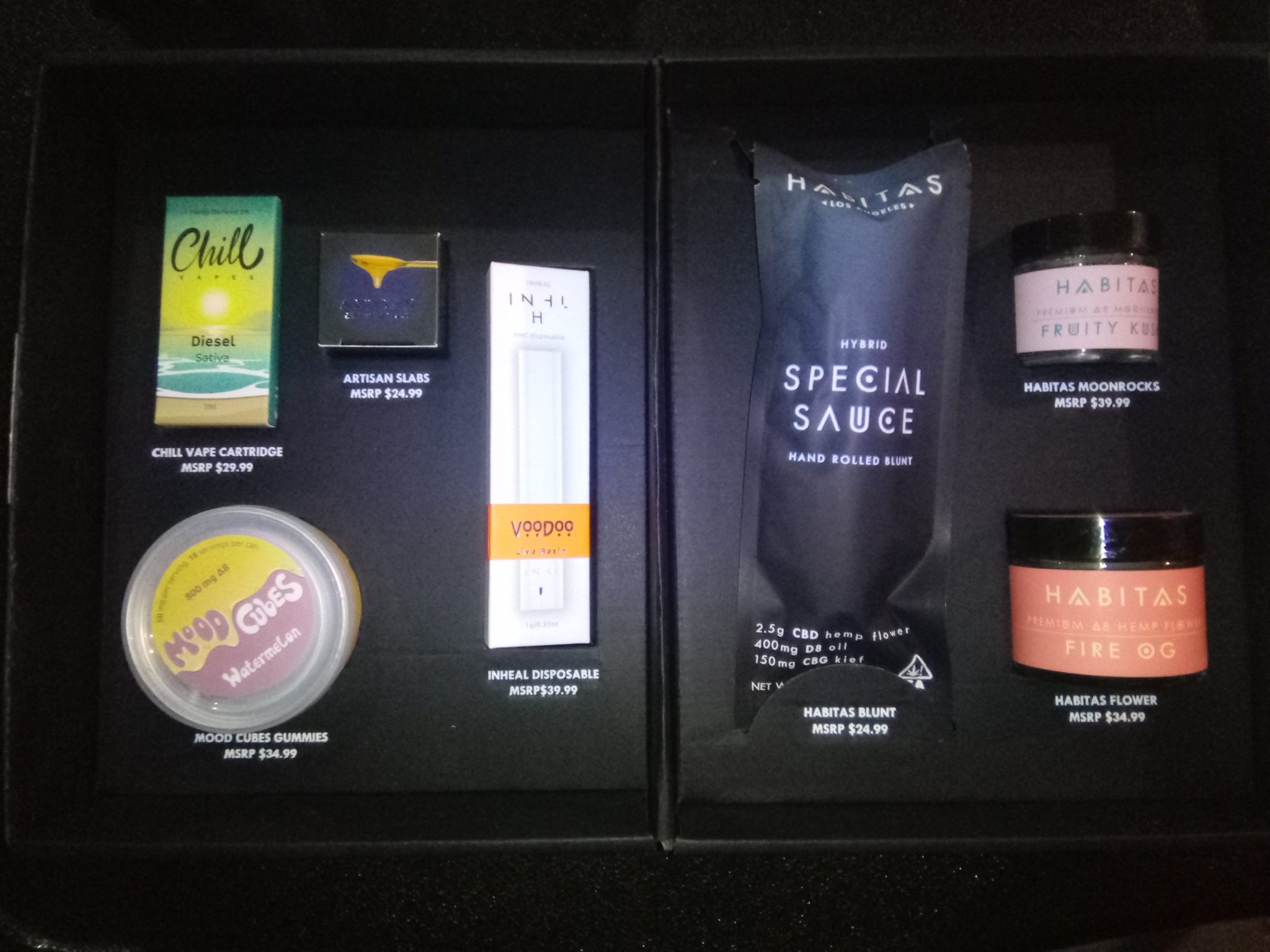 The InHeal Box has great value for $99
Have you ever said to yourself, "I don't want to pick and choose, I just want a full drug smorgasbord"? Have we got the box for you! The InHeal Box comes packed with a selection which you can customize by flavor, and presents the round trip experience of cannabis consumption, from smoking to vaping to eating. All of our staff consensus so far agrees that this makes a great gift.
All products are Farm Bill legal, using hemp-derived alt-cannabinoids including delta 8, CBD, HHC, and many more. Let's take these one at a time: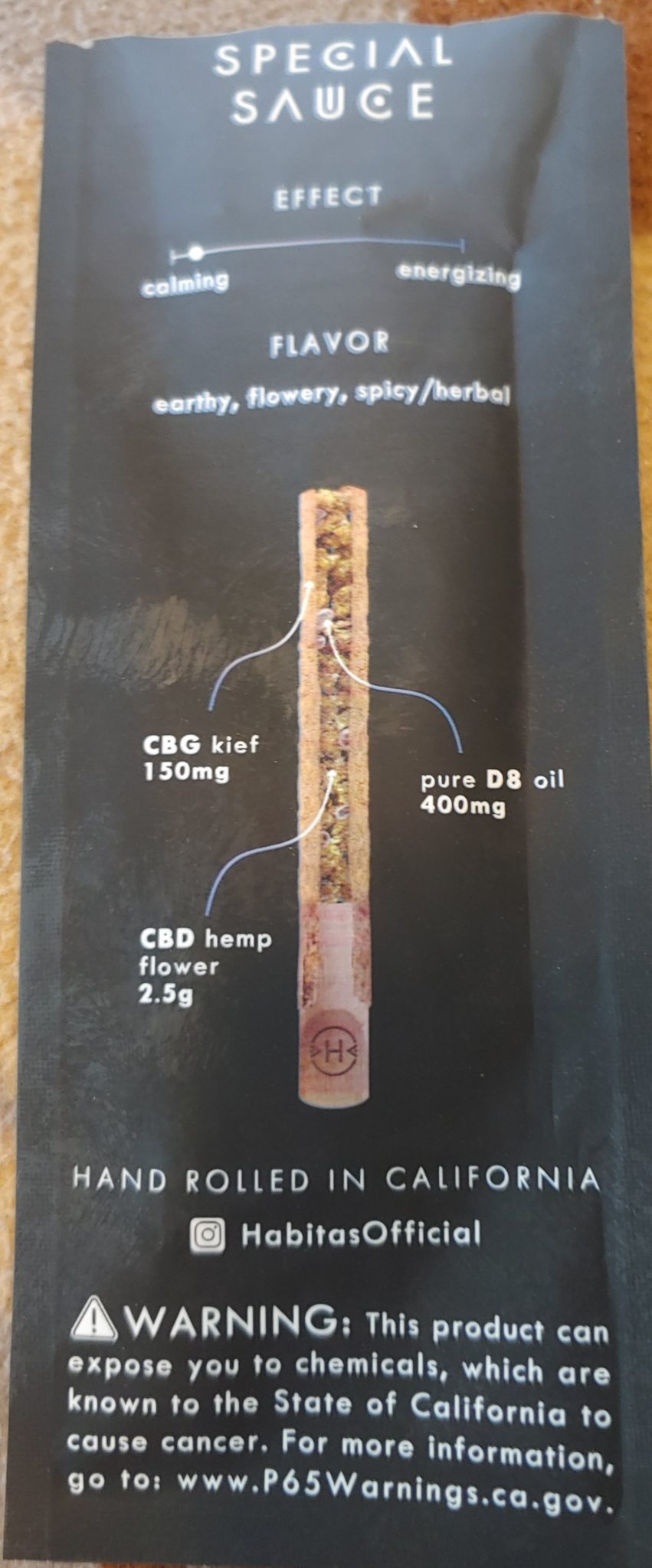 Habitas Blunt – Pick of the litter!
The Blunt stands out as an excellent product. It smokes as smooth as a cigar, with a dank, skunky aroma and taste. The effects were great; a thoroughly "stoned," euphoric and uplifting high with a smooth, relaxed ride. The Blunt is made with delta-8 treated hemp, testing out around 20% delta 8 with some CBD and other cannabinoids, then rolled in CBG kief to give it more entourage effect but not overwhelm the flavor. A wooden tip tops it off, for cooled smoking.
To be fair, other blunts I have enjoyed in the past were home-rolled in cigar wrappers. But when it comes to professionally-made blunts, this one is the best your reviewer has ever tried! I could not tell the experience from smoking plain D9THC marijuana.
The variety I got simply said "Special Sauce," a "hybrid." While it didn't have much to distinguish it beyond a mildly skunky aroma, I'd say it was doing stellar for a blunt and wins my current nomination for "best impression of D9THC by an alt-cannabinoid product."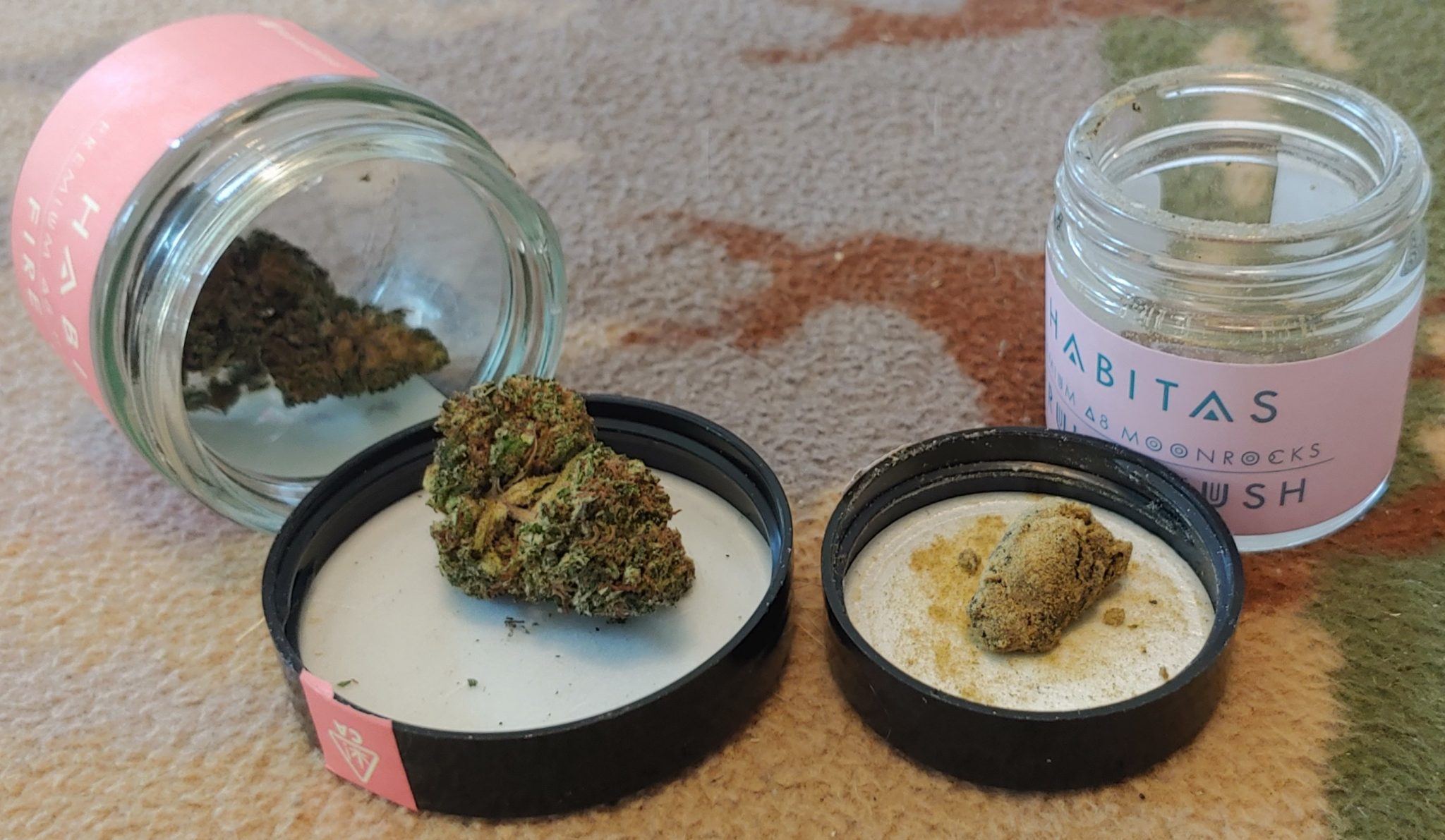 Habitas Moonrocks – Interesting, but not enticing
So… Moonrocks are a cannabis form which your reviewer had evaded up until now based on word of mouth. Traditionally, moonrocks have been made by dispensaries using mid-range buds and trim, and rolling that around in kief. Everything I had heard from others added up to an overall underwhelming impression. This applies to regular THC moonrocks; I'd never even seen delta 8 moonrocks before.
The problem with Moonrocks is that you're mainly smoking compacted kief. This is different from flower. Kief burns more like incense than flower, staying lit for a long time, and also burns far denser than regular flower, so it lasts longer. To start with the good news, kief gets you stoned, and is more potent than flower.
The bad news: It stinks and it tastes terrible. It's like smoking a cork, very harsh, with a thick pungent stink. Cap onto that the fact the kief is better put to use to make hash and subsequently extracts, and you have what is probably the least interesting use of kief.
The variety I got was Fruity Kush, but there's not much to the flavor and taste beyond a mild hint of limonene. There was also a gassy smell mostly due to the kief, as if there were trace solvents in it. The effects from Delta 8 and CBG (the kief) were very strong, indeed, but hit slightly different, with a heavy mental fog combined with antsy energy. Not my favorite buzz.
Bottom line: If you're one of the people who like moonrocks already, maybe you'll like these too. Best I can say.
Habitas Delta 8 Flower – Mid-grade average
Your reviewer is currently on a long-term quest to try as many varieties of delta 8 hemp as possible, which works out to about seven brands so far. Recall from my video comparing four brands of delta 8 hemp, ranking from worst to best. Habitas Delta 8 flower falls squarely in the middle of that scale, close to the PharmaCBD but a considerable notch below.
The buds, packed in a jar, are somewhat dry, and have a heavy grassy odor. That is the taste of full hemp coming right through, and a sign of what not to do. It reminds you not so much of delta 8 as it does the weak, stale brickweed we all used to score off our corner dealer. The Habitas Delta 8 flower isn't that bad, but it also did not stand out above the competition. At around 7% delta 8 and a whopping 17% CBD, its effects might be better suited to those smoking for therapeutic reasons.
The strain I landed on was Fire OG. I can't speak for the D9THC of this strain, but the delta 8 Fire OG has a cheesy, earthy aroma with a sour tang, and a tart but smooth enough taste. The effects were a heavy Indica, slamming me down into the couch like I had sandbags on my butt. This is a nighttime strain for sure, good for lulling you to sleep.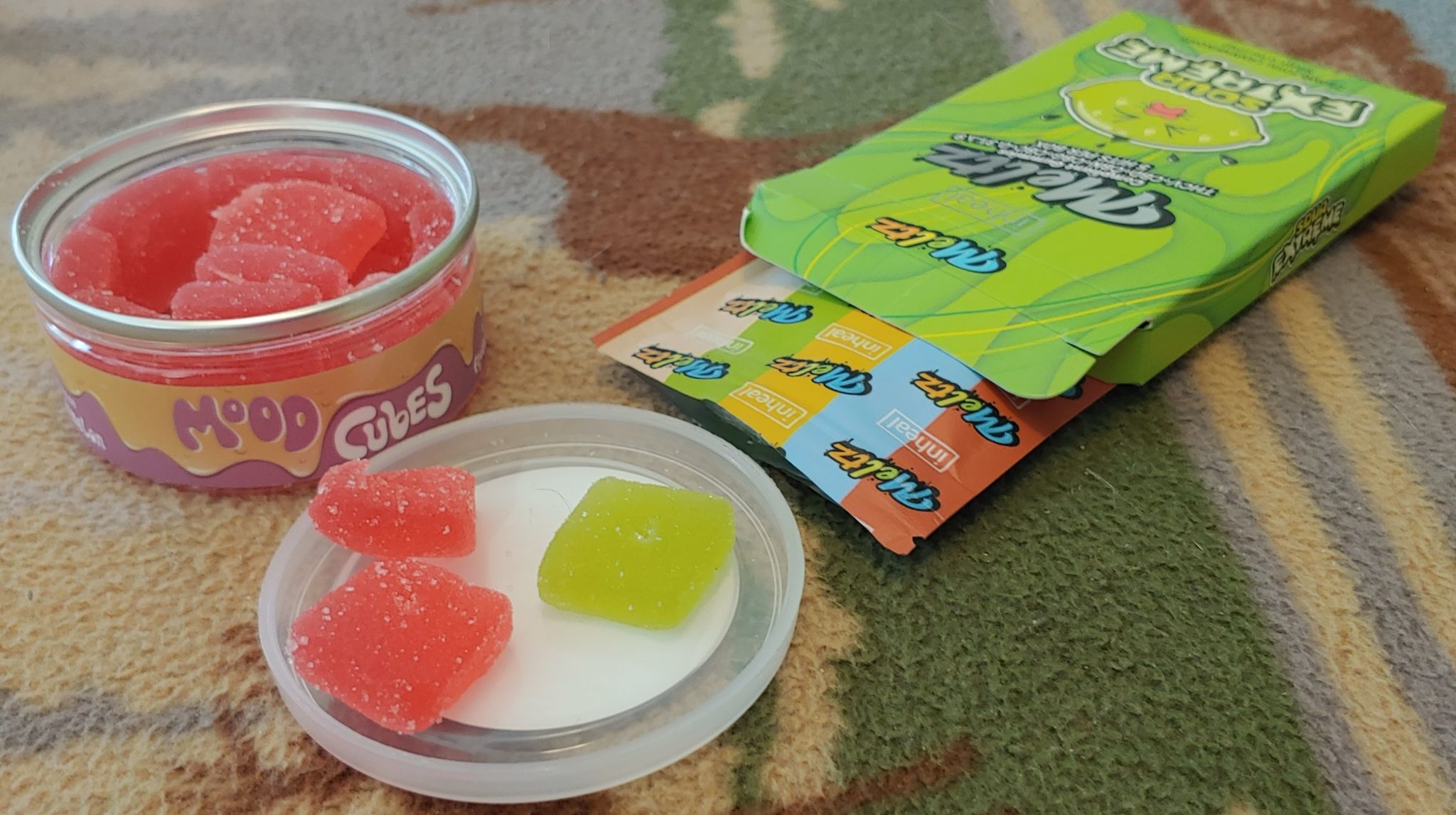 Mood Cube Gummies – Good, but standard
InHeal delta 8 gummies do exactly what you expect delta 8 gummies to do. They are sweet and fruity, with a minimum of aftertaste, packing a load of 50mg delta 8. They are not full-spectrum, so the main thing you're looking for with these is a delta 8 buzz. Just be advised, 50mg might be a bit more than what some would expect from a gummy.
So I got the watermelon flavor, it was tasty and gave me a buzz, and now what else do I say? There are just about a zillion delta 8 gummy brands out there, so that it is getting very hard to tell them apart. I'd rank these somewhere near the top of the scale, but these days I feel like I live on delta 8 edibles, to the point that they hold no remaining intrigue.
Bottom line on the Mood Cubes: Great gummies, just as great as the fifty million other brands out there.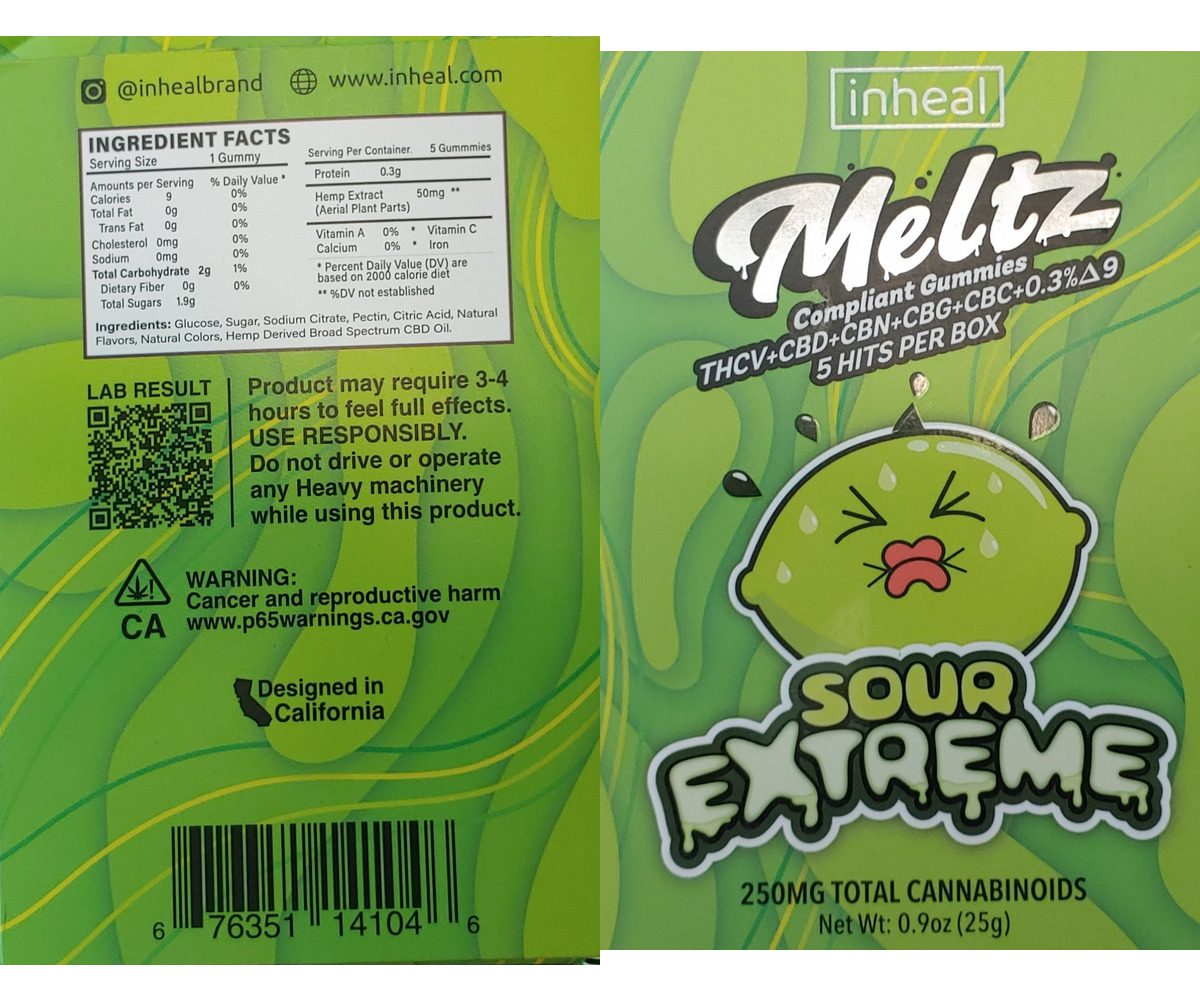 InHeal Meltz Gummies – An innovation we want to see more of!
InHeal might have sensed that their standard offerings didn't stand out from the crowd, and was thus prompted to come up with something innovative. These InHeal Meltz also contain 50 mg of cannabinoids, but that is a composition of THCv, CBD, CBN, CBG, and CBC. These come five to a pack and the ones I got, Sour Extreme, are actually just a bit tart with a hint of medicinal aftertaste.
BUT! The effects of this blend were innovative. Dosing one in my standard practice, I felt just like I'd had mostly D9THC, with a couple of other effects that stood out for me – a relaxation from the CBN and a mild mental energy from the CBG. These wowed me, because at least they're trying to put some effort into making a stand-out product.
I am calling for much, much more exploration in the new field of alt-cannabinoid cocktails! With some 150 cannabinoids plus all the isomers and acetates to explore, there are over half a billion different combinations of five cannabinoids you could isolate and try out. We could go on for years with this. And this is a very interesting field – who knows what interesting effects we could get with different combos?
Bottom line: Try the Meltz, they will at least be different from other gummies you have tried.
In summary, the InHeal Box is a well-rounded alt-cannabinoid experience.
I'd recommend the Box based on value alone. Picking from the box, the Blunt and the Meltz are the stand-outs; my colleague Ben and I agree that the disposable oilpen is also pretty good, but I left the vapes and dabs to him.
Even though some of these were hit and miss (perhaps storage and shipping time were a factor?), the box overall makes a great sampler for those new to cannabis, a great gift for cannabis fans, and a showcase of everything you can do with hemp. The price for the individual items is about an average of $5 more than I would otherwise pay, but these are Southern California prices after all. The MSRP prices in the box (not including the Meltz which did not have their own slot) add up to $230, so the whole Box is a considerable deal. And seriously, this thing reminds me of the drug tray Nicholas Cage's butler brings him in Face/Off.
Readers, you have the floor, here in the comments or in our dandy forum.