REVIEW OVERVIEW

SUMMARY

Custi Carts delivers a mellow high, with fair strength and good taste. Smooth for it being a Delta 8 carts, these cartridges give mellow and slight effects. The hardware didn't give the strongest nor best hits, but still fairly nice.
Custi Carts delta 8 cartridges turn out to deliver nice, good tasting hits and good effects. Strength is okay, not nearly as potent as a dispensary grade cartridge. But Delta 8 cartridges, for the most part, aren't like so. Regardless, these carts give a nice, light high. The taste is decent, but this hardware didn't give the most effective hits, in my experience. Still gives fair hits, just not as strong.
Pros:
Good, smooth, and slightly sweet taste
Nice effects
Fair strength
Cons:
Hardware delivers slightly light hits
Big oil bubble
Recommendations: Nothing much other than making them easier to find, and perhaps selling online too. 
Made our BEST DELTA 8 CARTRIDGES list!
Check out our video review below and then keep reading on for the more in-depth review of the Custi Carts.
Custi Carts Delta 8 cartridges deliver good effects, fair strength, and nice taste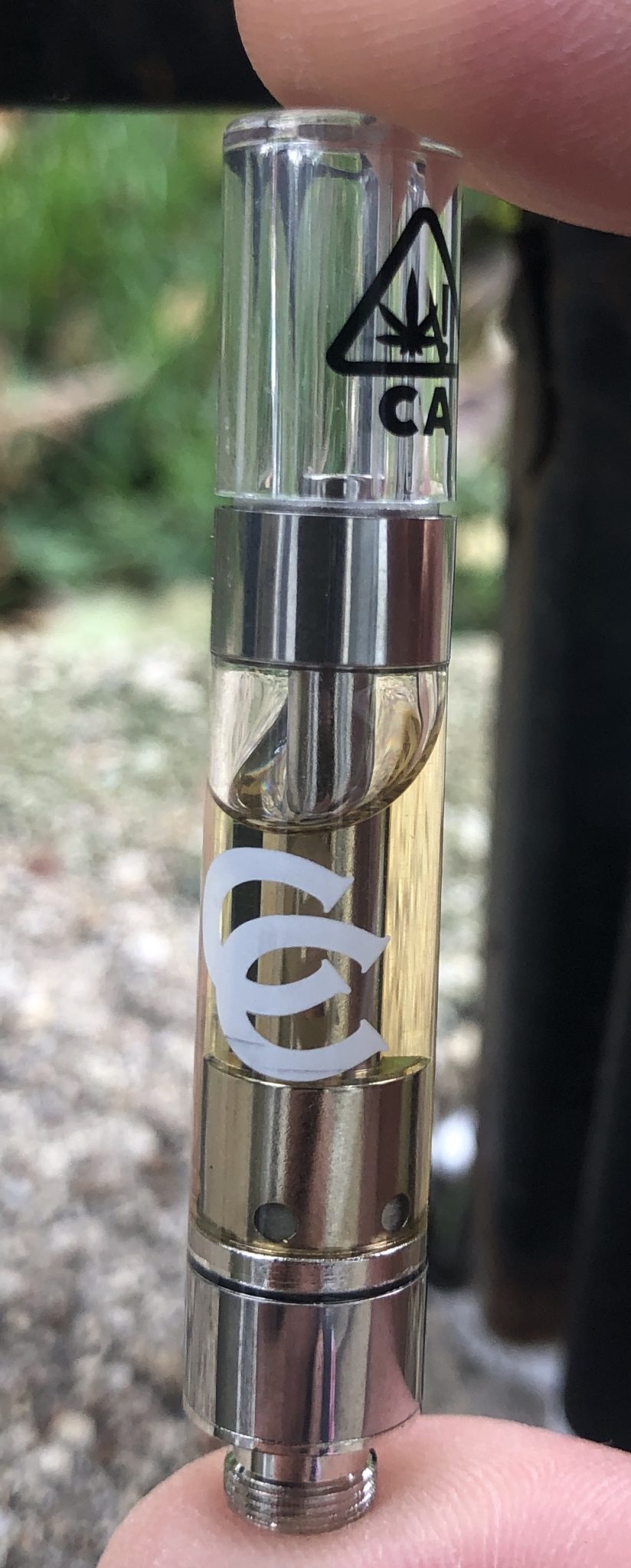 Having tried Delta 8 cartridges previously, I was looking forward and curious about trying this cartridge. For those who don't know, all Delta 8 really is, it's a form of cannabinoid, abundant in the cannabis hemp plant. It does give a different kind of high, different as in a lighter high in my experience. But it still delivers decent effects.
With that being said, after taking a few hits, I did enjoy the experience it provides. Custi Carts deliver slightly smoother hits, compared to other delta8 cartridges. But the taste on this cartridge is a smooth, light, and tasteful flavor.  With just a few hits, you can feel a nice, slight buzz.   
Oil quality is fairly thick and slightly clear, delivers nice effects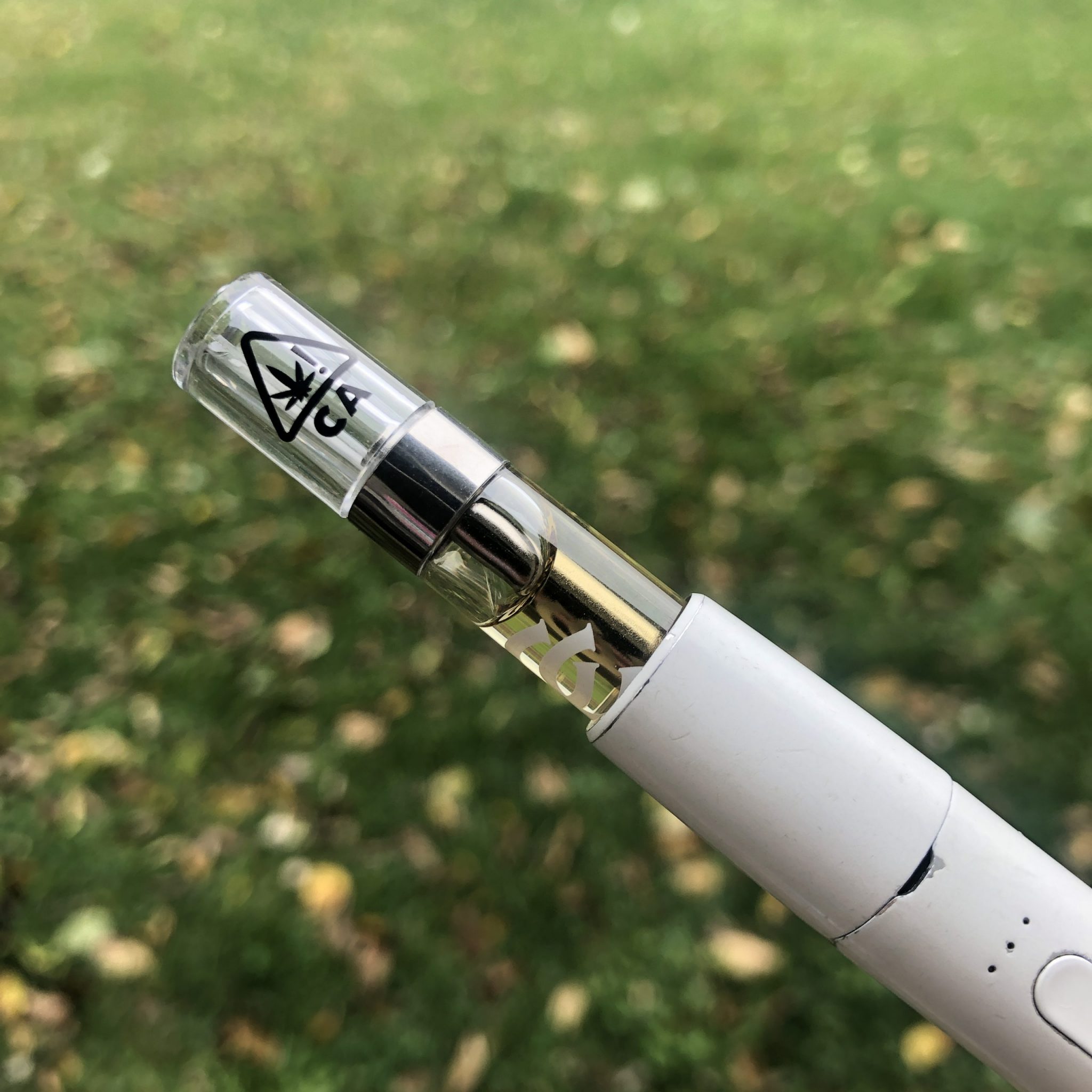 Delta8 usually comes in the color of a clear water-like substance. Thick in consistency, Custi Carts are slightly yellow in color, not that dark but not fully clear. The oil is pretty thick, not the densest distillate I've seen,  but still pretty thick. Much thicker than a lot of street cartridges out in the black market. Either way, the oil quality gives a nice high. 
Custi Carts lab results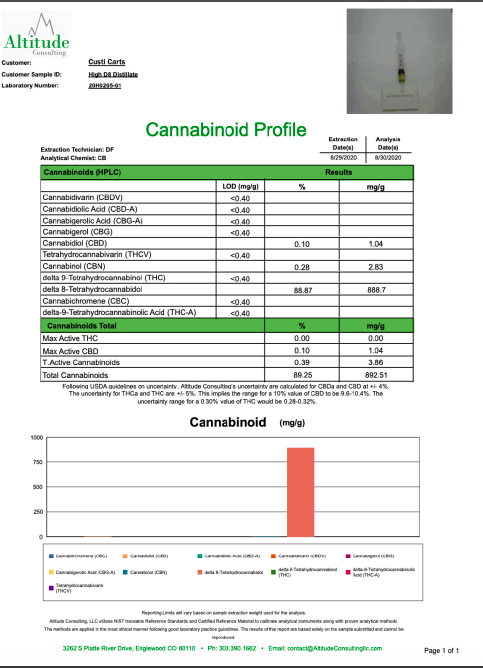 Custi Cartridges Mac 1 delivers a light sweet taste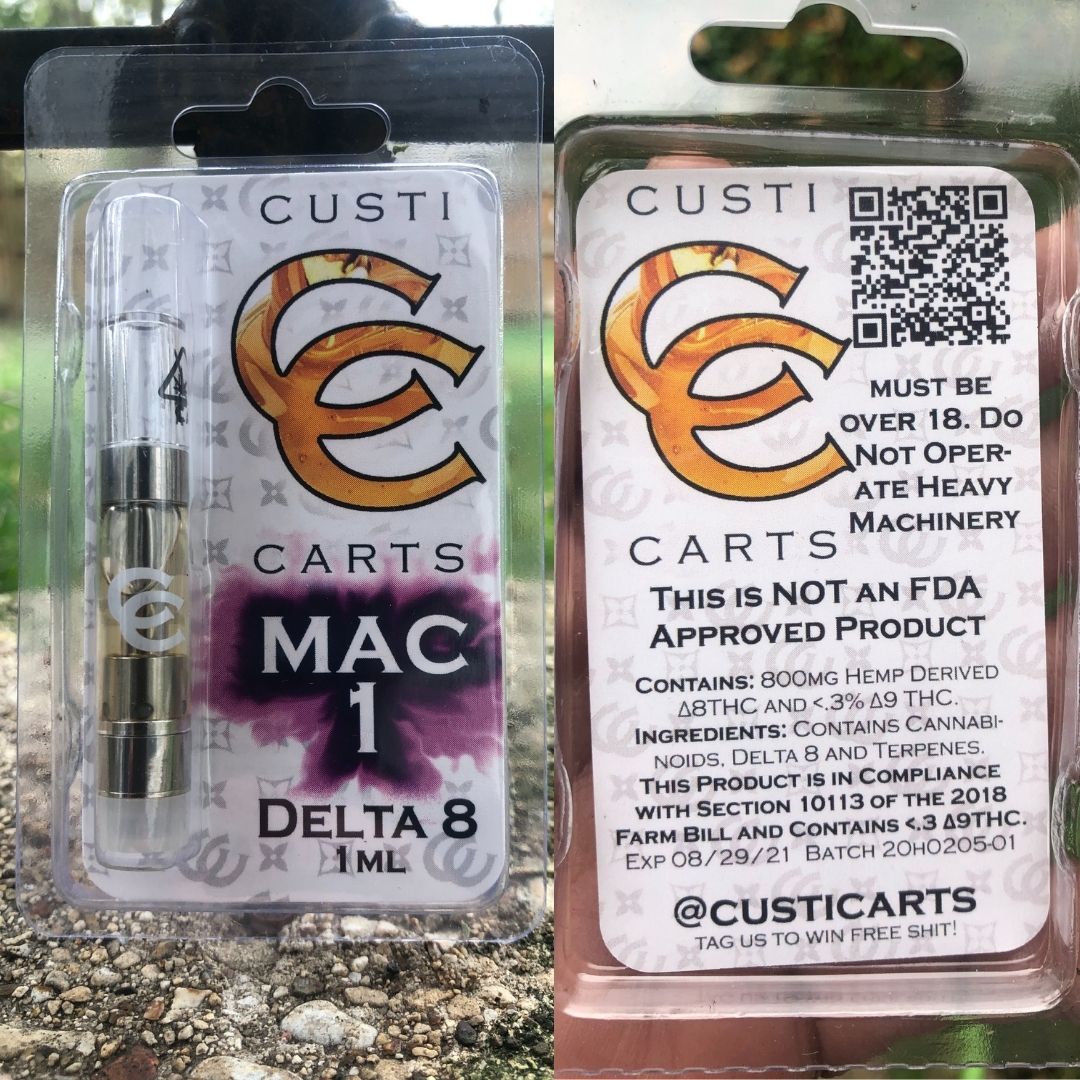 The strain that we picked up for Custi Carts is Mac 1. This strain gives a nice, smooth, and sweet taste to it. A great mix of terpenes, not too dense in taste nor does it taste artificial. The only thing is that it is somewhat harsh, but it's the Delta 8 that is harsh not exactly the strain/cartridge.
Hits are somewhat smooth yet slightly harsh, but so is Delta 8
When vaping this cartridge, or Delta 8 in general, I'll usually get a slight harsh feeling on my throat. Not the type of harsh feeling you get after taking long hits, but an uncomfortable feeling one. If you're new to delta8, this may worry you a bit, I know it did for me. But after some research, I've found that delta8 usually leaves this slight harsh feeling, for the most part. It's not a terribly harsh feeling, it's bearable, you just have to get used to it.
1ML cartridge is very efficient, oil burns smoothly
The duration of this cartridge is great. Really good for someone looking for a cartridge that they can hold onto for a while. Of course, it always depends on how often you smoke and your tolerance. But if you're a moderate smoker and only take a few hits per session, you can make this cart last a good while.
Great effects and fair strength, nice slight high
First off, the effects of delta 8 are not the same as a regular THC cartridge that you'd pick up from a dispensary. In my experience, it does not feel as potent nor does it last as long. But, Cust Carts do give a nice, light high. Pretty mellow and you won't usually get really baked like you would with a quality cartridge. 
Hardware delivers just okay hits, unsure if it's authentic CCELL
At first glance, I actually thought that these cartridges use CCELL hardware. But after taking a few hits and taking a closer look, I started to doubt that it actually is. It could be just my cartridge I got, but there is very little information on the company as I write this post. After my first few hits, I realized it hits a little lighter than most CCELL cartridges. Along with that, they have no form of imprints underneath the cartridge itself. Still delivers good hits, but just not as strong hitting nor thick smoke.
Custi Carts vs 3Chi Delta 8 cartridges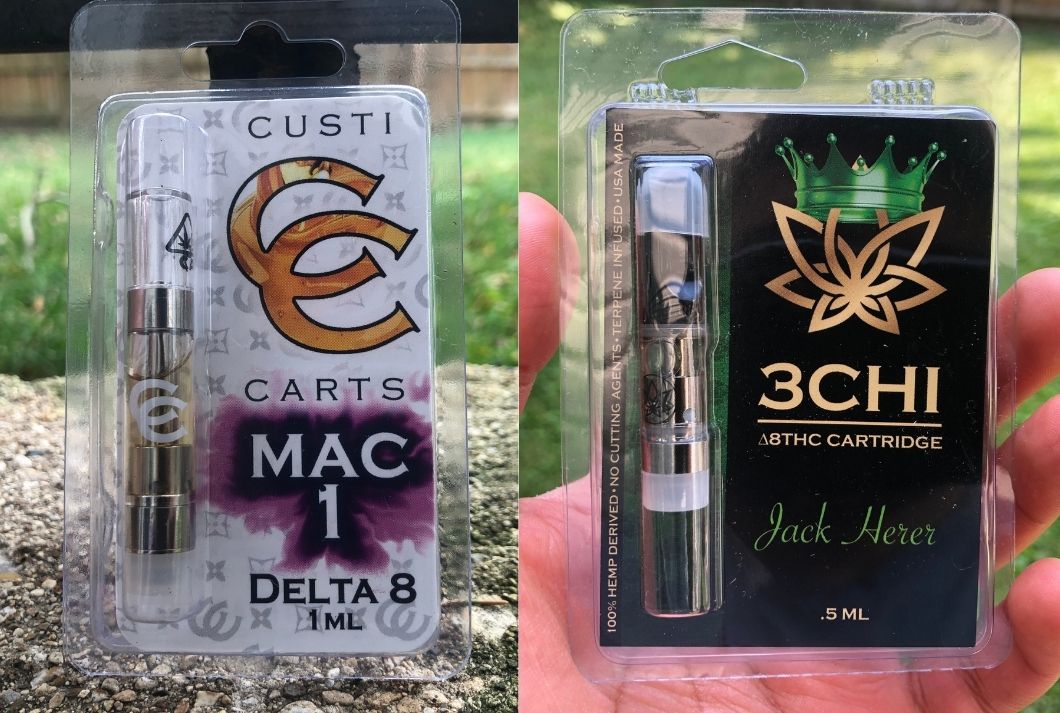 Both have good taste and both deliver nice effects. But if I had to choose, I prefer the way 3Chi cartridges. Maybe it's because 3Chi actually uses CCELL cartridges, but they do deliver thicker hits. The strength and effects on both are great, but I think the strength of 3Chi is slightly higher. As for taste, they both deliver a nice sweet taste. Custi carts taste a little less in flavor, whereas with 3Chi you can taste more of a sweet flavor.
Custi Cartridges vs Urb Finest Flowers cartridges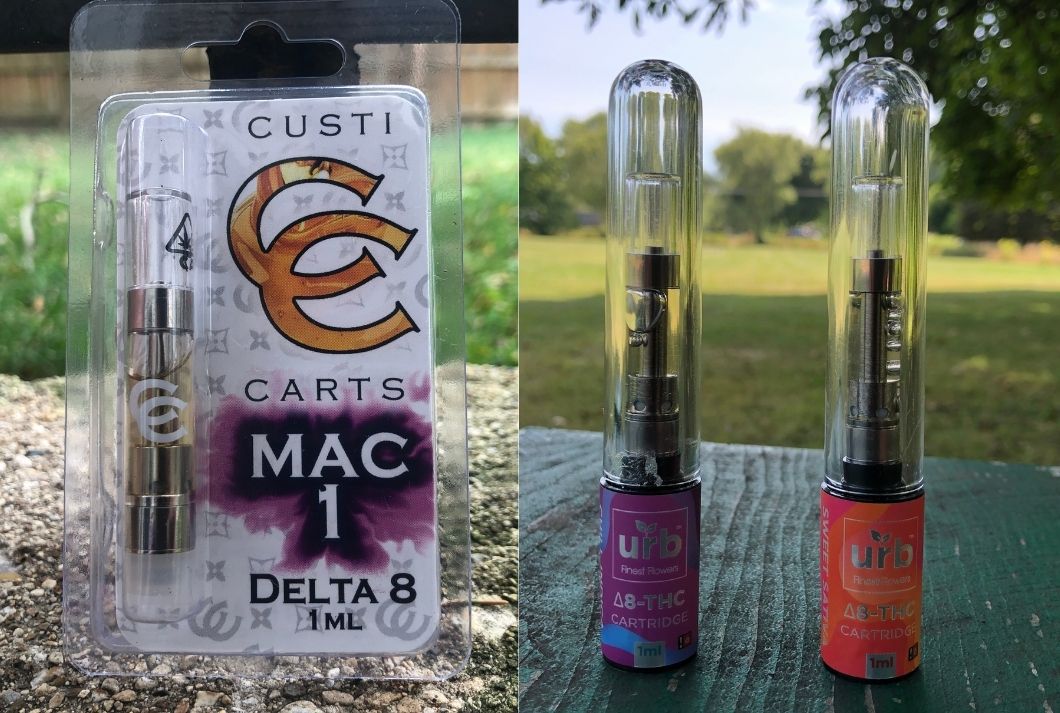 In comparison to both, I much prefer Custi Cartridges over Urb Finest Flowers cartridges. For one, Urb doesn't use the best hardware for their cartridges. They provided very light hits, and one of the cartridges I tested actually broke on me within my first few hits. The taste wasn't that great and strength is alright, but I wouldn't like how light it hits. I felt as if I couldn't even get the full experience because of the cartridge hardware. 
Concluding our Custi Carts delta 8 cartridge review
Cust Carts is something nice to try out if you're interested in Delta8 or if you already like it and looking for something new to try. I like to say delta8carts are a great alternative, for maybe something lighter than a dispensary cartridge or even something better than a sketchy cart. Not the most potent cart nor best hitting cartridge I've tried. But these still provide a nice, clean taste and a pretty nice buzz. You can learn more about these carts and purchase them here.
What are your thoughts on Custi Carts? Have any overall experience with Delta 8? Post a comment below or post in our forum!