REVIEW OVERVIEW

SUMMARY

3Chi Delta 8 carts revealed to deliver fair strength and surprisingly good effects. Having similar effects to a regular THC cartridge, Delta 8 THC is not the same as an ordinary THC cart.
Here on DabConnection, we're always testing new products and brands. With the Cannabis industry growing faster than ever, there will always be new products being introduced into the market. In this review, we have something a little different, here we have the 3Chi Delta 8 THC cartridge. Furthermore, read more regarding what we think about Delta 8 THC cartridges and how we value them.
Pros:
Fairly Potent
You get a nice high
Lab results provided
Cons:
Kind of harsh on the throat
Effects aren't as lasting
Recommendation: It would be nice for the effects to last longer, but that might not be possible Delta 8 THC.
Made our BEST DELTA 8 CARTRIDGES list!
UPDATE 9/3/2020: Literally days after we made this post and planned reviews for several more delta-8 products, the DEA apparently changed the rules to ban delta-8 THC. Meanwhile, allegedly some companies are continuing to sell delta-8 and others are suing. The DEA seems like it's trying to re-ban hemp, or chemicals derived from hemp, to the concern of our budding hemp derivatives industry. Honestly, the DEA itself seems a little fuzzy on the issue, which you might expect from federal oversight that insists on referring to cannabis as "marihuana" like we're in the 1930s.
Bottom line: Our review here asserts delta-8 THC as being federally legal. Recent actions by the DEA may have changed that. Proceed with caution.
Check out our video review below and then keep reading on for the more in-depth review of the 3Chi cartridge.
What exactly is the Delta 8 THC that's in 3Chi's cart?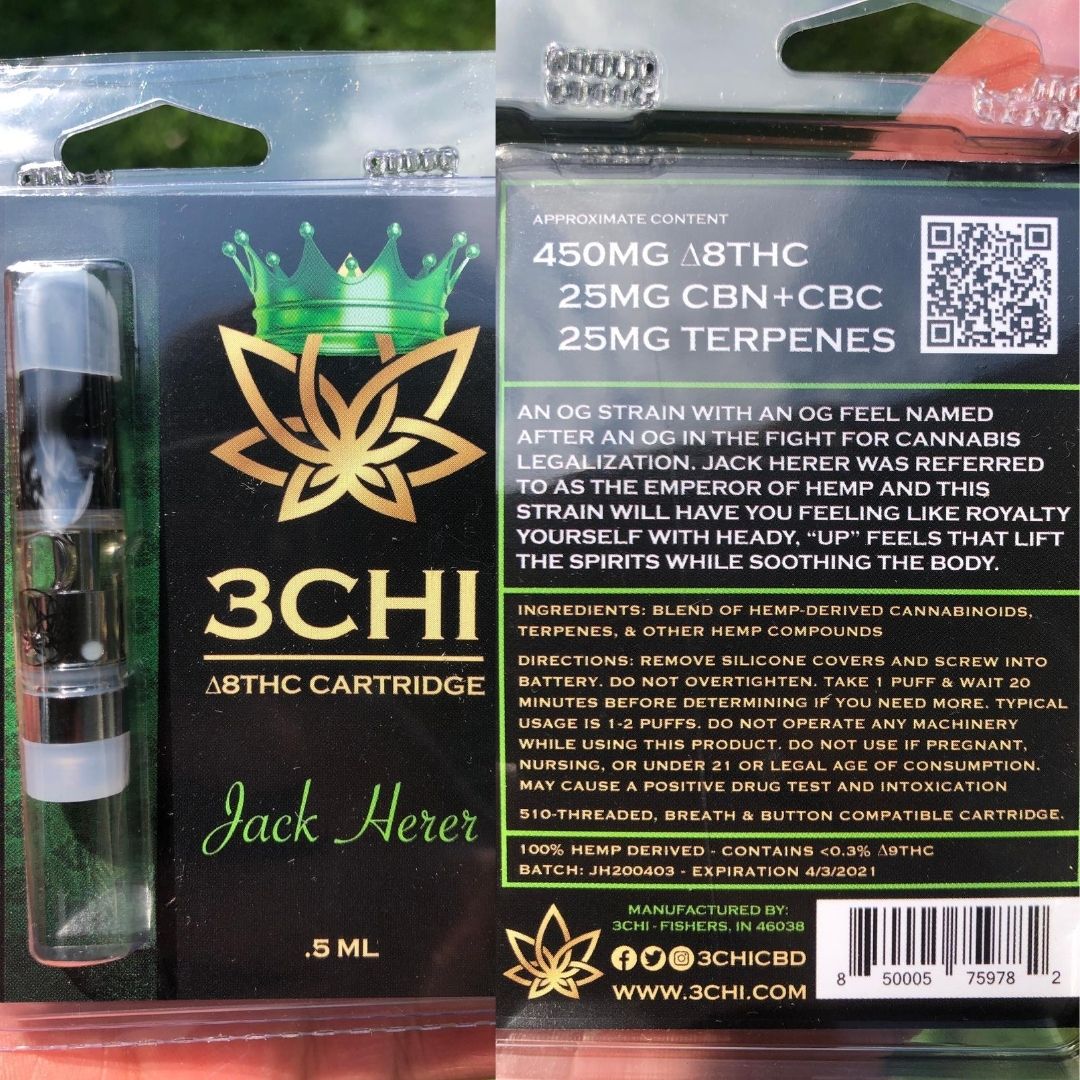 To start, Delta8 THC is simply a form of cannabinoid found in hemp and hemp extracts. Although Delta 8 is chemically different from THC, they still have similar properties and effects. Delta-8 only comes in small amounts within the cannabis flower and is federally legal as well (legal in most states).
3Chi Delta-8 cartridges are surprisingly great in strength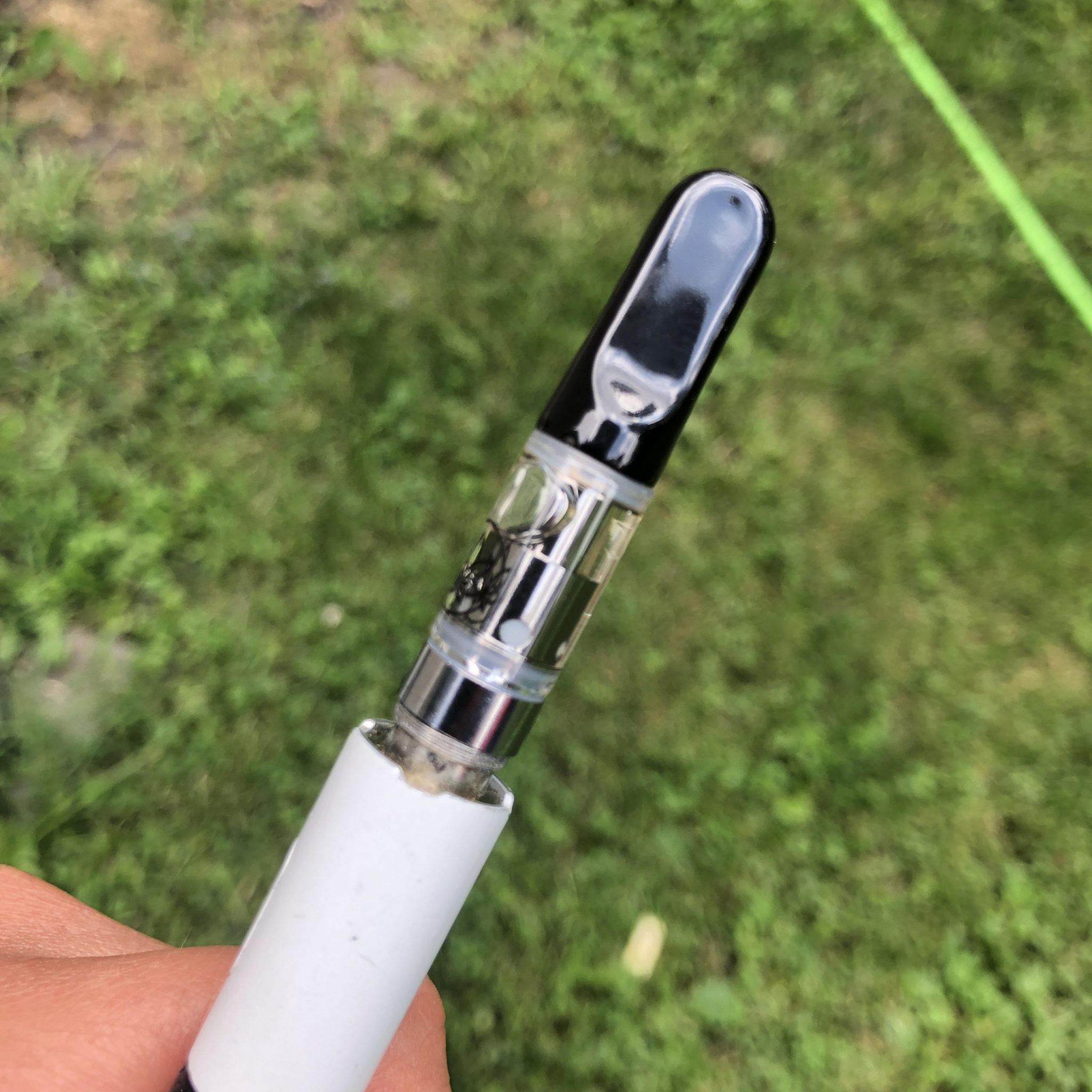 At first, I didn't know what to expect at all with the Delta 8 cart. Never having heard of them before, I was a little skeptical about it and unsure of its strength. But after taking a few hits, I was amazed at how good of a high it provides. Taking the first few hits, it didn't feel as potent, or so I thought. The high crept in after a while of hitting, and the strength of these carts turned out to be great. Not nearly as potent as a quality cartridge you would pick up at a dispensary, but it's definitely stronger than I anticipated.
Good oil quality, safe to smoke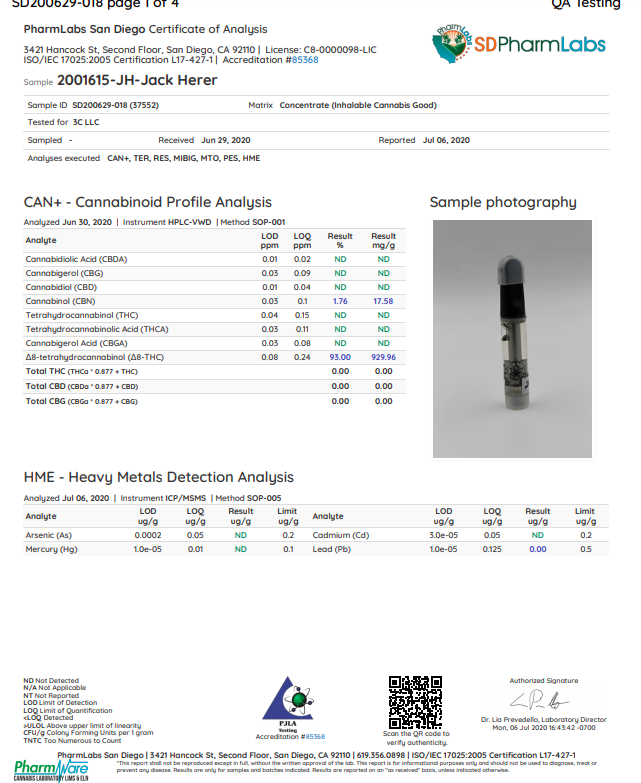 For those skeptical about how safe it is to vape 3Chi Delta 8 THC, they provide legitimate lab results for each of their strains, as shown above. The oil in these cartridges claims to have no VG, PG, PEG, Vitamin E, MCT, or any other cutting agent. 
Something I should mention is that on one of these lab results, they tested positive for a little bit of butane, propane, and other flammable chemicals. In minimall amounts, it is safe to consume and you shouldn't have anything to worry about anything. But for those strict on what they consume, this is just something to keep in mind.
3Chi carts are very efficient, they use authentic CCELL hardware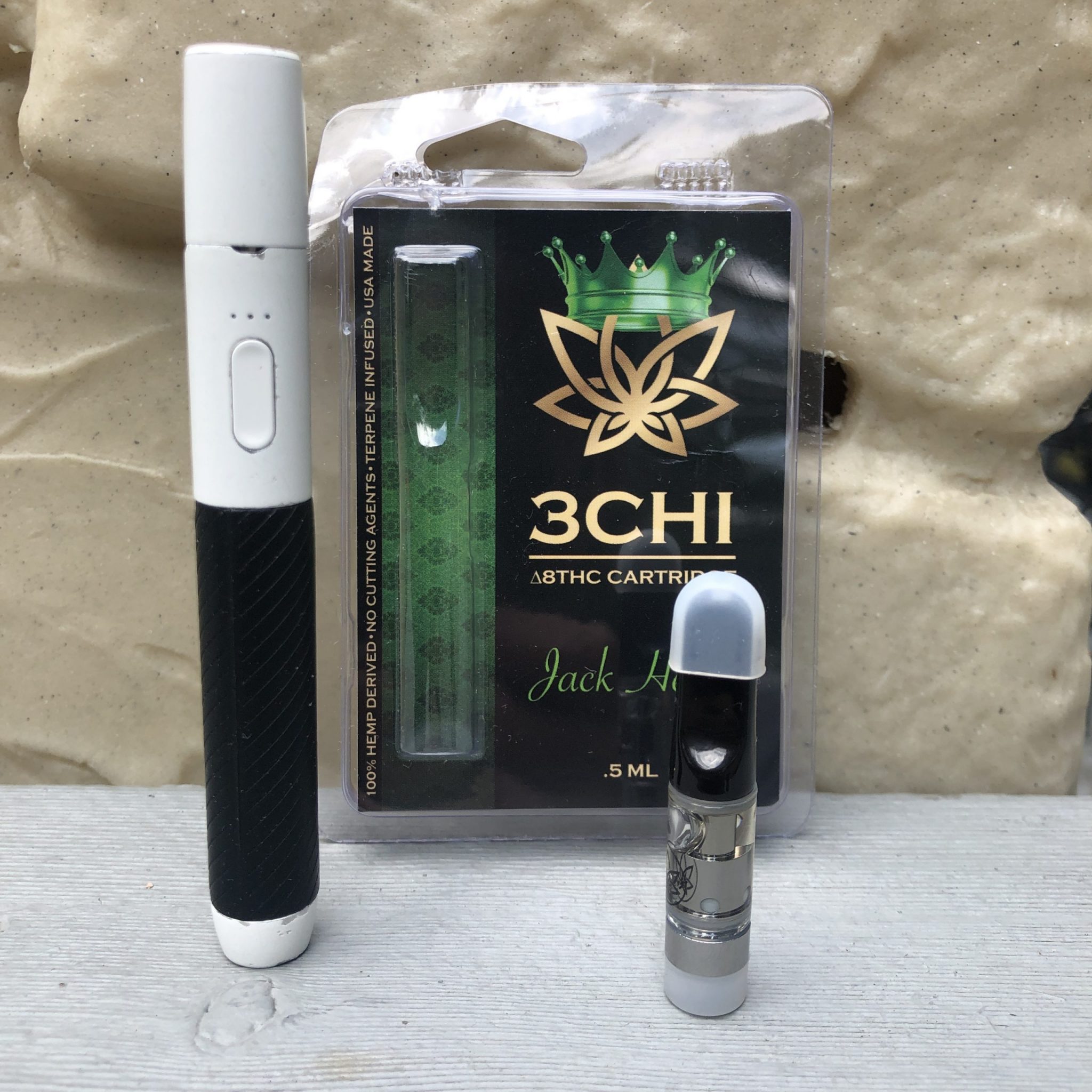 A great quality I enjoy about these carts is how efficient they are. They use TH2 CCELL cartridges, a ceramic heating coil with a glass tank. The ceramic coil heats up great and I prefer the glass tank over the plastic tanks. CCELL is a well-known company that always delivers in quality, in my experience.
Another thing is because of its potency, you really don't need to be hitting it consistently to get a good buzz. This helps a lot in conserving the oil and making it last. If anything, 3Chi's website only recommends one puff per serving size/session. But if you're like me, you'll be taking way more hits than just one per session. 
Decent taste, kind of harsh on the throat
The particular strain that we picked up is Jack Herer. Although this strain is known for its natural, flower/pine-like taste, this cartridge actually gives a slightly sweet taste. Not too sweet, but it did not taste piney at all. Nothing bad about the flavor or anything, it's actually decent tasting.
Something I should mention is that these carts are a bit harsh when taking long hits. According to 3Chi, delta8 is a harsh cannabinoid, and they say not to exceed 3 seconds per puff. I doubt everyone will do this, but just know it may be normal for it to be slightly harsh if smoking consistently or for long durations.
Nice and mellow high, but not a lasting high
First off, a lot of people will say that Delta-8-THC gives you an amazing high that helps you stay focused, lucid, helps with concentration, and even motivation. People also say that the high does not give you any sort of anxiety and doesn't give you the fogginess feeling of a regular high. I'm not going to say this is all true for everyone. Everybody will encounter different experiences with how it feels.
Furthermore, personally, these carts did give me a very relaxing high. Not nearly as potent as a quality THC cartridge, but still very mellow. Only thing is, the high on the effects don't last very long. But because of this, the comedown of the high is actually smooth. This could be the non-foggy feeling a lot of people talk about. 
Delta 8 THC cartridges are a great alternative to street carts
For those who may not have access to quality cartridges around their area, delta-8 may be a nice alternative to think about. First off, Delta-8 is federally legal and legal in most states, as mentioned earlier, but not every state. With that being said, if you're surrounded by a bunch of fake or unregulated cartridges, 3Chi is probably the better choice. Because of how uncertain unregulated cartridges are, even if they are 'legit', you don't always know what's in them. And with many fake cartridges growing and expanding more, even the unregistered brands are getting replicated. If I had to choose, I'd much prefer 3Chi Delta8 over a skeptical cartridge any day.
Update: November 15, 2020- Price of cartridge
When first reviewed, this cartridge was priced at $40. Currently, they are $24.99, which is a huge difference and a great value. Nearly half off, we aren't sure how long this deal will be. Hopefully, if you're reading this the price is still at that.
Concluding our 3Chi Delta THC cartridge review
The price of these half gram delta8 carts is $40, which is not bad of a price at all. They use great hardware, are very efficient, and really do deliver decent strength and effects. This probably isn't something I'd personally pick up consistently, I'd prefer a regular, potent THC cartridge.
But maybe you're in a state where recreational tax is expensive, or perhaps all you can find is street carts. Here in IL, prices for half gram cartridges currently go for around $50-$60, and that's before tax. Along with that, there still are many off-brand cartridges flooding the black market, therefore this may be a better alternative. You can learn more about 3Chi Delta cartridges here.
What are your thoughts on 3Chi Delta 8 THC cartridges? Have any experience with Delta 8? Post a comment below or in our forum!