Fake Space Vape are becoming popular and found more often. Many vendors across the country that sell them all the time. Here we show how to identify real Space Vape products and how to tell if they're fake.
What Is A Fake Space Vape Cartridge?
Space vape cartridges is considered fake when the oil is not made by the company itself, risking it containing pesticides, residual solvents, and lower quality oil. Similarly looking a lot like the legit ones, the packaging is being sold by Chinese manufacturers online. Fake cartridges have become a big problem for concentrate vape creators.
On the other hand, the good thing about this company is that they have built a positive reputation. Serving high quality oil and various products. As mentioned in their website, Space Vapes do have positive lab results that proves to have no pesticides in them.
Identifying fake Space Vape
Space Vapes took the initiative to change the way their packaging and cartridges are because of this reason. As long as there are fakes in the market, Space Vapes will keep consistently updating their products and package. To stay updated, check out their official Instagram page to ensure which cartridges are from them and which ones aren't.
Old, inaccurate packaging or cartridge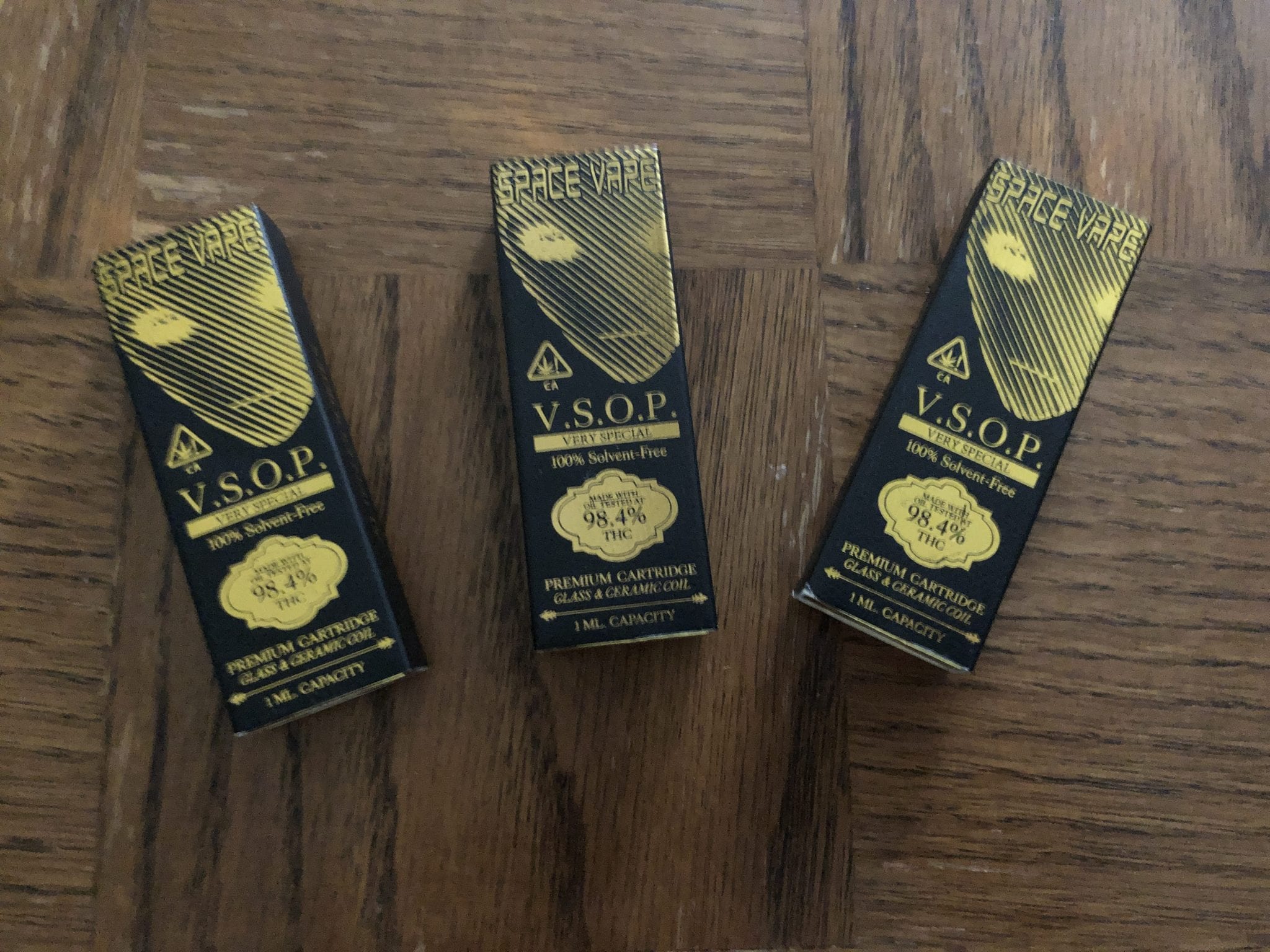 First off, Space Vape decided to change the outlook of the cartridge and packaging because of this reason. With the new ones, they took off the alien head on the cartridge. If you ever get one with Space vape on the cart itself, then it most likely is a fake. Also, it must say alien before the name of the flavor. For instance, Alien strawberry.
Not only this, but something that the plastic clamshell packaging must always have is Canna PK embossed at the bottom. As long as these words are imprinted anywhere on the bottom, it is legit.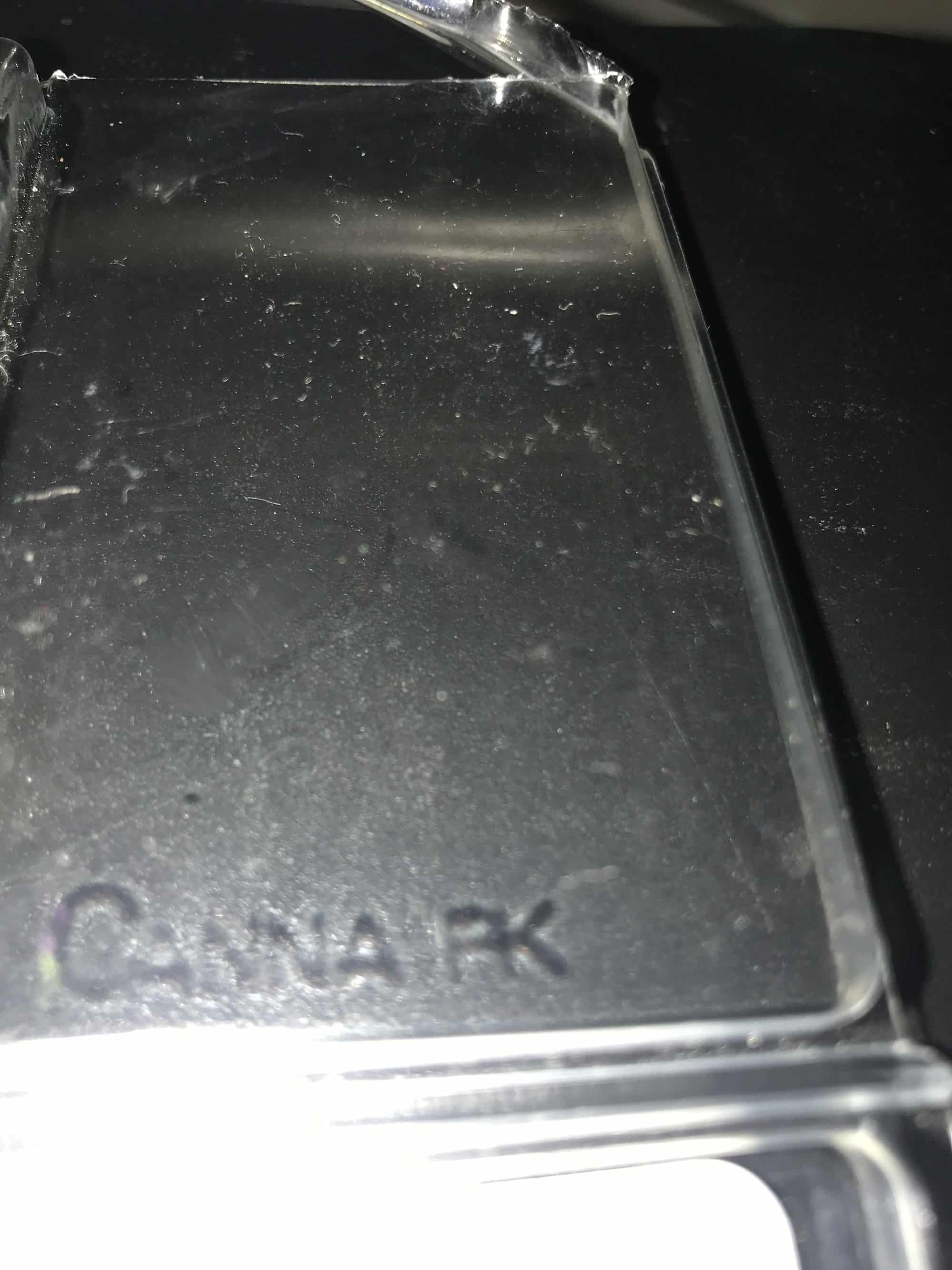 Improper grammer and spelling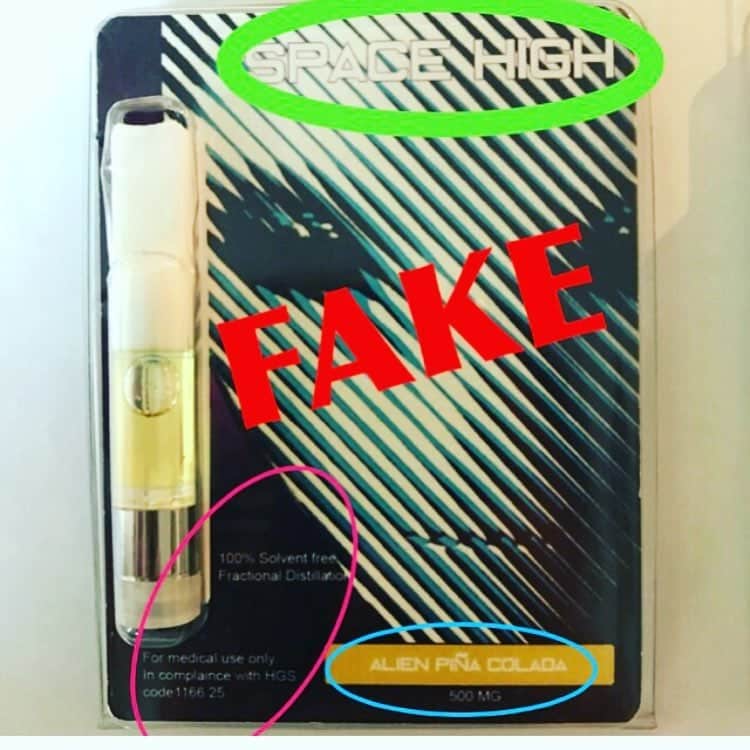 Of course, the simplest way to see if it's a fake is to check for bad spelling. China is notorious for misspelling things and this is an easy thing to spot. Unfortunately, because of this it's an easy thing for them to fix, so this might not last forever. Remember, even the tiniest things like one word not capitalized can tell the difference.
Poor oil quality
Another key point to look out for is the quality of the oil. Something that Space Vape prides themselves of having high quality concentrates, containing over 90% THC. With this in mind, the oil density should be thick and should have a strong, clear gold color. Whereas it should not be a dark nor have a strong color, like the image shown below.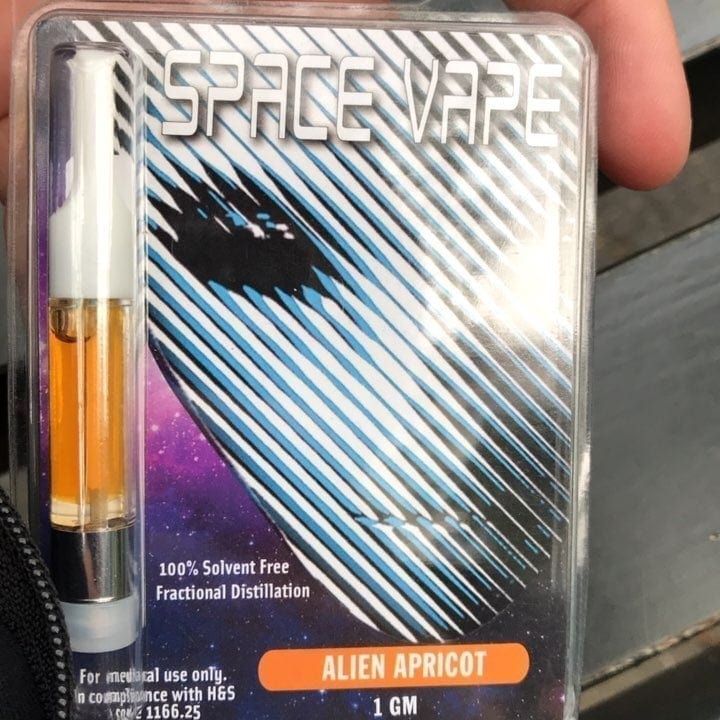 Flavors that aren't made from them
Although Space Vape have over a dozen different flavors, certain fakes will have flavors that aren't originally made by them. To point out, below are the list of the flavors that are currently being sold by them.
Note: They MUST say Alien before each flavor:
Berry Pie
Blueberry Haze
Cookies
Fire OG
Gelato
Grapefruit
Grandaddy Purple
Jack Herer
King Louis
Limoncello OG
Melon OG
Punch
Sherbert
Strawberry
Sour Diesel
Sour Tangy
Watermelon
Zkittlez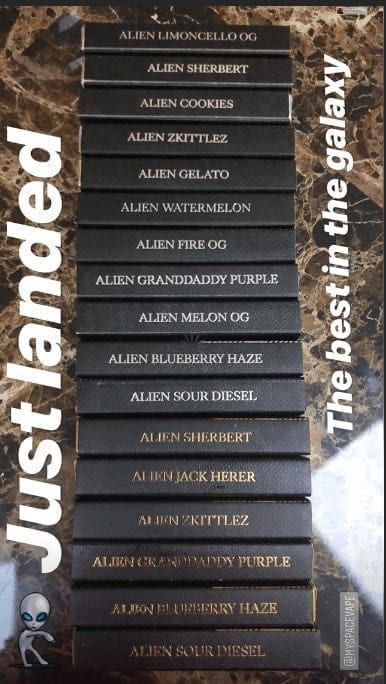 Without a doubt, Space Vape will keep coming out with new products and flavors. As they do, we will keep updating this list. In the meantime here are the few flavors that aren't made by them;
Apricot
Diesel
Pina Colada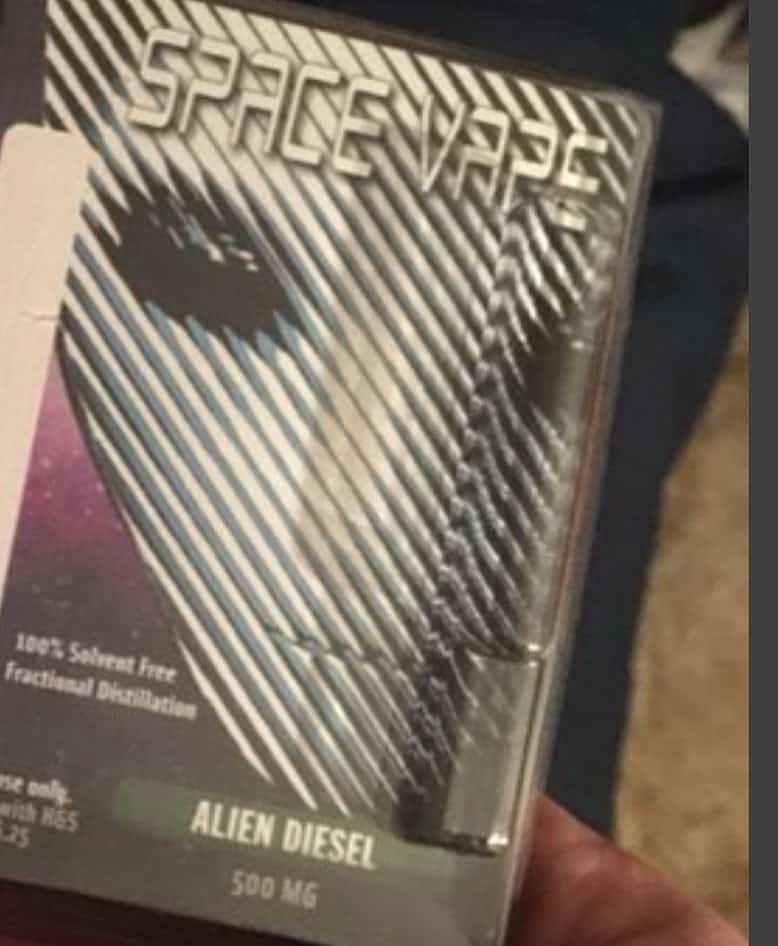 Information on other fake vape cartridges
DabConnection has complied information on other fake vape carts. See our other pages for fake Brass Knuckles, fake Stiiizy pods, fake 710 King Pens, fake Heavy Hitters, fake Dank Vapes and fake Exotic Carts. The best way to avoid fake cartridges is to purchase items at licensed facilities and buy from brands that used an authorized retailer list on their website.
As we get more information we will keep updating this post. Check out our Space Vape review for more info on the real thing. If you have information you would like to add, please comment below, post in our forum, or email us at community@3.220.195.53.