REVIEW OVERVIEW

SUMMARY

The Tectonic9 grinder is an automatically dispensing grinder with the look of a traditional grinder. From the look and feel of it to the way it functions and dispenses, this is an amazing grinder to help distribute your flower easily and efficiently.
Rolling on the go can get bothersome for many, having to deal with breaking down your flower and getting your fingers sticky with trichomes. But with the Cloudious9 Tectonic9 grinder, it makes the process of dispensing your bud and rolling much simpler and cleaner. Here we go more in-depth on the grinder itself and its battery's electronic dispensing system. 
Pros:
Grinds up easily and quickly
Automatically dispenses flower
Long-lasting battery
Cons:
Too much plastic in the inside
Recommendation: Replace the plastic with the same material as the grinder itself. 
What is the Cloudious9 Tectonic9 grinder?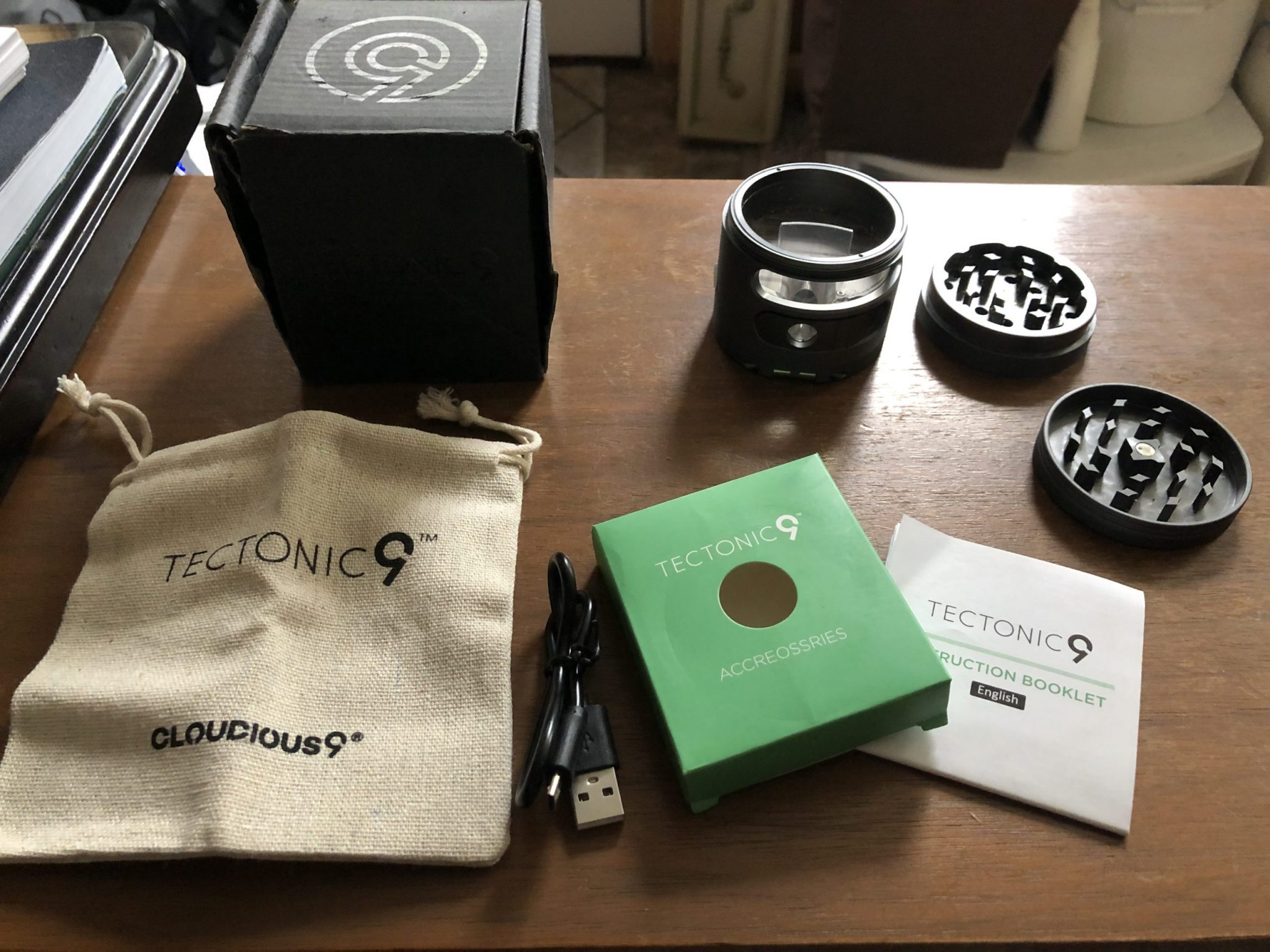 This grinder isn't like any other grinder out there in the market. What makes it so unique is how it automatically dispenses your flower very neatly onto wherever you need it to land. Be it a joint you're about to roll or some sort of glass piece/dry herb vaporizer, this grinder makes it simple and easy to dispense your flower.
Furthermore, this grinder is the only automatic dispensing grinder with the design of an actual, portable grinder. Cloudious9 made it so simple to dispense your flower, with this grinder you'll never have to worry about sticky fingers or having many complications rolling on the go. Unlike other grinders where you have to open it completely to take out your bud, the Cloudious9 Tectonic9 allows you to dispense your bud exactly where you want it. Not having to touch your flower at all and dispensing only however much you want to.
The way it dispenses automatically is with the vibrational motor inside the battery. Once you have pressed the button to turn it on, it'll start vibrating to efficiently and effectively distribute your bud evenly.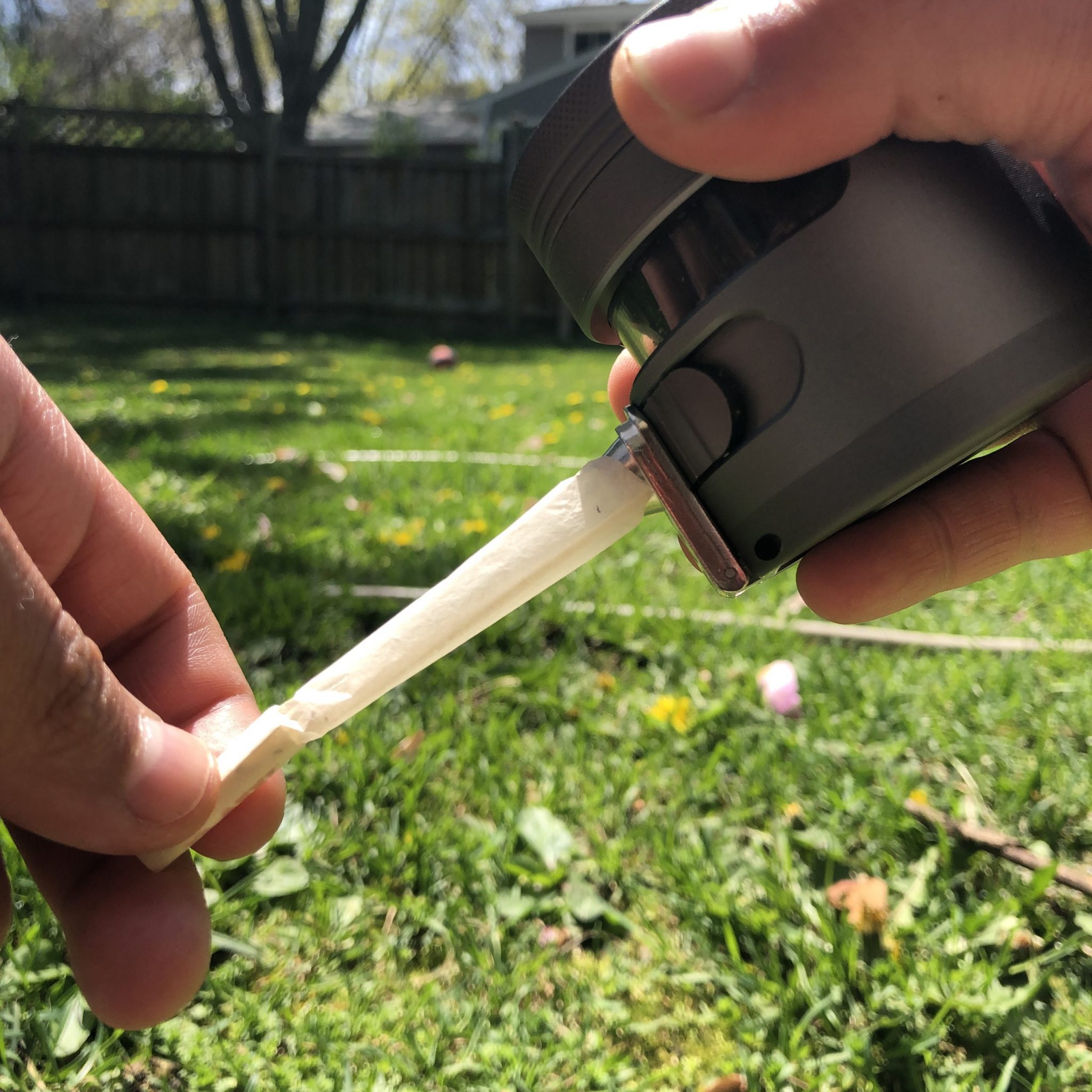 See our video review below
A full demo of the Cloudious9 Tectonic9 grinder for our viewers.
How to use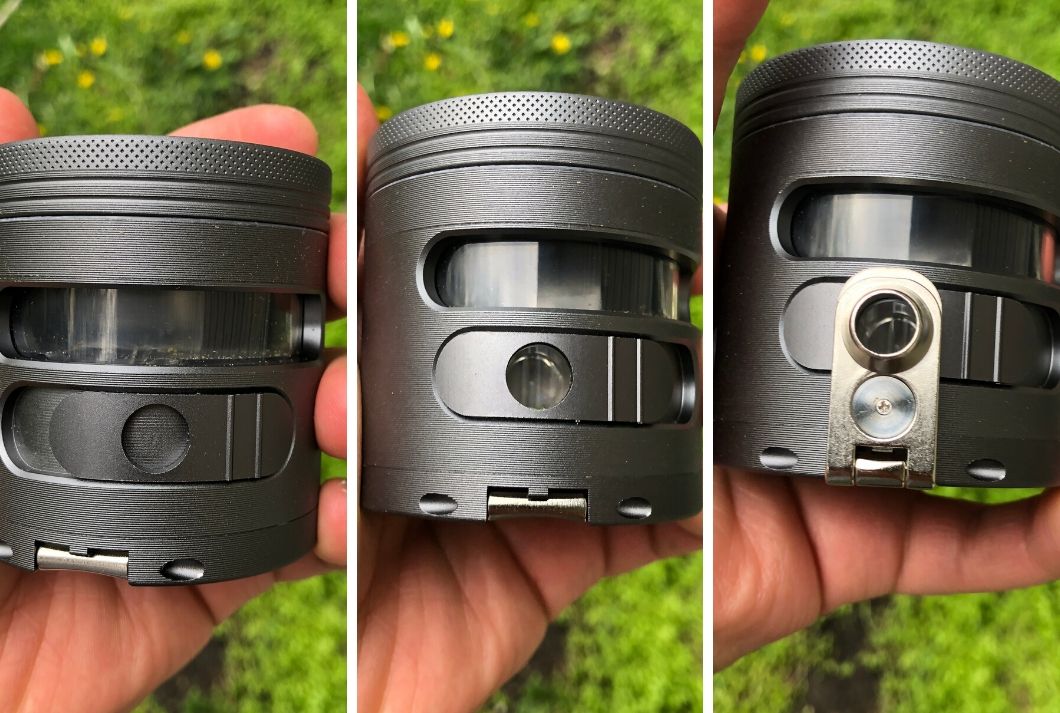 This grinder is very simple and easy to use, you won't have much if any complications at all with it. Once you have grinded your bud, simply pop out the hidden flip spout from the bottom, open the slider to allow your flower to go out then press the button to dispense it. And that's it, from there you can dispense your bud accurately and accordingly to wherever you want.
Simple yet well-built design and quality
From the feel to the grip of it, you can tell this grinder is built very properly. The body is made up of aluminum alloy, providing a smooth and strong grip. Another neat feature it has is a viewing window with LED light to see inside for storage.
The Tectonic 9 is made up of only two chambers, one to grind up your flower and the other to hold it, it does not have a chamber for keef. While some do prefer a chamber to smoke their keef separately, others prefer smoking their keef right away when grinding their nug. Regardless, I still enjoyed this grinder a lot.
Too much plastic in the inside the Cloudious9 Tectonic9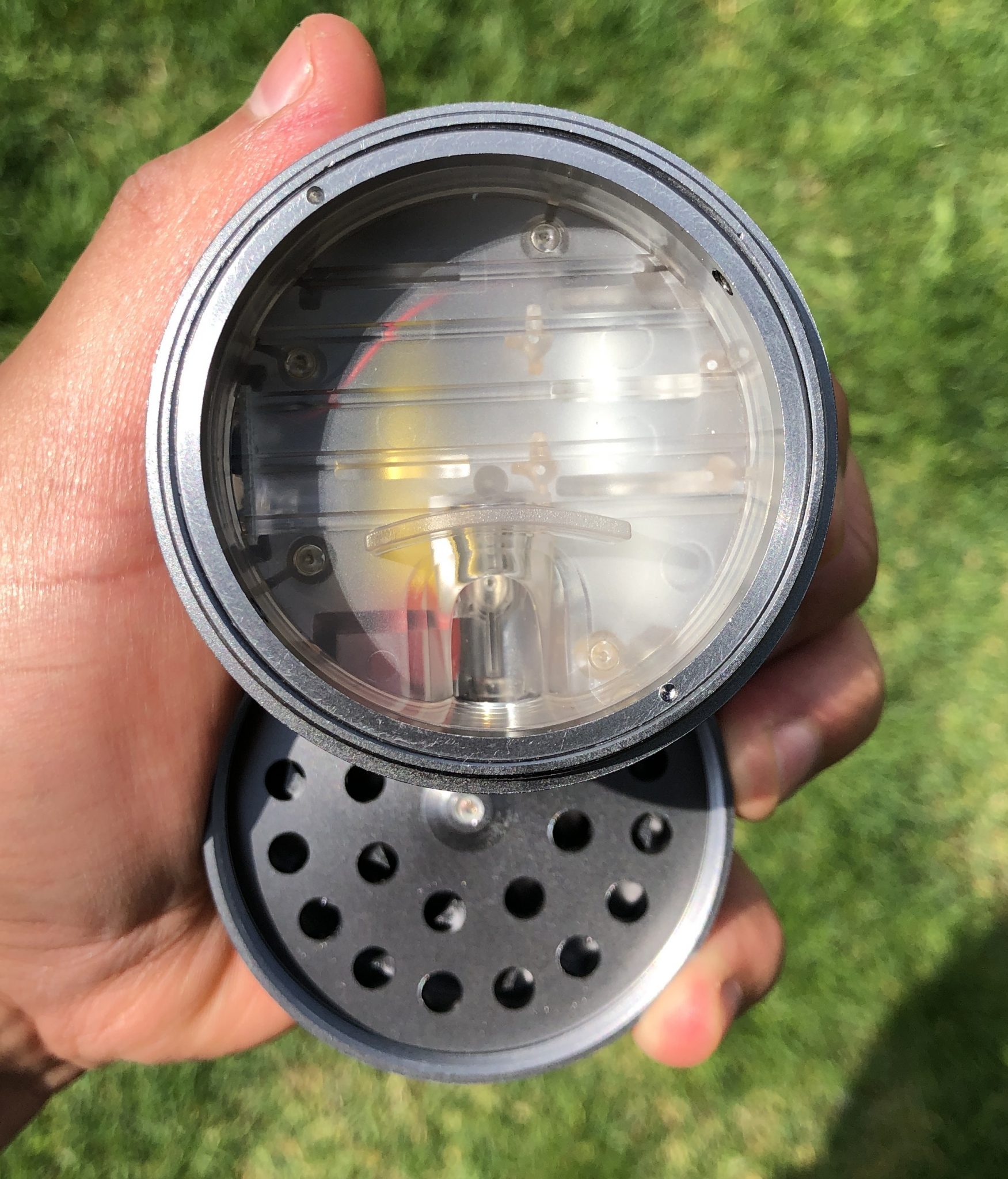 It should be noted that the inside is made up of a lot of plastic. Fortunately, it doesn't interfere with grinding or dispensing your flower at all. Good thing that there is only plastic in the inside, rather than plastic as the teeth or even the whole grinder itself. Other than that, there isn't much bad to say about this unique grinder.
But the reason they built this grinder like this inside in the first place is to evenly distribute your flower even before dispensing it. Taking a closer look, you can see the design has a few lines and a wall right before the dispensing hole. After trying it myself, I can say the design really does help distribute and dispense your bud evenly.
Grinder teeth makes grinding up your flower effortless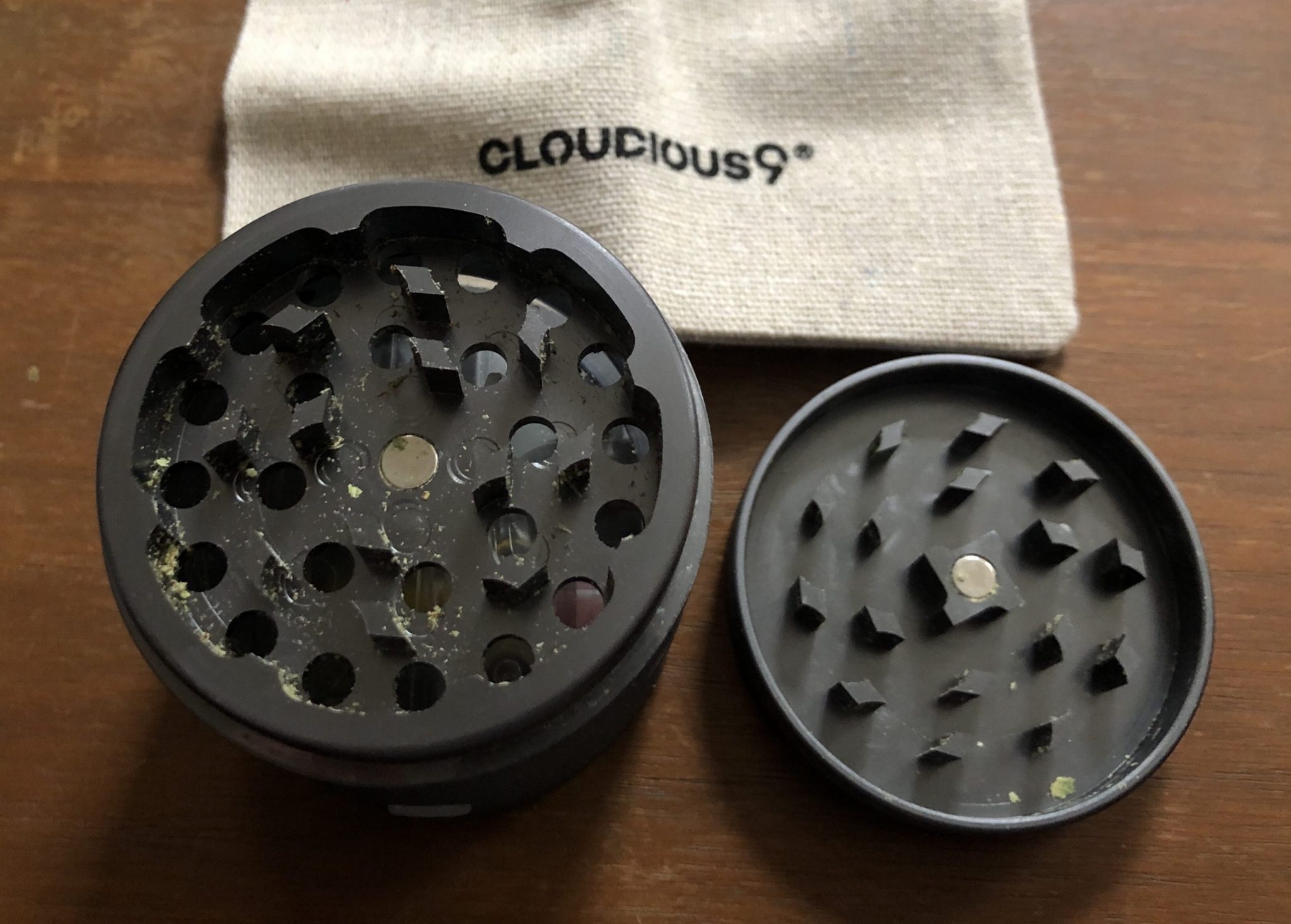 The Cloudious9 Tectonic9 is a very solid and sturdy grinder, giving a great grip and feel. Looking closer at it from the inside chamber, the grinding chamber comes in 28 diamond-shaped grinding teeth. Regardless of how sticky your flower is, it takes only seconds to grind it up.
The automatic dispensing feature allows the dispensing of flower evenly
As mentioned before, this feature is the main feature of this grinder. Because of the way it's built, the Tectonic9 dispenses so smoothly, you won't have trouble dispensing too much or too little flower. Not spouting too much nor too little bud, you'll be able to control how much gets dispensed easily. The only thing is if your flower is sticky, there's a chance it might dispense a bit slower, but this shouldn't be much of a problem.
Long-lasting and durable battery
Another thing that surprised me is how long the battery lasts. At the same time, you only use it just to dispense how much ever bud you want. Because of this, the battery to this grinder is very durable and will last a good while.
Concluding the Cloudious9 Tectonic9 grinder
Overall, I did enjoy this grinder a lot. It has never been easier for me to roll my joints, pre-rolls, and pack my glass piece and dry herb vaporizers. Especially if you're on the go, this grinder will make it so convenient to smoke your dry herb. 
In conclusion, our Tectonic9 grinder review shows a very well built and high-quality grinder. The price of it is $60, which may be a bit pricey for some for a grinder. But you're not only paying for the built and design of the grinder, but also the battery itself. If you enjoy smoking herb and rolling a lot, you'll enjoy this grinder. You can get yours here.
Readers, share your Tectonic9 adventures here in the comments or in our forum.