REVIEW OVERVIEW

SUMMARY

The Utillian 620 vaporizer gives amazing hits, providing all the flavor of your herbs. This battery really helps conserve your bud while still giving a great high.
Here we review the Utillian 620 vaporizer, a very well-built and portable dry herb vaporizer. At first, I didn't expect much from it since it does have a relevantly small pack. But after packing it, I really did enjoy the high I got from this battery. From the taste it delivers to how smooth the hits are, Utillian did an amazing job creating this vaporizer.
Pros:
Hits smoothly and efficiently
Comes with a convenient stir tool attached to the battery
Amazing built design
Easy to clean
Cons:
Recommendation: Perhaps multiple different coils to smoke both herb and dabs. But the Utillian brand has a variety of vaporizing products to smoke out of with different aspects and settings.
Check out the video review of the Utillian 620 below, and keep reading on for the more in-depth review.
What is the Utillian 620 Vaporizer?
The Utillian 620 is a convenient dry herb vaporizer, ideally for single-user sessions, and perfect for micro-dosing. This battery allows you to adjust the temperature to your preference, from anywhere between 160-220°C (320-428°F).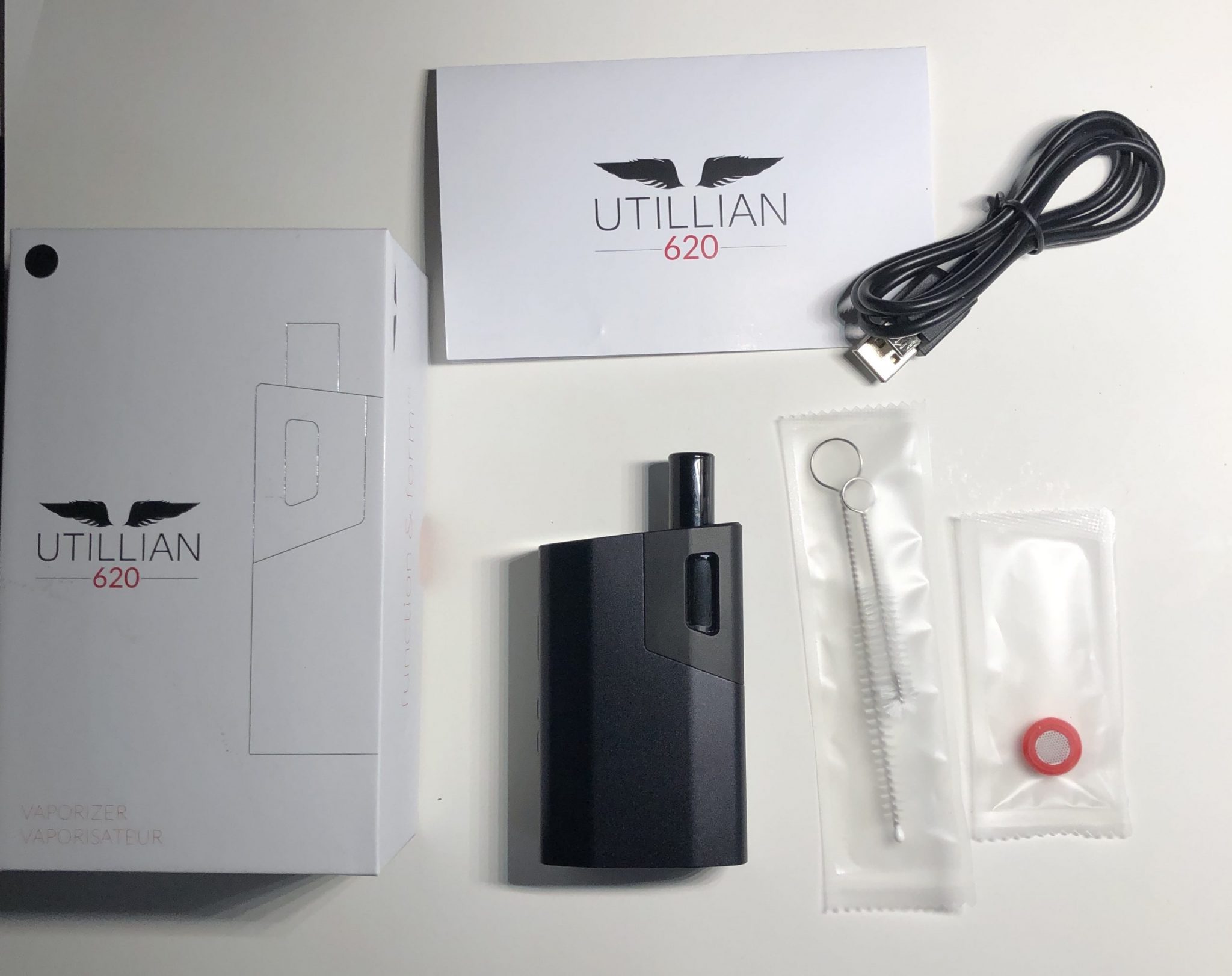 Opening this battery, the Utillian provides you with everything you need to keep the battery itself running efficient. Furthermore, this vaporizer comes with the manual, an Android USB charger, an extra screen set, and two different cleaning brushes.
How to use it
At first, the Utillian 620 may seem a bit complicated to use, but it's actually simpler than it seems. Simply press it 5 times to turn on or off and once it's on, it will automatically start pre-heating. From there, you don't have to press anything, simply set the temperature to your preference. As it heats up, it will indicate to you when it's at the temperature you want by vibrating 3 times. From there, just keep hitting it until it automatically turns off.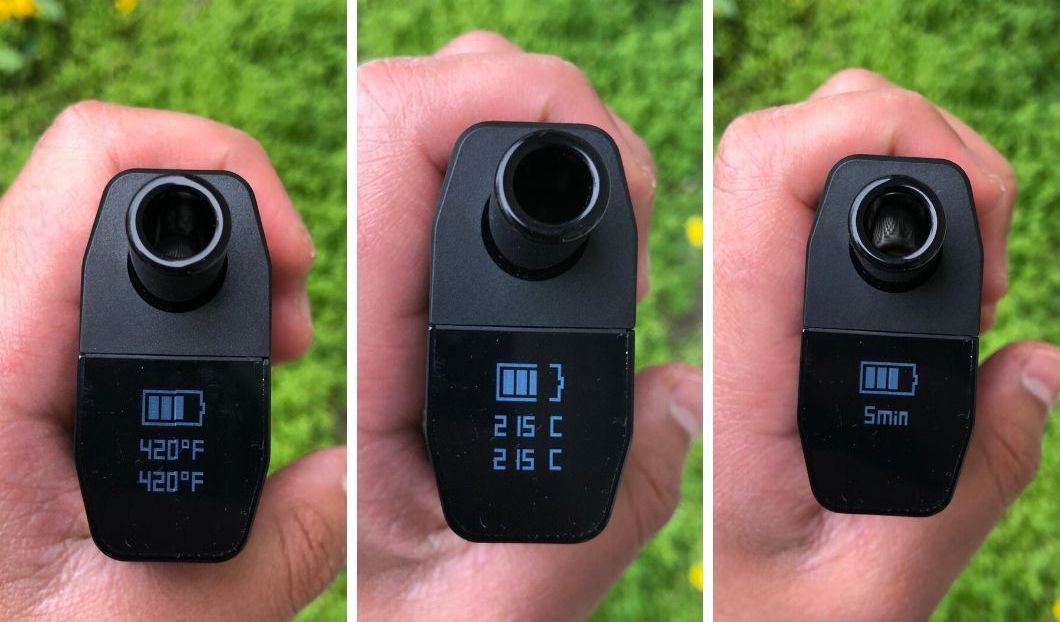 As shown above, you can change various settings within this battery apart from just the temperature. You can change the temperature preference from Celsius to Fahrenheit in addition to the set time, duration (3-8 minutes). This allows you to adjust to the perfect, desired session of your choice.
Design and Build Quality: The Utillian 620 gives a smooth feel and built very properly
Utillian did a great job in assembling this battery. Apart from the battery having a nice grip and feel to it, they made it very simple to disassemble. This vaporizer has a magnetic sliding mouthpiece, allowing you to snap it open and pack your bud easily and efficiently. Another neat feature it comes with is a magnetic stirring tool located at the bottom of the battery. This allows you to stir your flower easily.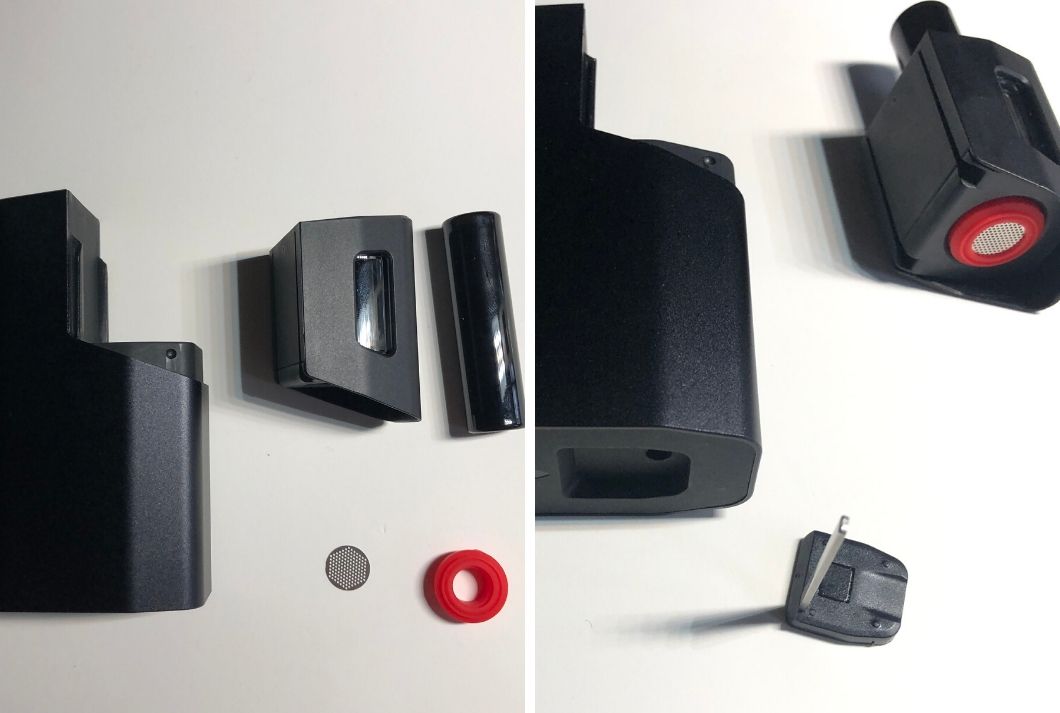 Because of the way it's built, cleaning the Utillian 620 is very easy. Looking closer at the mouthpiece, they placed a screen right underneath it to prevent it from getting dirty. Additionally, to clean it you can detach the glass mouthpiece. Because it's made of glass, cleaning it will be a piece of cake. You can even take apart the airpath to clean easily.
Air Path – Unique convention helix prevents clogging and allows for easy cleaning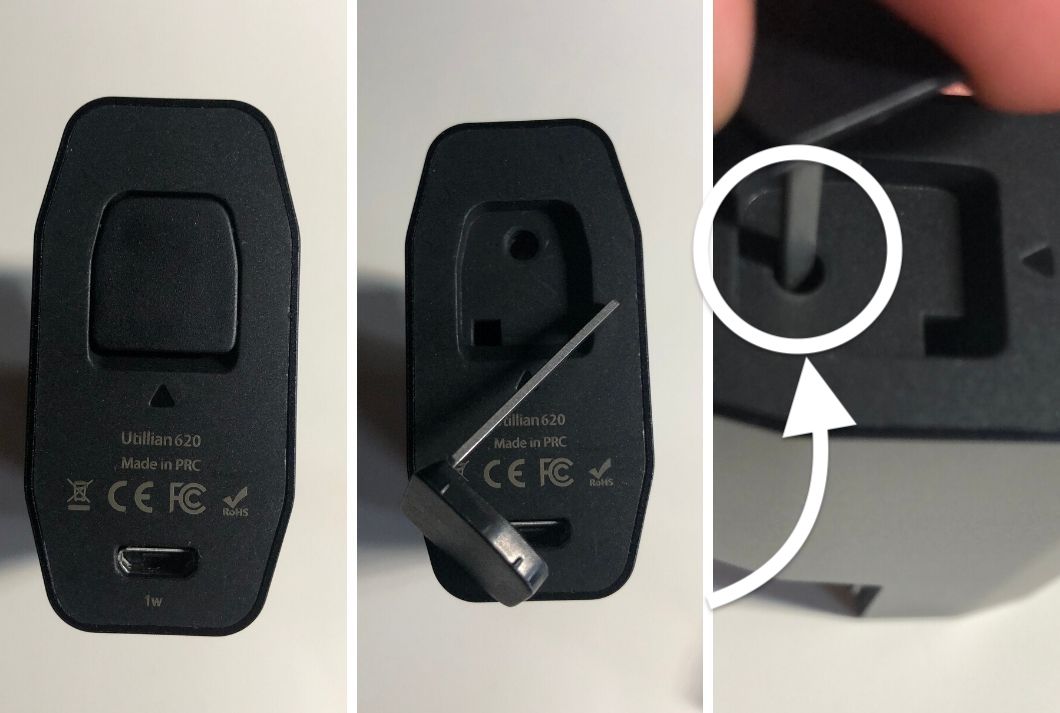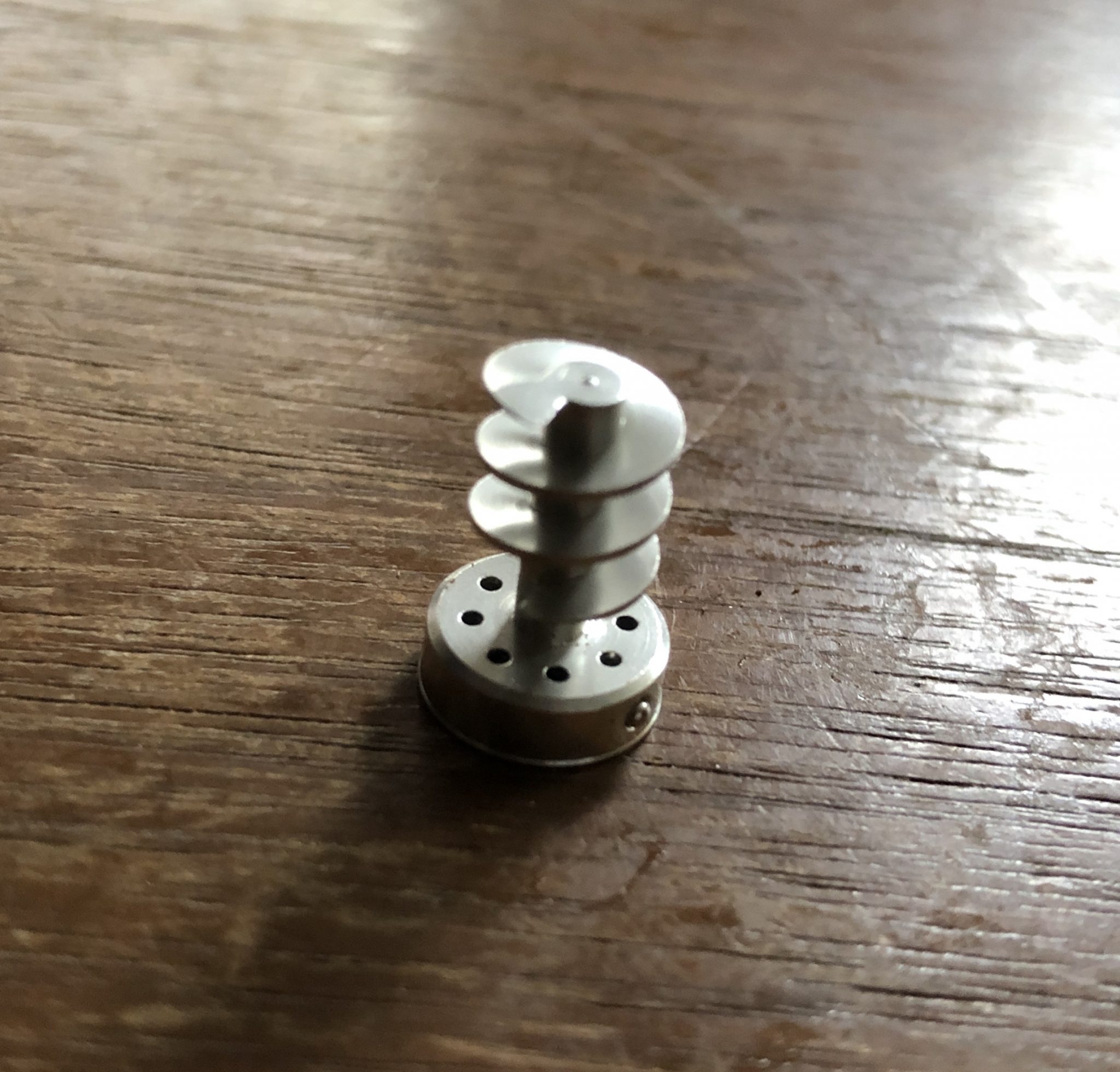 Unlike other dry herb vapes, this one carries a unique and convenient air path design. As shown above, you can take it apart to allow you to clean more efficiently. The airpath this vaporizer provides helps maintain it clean. I've used it many times, and it never gets clogged when packing it the correct way. Along with that, you don't even have to worry about cleaning it consistently, regardless of how many times you use it. Fortunately, this isn't a device you have to clean after each use.
The Utillian 620 delivers stronger hits than expected
At first, when I disassembled the mouthpiece to pack my flower, I didn't expect too much. Thinking that just because it is a relevantly small pack, it wouldn't get me that high. But don't be fooled, this vaporizer delivers unexpectedly strong hits.
At first it delivers smooth hits but taking long rips will get you coughing. This vaporizer can sometimes creep up on you and will get you really nice high. The fact that it's a single-user session and you have to keep hitting it until finished, will get you pretty high.
This vaporizer burns very efficiently, giving you all the flavor in each hit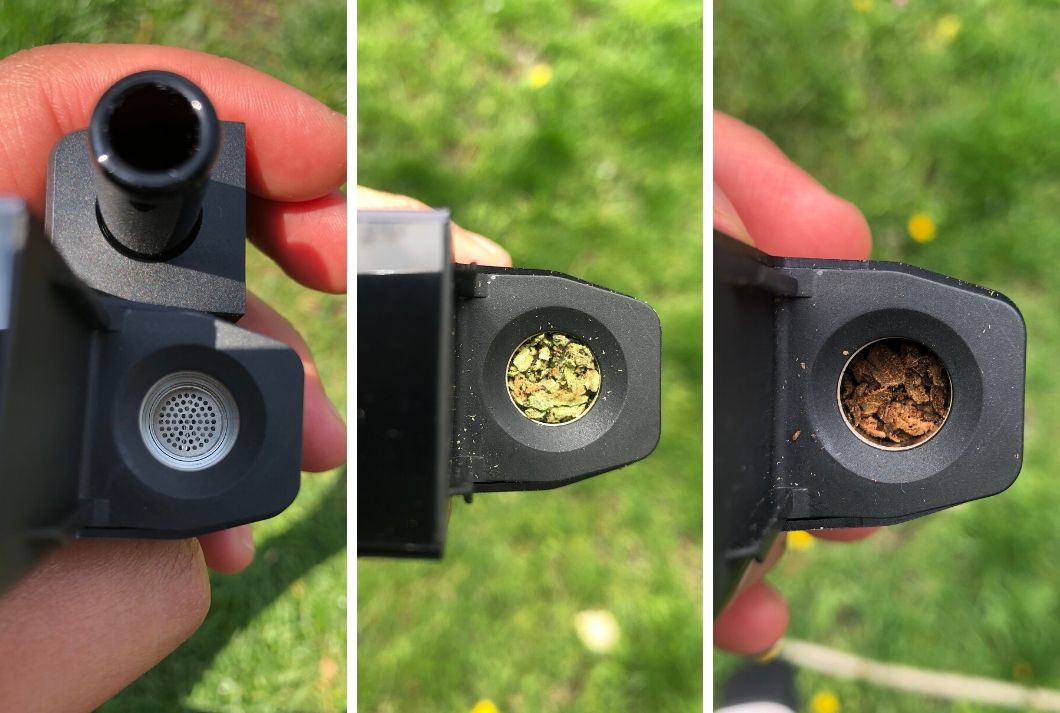 Conserving your flower makes it very easy to do with the Utillian 620. As mentioned various times, this device is made for single-use sessions, allowing you to pack .1-.2 grams of bud. It surprises me how high you can get with just a single pack.
Along with that, this vaporizer will give you all the flavor of your herb. Vaporizers are known to always do that, but some vaporizers end up giving a somewhat plastic flavor. Not with this battery, you really can taste your bud all throughout the session. The amazing thing I noticed is that this Utillian vaporizes all your herbs until it gets this brown color. Regardless of how orange and how much trichomes it has, I've never seen my bud get ashy. Rather it gets very dry and brown, which actually allows you to take out and clean easily.
Fairly portable and very discrete
Fitting perfectly on your palm, this vaporizer can be fairly easy to take around on the go. The only thing I'd watch for is dropping the mouthpiece, because it's glass. Also, this vaporizer doesn't really get you smelling too much. It may smell for a while, but the odor goes away quickly.
Concluding our Utillian 620 vaporizer review
Overall, the Utillian 620 vaporizer gives an amazing performance and has a great build quality, allowing easy packing and cleaning. The price for this product is $130, which is a decent price range compared to other high-end vaporizers.
Giving a unique experience, this battery is good for those who like smaller sessions and conserving their herbs. Apart from this, it comes with a one year warranty if anything were to happen to it. You can find more about Utillian 620 and buy it here.
Readers, you can share your own Utillian experiences here in the comments or in our forum.