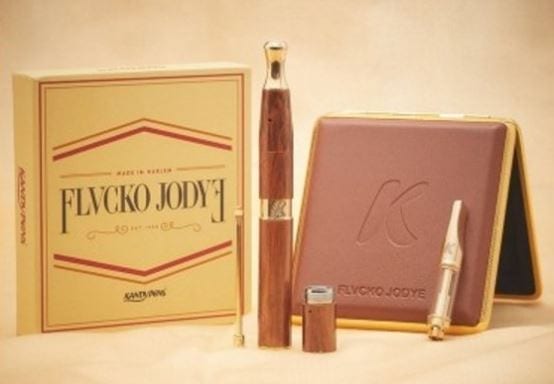 The newest release from KandyPens features rapper ASAP Rocky, which comes as no surprise. It follows their routine of pairing up vape pens and popular artists like when they did the KandyPens DJ Esco Edition. This time the vape pen takes the form of the Flacko Jodye "Walnut" Collection and retails for $148. A 100 unit cut off mark makes the Flako Jodye an extremely limited edition vape pen, but how will it perform? There's clear value in the pen as a collectible to any member of the A$AP Mob. Take a closer look behind the thunder. Find out if ASAP Rocky KandyPens' Flacko Jodye vape pen works as well as it collects.
The Flacko Jodye "Walnut" Collection Preview – 100 Units By A$AP Rocky & KandyPens
ASAP Rocky KandyPens Design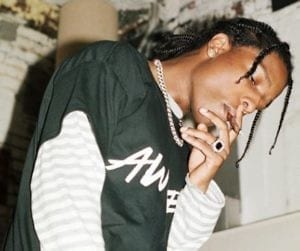 Credit for the Flacko Jodye vape pen's outward appearance goes to A$AP Rocky, and it does have a handsome look. Starting at the top with a gold mouthpiece, the Flacko Jodye quickly blends into the Walnut wood that makes up the attachment and battery. Flares of gold trim add to finishing appeal of the Flacko Jodye vape pen.
The $148 asking price includes not only the vape pen itself, but also a kit complete with a leather carrying case. Upon delivery and unpacking, you'll find that the ASAP Rocky KandyPens vaporizer includes the following items:
Retro Style Collectors Gift Box
Leather Carrying Case – Chocolate Brown With Gold Trim
4 Setting Temp Control Battery – (300°, 350°, 390°, and 430°)
Attachment With Air Carb
Quartz Chamber With Dual Quartz Rods
Coil-less Chamber With Ceramic Dish
1ML Glass Tank – Separate Refillable Attachment
Dab Tool
Standard USB Charger
Main Features Of The ASAP Rocky KandyPens Vaporizer
The ASAP Rocky KandyPens Flacko Jodye has a few features that make it more than a simple vape pen. There's the example of an upgrade on the attachment that now offers a carb hole. Getting a separate refillable tank is always nice and you also have a couple choices in chambers. Take a closer look at both the benefits and potential drawbacks of each feature below.
ASAP Rocky KandyPens Attachment

There's nothing incredibly special about the attachment. KandyPens does claim it comes with the carb hole upgrade. The attachment starts with a gold mouthpiece section then continues into the Walnut look of the remainder of the pen. It is cool how the Walnut design of the attachment blends right into the battery. You can hardly tell where it unscrews to access the chamber.
The refillable 1ML tank is a sort of second attachment. It's perfect for very runny oil and comes with 510 threads, as does the main Flacko Jodye pen. This means you can fill it and use it with any other 510 threaded battery. It uses the standard metal mouthpiece you see in some disposable cartridges. It looks like it is probably the same thing as the prefill vape pens just empty.
The Flacko Jodye Battery
KandyPens doesn't list the power of the battery, but it does have 4 heat settings to choose from. It appears the same size as most 650mah batteries. The ASAP Rocky KandyPens battery works in the typical fashion of vape pens. Click it 5 times to power toggle the pen on and off. 3 clicks will change it in sequence to the next voltage setting. The battery does use 510 threads and is versatile with most attachments. A lifetime warranty on the battery also provides some customer assurance. This seems like a pretty standard, eGo threaded eCig battery. If it did not have a wood finish, it most likely would be the same type of battery you find in a $15 eCig starter pack at the gas station, but with a better finish. We found this to be true when we did our KandyPens Elite review. This vape pen seems to be almost identical to the KandyPens Elite.
2 Atomizers Come With The ASAP Rocky KandyPens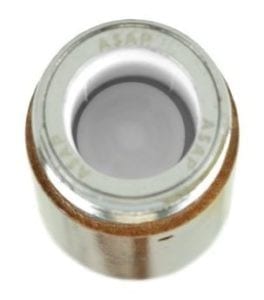 Owners of the Flacko Jodye vape pen have two choices in chambers or atomizers for their material. One uses the traditional dual coils to heat the chamber while the other is coil-less.
Quartz Chamber With Dual Quartz Rods – This is a standard atomizer that uses coils wrapped around rods. One bonus here is that the coils use Titanium, though it doesn't say what grade. Titanium doesn't off gas the way other heated metals do. This atomizer uses two quartz rods and so two Titanium coils to heat your material. One disadvantage with coils is that they can burn instead of vaporize your material.
Coil-less Chamber With Ceramic Dish – If you aren't already aware, coil-less atomizers are the talk of the town and sign of the times. There are no coils or rods that may potentially burn your material so there's never any smoke. It's all vapor when you use a coil-less chamber. One disadvantage some find with coil-less atomizers is they don't produce the size hit they might like.
Do The Atomizers Have Glue Like KandyPens Elite?
The ASAP Rocky vape pen looks strikingly similar to the KandyPens Elite. The atomizers are the same as well as the battery and layout. On KandyPens' website the Flacko Jodye vape does not have a "No Glues" statement like the new KandyPens Prism. If you were unaware, DabConnection previously exposed KandyPens for false advertising as KandyPens was found to have glue in almost all their wax pens. We can make no official deterimination if this has glue or not in it. We just know the site page for this product does not have the same No Glues claim as the Prism now has.
1ML Refillable Tank Attachment
The separate oil tank that comes with the A$AP Rocky KandyPens vaporizer adds a good amount of value. Because of its inclusion, the kit covers all types of material. From solid form to runny oil the Flacko Jodye can handle it all. The use of 510 threads is another advantage and makes the attachment versatile with other batteries. If using a mod battery make sure you do not add to much power and ruin the atomizer. However, most of you with mod batteries probably are not buying KandyPens products.
Nice Extras With The ASAP Rocky KandyPens Flacko Jodye
This is the kind of stuff that has nothing to do with how the vape pen works, but does increase its value as a collectible. The addition of a nice leather carrying case does add a practical touch, but the collectors case screams save me. A dab tool and charger finish off the kit, meaning it's quite ready to use for those wanting it for vape sessions.
Final Thoughts On The A$AP Rocky KandyPens Vaporizer
Pros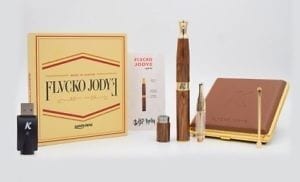 The obvious pro of this pen is as a collectors item.  Don't touch this item and it might gain value over time. If you want it to be cool in your running grounds that's understandable, but you could put your money to much better vaping uses. Offering the extra 1ML tank attachment does raise the pen's usefulness if you do plan on using it.
Cons
It's tough to know whether KandyPens is using glue in these atomizers without the No Glue advisory. Then again, it's tough to tell if KandyPens atomizers uses glue or not even when they claim not to.  Another major drawback of the A$AP Rocky KandyPens vaporizer is its price. You are essentially getting a fancy finished eCig starter pack battery and atomizers that are from 2015. The quality of the atomizers is questionable as well. Get it as a collectible, but get something better for your money to use day in day out. If you like this compact style you might like to see our Puffco Plus review.
Conclusion
The ASAP Rocky KandyPens Flacko Jodye vape pen might make a good collectible. As a vape pen, there are better options out there for much lower cost.  If you collect vape pens just to collect go ahead and get it. If you want a high quality wax pen, look elsewhere, as this we are almost sure is a re-done KandyPens Elite.
See our Puffco Plus review for a much better coilless option. See our Omicron v5 review for a higher end coiled atomizer with Grade 2 titanium coils, and no glue. If you really want to go with Kandypens, check out our comparison of the Kandypens Prism and Prism+, those are your best options right now from Kandypens. You can buy Kandypens and Puffco products at GotVape.com. The Omicron is available at w9tech.com.