REVIEW OVERVIEW

SUMMARY

The Vessel BASE is expensive, but it does charge quickly, is well made and lets you get down to the last drop of your carts.
Vessel is a company in Carlsbad, California, making vape batteries that work particularly well with CCELL cartridges, the most popular type of cartridge hardware currently out for THC and CBD oils. They recently came out with the Vessel BASE, a charging station that works with their line of vape cartridge batteries.
Here we review the BASE and help you make a decision as to whether it's worth the price for your typical Vessel owner.
Pros:
All oil goes to the bottom of the cart for more efficiency
Sleek design
Chargest fast
Cons:
Recommendations: It could be a bit cheaper, but Vessel is known for making higher-end, more expensive products.
Check out our video review below, then keep reading on for the more in-depth review.
The Vessel BASE charges quick, keeps carts efficient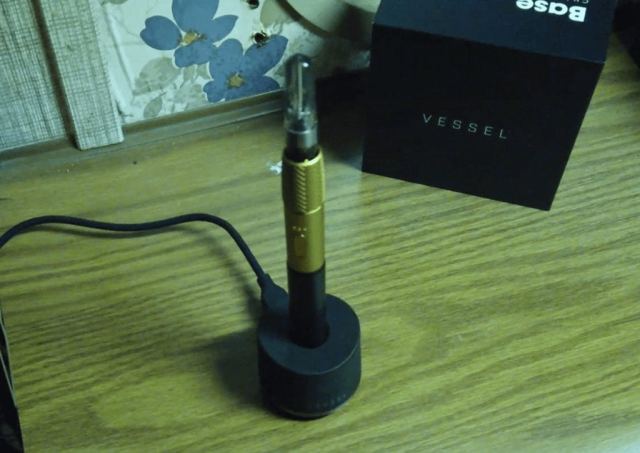 The Vessel BASE is a small stand with a dock for the Vessel line of batteries. It's a simple little round base that plugs into a USB-to-USB-C cord. The standard USB portion plugs into a powered USB port and the USB-C portion plugs into the base.
It looks nice and fits on any tabletop space, such as your nightstand. The price on the website is listed as $35, about what you'd expect for most electronics single-dock charging stations.
It's a nice concept because the Vessel battery sits on its end upright. If you have a cartridge on top, as the battery charges, the cartridge will keep the oil flowing to the bottom of the cartridge.
The concept is similar to the Cartsdom or CartBudy, storing cartridges upright, but smartly combining a battery charger into the same effect.
We've had good things to say about Vessel hardware before
See our previous Vessel battery review and see why we name it one of the best batteries for cartridges. The Vessel is our top recommend for CCELL 510 threaded vape cartridges. Their airflow is smooth, their batteries are long-lasting, and the Vessel line is designed to fit a variety of cartridges.
Not to mention that the Vessel line just looks awesome. They come in a variety of designs and styles, from futuristic metal to handsome wood grips with a classic design. It looks a lot better and is easier to carry than a mod battery.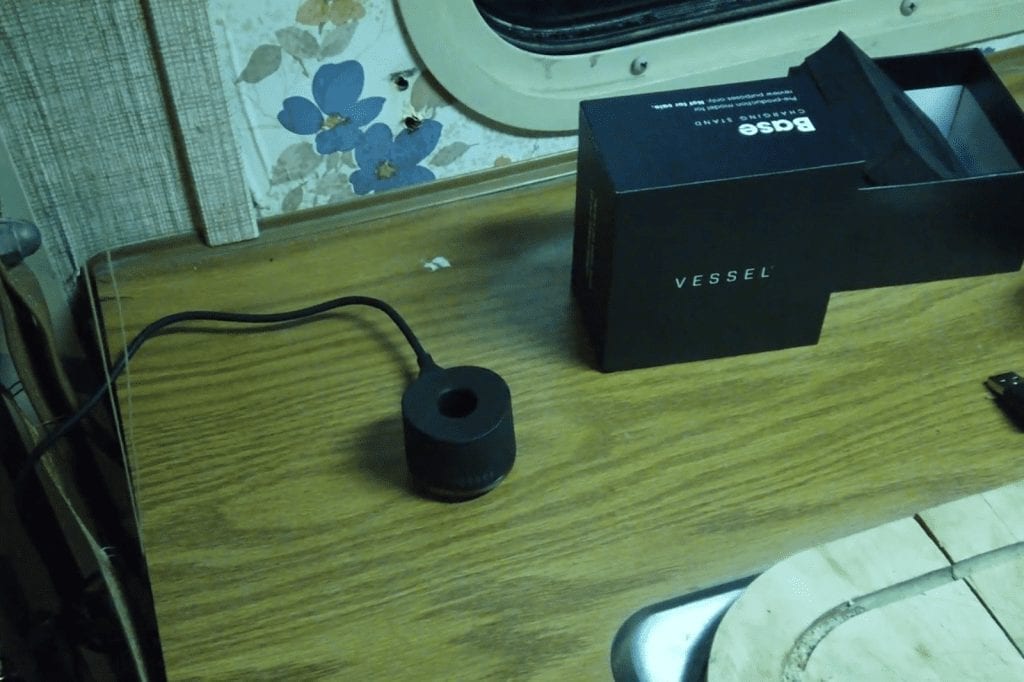 The Vessel BASE is a practical.
It's not too much of a stretch to call Vessel one of the highest build quality brands out there.  The Vessel BASE continues the Vessel blend of solid technology encased in appealing aesthetics.
The $35 price might be a bit high, but if you consider you do not have to take out the cart you are currently using over and over and stand it upright or put it in a holder, it makes up for the cost with time saved.
Readers, what are your thoughts?
Have you tried vaping on a Vessel battery or the charging dock? Was your experience good or bad? Share your viewpoint in our comments section below or visit the forum.
You can buy the Vessel BASE here.