Budder, diamonds, and terp sauce, oh my! DabConnection's staff reviewers have barely let their dab rigs cool down the entire year, as the cannabis concentrate market has posted its best year yet. California's cannabis industry was stronger than ever this year, with new states joining the party every year. It's like a new gold rush for the golden state, but the gold comes in little jars ready to puff!
Our resident cannabis connoisseurs have scoured the state dispensaries in search of the perfect dab. Our only aim is in finding the finest concentrates to pass on to our readers – we accept no sponsorship nor paid promotion of any kind. Our sole proof is in the pudding! Cartridge fans, you may want to check out our Best Cartridges in California list for the finest vapes you ever plugged into your CCELL.
And now, let's go for the gold…
Directory:
Below we go through a mini-review and a link to the full review for each concentrate dab on this list.
---
Feeling Frosty Cold Cure Hash Rosin – No Complaints!
We couldn't think of a single con when we reviewed this sweet, creamy treat from the award-winning Feeling Frosty. They have a unique process of "first wash" cold cure live rosin.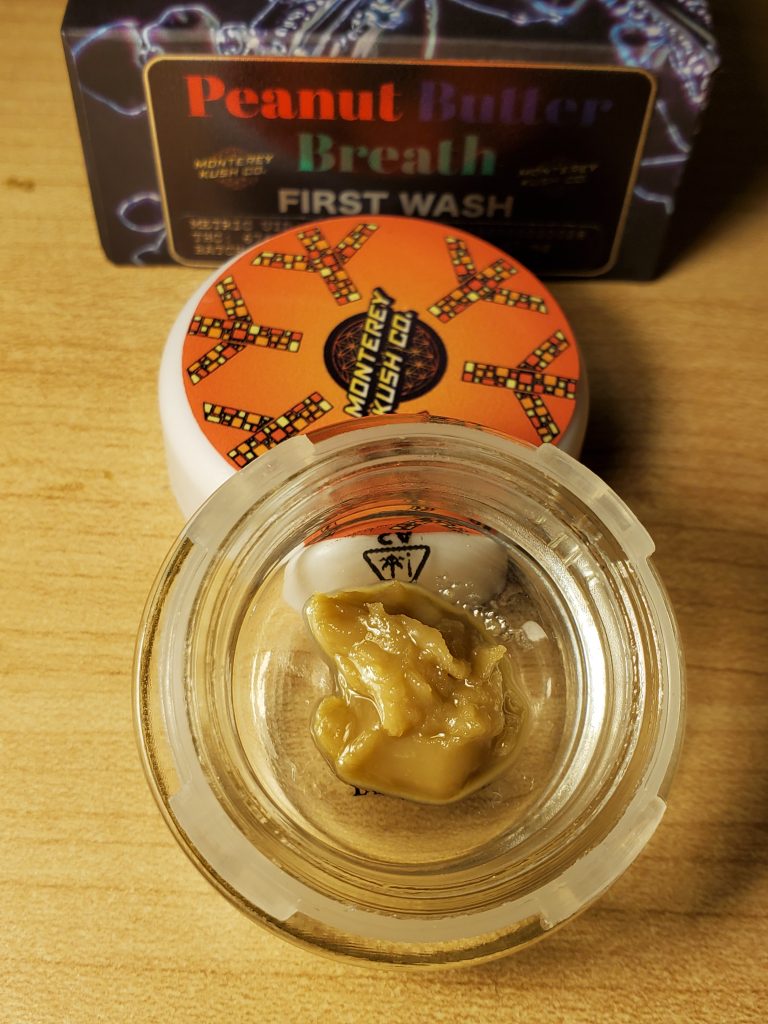 When we tried the Peanut Butter Breath strain, we were blown away by the powerful full spectrum entourage effects. On top of that, the flavor and aroma could not be beat, with a taste that reminds the palette of cinnamon dessert pastries and pumpkin pie. The effects were excellent therapy from the medical spectrum as well. We hold Feeling Frosty up as a standard for other concentrate makers to follow! View our full Feeling Frosty Peanut Butter Breath review here.
---
Wonderbrett Live Badder – Exceptional Quality!
Wonderbrett Live Badder came along and gave us new ways to think about what a cannabis extract can be. With effects of euphoria, calm, and focus, this became our favorite wake 'n' bake we've had in a long time.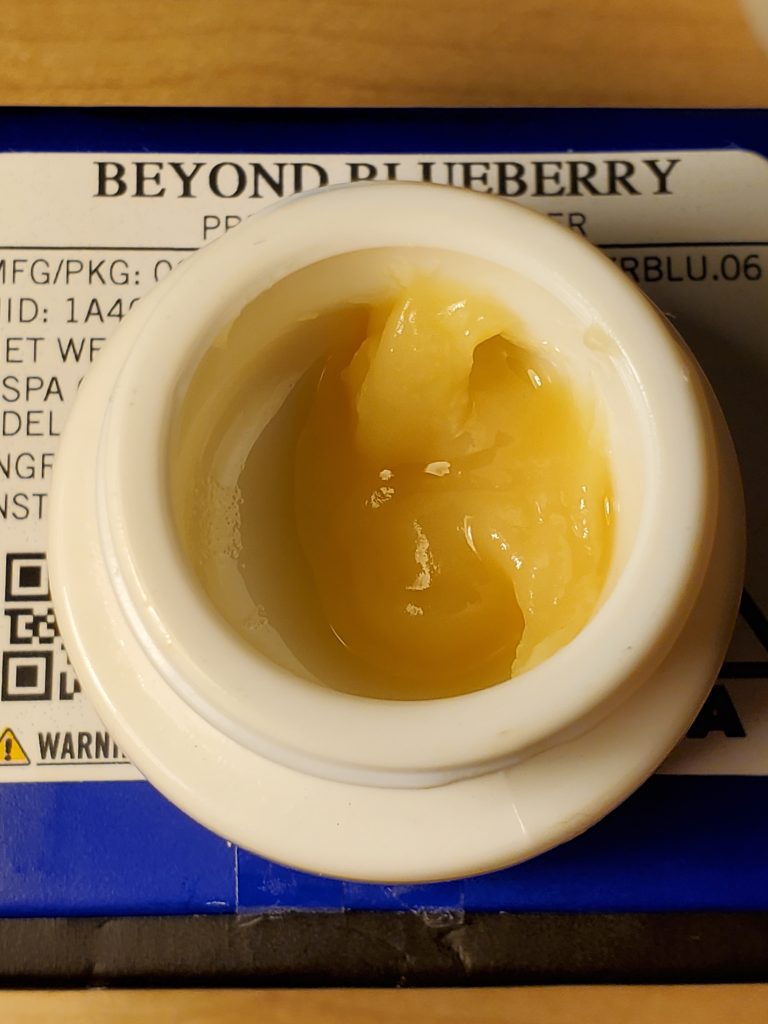 Wonderbrett's Beyond Blueberry strain was a masterpiece of flavor and aroma. Skunky and floral in aroma with berry and spice hints, with a flavor to match that left a sweet and creamy taste. The live resin badder had the smooth consistency of yogurt. The effects were the best concert that cannabinoids and terpenes have to offer, a therapeutic and uplifting effect that didn't dull concentration. We call Wonderbrett a must-try for cannabis connoisseurs. Check out the full Wonderbrett Beyond Blueberry Live Badder review here.
---
Synergy Cannabis Live Resin – Coming Back For More!
Our only regret with Synergy's ultra premium concentrate is that there aren't more strains to try. This live resin sauce with a distinctly egg-yolk appearance made us instant fans.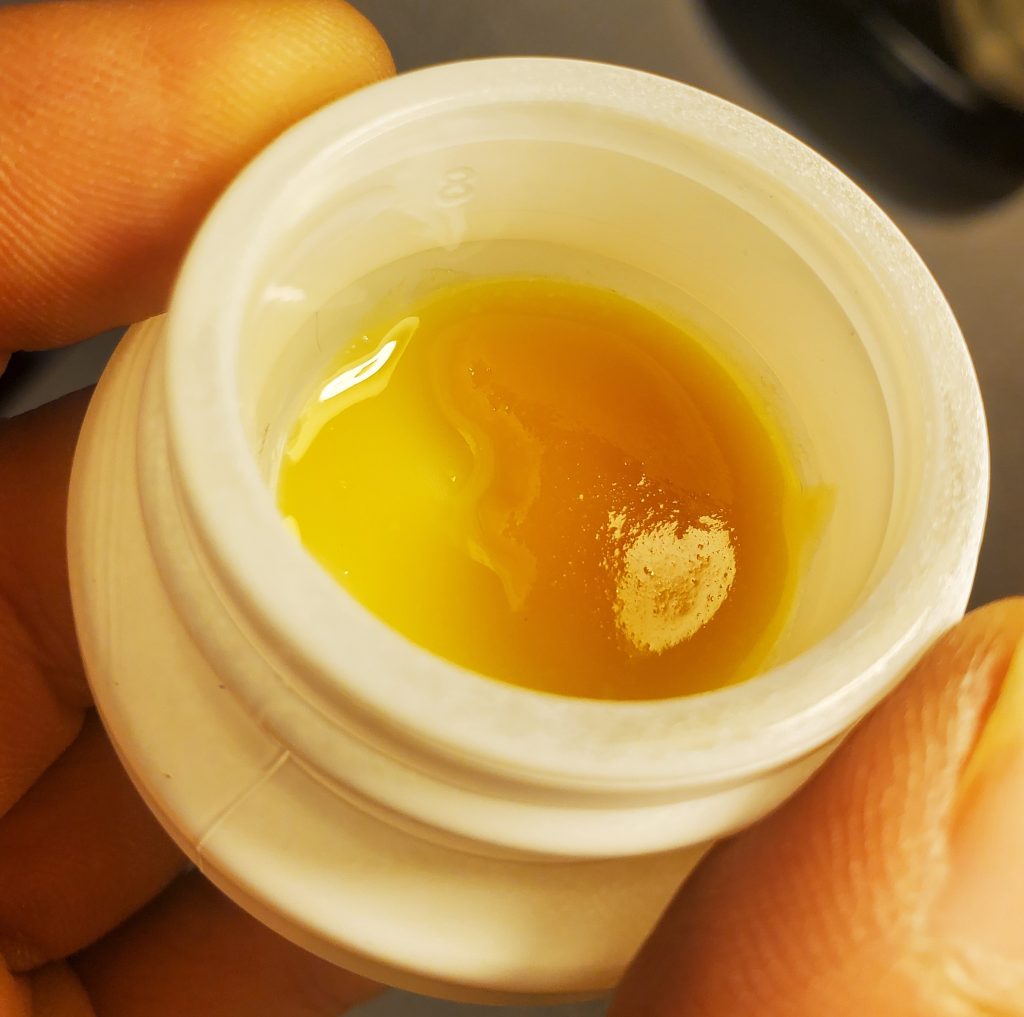 From the attractive packaging to the translucent amber sauce to the tropical scent and taste, this pungent sauce had us intrigued. The award-winning Synergy Cannabis Co. brings us Banana Mochi strain, a tropical treat that lives up to this name. The effects were soothing and euphoric, with a dab-friendly consistency that wasn't too runny to handle. We keep an eye out for more Synergy strains in the future, but meanwhile here' our full Synergy Live Resin Banana Mochi review.
---
Cali Stripe Diamonds – A Must-Try!
When Marilyn Monroe sang "Diamonds Are a Girl's Best Friend," she might as well have been talking about Cali Stripe. This wasn't just diamond sauce, this was a whole one-gram diamond smothered in live resin.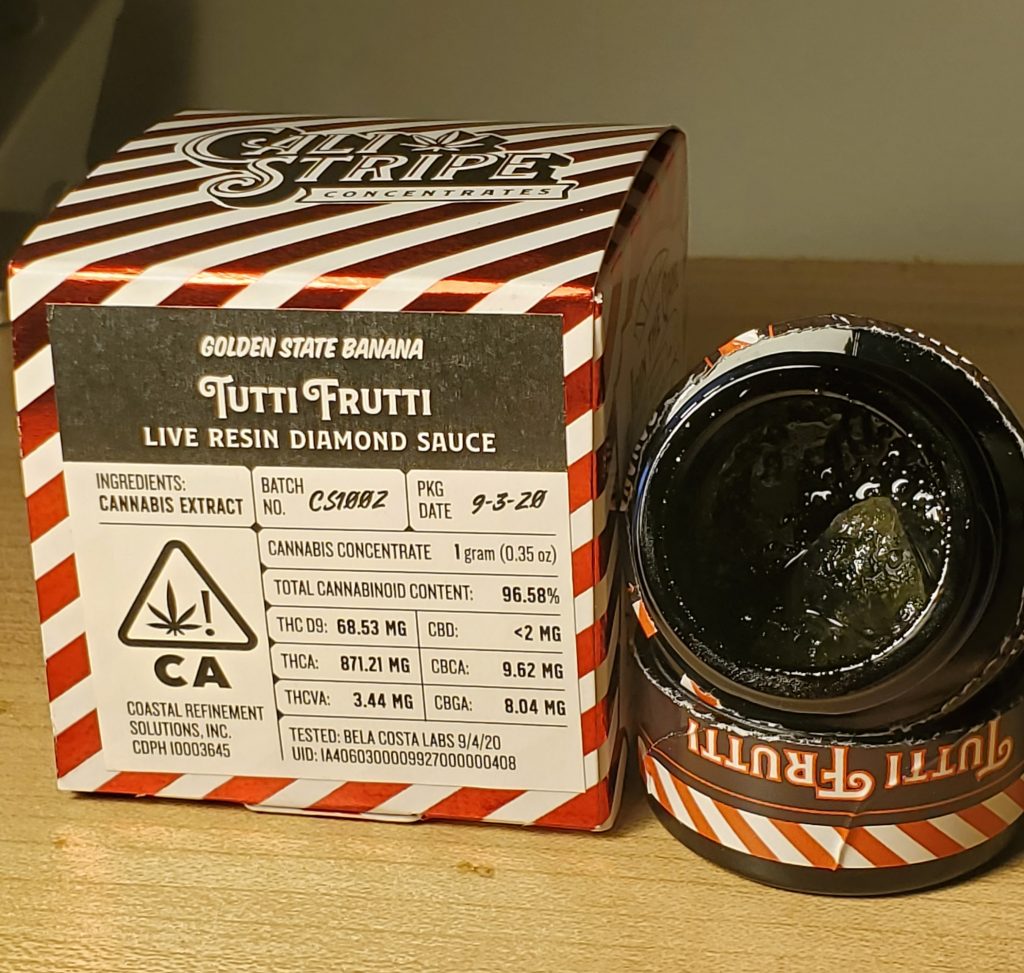 The old-fashioned packaging suits this brand well, because it's an instant classic. We tried their Tutti Frutti Live Resin Diamond Sauce, a generous glistening gem swimming in rich, golden liquid. The largest diamond we have seen yet. The flavor and aroma were a bag of fruity and floral sensations, a rich taste of tangy tropical fruits. The effect was a powerful punch of invigorating energy which faded to a mellow glow. Read the rest of our rave review of Cali Stripe Tutti Frutti Diamond Sauce here.
---
Cannatique Diamonds – So Nice We Had It Twice!
The translucent, icy diamonds we found under the lid dazzled our eyes, and the experience was just beginning. We tried two strains of Cannatique, Red Rum and Blueberry Cruffin, and found them both exceptional.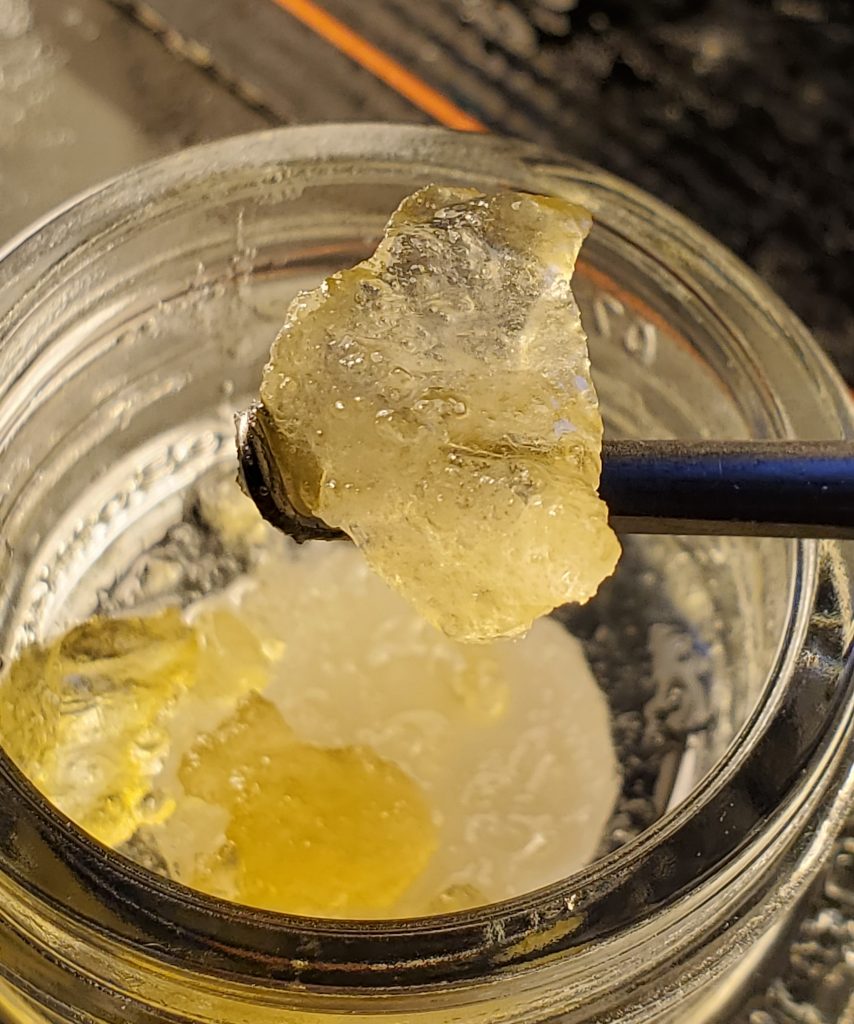 It's rare that we can try two different samples of diamonds from the same producer and find no flaw, but Cannatique delivered on our highest expectations. The Red Rum was a sugary consistency, tasting like a lemony citrus and spice treat, and producing relaxing effects that had us ready for a mellow evening. The Blueberry Cruffin was a hard gem of nutty berry goodness that likewise wafted us in a relaxed haze. See our full Cannatique Red Rum and Blueberry Cruffin Diamonds review here.
---
Guild Extracts Live Resin – One of the Finest!
This rich and creamy delight had the consistency of cake frosting, making it very dab-friendly. The potency and presentation sold us solidly on Guild Extracts deserving a place of honor on this list.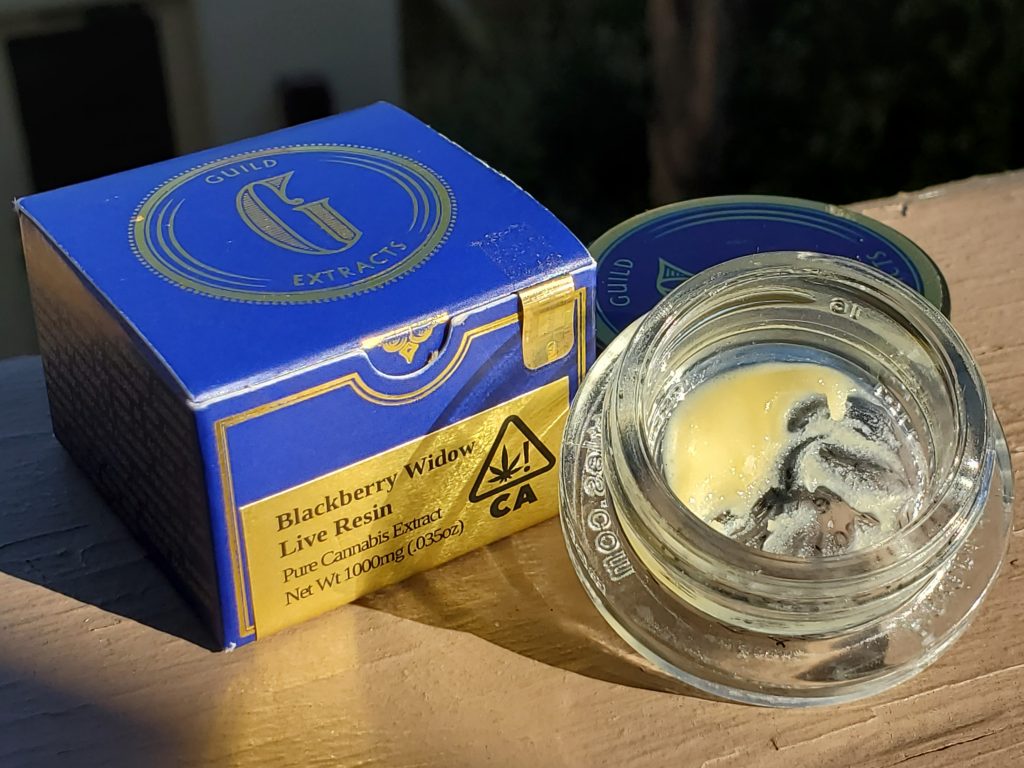 We tried Blackberry Widow Live Resin from Guild Extracts. Within its distinguished packaging lay a tasty budder whose aroma and taste brought to mind a delicious blueberry cheesecake. The Indica-heavy hybrid left us relaxed and euphoric. Find out why we swear by Guild Extracts' consistent quality in our full Guild Extracts Blackberry Widow Live Resin review.
---
Terp Hogz Live Resin – Tantalizing Selection!
Terp Hogz Geneticz is the cultivator behind the award-winning Zkittlez strain. We selected two strains by them at two different price points, and enjoyed them both.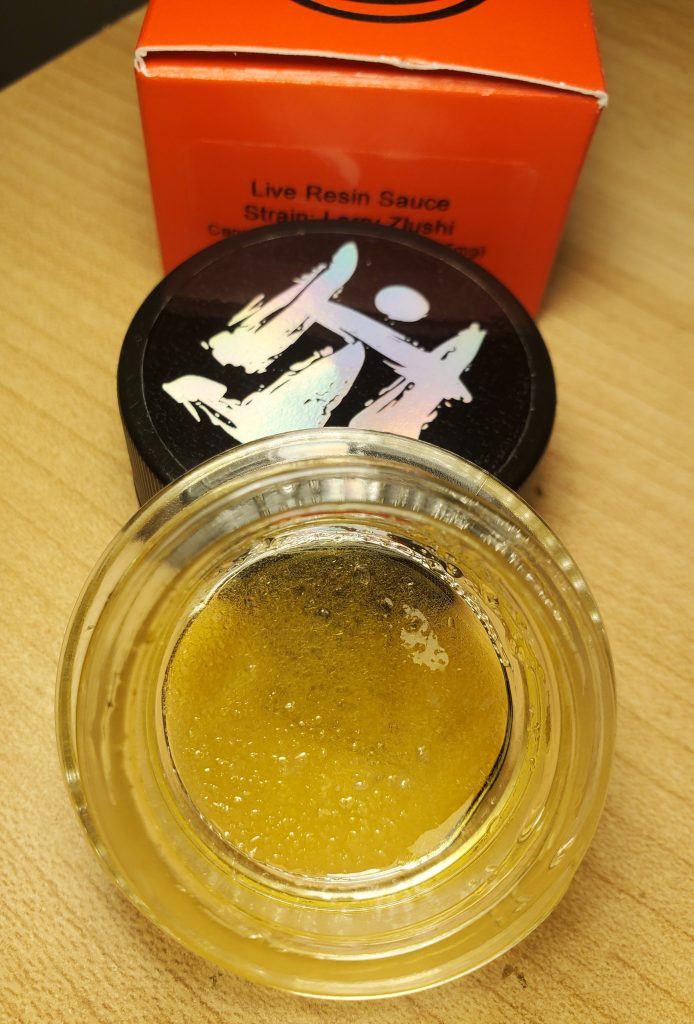 Two live resin sauce with a golden honey consistency, we tried Zmoothie, descended from Zkittlez, and Larry Zlushi, a crystalline sauce with a chunkier consistency. While we liked Zkittlez better simply because it met its price point better, both strains satisfied in taste, potency, and effects. Here's our full breakdown at the Terp Hogz Zmoothie and Larry Zlushi Live Resin Sauce review.
---
Nug Live Resin – Great for a Lazy Afternoon!
If you're looking for diamond sauce at a reasonable price that will provide a mellow afternoon on the couch for a Netflix binge, you could do a lot worse than Nug's collaboration with Eel River Organics.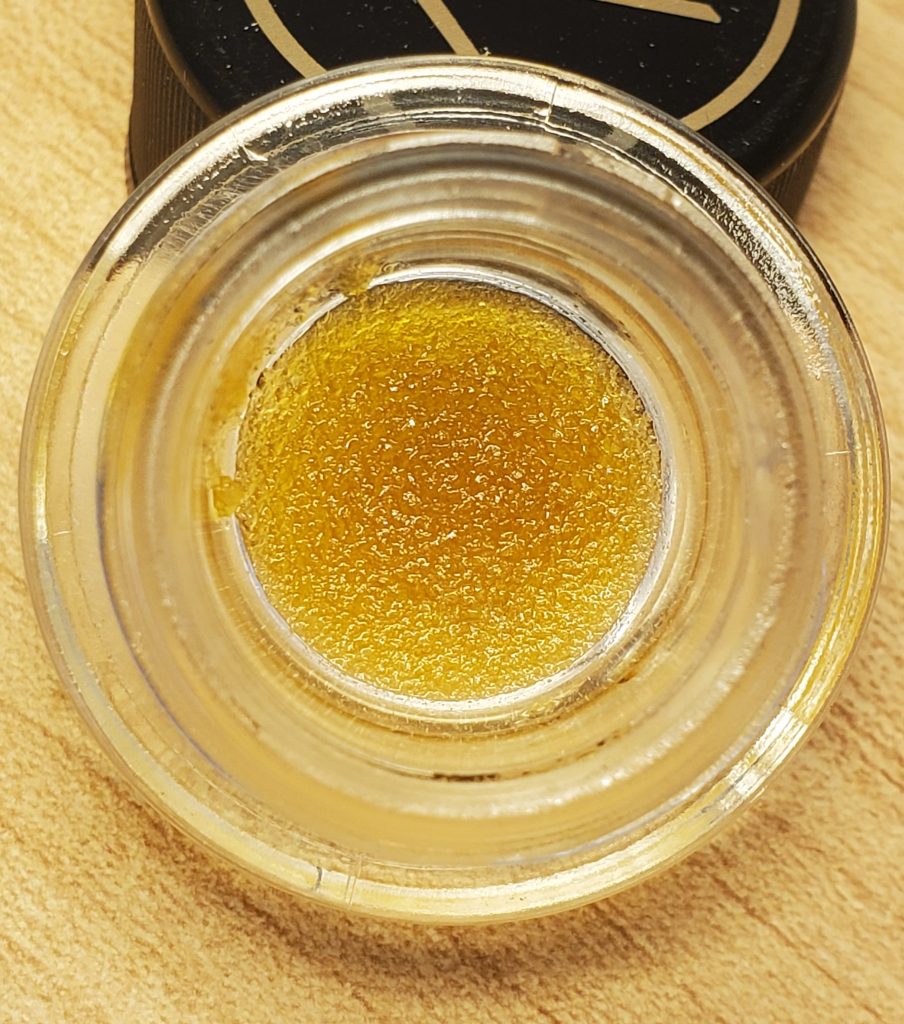 We tried Fog Berry strain, well-named for its fruity and floral balance of berries and lavender. It was relaxing and euphoric, with a potent kick that was just enough to keep us on the couch but left our attention intact. We found it a great package of potency, taste, and value. View our full Nug Fog Berry Live Resin review for the details.
---
West Coast Cure Hash Rosin Review – Underrated!
You all know West Coast Cure for its long-standing line of vape cartridges, pods, and other oil concentrates. We haven't always associated the WCC crown logo with highest quality, but this time we had to give credit where it's due.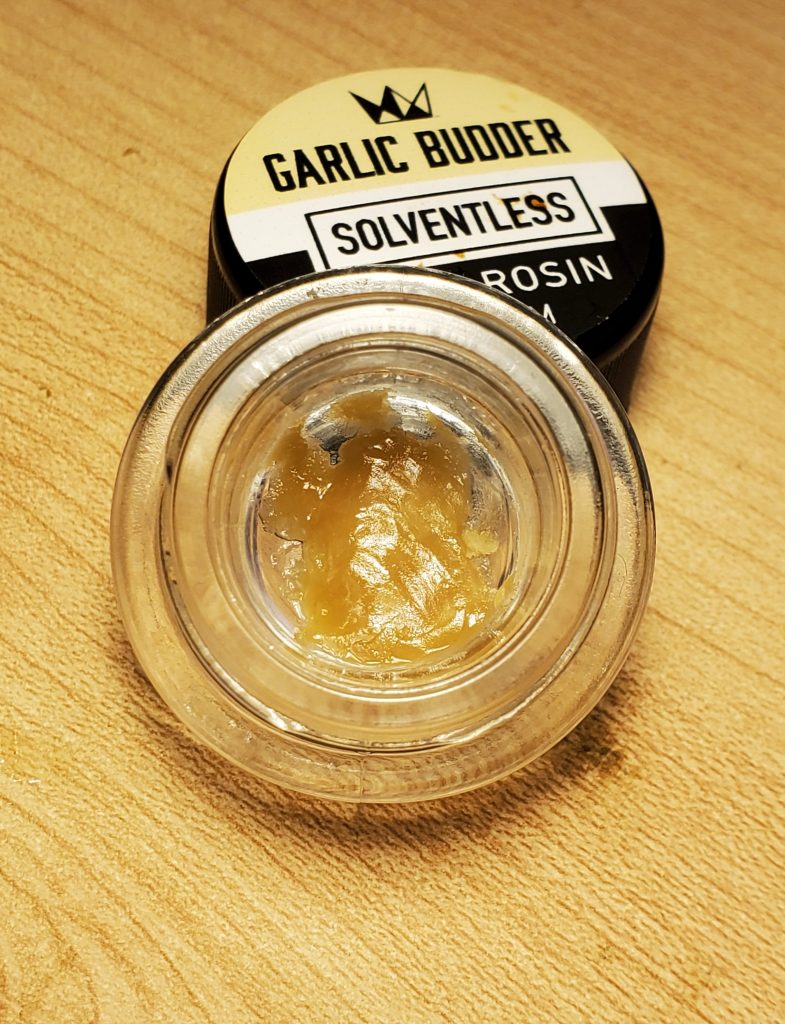 We were pleasantly surprised with West Coast Cure's Solventless Hash Rosin, which we concluded was the best product out of the entire WCC line-up. Even more surprising is the bold choice of Garlic Butter strain in a hash rosin, but darned if they didn't make it work! A dark, spicy, golden brown paste was pleasant to dab and full-body in potency and effect. We didn't even mind that it was a tad drier than the average dab. Share our surprise in our full West Coast Cure Garlic Butter Hash Rosin review.
---
Readers, what's your verdict?
What are your thoughts on the California concentrate dabs on this list? We're open to second opinions on these. Tell use about your best California concentrates experience here or in our forum.