REVIEW OVERVIEW

SUMMARY
Today I will take a look at Beyond Blueberry from Wonderbrett. Wonderbrett offers some of the most popular strains in California, especially OZ Kush, which was originated by Terp Hogz through Dying Breed Seeds and it was released in collaboration with Dr. Greenthumb's. Specifically, I will look at their Beyond Blueberry premium live badder, which is also available in flower eighths throughout most dispensaries in California.
Pros:
Exceptional quality
Excellent potency/effects
Great taste/aroma
Excellent medical benefits
Full-spectrum entourage effects
Cons:
Recommendations: None
Beyond Blueberry looks and smells exceptional
Beyond Blueberry was the successful result of a pheno hunt of Sundae Driver from Cannarado Genetics. Sundae Driver is a cross between Grape Pie and Fruity Pebbles OG, two of the tastiest local strains in California. The pale yellow look of the Beyond Blueberry badder has the appearance of rice pudding and it has a very smooth consistency like yogurt. The rich aromas coming off this jar is sweet, skunky, and earthy with a pungent gassy finish. It smells like a floral bouquet of fresh blueberries, sweet blackberries, tangy boysenberries, and creamy vanilla with hints of pine, cinnamon, mint, and lavender. Its taste is very similar to its exceptional scent and finishes off its fruity palate with a sweet, creamy hint of tart apple on the exhale. The Beyond Blueberry live resin badder was just as tasty as Heavy Hitters Banana Pie, Terp Hogz Larry Zlushie, and Synergy Banana Mochi.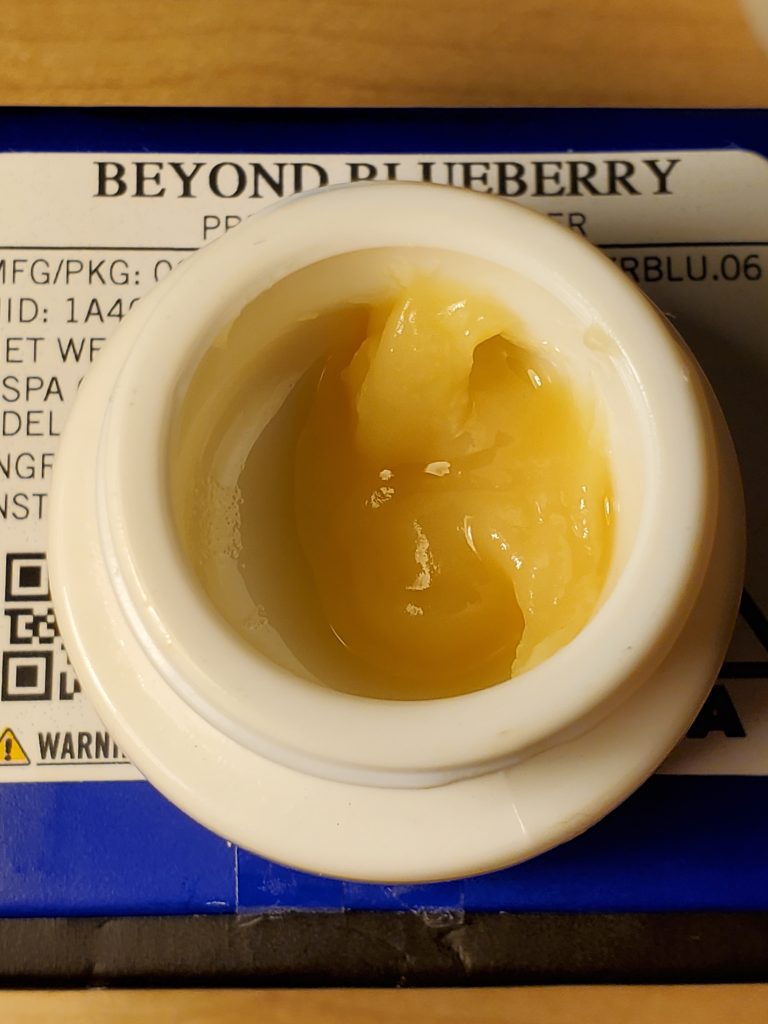 Similar to Synergy and Terp Hogz in terms of effects, more potent than 101 Cannabis Co. Sundae Driver
The effects of the Beyond Blueberry felt very body heavy after it initially delivered an uplifting wave of euphoria. This strain then immediately calmed my nerves, which allowed me to focus on tasks much better. I still felt completely relaxed for a few hours as it also helped with the inflammation of my nerves. Its overall potency and effects felt slightly stronger than the Synergy Banana Mochi and Terp Hogz Larry Zlushie. It also felt more potent and sedative than the 101 Cannabis Co. Sundae Driver budder.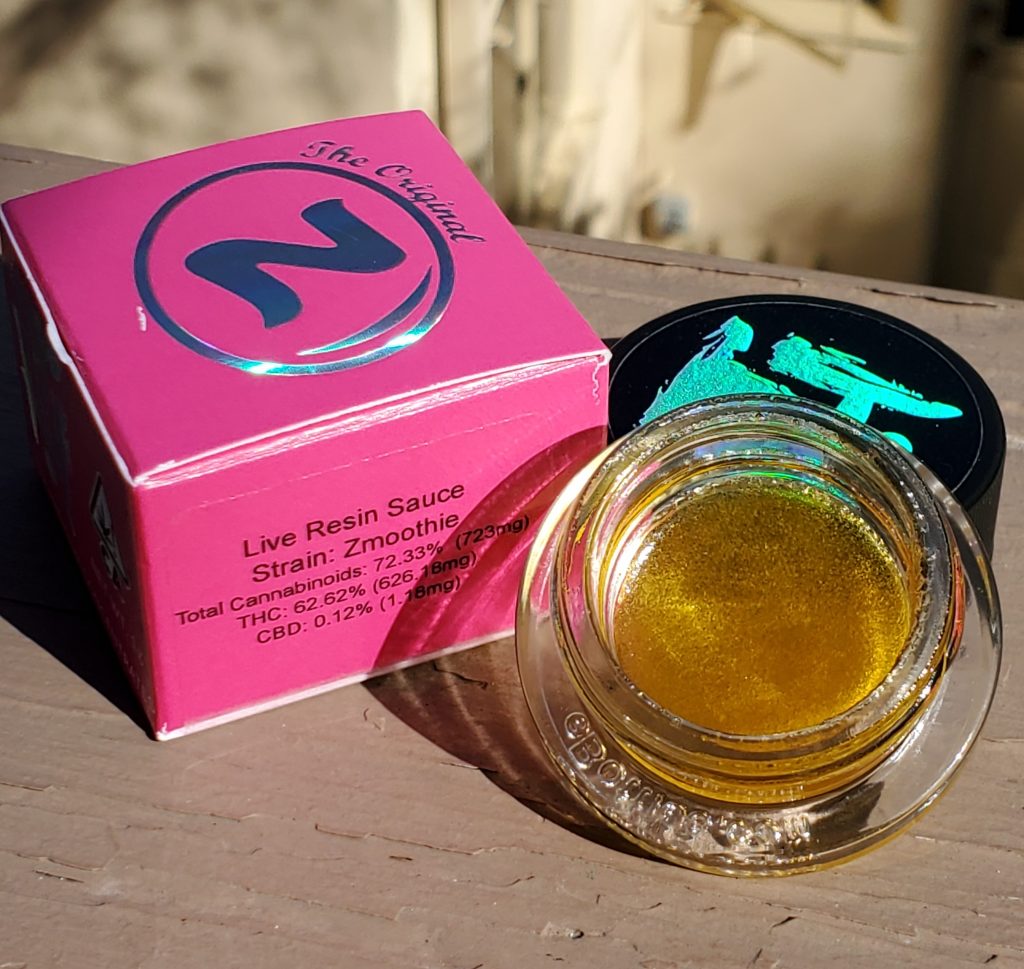 Pinene is the most dominate terpene above caryophyllene, ocimene, linalool
The terpenes on Wonderbrett's website are listed as pinene, caryophyllene, ocimene, and linalool. This could help anyone with medical issues like peripheral neuropathy and sciatica.  The medical benefits of this strain feel exactly as stated on Weedmaps. The full spectrum effects of Beyond Blueberry relieved my symptoms of anxiety, appetite loss, inflammation, insomnia, and chronic pain.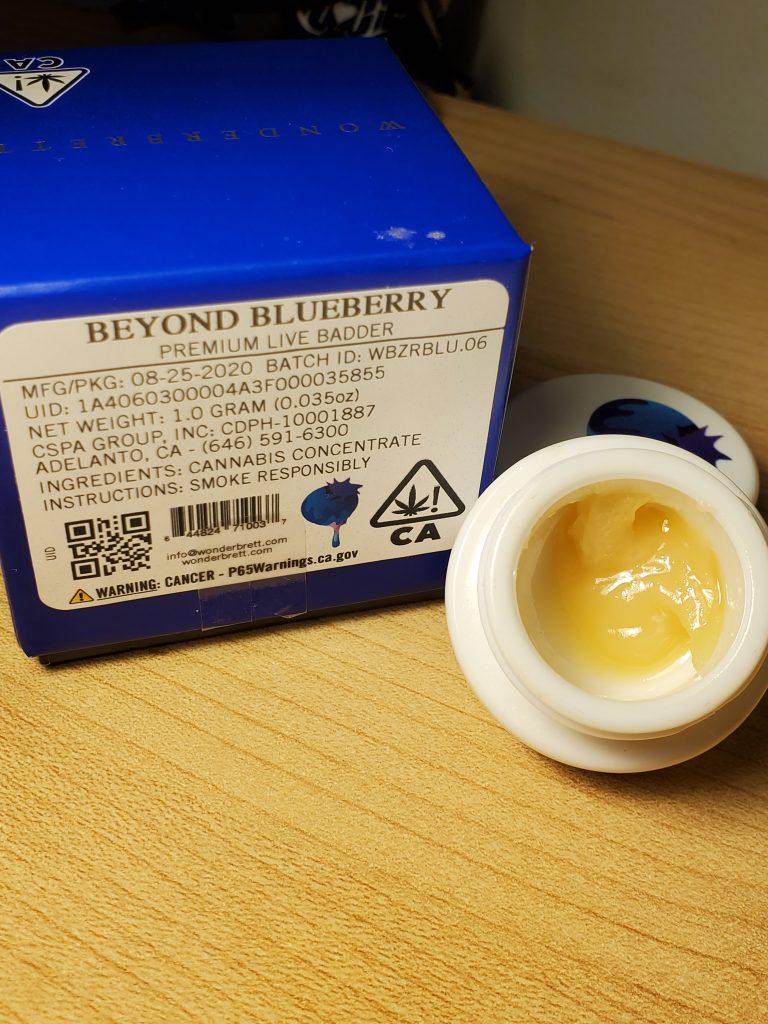 The price of Wonderbrett is similar to Synergy or Terp Hogz
Wonderbrett Beyond Blueberry is priced around the top-tier level of live resin concentrates much like the Synergy Banana Mochi or Terp Hogz Larry Zlushie. In my opinion, it's absolutely worth the price of a top-tier live resin concentrate. I would recommend the quality, taste, strength, smoothness and value of Beyond Blueberry as much as Synergy Banana Mochi, Terp Hogz Larry Zlushie, and 710 Labs live resin concentrates. This was perfect for late afternoons and evenings. Its strong full spectrum entourage effects effectively managed my nerve pain. The THC % of this batch of Beyond Blueberry is 70.92% and the total cannabinoids are 85.39%. It is slightly more effective in its entourage effects than Synergy Banana Mochi and Terp Hogz Larry Zlushie with a higher total cannabinoid percentage.
Wonderbrett live badder delivers on the taste, aroma, effects, and medical benefits
Wonderbrett live resin concentrates are a must-try for any cannabis connoisseur. Beyond Blueberry has the delicious flavor and the characteristics of a unique strain that can really be appreciated by any type of cannabis user. So overall, this is one of my favorite live resin concentrates that I've reviewed here so far. It delivers on the taste, aroma, effects, and medical benefits as promised. I would also highly recommend their newly released OZK x Papaya diamonds and Lemon OZ Kush live badder. Most Wonderbrett products, including their very popular flower, are available at dispensaries throughout California.
You can find Wonderbrett products using their store locator.
What are your thoughts on Wonderbrett? Did you try them? Comment below or in our forum!