REVIEW OVERVIEW

SUMMARY
Today I will review a live resin sauce from Synergy Cannabis Co. Much like Terp Hogz, who cultivated the original Zkittlez, this is another highly successful brand responsible for many familiar strains in the medical marijuana market. The strain used in this review is Banana Mochi. The packaging for the Synergy Banana Mochi live resin sauce grabbed my attention, too. This Banana Mochi live resin sauce is made by Synergy Cannabis Co. They are responsible for various popular strains including the award-winning Golden State Banana, which is a cross between Banana Kush and Ghost OG.
Pros:
Excellent quality
Excellent taste
Great strength/effects
Absolutely worth the price
One of the best live resin concentrates
Cons:
Recommendations: More strains would be nice.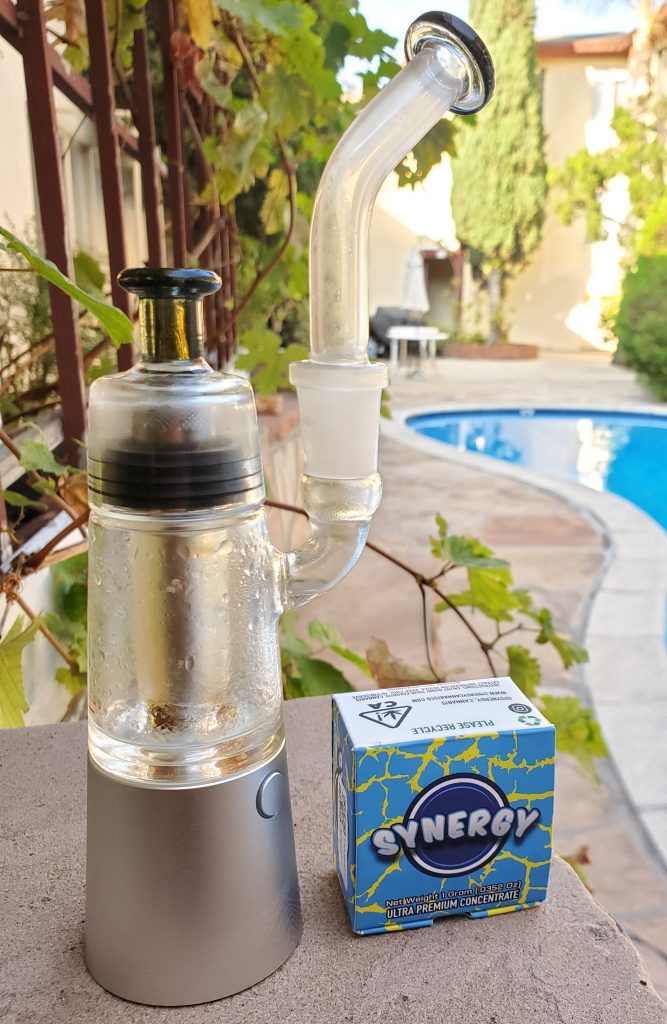 Synergy Cannabis' Banana Mochi smells and tastes like a creamy banana dessert
This Banana Mochi strain is a cross between Banana Kush and Mochi Gelato, two very tasty and delicious strains in their own right. When opening the jar, a tropical, skunky and floral scent of sweet candied bananas with fruity hints of pine, berries, and lavender is very pungent and intoxicating. It has a piney OG taste with a creamy, nutty and fruity vanilla dessert-like aftertaste. The effects feel very soothing, relaxing, and sleepy after an initial wave of strong cerebral euphoria. It is a cross of two potent indica strains, Banana Kush which is a cross between Ghost OG and Skunk Haze while Mochi is an Indica-dominant Gelato phenotype. The consistency for this live resin wasn't as saucy as many other recent live resin concentrates and it was easier to handle than most other live resin sauces.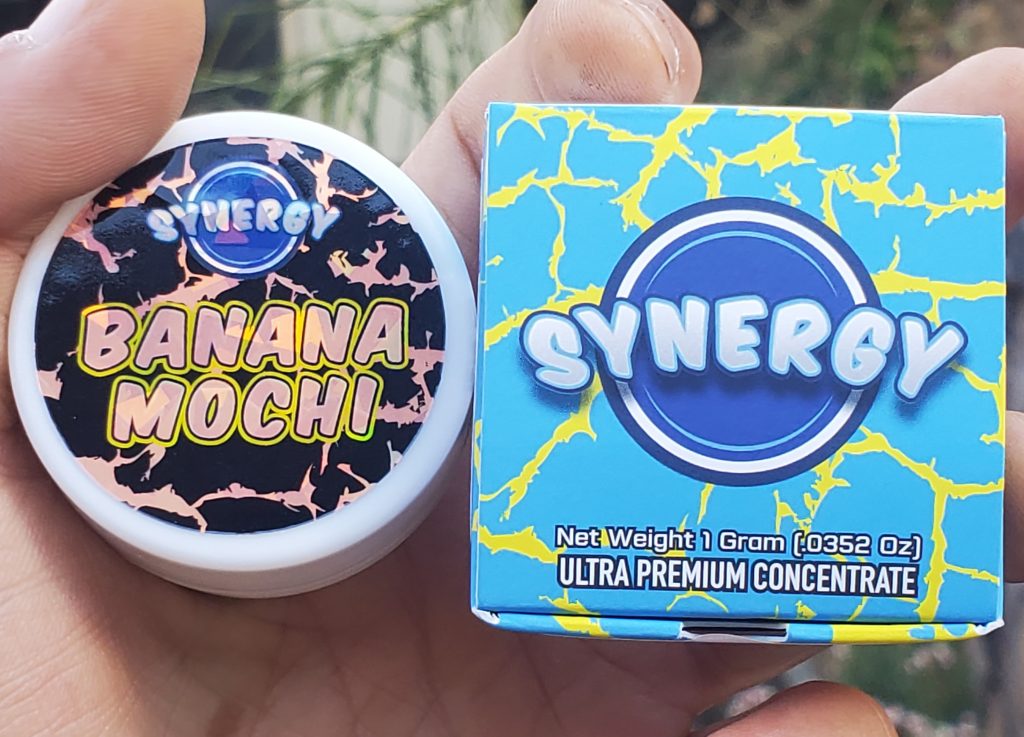 Almost as good as 710 Labs, slightly better than Terp Hogz Zmoothie, Heavy Hitters Live, and ABX Live
By appearances, it looks almost like the 710 Labs Shineapple #32 live resin sugar that I had last week. It also almost resembles an egg yolk with a nice and clean golden amber translucence above the surface. This Banana Mochi is as tasty and delicious as the Heavy Hitters Banana Pie or Lemon Gelato, flavor-wise. It's as strong and stoney as the Larry Zlushe strain from Terp Hogz, while it is stronger than the Zmoothie from Terp Hogz.
This one ranks very high on my list this year, slightly better than ABX Live Slurricane live resin and almost as satisfying as 710 Labs Shineapple #32 sugar. I really enjoyed Banana Mochi on the Vista Mini 2 on a low to medium setting.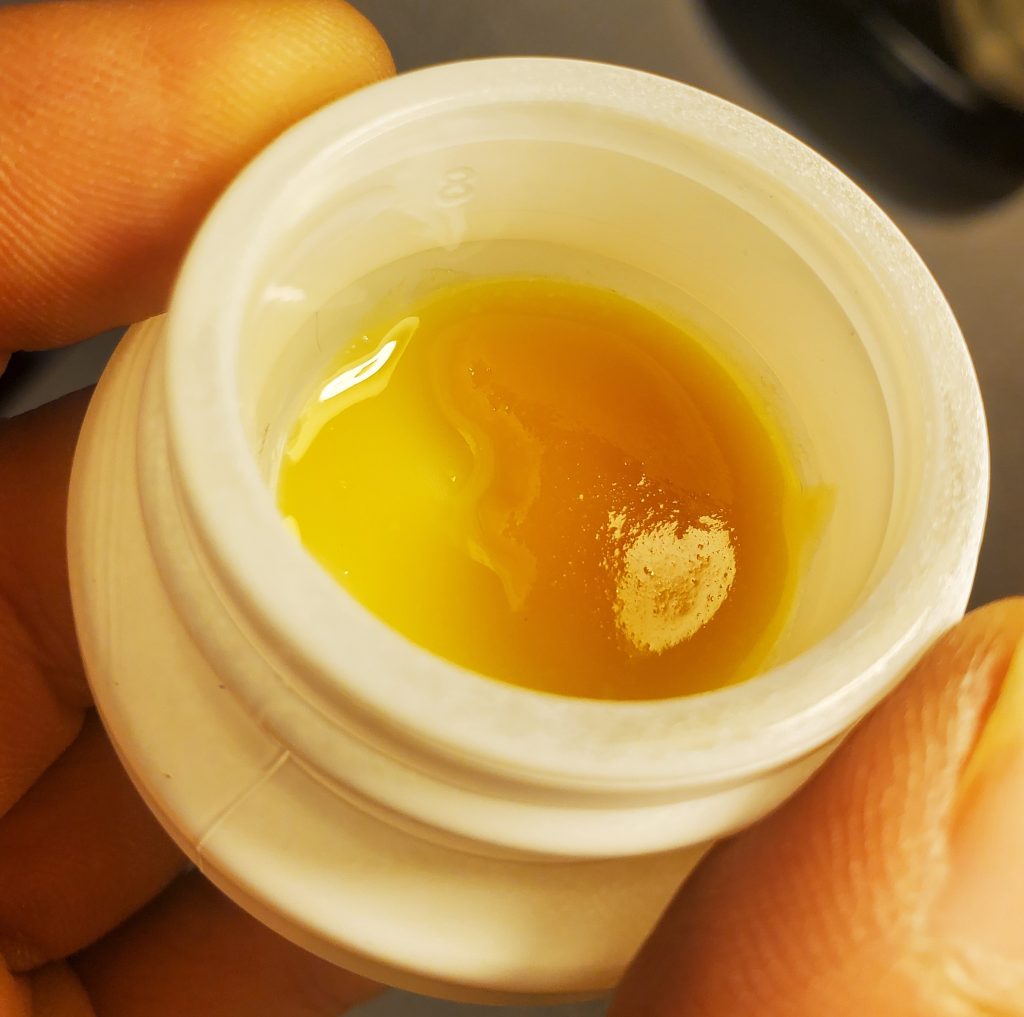 Synergy Banana Mochi is absolutely worth the price
The price isn't quite as expensive as the Larry Zlushe strain from Terp Hogz, but still within my price range. I definitely plan on looking for more strains as they may become available and I definitely plan on getting another gram of this excellent Banana Mochi live resin sauce. Synergy Cannabis Co. has taken a couple of my favorite strains, then they made an even better-tasting and more potent strain. 
Synergy Banana Mochi is near-perfect across the board
I would recommend the quality, taste, strength, smoothness, and even the value across the board. This was great to take during nighttime as this Banana Mochi was excellent for its entourage effects to treat my nerve pain. In my opinion, it's worth the price and cost slightly less than the first-tier concentrate from Terp Hogz and other brands. The THC % of Banana Mochi is 70.08% and the total cannabinoids are 82.7%.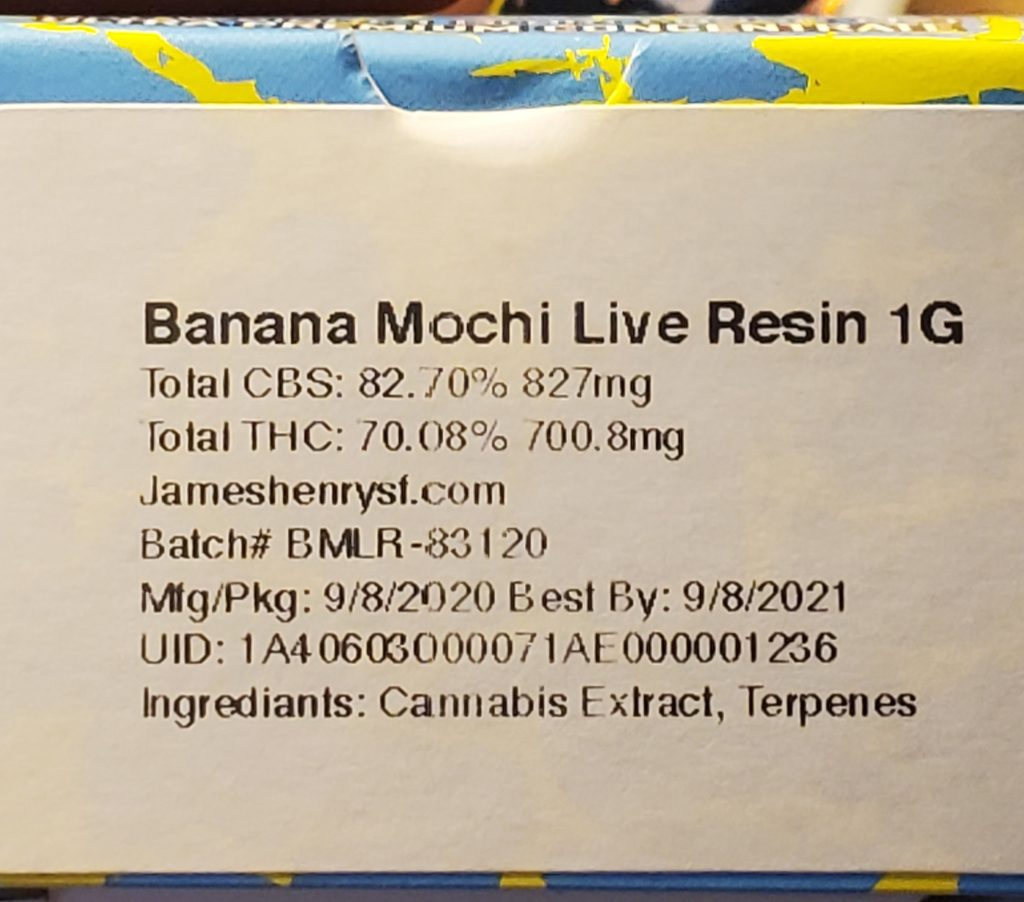 Synergy Banana Mochi is one of the best live resin concentrates so far…
In conclusion, this is absolutely worth the purchase, if it's available in your area. I cannot recommend it highly enough if you desire the level of quality of what 710 Labs and Terp Hogz provides in their top-tier live resin options, but for slightly less expensive prices. I would also love to try their wider selection of flower and other concentrates. Most Synergy Cannabis Co. products, including Golden State Banana, are available in dispensaries throughout California.
Overall, this has been easily one of my favorite live resin concentrates that I've had all year. Synergy Banana Mochi feels slightly better than Terp Hogz Zmoothie, ABX Live and Heavy Hitters Live in terms of quality.
Readers, you have the floor as always here in the comments and in our forum.
You can find Synergy Cannabis products on WeedMaps and check out their Instagram here.