Today, we are very late to the party telling you that the Tree Base Klear THC cartridge brand has been counterfeited. Tree base Klear is a brand established in February of 2015 in California, which makes it a mature senior in the cannabis market, right up there with Moxie. The fakes are almost that old.
Tree Base Klear empty packaging for sale
We find several Tree Base Klear packaging knock-offs on the usual fake cart packaging suppliers.
DHGate: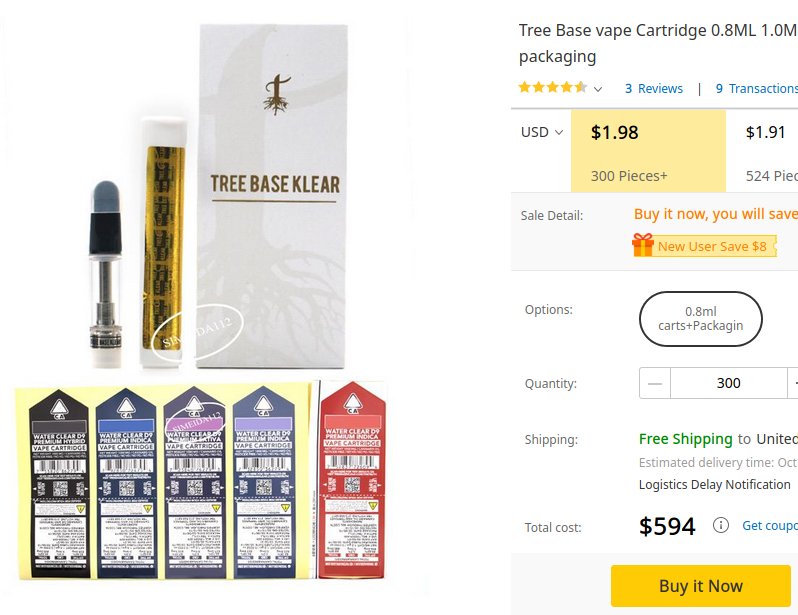 Vapes Wholesale: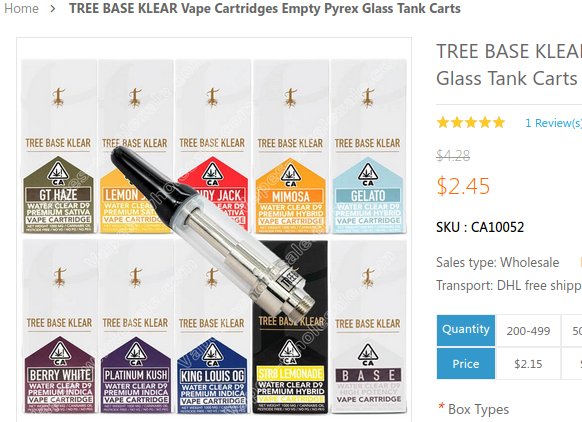 420CBDPen: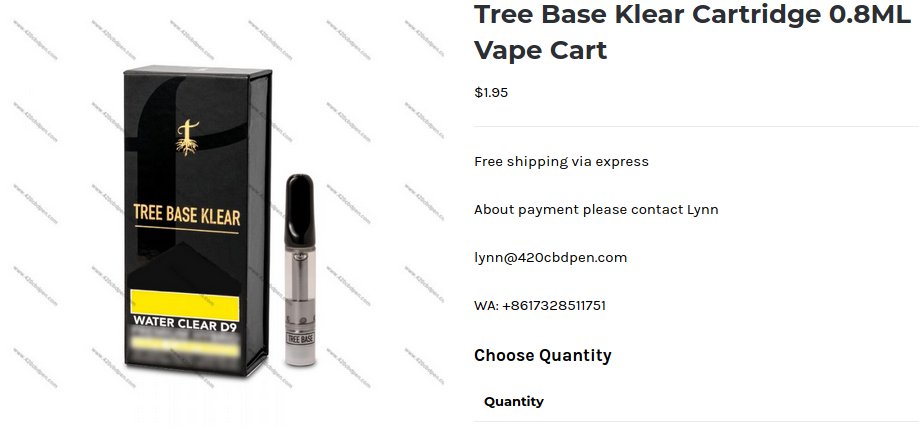 We also find several sketchy third-party scam sites putting up Tree Base Klear, whether they really have the product or are just trying to scam money.
"All Dank Vapes" site: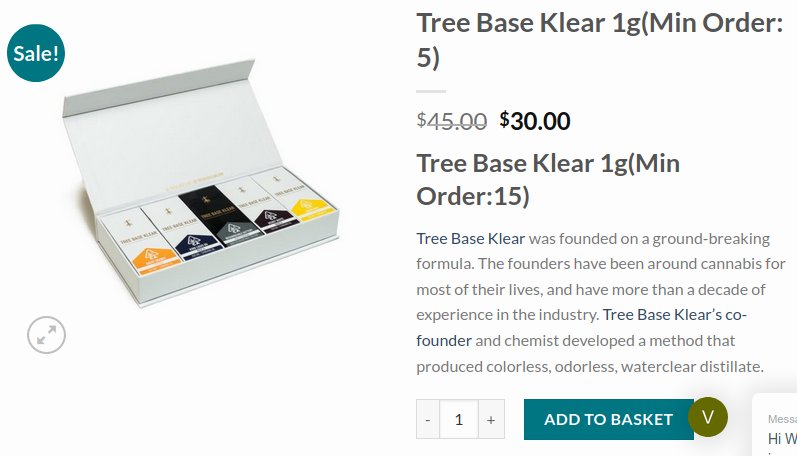 "Buy Best Marijuana Online":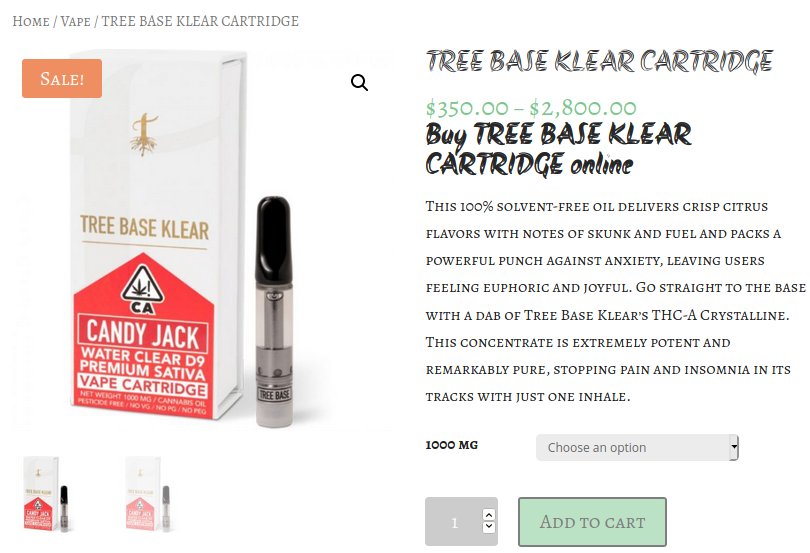 Tree Base Klear is a real brand
Just so we have this straight, Tree Base Klear has a website that's been there for years, so take their word for it on their products. Tree Base Klear is a brand so mature that there's footage of their swag at the Coachella festival, a statement which feels like it belongs to a different era in the COVID-19 pandemic.
We did review a TBK cart way back in 2018, but the reviewer was not thrilled. However, that was from a submitted review and for all we know, maybe the cart was suspect?
Fake Tree Base Klears are easier to spot
Several discrepancies have been found in counterfeit TBKs posted at Reddit over the years. In the first place, Tree Base Klear's name comes from the oil, which is water-clear! From their FAQ:
> "We then utilize proprietary refinement techniques in a multi-step process that selectively removes major plant contaminants from the oil including chlorophyll, plant lipids, proteins and carbohydrates. An added benefit of this refinement process is a water clear oil with amazing optical clarity."
Which means that this cart is obviously fake: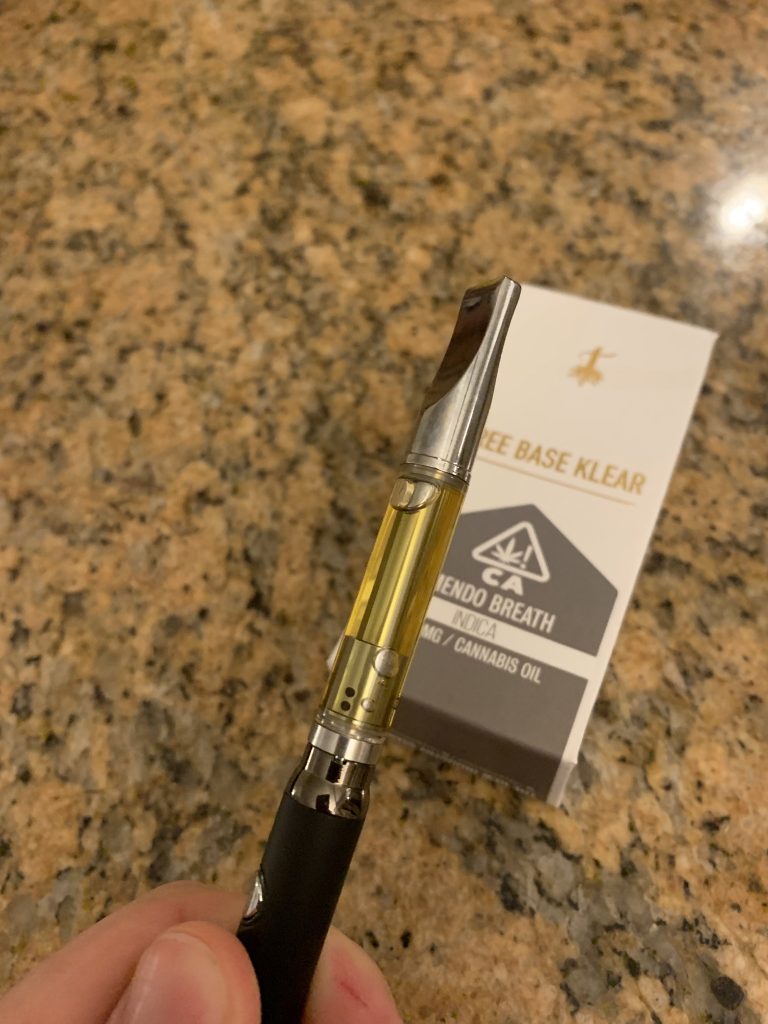 Counterfeit packaging also sometimes has typos. This redditor posted a video 3 months ago: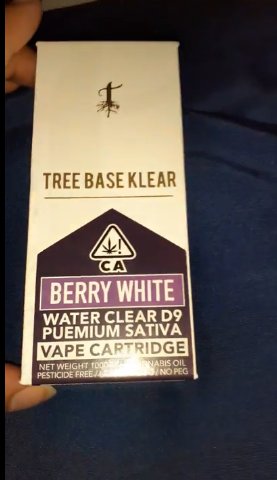 The word "premium" is misspelled as "puemium." You see, kids, stay in school, and you will be able to spot fake cartridges. Furthermore, you can also just make out the watermarked design of their tree logo on the inside of the box lid…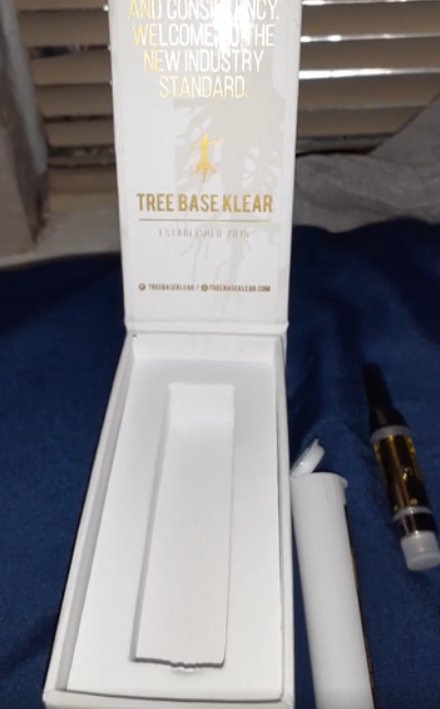 It's cut off on the left side. Commenters there point out numerous other discrepancies.
Then there's this package found five months ago. A "Str8 Lemonade" cartridge: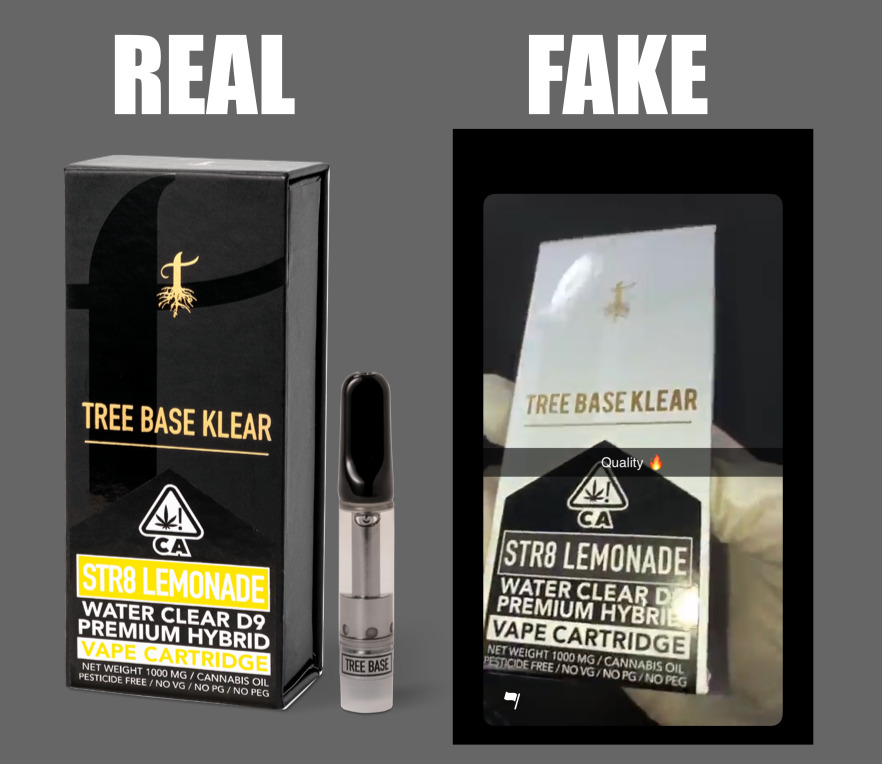 You can see the colors are all wrong on the packaging. These go on forever! Another fake find from just last month: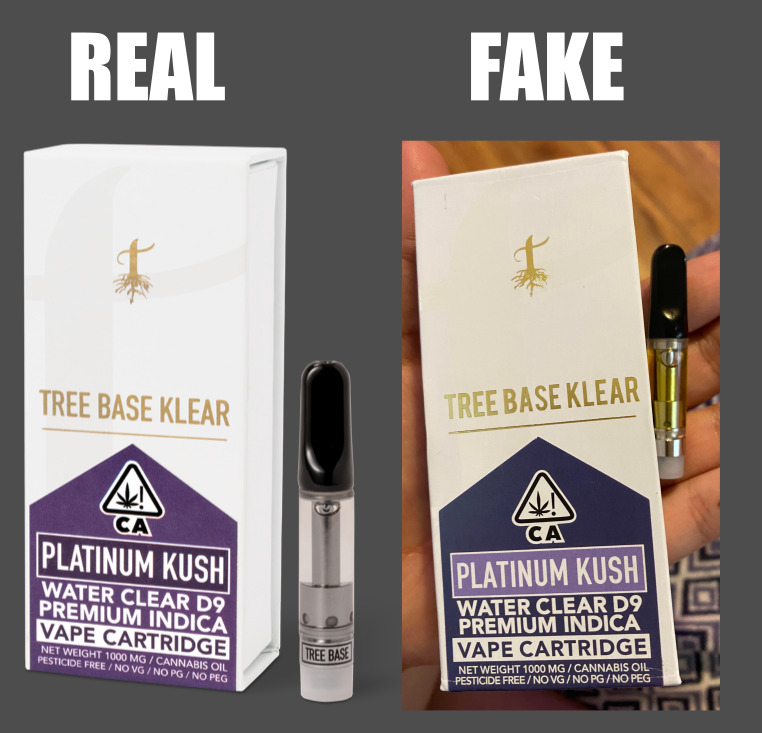 Again, the colors on the packaging are different. You can also see the fake cart on the right does not have clear oil. And finally, the central rod in the cartridge on the right is way thicker than it should be!
The thicker rods in the cartridges is a common feature we're seeing in fake packaging. The center rod is thicker to skimp you on oil, which is a feature many black market oil distributors obviously appreciate. It's not always worth pointing out because it's a hard detail to spot for the untrained eye, but this time it is really blatant.
And here is yet another typo discovered on yet another fake Tree Base Klear from last month: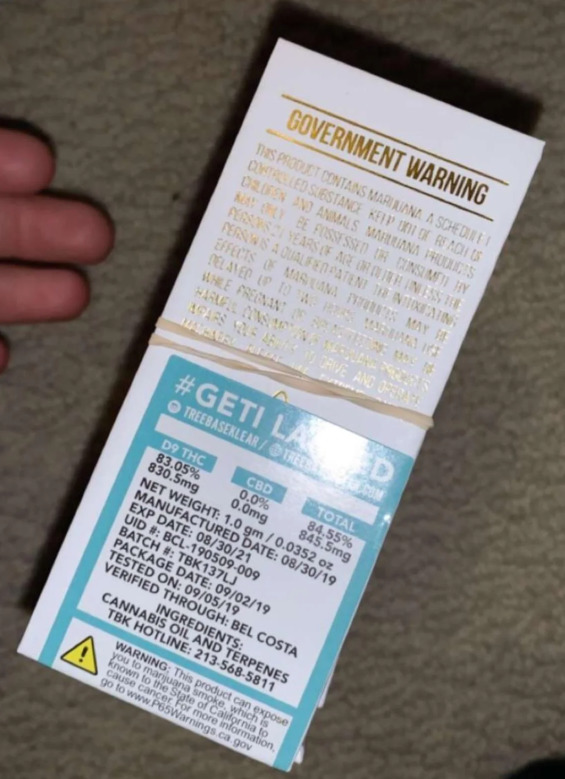 This time it's on TBK's familiar "get planted" slogan, here it's "GETI LANTED."
What is going on with this brand anyway?
I'll have to check back, but I think we just broke a record for highest number of counterfeiting mistakes on a fake cart brand. It's been a long time since we found knock-off packaging of this poor a quality.
A theory: Since TBK is such an old brand, the counterfeits could have been printed a long time ago and are just now getting used. With these companies stocking up and selling in bulk, it makes sense that some pallets of packaging would sit around a warehouse for months, perhaps years, before shipping.
What about the TBK cart we reviewed?
Getting back to our previous review of TBK, that was a completely different package design. You can see in the video that the oil is clear, so that checks out. Since the reviewer linked to their Instagram at the time, we presume they checked the cart against the old design. You also see the dispensary sticker with lab results. It may be legit.
Here's another reason why we wanted to cover this brand: The California Bureau of Cannabis Control was only established a few years ago and did not start its operational duties until January of 2018. I know, we talk about it around here like it was this venerated old institution. The bottom line: Back in 2018, it was much harder to tell legit from boof, because we didn't have as much licensing in place.
There's a point to this that we want to stress:
A few of our old reviews on this site are questionable. Certainly when we had reviewers comparing Cereal Carts to other brands, those are now known to be fakes. We went back and put disclaimers on the old stuff. The point is, the fake cart thing was completely unknown just a few years ago, and the regulatory agencies implementing the licensing programs, which we now pledge allegiance to, were just getting started.
In this "wild west" of the dawn of the cart era, we were actually one of the first to break the story of fake carts, long before the mainstream media noticed it when reporting on the vape-lung injury epidemic.
So yeah, we were learning back then like everybody else.
And look how far we've all come together!
Readers, share your fake cart misprint blooper finds with us here in the comments or in our forum.