Tree Base Klear Cartridge Review: Clear THC Oil To Vape, But Weak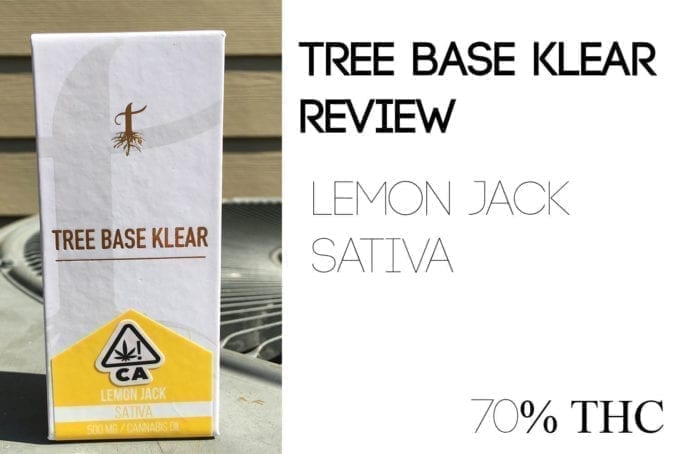 REVIEW OVERVIEW

SUMMARY

Tree Base Klear cartridges need to invest more in improving their prefilled cartridges. Unfortunately, this clear THC oil really failed to impress us. Usually clear cannabis oil is an indication of potency, however, we found that the strength was lacking. We recommend that this company improves their vape cartridge hardware. Vaping this cartridge isn't as smooth as CCell vape cartridges which are becoming the new standard.
This vape cartridge brand is notorious for their clear hash THC oil. This is why we were anxious to write a Tree Base Klear cartridge review. They recently had a completely new package redesign rolled out for their prefilled vape cartridges. We got our hands on a Tree Base Klear cartridge in the Bay Area and it wasn't cheap. We purchased a half-gram for $40 from a delivery service in California. It took only a few days of heavy use to finish it and we weren't too impressed.
This prefilled vape cartridge company is very active on their Instagram. They have a small following of 28,000 right now. Their following is growing steadily as more people become interested in their clear hash oil.  Unfortunately, the packaging box wasn't the only needed upgrade needed. They should have focused on building a high-quality vape cartridge instead of one that fails to impress. It appears they are using the old generation CCELL cart or a clone, when they should be using the latest as it hits much better. Below is a video with a basic rundown of the cartridge and continue reading to find out why we're not fans of Tree Base Klear cartridges.
THC Oil Is Weak And Not Worth The High Price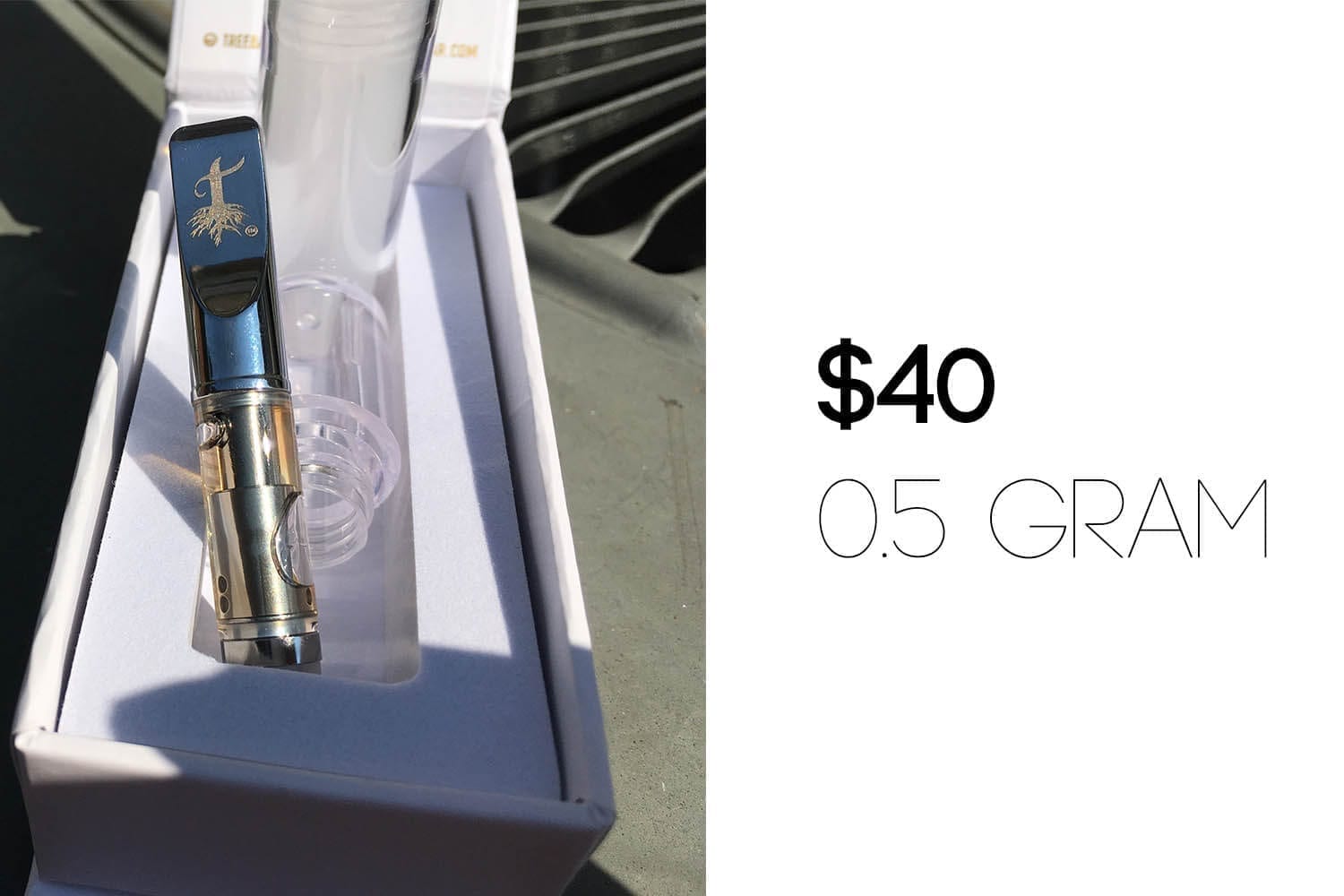 I've seen Youtube videos of people talking about how impressive its strength was and was disappointed it was only mediocre. I had to frequently keep hitting it to get high instead of just needing one or two hits like from the Stiiizy Pen or Plug and Play vape cartridges.
I anticipated strength and instead received a prefilled cartridge with only 71% THC. Klear cartridge was weak compared to other THC oil cartridges that cost much less. Its unfortunate such an expensive vape cartridge could be so weak. Sure, Tree Base THC oil is almost clear but that is not enough to justify $40 for only a half gram. We can recommend plenty of others that are far less and offer more THC.
There was also an expiration date on the label with a year remaining worth of time. What was lacking was adequate lab results on their website. Instead, they have a link to a webpage that only has the text on it, "coming soon". This was the most disappointing aspect about the Tree Base Klear cartridge review, with THC oil advertised as clear, there should be lab test results available.
Tree Base Klear Cartridge Taste Review
The Lemon Jack didn't necessarily taste like lemon. However, it did have a refreshing taste. I was let down with the amount of lemon taste this THC oil had. There are other prefilled vape cartridges available for much less that are stronger and taste more like lemon. A perfect example is the Lemon Haze strain from PURE vape.  We recommend reading our Lemon Haze PURE Vape THC Oil review. The experience with PURE vape Lemon haze was significantly more pleasant than Tree Base Klear and for half the cost.
Vape Cartridge Lacked Efficiency
The vape cartridge itself didn't allow for the THC oil to taste its best. It appears they are using an old style CCELL cartridge or clone. I extracted the THC oil from the Tree Base Klear cartridge and then transferred it into a pod cartridge with a ceramic heating element. The taste of the vapor was significantly better. Its unfortunate this company decided to invest in their marketing than on their actual product. We hope to see them improve their vape cartridges soon.
We strongly recommend that they change their cartridge style to something new. The pod style used on Plug and Play or the standard, new style CCELL cartridges that are on Kabunky and Select Oil would make a big difference for Tree Base Klear. Paired with a CCELL Palm battery they prove to be stronger than Stiiizy's pen style.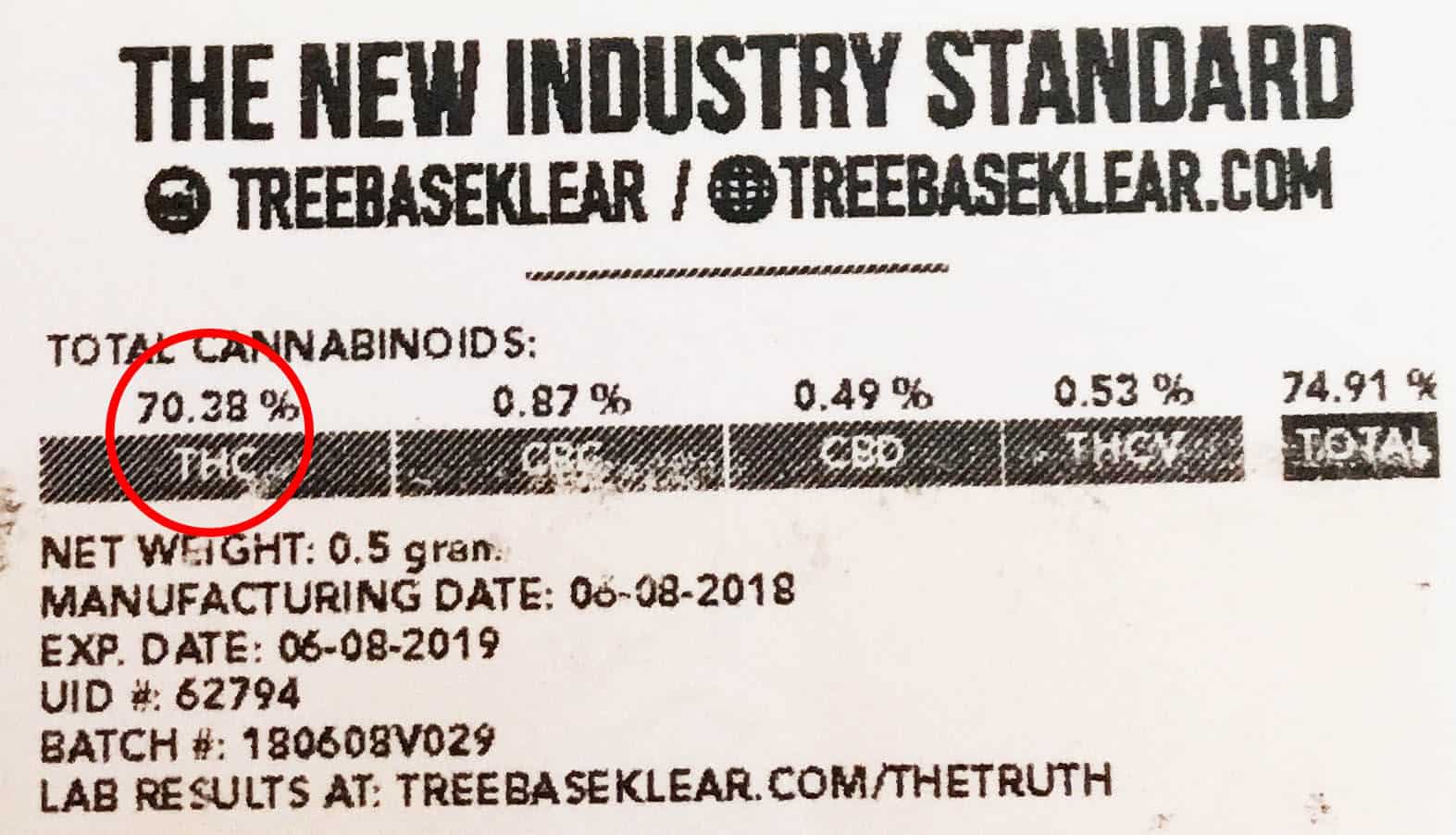 Value is off for the Tree Base Klear THC cartridge
As mentioned above, this THC vape cart is just not worth $40. There are plenty of other oil carts out there for this price, even less, that are better. The high price is probably due to the clear look. It's a look, that's it. I recommend spending your money elsewhere.
In conclusion, Treebase Klear has some nice new packaging but should focus more on improving their vape cartridge and oil strength. Tree Base Klear hash oil may be kind of clear but its not the only concentrate oil available without color. Stiiizy had clear distillate oil before rolling out with more yellow color THC oil and a brownish for their CBD oil. This brand has great marketing going for them which can only take them so far. Let us know what you think about this brand and our Tree Base Klear review. Thanks for reading and please comment below if you have tried this vape cartridge.
At this time Treebase Klear is available in California. See our best cartridges of CA list to see our recommendations for the state.