REVIEW OVERVIEW

Design and Build Quality

10

SUMMARY

The Juice Co scored high on its hardware but pretty low on strength affecting its overall score. Taste and oil quality was good though.
The Juice Co cartridge pairs good quality oil with great hardware. Overall, after doing this review The Juice Co is something I would try again. But at the current level of strength, it is definitely behind other brands available in Nevada such as Roots Extracts, Airo Pro and Select Oil. I will say however, The Juice Co is ahead of the heavily advertised Brass Knuckles brand.
Update 3/21/2019: The Juice Co has significantly increased the strength of their carts. This review was done prior to their strength increase and we will update it after trying the new blends. They now have many carts over 80% THC.
Pros:
Top Quality Hardware
Excellent Taste
Very Clean Feeling
Energetic
Cons:
Recommendations:

 Make something with a higher THC percentage or somehow make it in general stronger than what it is now. Increase the strength. Recently they increased strength, prior to this review. Gj Juice Co!
Licensing Information: Med Lic# 31587552325747237174 Rec Lic# 17001108177212
The Juice Co cartridge turned out to be of good quality, but lacked strength
The Juice Co vape cartridge has its strengths and weaknesses. Increase the strength and it is good to go. Everything else about the cart is stop notch. Hardware, taste, and consistency were all there, just strength is lacking. The strain tested here was Clementine, a Sativa, and was the strongest one available at Essence Tropicana West, coming in at 76.4% THC.
See our video review of The Juice Co cartridge below. Keep reading on for the more in depth review:
Design and Build Quality: The Juice Co uses CCELL cartridge
The Juico Co uses my favorite version of the CCELL cartridge which is the newest generation CCELL with a ceramic tip. This enables you to refill the cartridge again later eventhough it may not be officially recommended.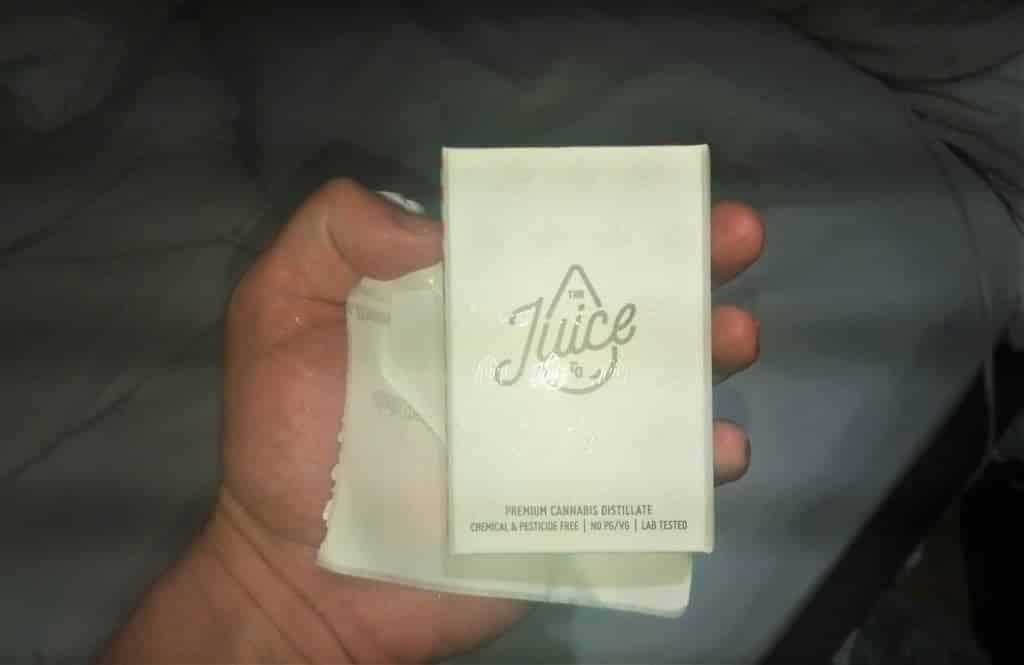 At this point, CCELL's current generation cartridge is the most reliable hardware that produces the best hit. It is highly recommended also to use it with a CCELL battery. CCELL cartridge and the battery just pair well together and seem to produce better vapor than pairing it with a box mod or other type of battery.  The two CCELL batteries that we recommend are the CCELL Palm and Silo.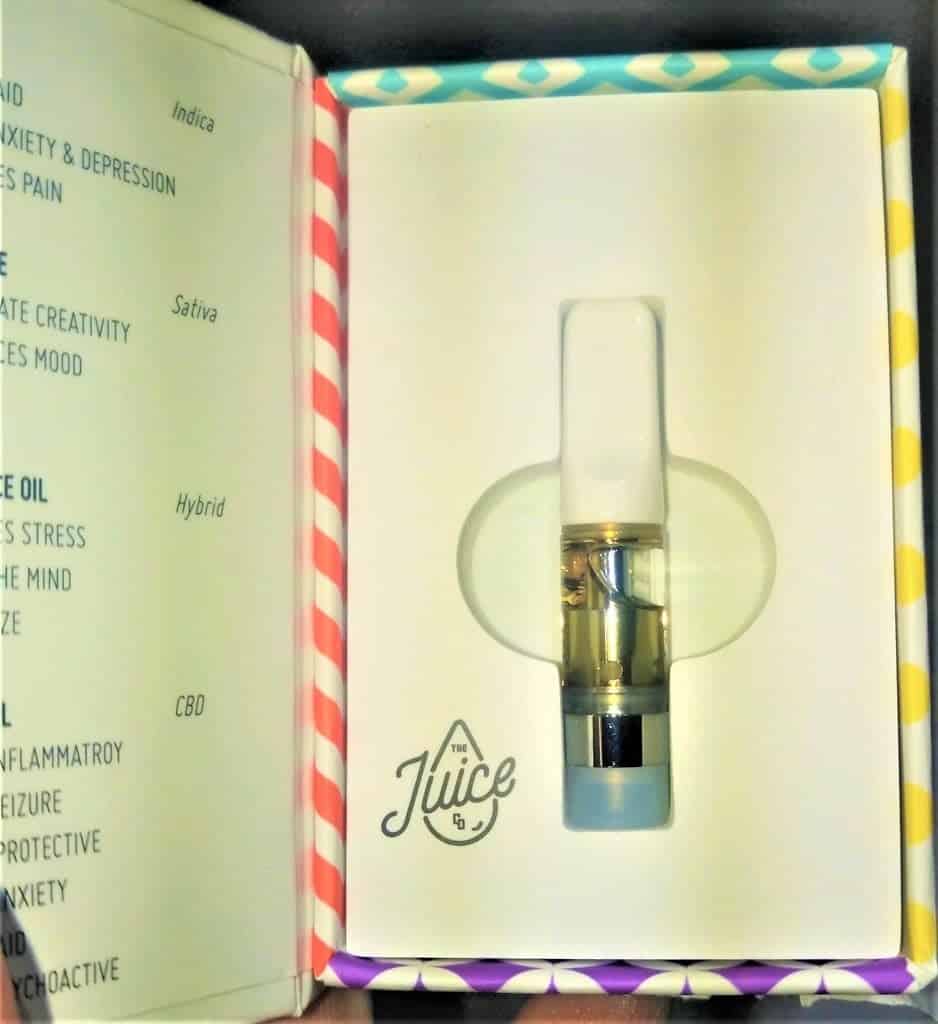 Oil Quality: The Juice Co vaped very smoothly.
You can tell that the oil here used is of high quality. Very consistent looking, no discoloration and it vaped very smoothly throughout the whole entire time.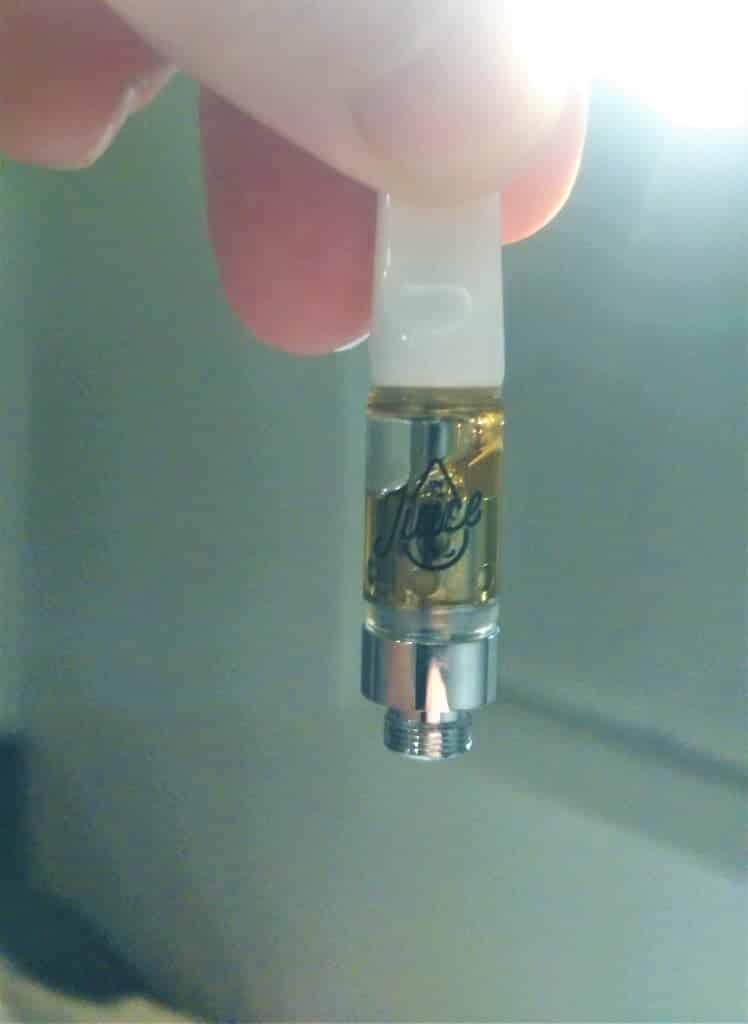 Strength: THC percentage needs to increase.
Strength of The Juico Co THC cartridge could be a little bit stronger. I had to hit it at about ten times to really get a good effect. Whereas the Roots cartridge, I could probably hit about five times. Effectively, it would cost a lot more with The Juice Co vape cartridge to get the same medicated effect as with Roots or Airo Pro cartridge. I can take way less hits on the other cartridges that cost roughly about the same and I get more of an effect.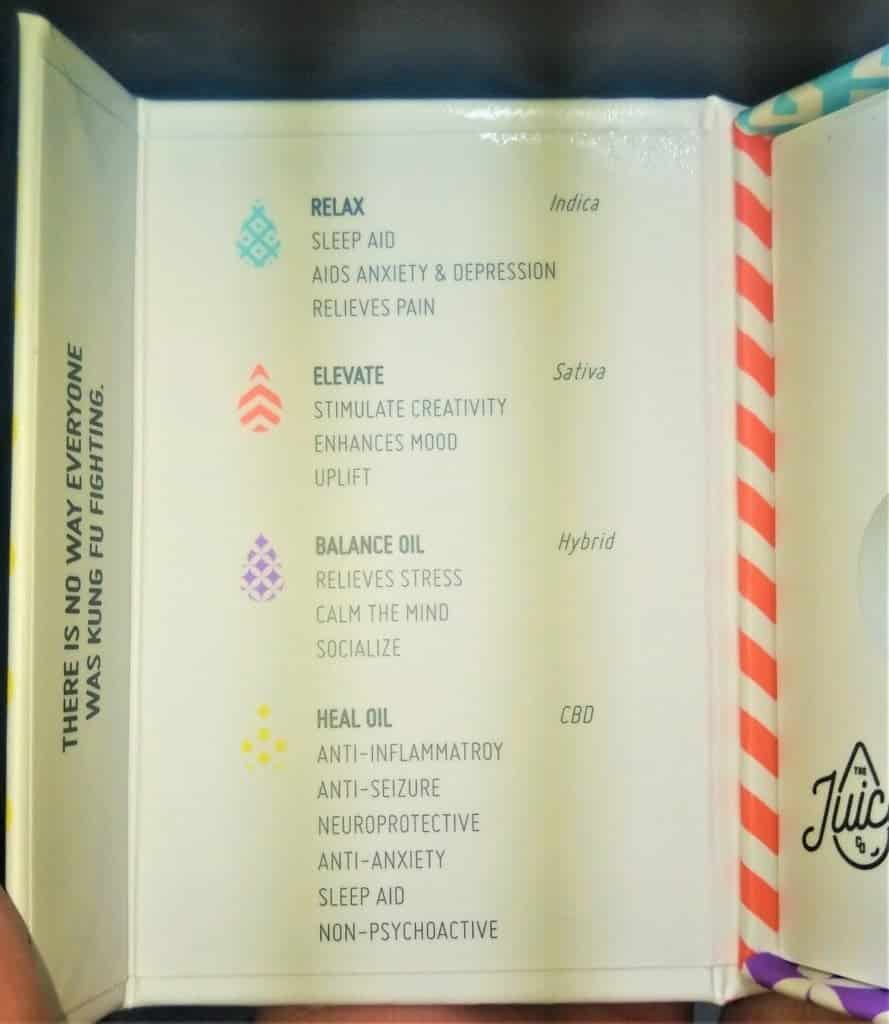 Taste: The Juice Co gives perfectly balanced taste.
Taste was stellar on The Juice Co cartridge. It was perfectly balanced and taste did not change throughout the cartridge. They really got their terpenes down here and they know what they're doing on taste. We just need to add in the strength to make this an overall better and well rounded cartridge.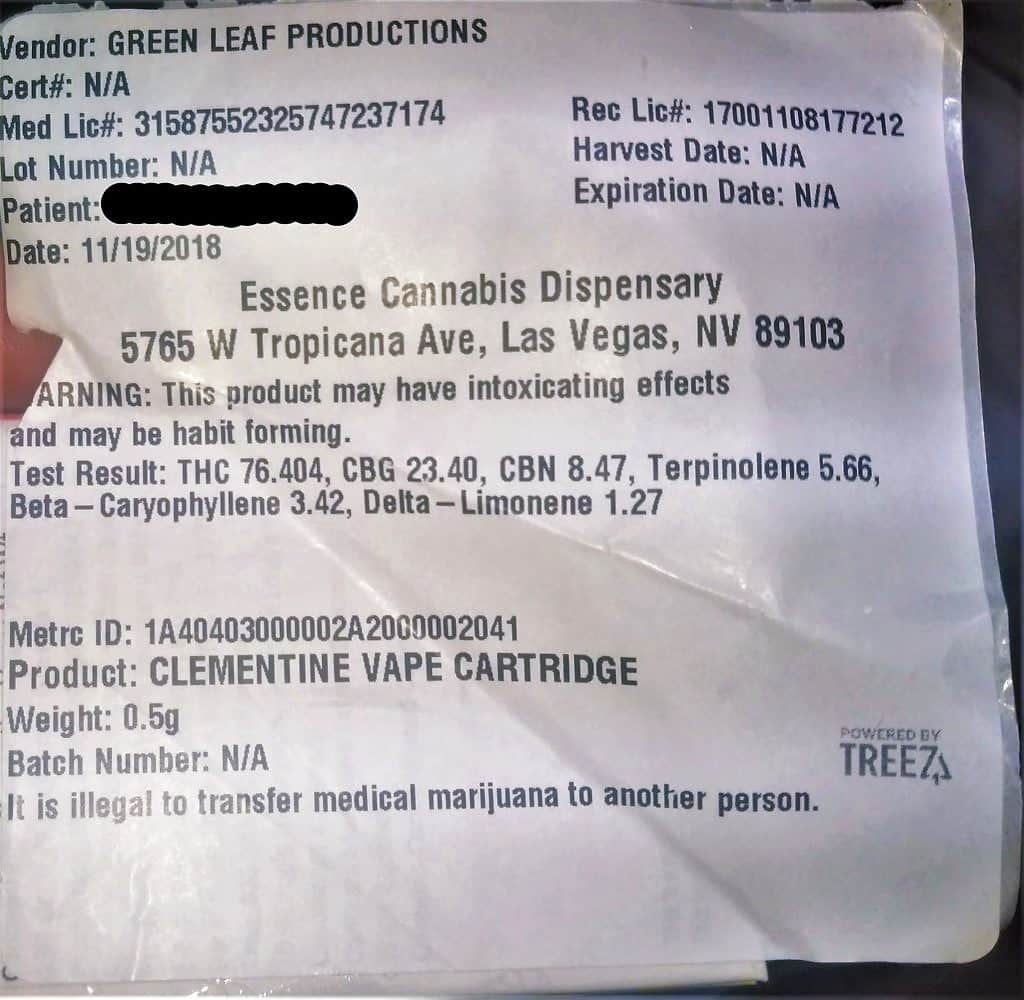 Efficiency is top notch with new gen CCELL cart
The cartridge is perfectly efficient. Using the latest CCELL pretty much ensures efficiency is gonna be good. You look at the cartridge when it's over, there really is no oil left.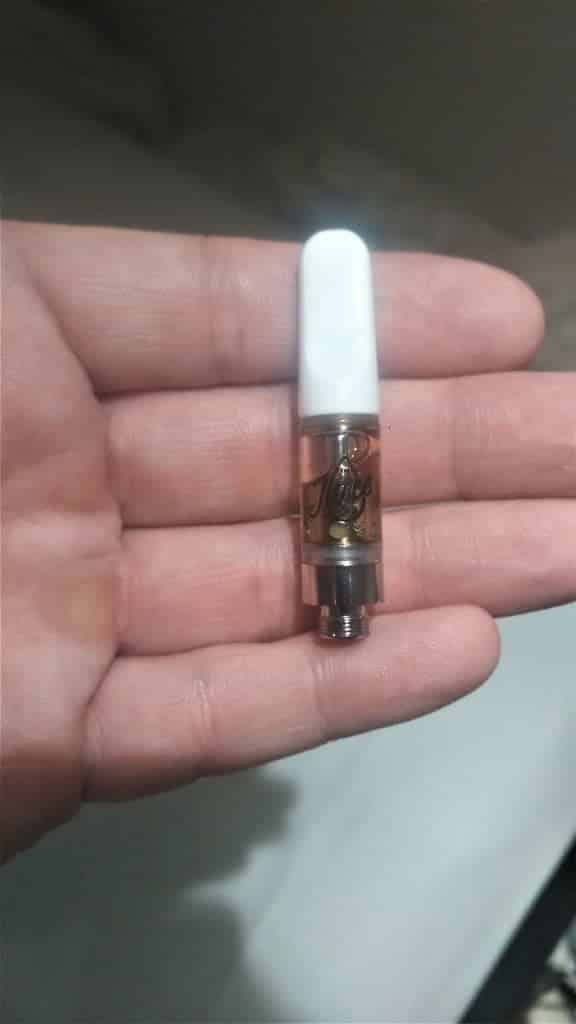 Number of Puffs was decent
Number of puffs was decent. The oil did seem to burn a little bit faster than some of the other thicker distillates that I have had in the past. For example, when I fill a cartridge using one of AMA's oils, it does seem to last longer.
Also, more puffs are needed to get the same effect on this cartridge as compared to some of the other stronger brands.
Value is there for people wanting the weaker cart
Value is not that great for someone looking for strong THC carts. This is a perfect vape cartridge for somebody that wants something that is not extremely overpowering. There are a lot of people out there that prefer these lighter cartridges so don't get swayed just by our opinion here. Here at DabConnection we're looking for the absolute strongest cartridges, most of the people that read here are too.
However, I have to dock the value a little bit here because I really could just take much less hits on a Roots or another brand and I would get the same effect. So effectively since I have to hit it twice as much, I'm really getting about half the value of other top brands' cartridges. That is why the value score here is a little bit lower than we expected.
Concluding our review of The Juice Co cart
In conclusion, The Juice Co has all the points down except for being high on strength. That is something very important to us here. For the time being, until I see a much higher THC percentage printed on the box, I probably would not try another Juice Co cartridge. Once I see it though, definitely a brand worth giving a second shot.
What do you think about The Juice Co? Have you tried it yourself? Comment below or post in our forum!