REVIEW OVERVIEW

SUMMARY

Overall the Church cart is good. There is better out there, but Church does offer a great deal.
Church cartridges are essentially the new version Brass Knuckles. Brass Knuckles has disappeared from most shelves and Church has been showing up in its place. The hardware is the same, the look is the same and some of the same people are making the products. We can say so far is that the Church carts are a lot stronger than anything we previously tried from Brass Knuckles and it uses real cannabis terpenes.
Pros:
Unique hardware
Great airflow
Hardware can handle very high power 
Good taste at lower voltages
Real cannabis terpenes
Great Value
Cons:
Doesn't fit on some batteries
Not as strong as some other carts
Recommendation: The strength could be kicked up a notch here, but it's still plenty strong.
Church cartridges are a big improvement over Brass Knuckles
Over the years we tried a variety of Brass Knuckles carts, including Napalm OG. The strain we are using in this review is the Conjugal Visit and it comes out at around 85% THC. This cart hit smooth at lower wattages with an excellent taste and the effects are good.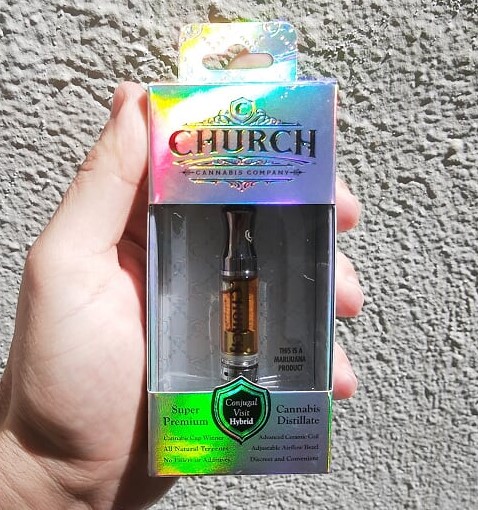 Church cartridges have very similar hardware to Brass Knuckles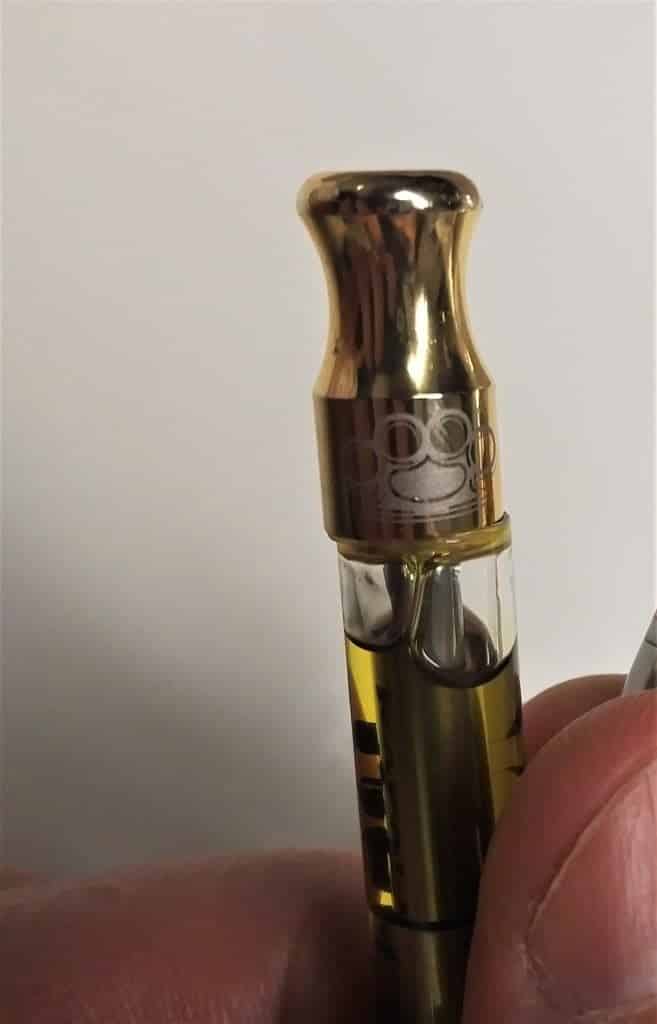 Hardware on this cart seemed like an updated version of the Brass Knuckles hardware. Maybe it was the oil, maybe the hardware at its core but this thing seemed to hit much better and have more consistent hit throughout.
Church carts have adjustable airflow
The adjustable airflow on the church cartridge lets you get thicker more airy hits. The hit strength didn't change that much between the airflow changes but it's still nice that you can change it. I prefer one to two air holes open.
Built quality is excellent, handles high wattages
The cart can handle way more wattage than stated.  While using the church cartridge I accidentally mistook the watt recommended setting on the cartridge packing cover with voltage. So I put my battery to the maximum wattage it can go to, which is a little more over than 6 volts and about 30 watts.  Of course, it didn't taste as good that way but this hardware took that hit. More than 3.5 times the recommended wattage and the cartridge was just fine.
After even turning it down it didn't taste all burned up, it tasted just fine. That's pretty impressive. Church didn't go cheap on the hardware here yet they are still offering great value as we discuss more below.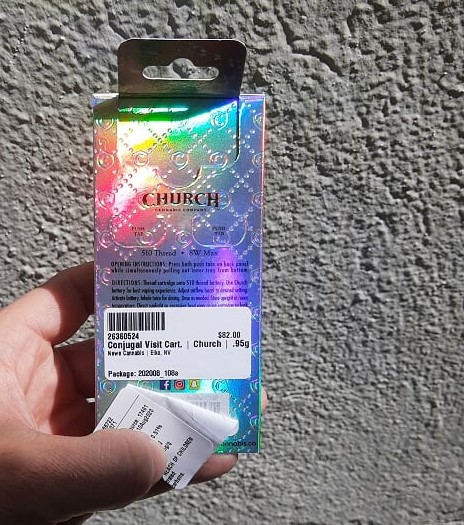 Strength is good on the Church cart
The Conjugal Visit cart we got is said to be one of the best carts Church had available at the time at the Newe Dispensary in Elko, Nevad.
They ccome in at about 85% THC. As many of you know the THC percentage is not everything. In fact, most of the strongest carts I've had so far are around 80% THC and not around 90% as someone would expect. 
The strength of Church is no joke. It's a strong cart and its definitely in the top 25% of the carts. Since the price is lower you are actually getting a real good strength for dollar value but there are some carts that are straight-up stronger sometimes even at better prices, depending on where you are.
For example, the Tumbleweed Extracts made the Nevada best list and I would say its definitely one of the strongest out there. The same goes for Kanji. Often you will see two 500mg Kanji carts for 40 dollars at the dispensary or two for 50 dollars Tumbleweed Extracts carts. I would take Tumbleweed regular or a  Tumbleweed Sauce cart over the Church cart. That's not to say that the Church is bad its just that there are some excellent brands out there that you might have never heard of before because they are not advertised as much.
Other examples are Fuze Live Resin and Roots. You won't see either one on a billboard, but at full price, their carts are more strenght per dollar than Church, even though they may be more expensive at full price. However, you can also find both of these brands often at TheDispensary for 2 for $60, which puts it then farther ahead of Church.
For California, I think Chemistry is stronger than Church, but price-wise Church is a very close value.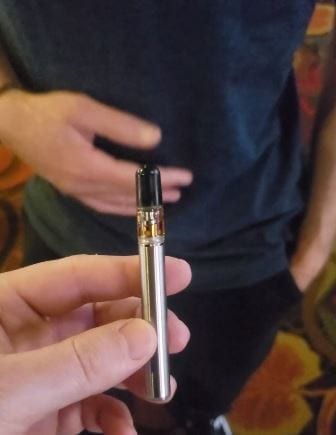 Taste is excellent at the recommended wattage
When you go too crazy high wattage the taste does definitely deteriorate. However, at lower wattage ranges the taste is excellent. At the 8 watts, I would say it's not nearly as good as when you are running it a little bit lower. You will find the sweet spot when you tried it out yourself.
The fact they use real cannabis terpenes definitely makes a difference in taste and smoothness. You gotta a nice smooth hit and a very pure taste.
Oil quality is good especially with cannabis terpenes
The oil used in the Church cartridges is distilled with real cannabis terpenes. Nothing artificial is used. Since everything is tested we can hopefully assume its clean. There have been some issues with Brass Knuckles being clean in the past although Brass Knuckles claimed those were fake carts.
There is a great number of puffs on these and they seem to vape really slow
You really get a lot of hits out of the Church cartridges. Great value considering the relative pricing. We paid 82 dollars for this cart, which may seem expensive, but it should be compared to other carts that were for sale at the Newe Dispensary in Elko, Nevada.
An AiroPro cart was $59 for half-gram and this one was $82 for 950mg.  One thing you will find with the Nevada versions of carts is that they are under one gram because when you go over a gram you have to be under 80% THC. So they get around that by getting really close, like 950mg.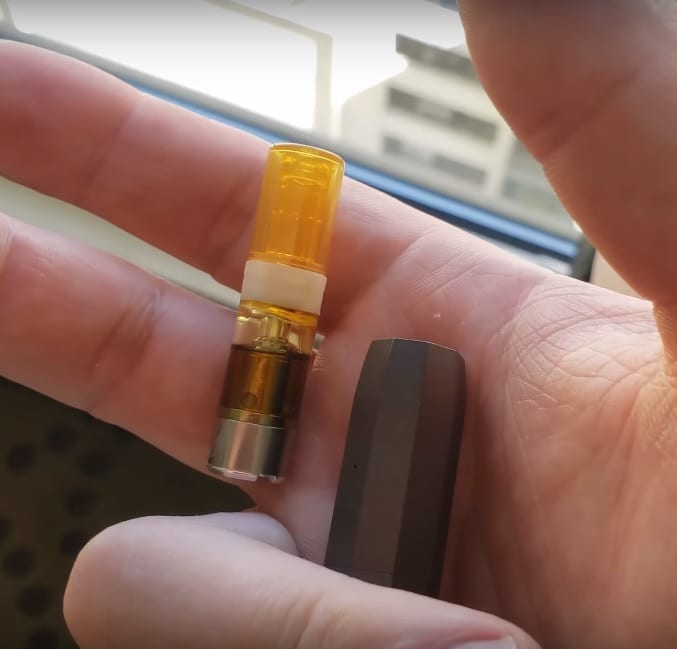 Concluding our Church cart review
Overall the Church cartridge is a good value. It's one of the better cartridges out there but not the absolute best. If you are interested in the tops picks we have actually tried for ourselves check out our lists for the Best carts in California and the Best carts in Nevada.
You can find out more information on the Church carts on their website here.
What are your thoughts on the Pitron battery? Comment below or in our forums!