REVIEW OVERVIEW

SUMMARY

Chemistry cartridge revealed to be great quality cartridges. High-quality oil, and delivers very tasteful and smooth hits. I would like to see higher THC level options, but otherwise, they deliver great strength.
When first trying the Chemistry cartridge, we were surprised and fascinated by the quality and taste of these carts. Chemistry is a California-based cannabis brand and has a wide variety of products. Here we picked up their line, Chemistry cartridges. These turned out to be great and we are therefore adding them to our list of the best THC carts in California list. Furthermore, here we'll talk about our experience and its pros and cons but in general, a great cartridge.    
Pros:
Great taste
Nice strength
Quality oil
CCELL hardware
Cartridge filled very generously
Cons:
Recommendation: Provide higher levels of THC percentage. They do have a few cartridges with higher levels of THC, but only until low 80% (according to their website).
Licensing Information: Chemistry CDPH–10003064
The Chemistry cartridge is overall an excellent cartridge. Great quality oil, and fascinating taste.
Not knowing what to expect, these cartridges turned out to be amazing quality all around. Good hardware, great quality oil, and very flavorful taste. Everything about the cartridge is great. Even though the THC percentage seems low at 75%, the cartridge still delivered excellent strength.
Having tried many cartridges with a way higher percentage, I didn't expect much strength. But the strength is actually a lot better than I expected and beats out West Coast Cure pod handily that was in the high 80s.
Great hardware, cartridges use real CCELL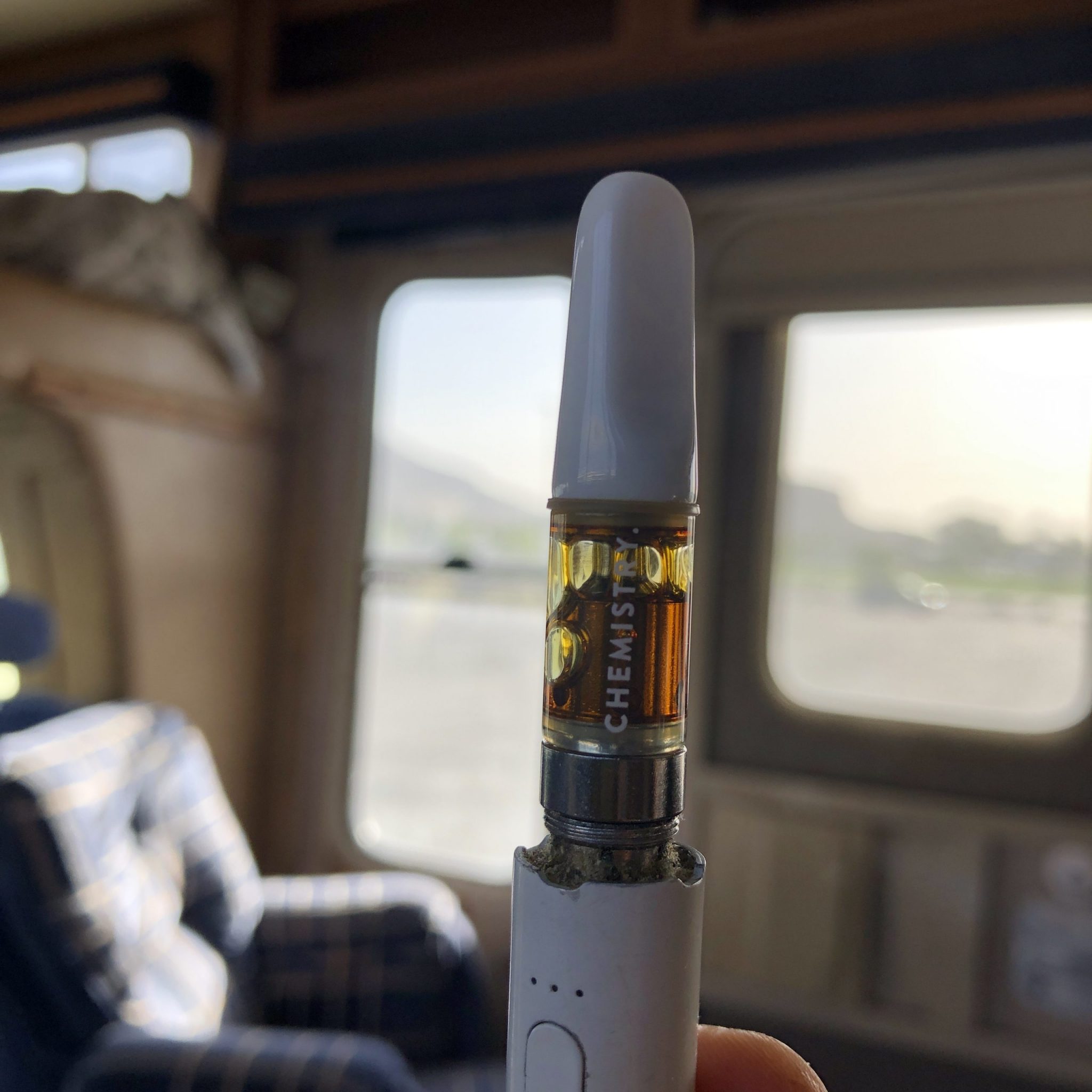 The hardware that Chemistry cartridges use is the CCELL TH2. These cartridges use glass housing, which I prefer over polycarbonate. You can easily re-fill and empty content on these cartridges by twisting off the mouthpiece.
Above all, these CCELL's are great hardware. They provide very efficient hits and nice cloud hits. The hearing chamber on these carts uses ceramic heating elements, which provide smooth hits. For the most part, I don't face many problems if any at all with the CCELL cartridges.
High quality and thick oil filled up very nicely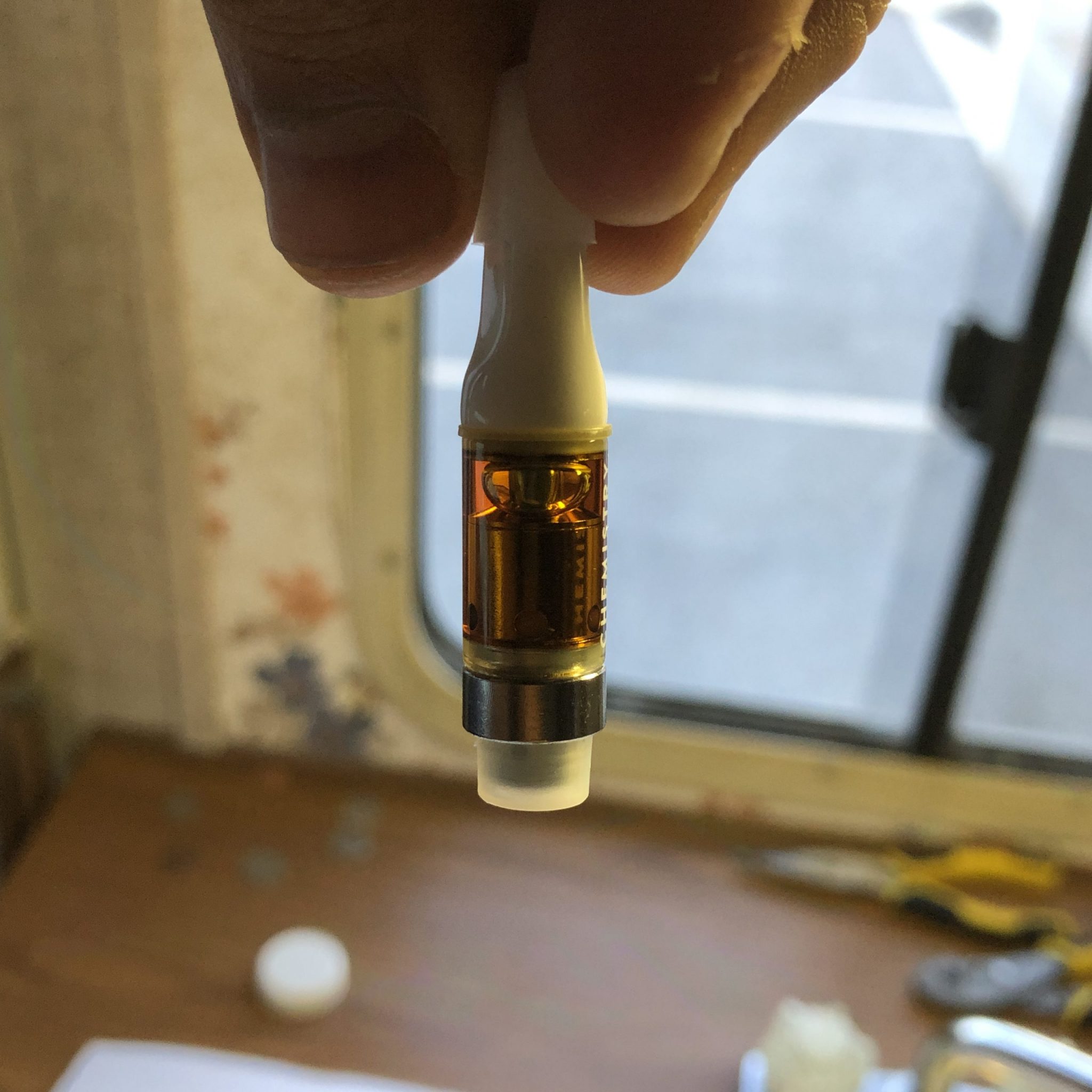 The first thing that I noticed when unpacking these cartridges is how filled up they are. Usually, for a lot of authentic dispensary cartridges, they will always leave a big bubble, a gap/space so to say. But with the Chemistry cartridge, they make it so it's filled up nearly completely. Definitely not complaining, but this isn't always as common with many cartridges. Although unsure if it's like that with all their carts, it's a highly appreciated feature about Chemistry.
As for the potency, these carts deliver great strength. Taking a closer look, you can see the very thick and high-quality oil. Chemistry cartridge has a darker color oil and delivers a strong high as well. Nice strength for the levels of THC it has.
Great strength for relatively low THC percent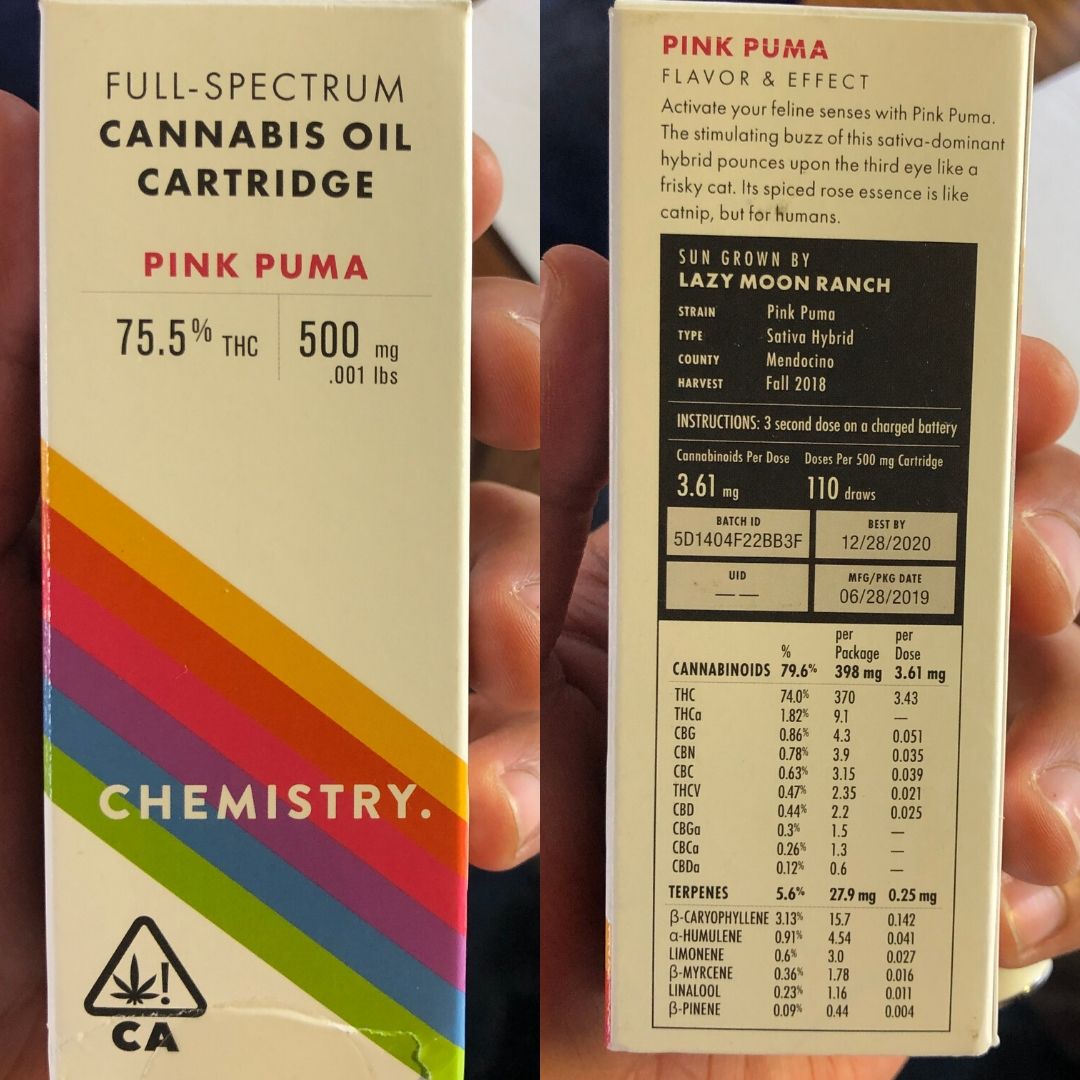 First off, a lot of the Chemistry cartridges I found on their official website are mainly around 70-80% THC. Which, in all honesty, isn't bad at all. You might expect a slightly weak cartridge, at first. But these cartridges provide much stronger effects and oil than it seems,
I've tried various cartridges around 80% THC and other ones over 90%+. Usually, the cartridges around 80% seem to have the best strength and effects, in my experience. For instance, Cannavative is only at 80% and provides high-quality strength.  IESO cartridges give great strength and they're at 77% THC. The list goes on, but this Chemistry cart does deliver excellent strength.
Amazing, sweet and pure taste
As shown above, the strain we picked up here is Pink Puma. This particular strain gives a nice, smooth, and lightly sweet taste to the oil. Very amazing flavor to this cart. The light, sweet taste of Pink Puma actually reminds me of an ice tea flavor or something relevant. But I did enjoy this flavor a lot. Tasting very smooth as well, vaping this feels very nice.
Chemistry gives a good mixture of sweet flavor and also a more natural-like flavor. The taste kind of reminded me of a sauce, (live resin sauce) taste. Very well mixed in terpenes and distillate.
Oil burns slow, CCELL cartridge helps provide great efficiency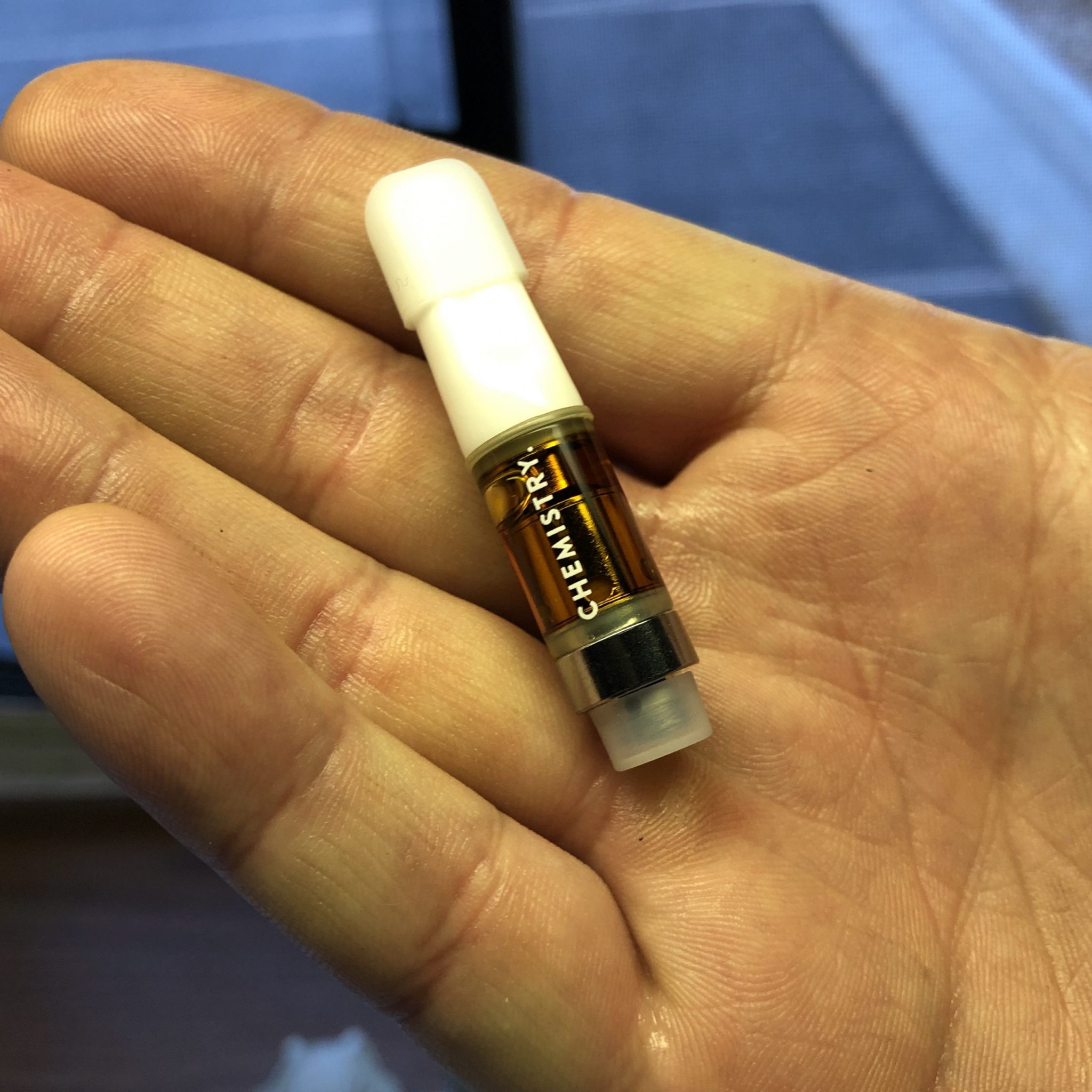 First, these CCELL cartridges burn the oil very efficiently and evenly. There is no doubt that the CCELL brand is a reputable brand that provides quality hardware. They're seen in a variety of cartridge brands. And these cartridges do burn very efficiently, I rarely have problems with them.
Second, the oil these cartridges have is very thick and quality. Because of this, the oil burns fairly slowly. A great thing to help save and conserve your cartridge. But Because of how smooth these hits and how light in THC percentage it is, I did go through this fairly fast. The flavor is just too great and smooth, but otherwise, you can make it last a bit.
Chemistry Cartridge and O.PenVape Reserve Cartridge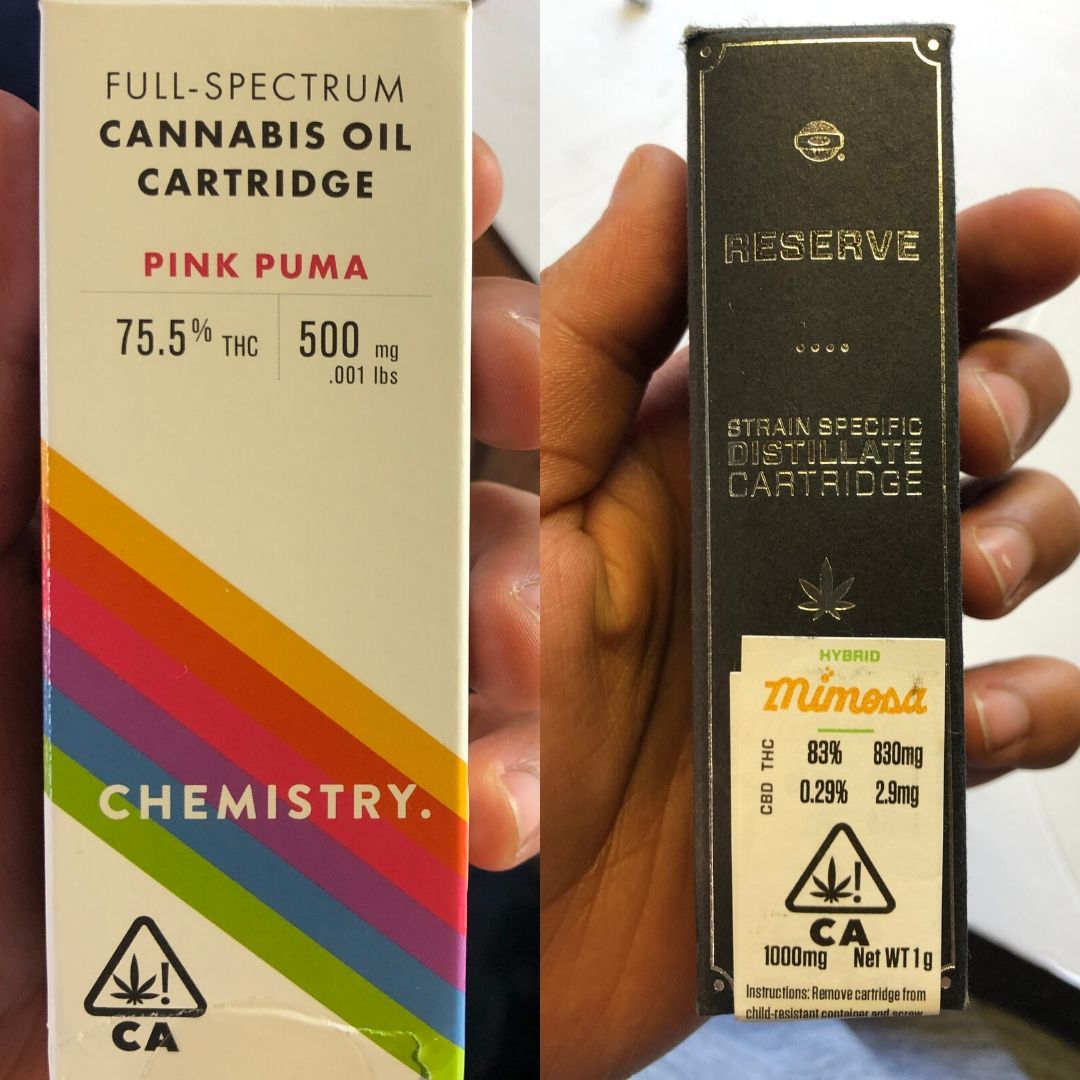 Both cartridges have great flavor, but a substantial difference in THC percent and net WT. Although Chemistry is lower in THC and is only a half gram, I would honestly prefer this one any day. O.PenVape Reserve cartridge does deliver great taste and smooth hits. But the strength just isn't there. As for Chemistry, they provide stronger hits and more flavorful taste. Nothing against the Reserve cartridge, I'd still hit it if I had the chance. But in my experience, comparing the two the Chemistry cart hits way better.
Comparing Chemistry Cartridges with Nevada brand cartridges
After trying a variety of California based brands and Nevada brands, here I'll briefly compare a few:
The Cannavative cartridge delivers great quality oil and taste, just as Chemistry does. There's no doubt that both are fantastic cartridges, but the Cannavative did deliver stronger hits and oil quality. The effects feel more instantaneous and the THC percent is slightly higher. But as for flavor, both deliver amazing taste and are very efficient.
Kanji disposable delivers very great and quality, potent oil as well. Very good taste, but in comparison with Chemistry, Kanji disposables are stronger. Kanji delivers great strength and effects, its potency is overall better in my experience. But as for efficiency, I believe Chemistry's standalone cart is better.
Chemistry did have a more soothing feel than both though. Those looking for more of a medicinal type effect would probably prefer Chemistry over Cannavative and Kanji.
Good value considering the quality of the oil
On average, you can find these cartridges for around $40. For its quality, it's not that bad of a price. You'd consider a cartridge with higher THC percentage to be better, but these ones actually deliver good strength. Along with that, the flavor is very tasteful, sweet, and smooth. 
Concluding our Chemistry Cartridge review – Likely to get it again
To sum up, these are great quality cartridges that deliver in strength, taste and efficiency. I believe Chemistry cartridge to actually be one of the better-branded cartridges out of many carts in CA. Everything about them is great, only thing would be to provide higher THC levels. But either way, these carts still provide great strength.
These cartridges are definitely worth it and I'd recommend anyone to try them out if you ever encounter them. If you're a light smoker, this cartridge will deliver very smooth and tasteful hits. Or even as a heavy smoker, this cartridge will still deliver nice strength and a great high. You can learn more about their cartridges and their flavors here. If you'd like to purchase their products, you can find the locations they're in here.
Have you tried Chemistry cartridges? Leave your experience below. Question or comment? Post below or in our forum!