Brass Knuckles and Stiiizy are two of the most popular THC oil cartridge brands out today. We already have in-depth reviews of the Stiiizy Pen and Brass Knuckles by themselves. Here, we compare the two vape carts and pick the best of best in this Brass Knuckles vs Stiiizy vape cartridge showdown.
UPDATE 2/13/2019: Brass Knuckles is now signifigantly better than Stiiizy after the oil was weakened all across the Stiiizy lineup. See our updated Brass Knuckles vs Stiiizy comparison.
UPDATE 9/11/2019: DISCLAIMER: In light of more recent news, it has become apparent that black market cartridges, counterfeit cartridges, and fake brands of cartridges have become more widespread than we had ever realized. We urge readers to apply their own discretion, and caution that at no point should readers assume that a review of a cartridge on our site is a guarantee of its safety. We advise readers to always verify their cartridges as coming from a legitimate source.
Brass Knuckles vs Stiiizy – Stiiizy Stays #1!
Stiiizy Pen Vape Cartridge Overall Score: 9.6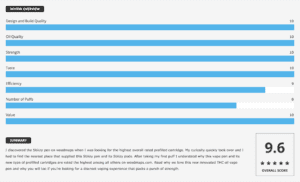 Brass Knuckles Vape Cartridge Overall Score: 8.6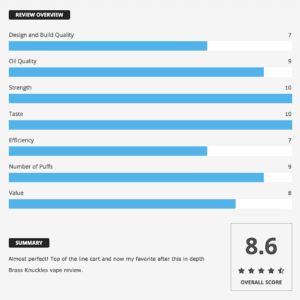 Brass Knuckles Had Issues With Pesticides.
BK cartridges are clean from pesticides according to the company, but previous versions have failed multiple tests as shown on datdude41510's Instagram page  He tested Stiiizy as well and all came back clean. Maybe Brass Knuckles has cleaned up their act, but the pesticides were there at one time. Stiiizy came out completely clean in testing. See our list of vape pen pesticides tests for more information.
Consistent across vape cart brands is two things: THC is often weaker than advertised and pesticides are a recurring issue. These are more issues in California where we are than in states with stricter rules like Nevada. Go to Nevada Made Marijuana in Laughlin, NV and the testing is legit and write on the packaging for anything you buy.
Stiiizy Pen Takes The Top Spot and Beats the Brass Knuckles, Especially on Value.
Still dubbed as the strongest vape cartridge, Stiiizy Pen outperforms the Brass Knuckles! With the design, build and oil quality, you'll never go wrong with Stiiizy Pen. It also offers the best value, as it is one of the most affordable prefilled vape cartridges that you can buy. Brass knuckles needs to fix its pesticide issues we cannot further recommend it until they do. For more information see Stiiizy Pen's website here. Brass Knuckles scored not too far from Stiiizy, still at par on strength and taste. More information on Brass Knuckles can be found on this page.