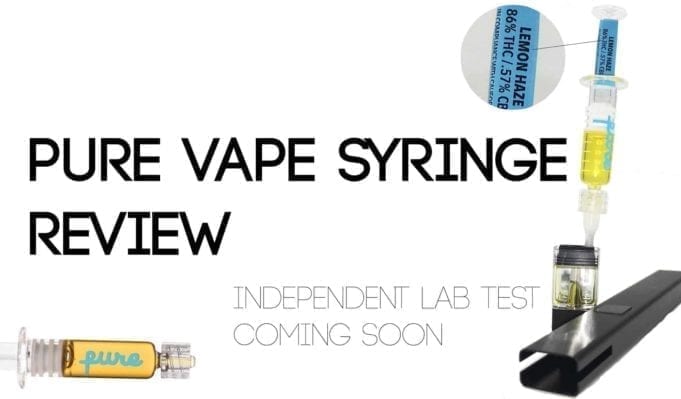 REVIEW OVERVIEW

SUMMARY

Our Pure Vape THC oil review showed a decently strong oil that is an excellent value. Not the strongest or best tasting, but the price cannot be beat.
It took a long time to find Pure vape THC oil syringes in stock. Finally we got to test them out. They turned out to be a decently strong  oil and the price was excellent. Our Pure Vape THC oil review revealed they are not the strongest, but it is good for the price.

Since Pure Vape syringes are so popular and many have asked for this review, well be doing a review of Pure Vape syringes with input from two of our reviewers. Points will be the average of both reviewer's scores. All scores are based on a 10 point scale. Looking for something stronger? Check out the W Vapes syringe.
Pure Vape THC oil is great for the price
We found Pure Vape THC oil to be priced well across the board. Dispensaries that carried them all over California had low prices compared to other syringes. Strength-wise it is not the strongest ever. Vader Extracts and W Vapes both make stronger distillate in our experience. Both cost twice as much as Pure Vape's syringes unless they are on sale.
Pure Vape THC Oil Quality was good, but not the best
Bert: Pure Vape syringes had decent oil quality. I tried out two different syringes. One was Lemon Haze and the other OG. I would not say this is best of best oil, but definitely above average. I do think when the testing comes back this will show a lower strength than what is reported. This does not seem like an over 80% THC vape cartridge. I give it a 7.5.
Jesse: Those after strength and affordability will be satisfied with the above average potency of Pure Vape THC oil. The density of the THC oil from PURE is not as thick as others such as Americanna and Stiizy. Although the added terpenes dilute this distillate oil, it also compliments its effects. I notice the Pure Vape THC oil vaped a bit quicker than others, especially in the Plug and Play pod. I score the quality of this THC oil an 8.5/10.
Taste was good across the board on the Pure Vape THC oil syringes
Bert: Pure Vape THC oil tasted pretty good. Better than most random syringes I have tried. Way better tasting than almost all CO2 oils. The W Vapes THC oil syringe is the only CO2 that comes close to the Pure Vape syringe on flavor. Vader Extract's Coconutz syringe and both of BaM's G Pen Gio pods syringes both tasted better than Pure Vape's THC oil. I score it an 8 on taste.
Jesse: I tried a strawberry cough and lemon haze from Pure Vape. The lemon haze was my favorite, it has limonene terpenes added to it for additional therapeutic benefits. This terpene has antidepressant effects for those who are looking for a mood enhancer. Lemon haze is a sativa dominate THC oil, it can help focus and provide energy. The taste is definitely superior to a majority of other THC oils available. However, it's not as good as the distillate inside of Brass Knuckles cartridges. The taste is excellent and pleasant. I score taste an 8/10.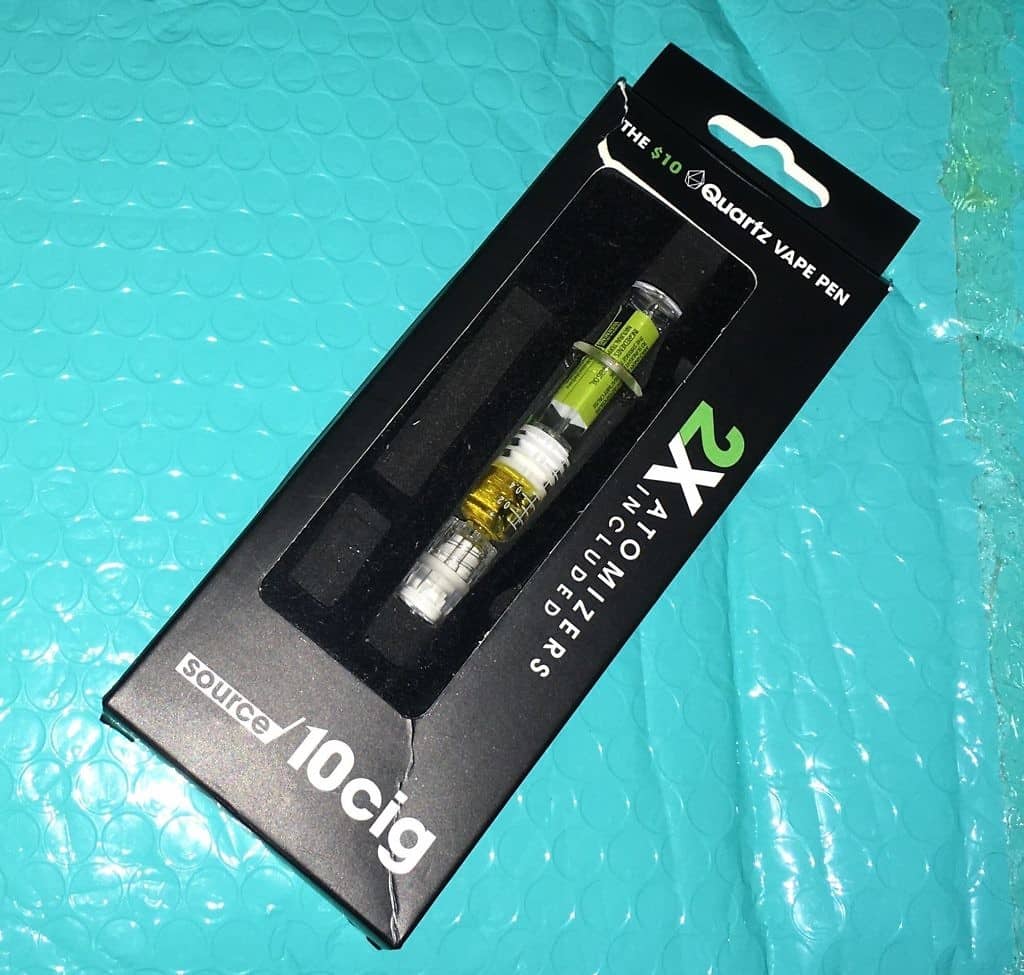 Pure Vape syringes are pretty strong, but not the strongest
Bert: Strongest syringe for the price. Keyword being the price. Syringes mentioned above from Vader were substantially stronger. Oil in the Kabunky vape cartridge, Justdab and BAM Gio pods were all stronger. I am not trying to say it is weak, just that there is better out there than Pure Vape THC oil. I have to hit this like 7-8 times to get a good feeling, while it takes me about 5 hits with a good Vader or AMA extract. Many people say Pure is the best/strongest, I can objectively say it is not. 7.5 for strength.
Jesse: There are distillate oils that leave you unsatisfied and chasing for a stronger high with more puffs. I experienced this with big daddy's distillate. Fortunately, I didn't need any more than a few puffs from a refilled Plug and Play pod and CCELL cartridge to be satisfied. I score THC potency effect an 8.5/10. One vape of this cannabis oil will provide instant relief and energy to continue any task.
Pure Vape Syringes Are The Best Value
Bert: You cannot beat Pure Vape syringes on value. I paid $60 for two full grams as a first-time patient special. Normally they were $40 a gram. I pay $40 a half gram in Las Vegas for Vader's syringes when there is no sales. Definitely a 10 on value.
Jesse: I was able to get a gram of Pure vape oil for $45 including tax. However, I can usually get a discount when I purchase more than one with this weed delivery service in the bay area, 10 collective. I can usually get 2 grams for $80 including tax or 3 grams for $110. Although, I was informed these deals are not forever so get them while they last. Pure deserves a 10/10 for value.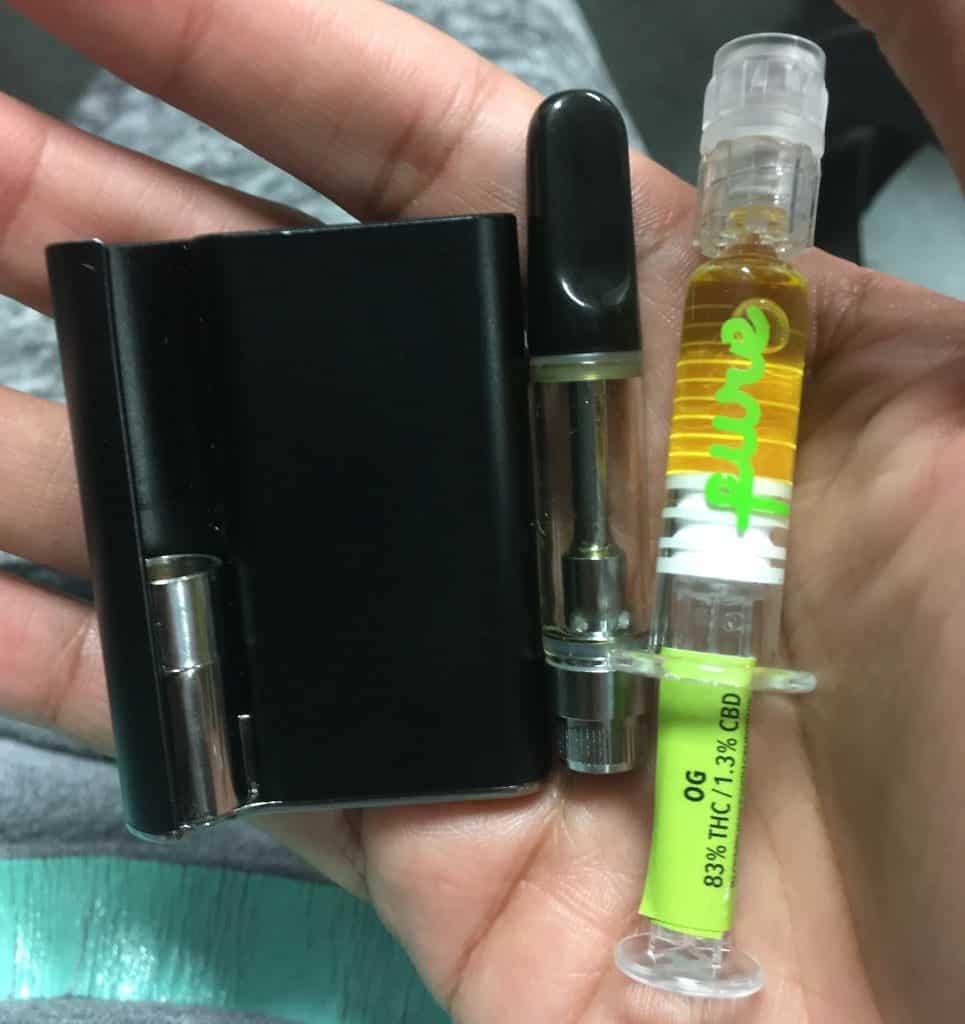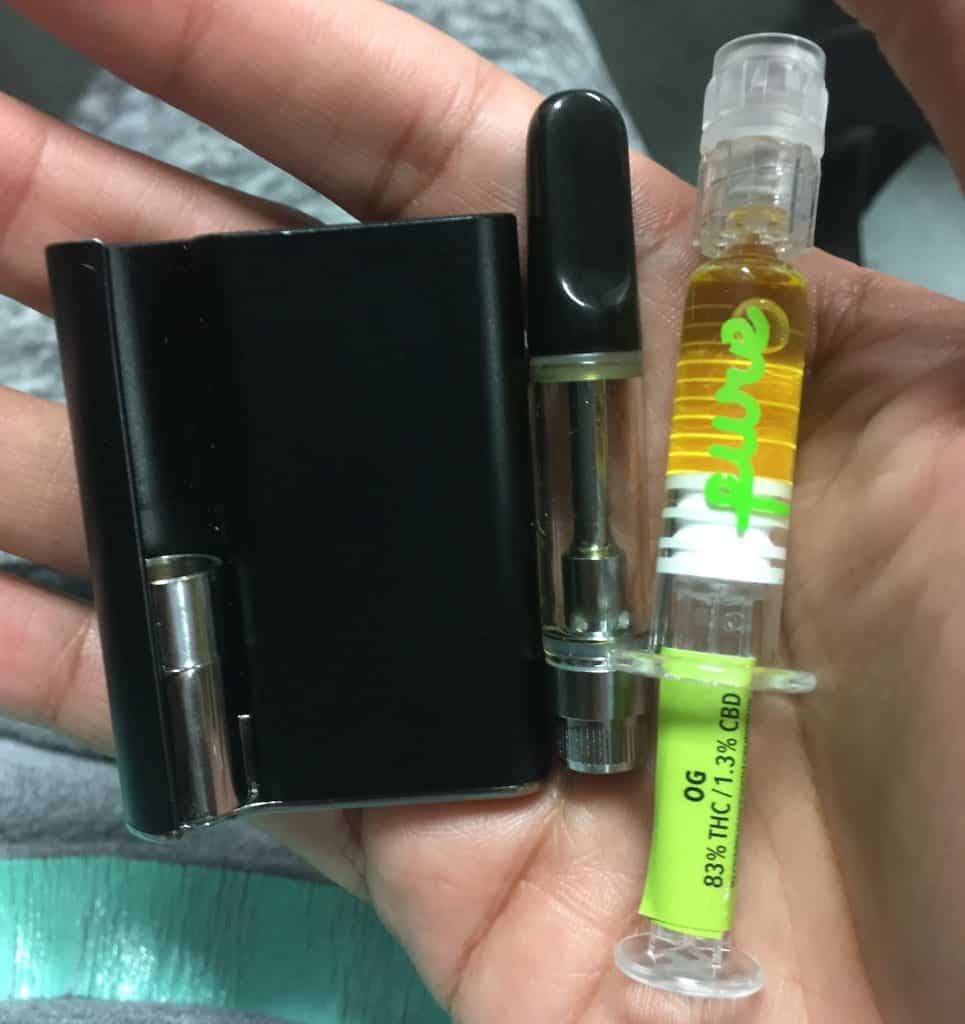 Tip: It doesn't hurt to ask for deals even when there isn't any posted on a cannabis delivery service on weedmaps.com.
Using Pure Vape THC oil to refill cartridges or pods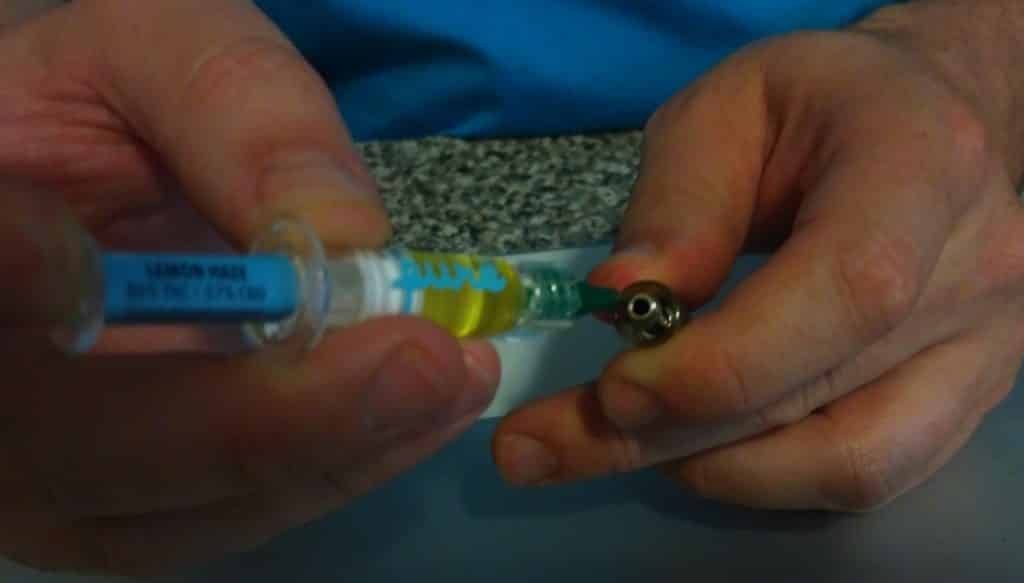 Bert: Pure Vape oil was viscous and easy to fill carts with. I used a CCELL cartridge and it filled up quite easily. Also, I tried it on the Stiiizy and that was easy to fill too. The high viscosity made it go in without having to heat it up like I do on thicker extracts.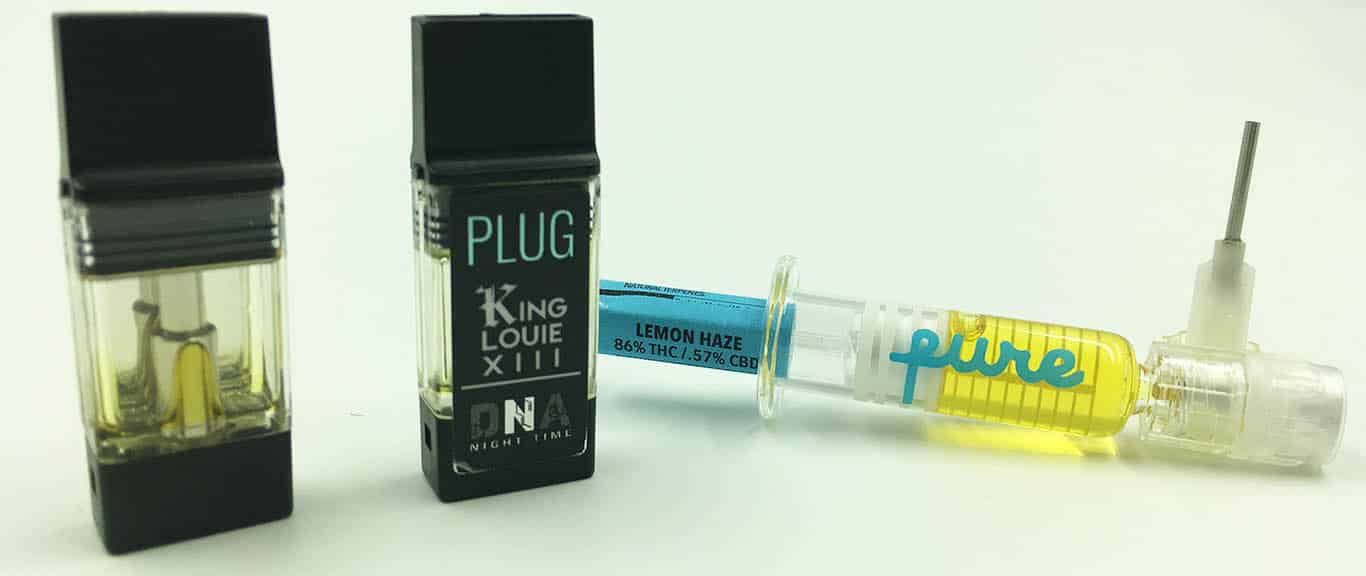 Jesse: Not all THC oil syringes are the same with some being more efficient dispensing oil than others. I had trouble dispensing THC oil with both Big Daddy's distillate and Americanna cartridges. Fortunately, Pure vape syringe didn't give me any issues refilling my Plug and Play vape pods.
Overall thoughts on the Pure Vape syringe review
Bert: I would get Pure Vape syringes again, especially if there is nothing better on the shelf. Price wise you cannot beat it and the overall quality is good. They are not the strongest syringes out there, but far from being the weakest. Dollar for dollar Pure Vape is one of the best syringes out there. I rather pay a bit more for higher end stuff though and have to hit it less. I find more expensive stuff in the end often ends up costing the same if you have to hit is half as much.
Jesse: I am always looking for a good Sativa THC oil that can give me energy and help me focus. I found that with the Lemon haze strain from Pure vapes. There isn't anything else better for the same price in my opinion. It's important to note how smooth this distillate oil is when vaped. This is a high-quality THC oil at a cheap price. I highly recommend refilling a CCELL cartridge and using a CCELL Palm battery for the best results.
Check this review soon for an update. We are submitting a Pure Vape syringe for testing to make sure its clean and as strong as they say it is!
What syringe would you like us to review next? Did you like the Pure Vape syringe? Let us know in the comments below!