REVIEW OVERVIEW

Design & Build Quality

7.5

SUMMARY

Platinum Vape cartridges score well in most areas. Though the design is nothing fancy, the carts are durable and efficient. The number of puffs is high as is the quality of the oil. Concerns are limited to the lack of laboratory info on the label and poor tamper-proof packaging.
Introducing another of four different cartridges from Mankind dispensary in San Diego, this one by Platinum Vape. Named after the Aurora Borealis, this heavy Northern Lights 1-gram cart packs a potent and delicious punch. Part of the Platinum Vape Mission Statement is to deliver great concentrate at an affordable price. They claim to use only California grown, pesticide-free herb. Dig into the following review and uncover all our findings.
Pros:
Great True To Strain Flavor
Strong & Potent Effect
Sturdy Cartridge Design
Fair Price
Cons:
Basic Cartridge w/ No Markings
Poor Tamper-Proof Device
No Laboratory Info On Package
Recommendations: A decent price makes the basic cartridge design understandable, but it should still have a company logo. Showing a lab to go with the batch number and a better tamper-proof device will add to quality assurance.
Licensing Information: Distributor M11-18-0000073-TEMP Adult-Use Mfg. CDPH-10002204
High-potency & bursting, true to strain flavor stand out in the Platinum Vape cartridge
It's exciting when you get your hands on a new cartridge and it's a strain you prize. The Northern Lights strain is one of the most popular out there. Memories of strong Northern Lights Indica nugs fill my younger years and Platinum Vape brings it all back. The most prominent features of the Platinum Vape cartridge are its' flavor and effect. You'll savor the taste while getting kicked in the head.
Platinum Vape carts use a sturdy and effective, if not basic design. They choose well with a ceramic core heating system, strong glass and a lot of metal. Drawbacks are exactly the same as the Jetty Extracts cartridge, the package and label need improvement. Overall, we are very pleased with Platinum Vape and their 1-gram cartridge, but it did not make our best cartridges California list.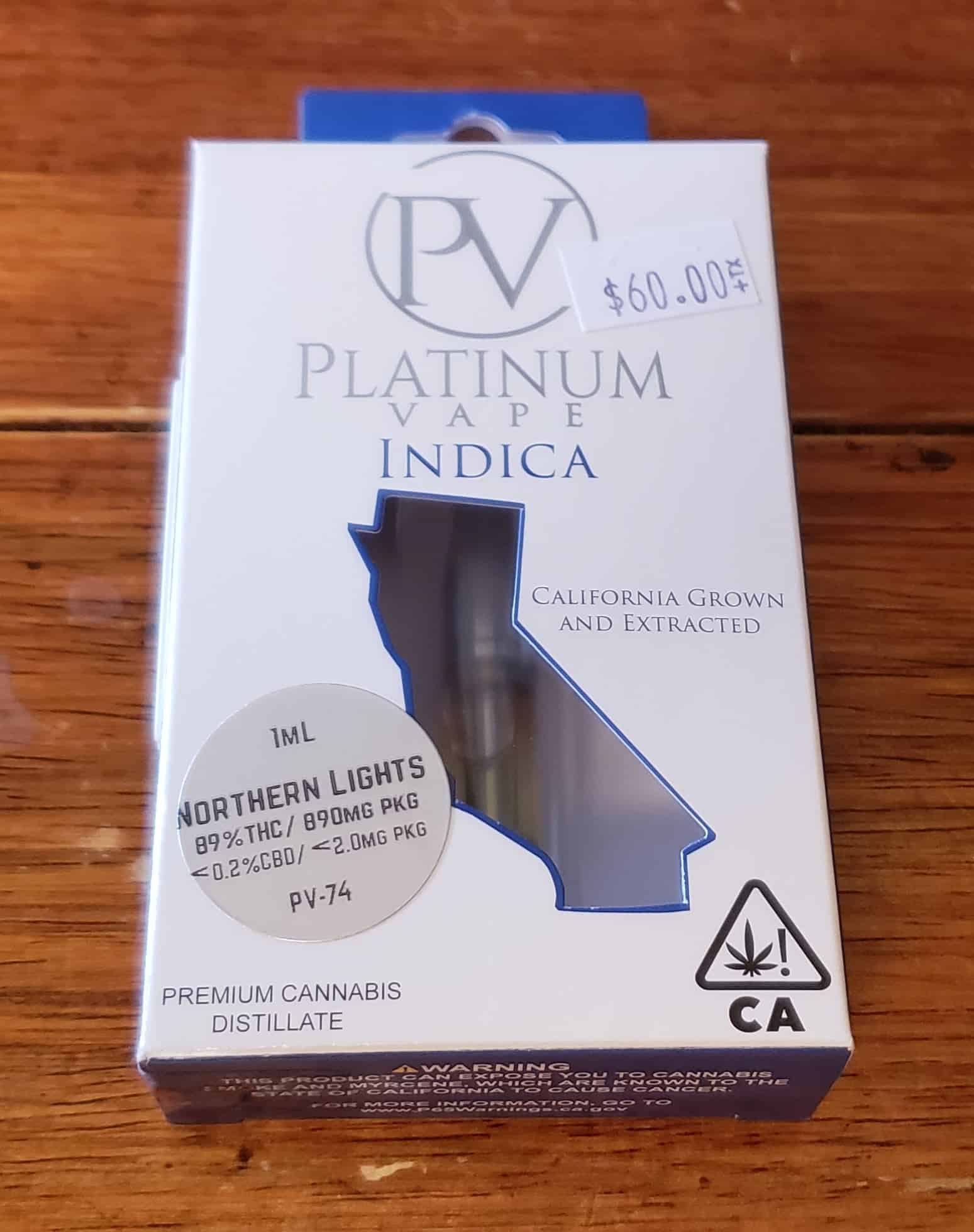 Room for improvement shows in the labeling and packaging
Coming from a licensed dispensary like Mankind, you hope for the best in quality assurance. It's obvious, however, that not all brands provide the same amount of info or even a tamper proof device. This is the case with the Jetty Extracts cart and here with Platinum Vape.
The issue is not necessarily that both brands use stickers as a safety seal. Some kinds of stickers work fine if they tear when you peel them. If you can easily remove then stick them back on, they don't really serve a purpose.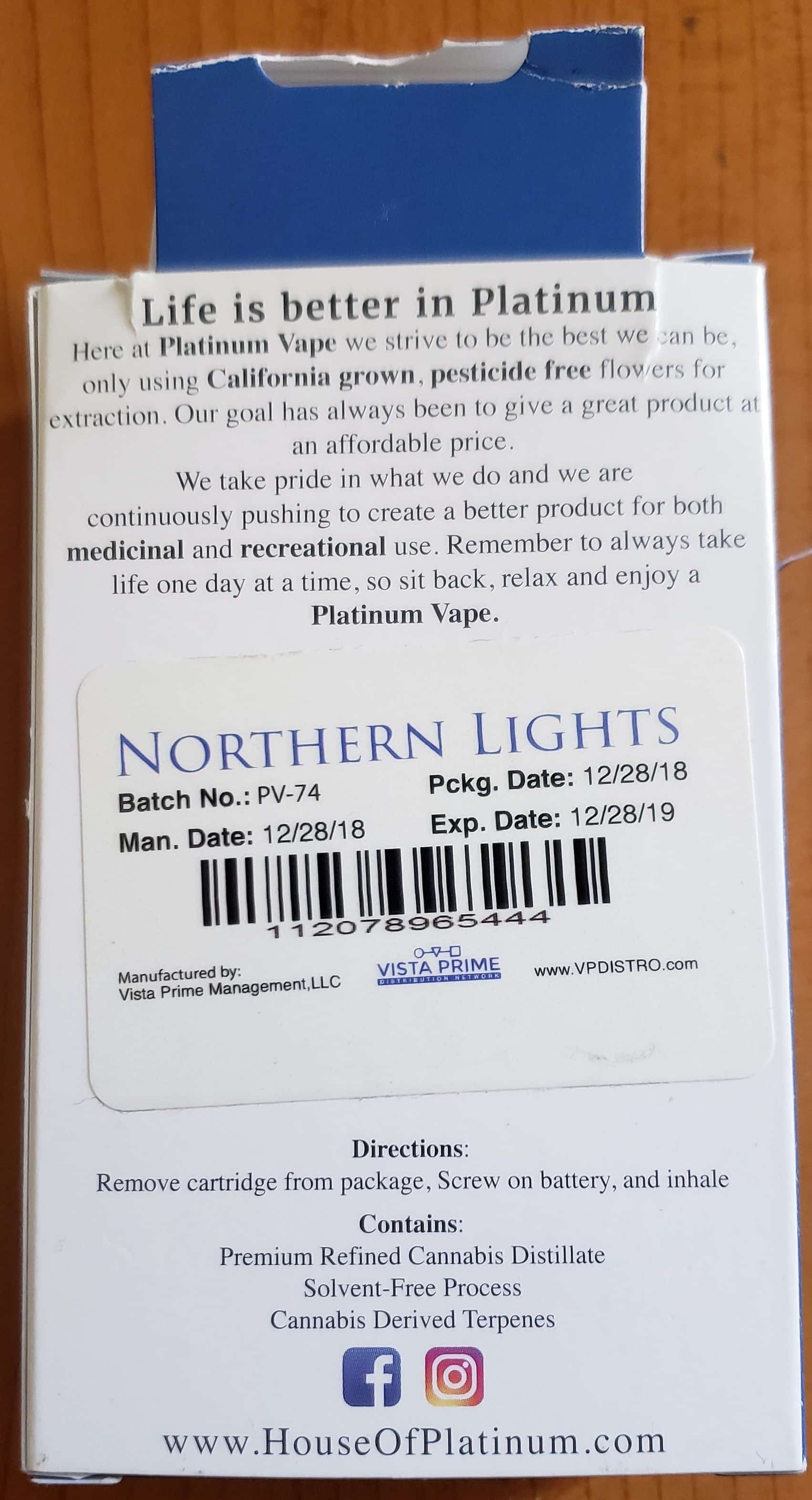 Another cause for possible doubt is the lack of a stated laboratory. Brands like Sunday Goods, Honey Vape, and others provide this info on the package. If the package doesn't state it you might wonder if they even test. We do have an email out to Platinum Vape to see if they use a lab and will update the post once we hear back.
A Sweet Flavor Of Earth & Pine Taste
When buds incite your taste buds, you know you have a keeper. Such is the case with the flavor profile of Platinum Vape Northern Lights oil. We consider the oil to be true to strain if it delivers the same flavors as the flower. Platinum Vape excels here, at least with the Northern Lights. A strong and earthy pine wood flavor begin the experience, but a sweet aftertaste follows. Each vape sits enjoyably on the palate as you wait for the effects to set in.
3-5 second vapes will have your lungs begging to exhale
Whether it's the high amount of THC or a characteristic of the concentrate, one thing is for sure. This cartridge of Northern Lights will bust your lungs if you go too long. Platinum Vape scores well with this strain because it gives you options. Those who like a large vape won't have trouble finding. People who prefer a small vape can still do that and enjoy a very powerful effect.
Platinum Vape carts are durable but very basic in design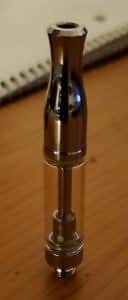 The only thing we can say that should be better about the design is the lack of a company logo. Some identifying marking on the glass or another prominent area would dissuade rip-offs. As it is, the carts are indistinguishable from other similar 1-gram cartridges.
A description of the design begins with metal 510 threads at the base to fit your standard battery. Next is a metal ring, the outside housing of the C-cell heating element. Rising up from the housing is a sturdy outer glass tube and inner metal drawtube. The drawtube includes the ceramic core at the base and leaves plenty of room for the oil to absorb.
From the housing of the core follows the more slender metal drawtube which extends up to the mouthpiece. It's a circular metal mouthpiece with the same silver color as the rest of the cartridge. An O-Ring connects the top of the drawtube to the mouthpiece which does unscrew, making the cart refillable.
Northern Lights Indica oil by Platinum Vape has 89% THC & less than 0.2% CBD
You can almost miss that less than symbol in front of the CBD percentage, but the point is probably mute. Most cartridge connoisseurs will take a lot more notice of the 89% THC level. Platinum Vape Northern Lights concentrate comes on strong and fast, even more so with a bigger vape. It'll make you cough if you draw long enough, and you will get off. Expect a deep relaxing high to settle in after the initial haze wears off.
Pricing is fair for a quality 1-gram cartridge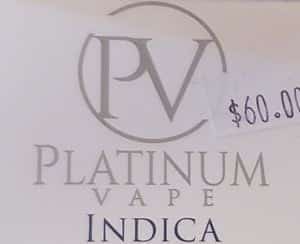 The Platinum Vape cart on review comes from Mankind, one of the few licensed shops in San Diego. Licensed dispensaries guarantee pure cannabis products but they also charge taxes. The 1-gram Platinum Vape Northern Lights cart retails for $60.00 before taxes at Mankind, though they do offer discounts.
That's $30.00 per .5-gram and the same price as a Heavy Hitters cartridge at nearby MedMen San Diego. Being perfectly honest, the Platinum Vape NL is a much better deal. After taxes, you spend over sixty or we'd give it higher marks.
Platinum Vape carts use an efficient C-cell heating & draw system 
You can tell a shoddy C-cell when it sputters as you draw the cartridge, not allowing a very even vape. The C-cells in this Platinum Vape cart works fluidly all the way down to the last fingernail of oil. You don't have to suck your ears in trying to get a medium size hit.
The oil lasts and gives a good number of puffs
It could be poor absorption or maybe oil quality, but some carts vape up like wildfire. The oil is gone before you know it. Platinum Vape scores well in regard to the number of puffs, taking into account the larger 1-gram cartridge. To give off the size clouds it does after a 5-second vape, the Northern Lights cart keeps puffing for a while.
Last lights of the Platinum Vape cart review
Platinum Vape has the kind of value that makes it worth spending $60.00 on. It's alright that the cartridges aren't fancy but a logo should be added. Platinum Vape has an opportunity to improve the quality assurance in their labeling and packaging. All in all the fine oil quality, high-potency, and great flavor leave a lasting impression.
Want to learn more about Platinum Vape products? Check out their company website here.
Comment below or drop a message in our forum and let us know what you think about Platinum Vape cartridges. We always appreciate your feedback.