REVIEW OVERVIEW

SUMMARY

From our experience, we have to say we like the Mario Carts cartridge. Still, our final analysis must recommend against them. Without the guarantee of a legitimate company, customers will never have a chance at restitution if they do get sick from pesticides.
What can we say after testing both the Mario Carts Strawberry Pie and Ghost OG cartridges? We find they have several promising qualities, such as tasty flavors and high-quality cartridges. There are, however, concerns on the less promising side as well. Namely, we highly doubt the legitimacy of Mario Carts as a company. What does this mean?
We can't be sure that the product is pure. It seems after much research, Mario Carts are more just hardware and technically they are fake cartridges .Consume our Mario Carts cartridge review in its entirety and discover for yourself all that we know. These vape carts are also referred to as Mario Carts THC cartridges, as they are primarily THC rather than CBD.
Pros:
Good oil strength
Decent cartridge build quality
Cool packaging
Cons:
No information available on the company
Many fakes are out there
No way to verify fake or real carts
Recent lab test shows a fail for pesticides and weaker than advertised THC strength
Recommendations: Provide company information with the cartridge with lab test results. Make sure it passes lab tests.
UPDATE 9/11/2019: DISCLAIMER: In light of more recent news, it has become apparent that black market cartridges, counterfeit cartridges, and fake brands of cartridges have become more widespread than we had ever realized. We urge readers to apply their own discretion, and caution that at no point should readers assume that a review of a cartridge on our site is a guarantee of its safety. We advise readers to always verify their cartridges as coming from a legitimate source.
Below is a video review. Read further to see the in-depth review of the Mario Carts THC vape cartridges.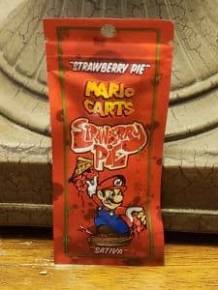 The Mario Carts Strawberry Pie Cartridge has a strong fruity flavor but comes out harsh. It does give a nice euphoria.
There's no telling whether it is the strain that is harsh or the additive that gives the strawberry flavor. Is it super harsh? No, but it can force an extra few coughs. The taste of the strawberry additive is immediately and strongly apparent. Finally, the Mario Carts Strawberry Pie cartridge provides an uplifting euphoria. Unfortunately, the Strawberry Pie also tested dirty for pesticides. With so many fakes out there, it is hard to tell if that is a real one or not that was tested. The one in the test is not the same one used in this review. See our full oil pen pesticides page for a full list of tests from various manufacturers.
Mario Carts Ghost OG settles the brain and relaxes the body
Cannabis experts agree that Ghost OG has a strong yet well-balanced mix between body and mind. We can report that the Mario Carts Ghost OG cartridge follows this description to a tee. The effects set in immediately and are strong, but not overpowering. Mario Carts Ghost OG scores well for achieving what the strain is supposed to do.
Mario Carts use durable cartridges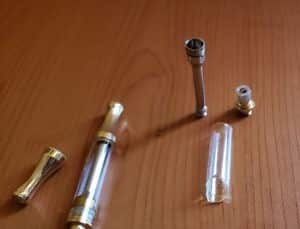 Despite the artfully designed zip-lock bag packaging, Mario Carts cartridges are strong. They come with the standard 510 threads that fit most batteries. At the top is a basic but smooth hitting metal mouthpiece. You can also see in the pics and video that the mouthpiece attachment unscrews. Make a couple turns and it comes right off, allowing for reuse of the cartridge.
The tube is thick glass. You can verify this by observing that breaking it was the only way to deconstruct the cartridge. Mario Carts cartridge stems are strong metal with dual absorption pores at the base. You'll not need to worry about banging these around. They can easily stand the abuse in your pocket.
Pull off the metal stem and it reveals the heating source of the cartridges. Taking a close look, you can see the small rod and coil. The element that turns the concentrate into vapor. Glue inside cartridges is always a concern but Mario Carts don't use any. Each piece of the cartridge fits together tightly to create the seal without the use of a binding agent.
Mario Carts claims their cartridges contain between 83 – 87 percent THC, test shows 69.35%
Though they claim the product is lab-tested, they fail to provide any results. On the back of the package, Mario Carts states a THC composition between 83-87 percent. A recent test shows THC coming in at 69.35%. The problem with testing Mario Carts is it's hard to tell real from fake and their is no company information out there to verify. Companies that offer lab tested products are able to tell you the exact level of THC in the concentrate. That being said, the stated THC levels are believable going by the effect of the concentrates.
In contrast, companies such as Brass Knuckles provide exact results after the testing of their products. It may be true that Brass Knuckles is experiencing some controversy around this subject. Still, it's comforting to see that they are taking action and so adding to their legitimacy, especially with all the fake cartridges out there.
No way to compare the flavor to strain accuracy with the Strawberry Pie
Mario Carts makes no mention of what Sativa strain they use in the Strawberry Pie cartridge. It's not anywhere on the packaging. There's no mention of it on their Instagram page and Mario Carts doesn't have a website.
To be perfectly honest, the flavor does match the name. Mario Carts does name specific strains in several of their other cartridges, like their Ghost OG. They probably felt that the addition of the strawberry flavor would cancel any true strain taste. It certainly is strong.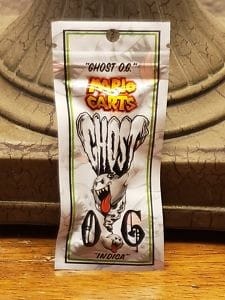 The Mario Carts Ghost OG lacks the strong citrus taste of the true strain
This isn't to say that the citrus taste disappears completely. It's just not as prominent as one would hope who wants the true strain flavor. For us, this wasn't too big a deal. The Mario Carts Ghost OG still packs a delightful taste and aroma. It seems the minimal citrus flavor enhances the taste of pine and earth and leaves an enjoyable aftertaste regardless of accuracy.
Mario Carts offers highly competitive pricing, but does that mean value?
We were able to get our hands on the Mario Carts cartridges for $40. That's for a 1 gram unit. There are reports out there of people finding them for less. Anything less than $40 on these cartridges and you are getting a great deal.
Without a concern about overpricing, the issue comes down to this. Does a lower price product mean it has high value even without test results? What about the fact that there is no company to contact in the case of any problems? It's not likely you'll find anyone to hold responsible if the concentrates do contain pesticides.
There is also no guarantee you are vaping what the label says or the THC levels. Because of all this, it is very difficult to speak to the true value of Mario Carts cartridges. We simply don't have enough details to judge without testing several different batches at our own expense. It would definitely be interesting to see the results of any independent testing.
Features in Mario Carts cartridge design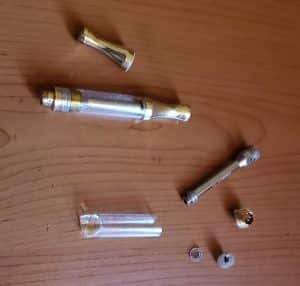 As far as design goes, Mario Carts cartridges are basic but there isn't anything to complain about. For materials: there is the metal mouthpiece, glass tube, inner metal receiver, and metal base. The metal base contains the rubber housing that holds the coil. On the bottom of the base is the 510 threading that screws right into your choice of battery. The fact that all pieces (except perhaps where the glass tube meets the base) fit together without glue is a big bonus.
Mario Carts cartridges can give a large vape cloud
This may depend on the exact flavor of the cartridge that you have. In trying both the Strawberry Pie and Ghost OG, we are able to get large hits. It does require an extended intake (not as much on the Strawberry Pie) to produce a large cloud.
The cartridges don't have an exact THC percentage or any lab test results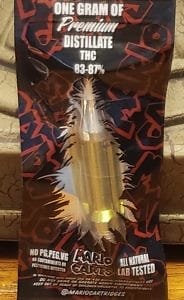 We are skeptical that Mario Carts is a legitimate company. The research that is available online from Reddit and other sources seem to feel the same way. First of all, it doesn't add up that Nintendo would allow another company to use their idea. Much less a company that distributes cannabis concentrates.
Second, Mario Carts doesn't provide a website. They have an Instagram page which appears to have copies. What does this suggest? There may very well be fake Mario Carts cartridges on the street. Hmm, a rip off of a company that isn't legit anyway? At least you can tell if the cartridge design doesn't match up with our review. As for the concentrate, it would be hard to tell a difference with the cheap packaging and lack of lab results.
Last words on the Mario Carts vape cartridges
We didn't find many cons in our testing of the cartridge or the two different kinds of concentrate. The price, product, and overall experience reach well above mediocre marks. The problem is that we really can't trust Mario Carts without lab results. Who really knows what you are putting in your body?
From our experience, we have to say we like the Mario Carts cartridge. Still, our final analysis must recommend against them. Without the guarantee of a legitimate company, customers will never have a chance at restitution if they do get sick from pesticides. It's also too easy to fake the product if a company isn't legit. They really don't have the means to fight any fraud. With so many lab-tested products on the market today, it's worth the extra few dollars to stay safe.