REVIEW OVERVIEW

SUMMARY

Our Magic 710 review revealed a battery that is super compact yet lasts a substantial amount of time on one charge. An excellent option for any bottom airflow THC and CBD cartridges like CCELLs.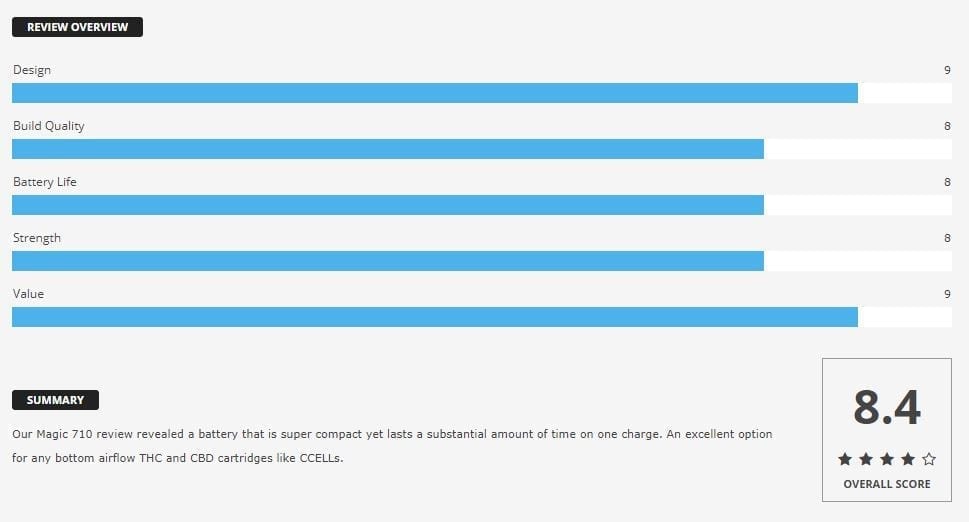 The Magic 710 battery by
Transpring
is one of the smallest batteries for vape cartridges we have seen. Yet it still packs a punch comparable to the
CCELL
batteries on 
THC
cartridges. You may also see it labeled as the VAPMOD Magic 710. Overall, this is an excellent choice and great value.
Pros:
Extremely small form factor
Active hit battery
Hits great
Battery lasts well for it's size
Cons:
Only one voltage
Won't work with top airflow carts
Recommendations: Having voltage options would be nice, yet this battery is designed for simplicity so we can see why they leave it out.
See our video review here and keep reading on for the more in depth review.
The Magic 710 overall is a great choice for THC and CBD cartridge users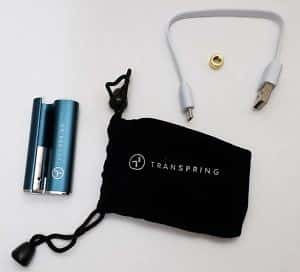 DabConnection gets batteries often. The Magic 710 is one of our favorite pull draw batteries. Strong hits, great form factor, and good build quality make this one of our top choices and it will be added to our best batteries for cartridges list.
Design is like a combination of the Palm and Silo, with an added light feature
Take the cartridge view of the Palm and make it shaped like the Silo, then shrink it down about 1/3 and you got the Magic 710 battery. The bonus feature is the red light that is activated when you hit it.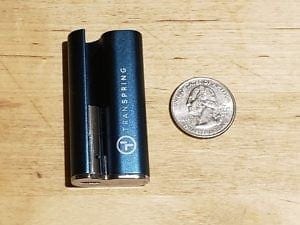 Nice little option to make sure your cart and battery are working. The Magic 710 uses a magnetic adapter that attaches to your cartridge. With magnetic adapters sometimes you need to twist it around a bit to make sure it activated correctly.
Technical specs of the Magic 710 Battery
Draw Activated Operation – Operated by vaping it, not button push
Connection: 510 Threaded M7 Magnetic Connector Fits 11mm Carts (standard)
Constant Voltage Output: 3.5V
Coil Resistance: 1.0 to 3.0 Оhm
Power Capacity: Internal 380mAh Battery
Charging: Micro USB Port
LED Battery Life Indicator Located at the Base of the DeviceOvercharge Protection / Over Discharge Protection / Over Current Protection / Short Circuit Protection / Over Voltage Protection
Product Dimensions: 13.5mm by 28mm by 56.8mm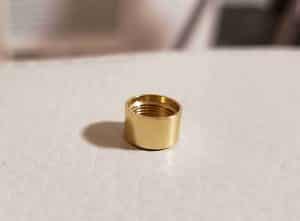 Above is the magnetic adapter for the Magic 710. The structure is different than we have seen on magnetic tips.  Make sure to not lose this one for optimal performance.
Build Quality is good, does not feel cheap at all
The build on the Magic 710 is good. It's also comparable to the Palm and Silo. Not quite as fine a finish as you will find on Vessel batteries, but this battery is geared for a much lower price point.  There's no jankyness or wiggling parts to this battery, it's a solid build.
Impressive battery life for the size
The Magic 710 battery has a capacity of 380maH. Not huge compared to a box mod, but for the size it is, quite impressive! The Vessel comes in at 240maH while the Palm and Silo come in at 500maH.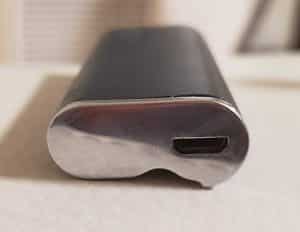 Considering how small the Magic 710 is the battery life is great. I went through most a half gram cartridge and it is still going. Charging is easy with standard micro USB the little light on the shaft will turn red when charging the light turns off when fully charged.
Strength was easy to manipulate and lot better than some larger batteries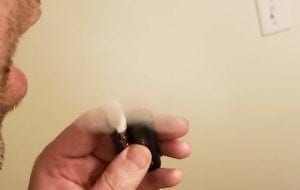 The Magic 710 was significantly stronger than the SteamCloud Mini 2 and about on par strength wise with the Palm and Silo. Not a lot of batteries really give you that just right hits with carts, and this one does. It was easy to get hard hits out of it. Hit it consecutively to get a harder hit.
Great value at around $17 shipped
The lowest price we could find was as low as $16.95 shipped on eBay. The lowest non-eBay price we could find was $19.99 at eCig City. You can get another 10% off for signing up for their email list. Can't go wrong with the Magic 710 at these prices.
Concluding our Magic 710 review… Overall score 8/10
The Magic 710 proved to be reliable. It delivered great hits and the battery lasts long. Coming in at $17 there may not be a better option for a cartridge battery at this price. This battery gets two thumbs up and I will be using it frequently.