The biggest thing you'll find out about Gold Coast Clear (often abbreviated GCC) vape cartridges online is that there's a ton of people asking about them, and nobody has an answer. This brand lacks its own website or any substantial social media presence, so we might conclude that it's a completely unregulated brand that's just packaging. Let's explore the legend of the Gold Coast Ghost…
UPDATE 8/27/21: A Reddit user reports the following: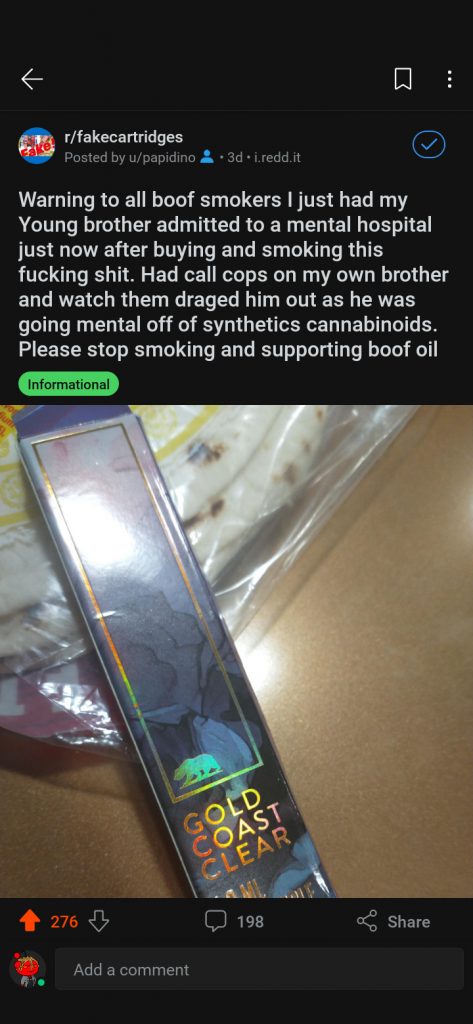 Synthetic cannabinoids are a problem we hear going around a lot more often on the fake cart beat. These are chemical compounds which have nothing to do with actual cannabis, and are dangerous in other ways. Some of them are engineered to be physically addicting! Also:
The New York State resource page on synthetic marijuana substitutes further elaborates:
"Users of the synthetic mixtures can never be certain in which ways the drugs will harm them, but users have experienced symptoms that include renal failure, arrested heart rate, high blood pressure, loss of consciousness, violent behavior, nausea, vomiting, tremors, seizures, hallucinations, paranoia, agitation, anxiety, and even death. These effects can be similar to those of phencyclidine, or PCP."
The update on Reddit says the victim is still delusional and the mental hospital is recommending a long-term plan for them. This is messed up in all kinds of ways! That could sound like permanent brain damage, just for being unlucky vaping the wrong cartridge.
We can't pin down where Gold Coast Clear originates
So far, we have scattered clues as to Gold Coast Clear carts' point of origin. On the packaging we see a bear lifted from the California state flag: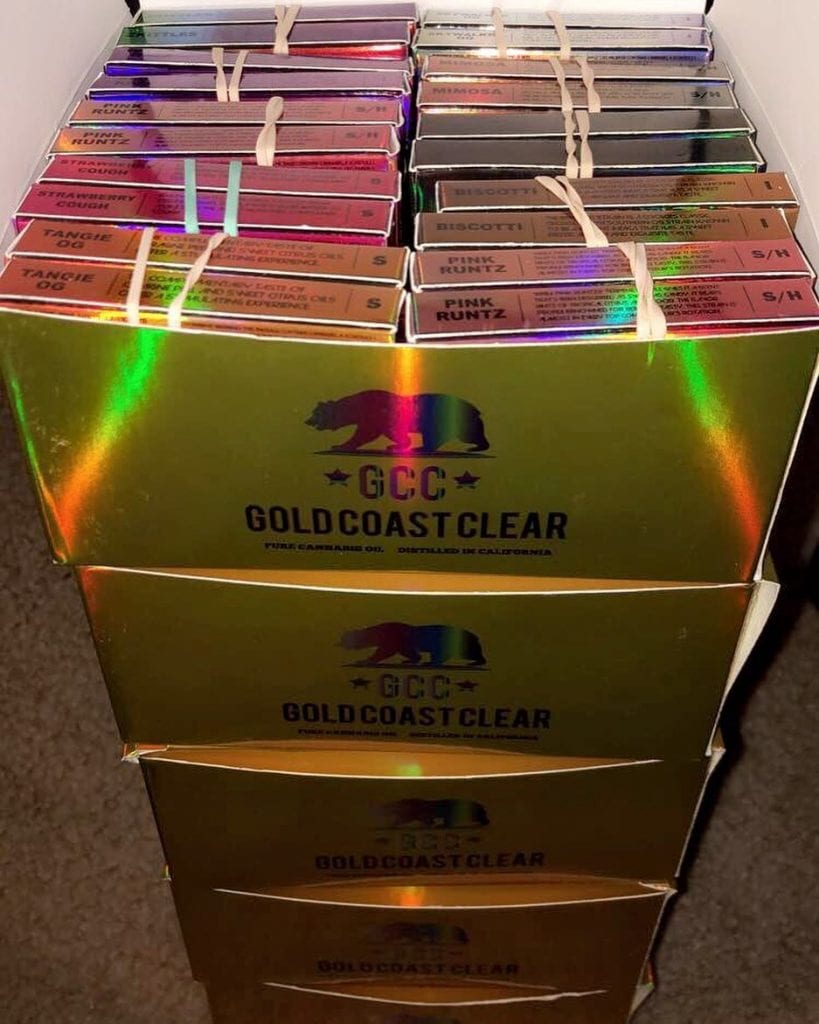 It also claims "distilled in California." California is also nicknamed the "Golden State," so this obviously suggests an original point along the coast of California. However, given that 99% of boof carts tie themselves to Cali, that's no more conclusive than "Hawaiian Punch."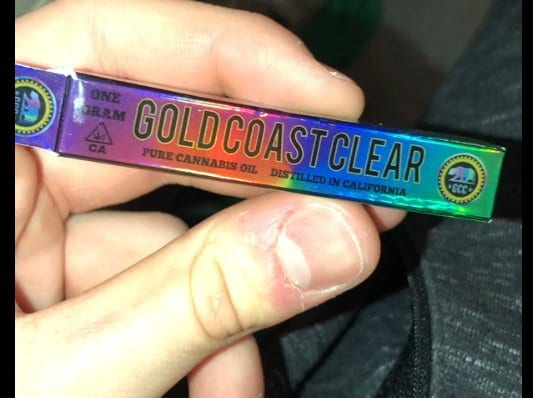 There's a "CA" triangle logo, but we see that on black market brands that exist solely in the imagination of Chinese packaging printers. Despite the supposed California origin point, this brand pops up all across the map:
This Reddit post reports Gold Coast Clear cartridges picked up in "NJ," New Jersey.
This Reddit post reports them in both NY and FL, New York and Florida.
This Grass City Forums post references Canada in discussing a Gold Coast Clear cart.
Then we have the interesting case of a rare YouTube "review," in which the Gold Coast Clear cart packages are laid out on a napkin for the fast food franchise "Raising Cane's Chicken Fingers." Not much to go on, as the franchise is spread across the US from Cali to the Midwest, but favors the southern US, having originated in Louisiana.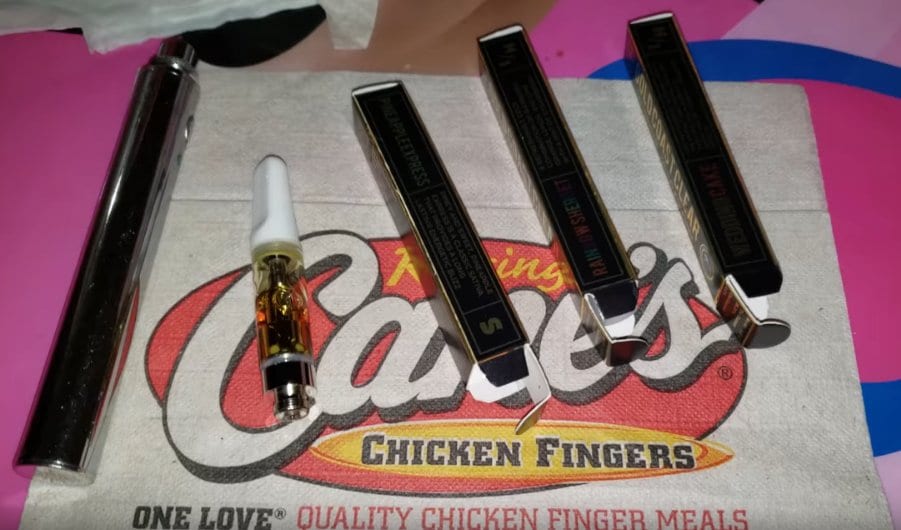 So "somewhere in North America" is the range. We can say this much though: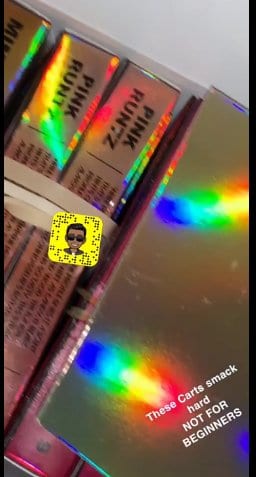 …anything with the name "Runtz" on it screams black market.
Gold Coast Clear is not to be confused with similar named brands
The brand "West Coast Cure" has a similar enough name that the two often pop up in the same places. West Coast Cure is on our list of top ten most frequently counterfeited vape brands.
There is also The Clear Concentrates. This brand has an up-front site with a directory of dispensary locations.
There is also Golden Coast Extracts, a Canadian brand.
And finally Gold Coast Terpenes.
None of the above have any connection to Gold Coast Clear vape cartridges. There's so many cannabis extract brands out there now that you need a library and a research team to keep track of them all.
Gold Coast Clear carts are regularly inquired on Reddit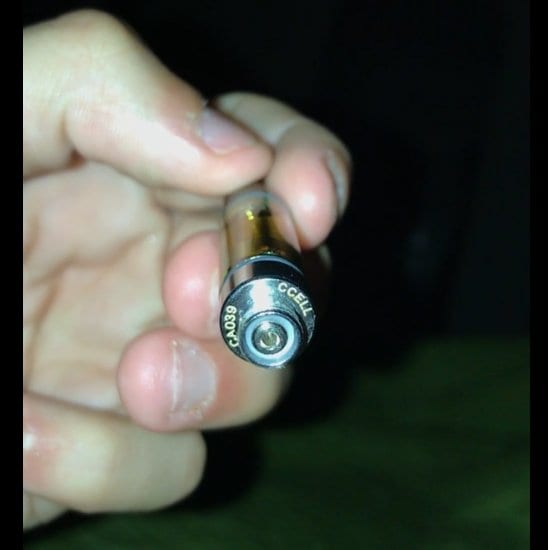 Reddit sightings include:
So we have an extremely active brand currently circulating across the US, and yet no company presence at all. For the record, we find no reference to a "Gold Coast Clear" cartridge produced by any company licensed by the California BCC, nor the California CDPH.
We find the typical mute Instagram account, and the also-typical conflicting Instagram account set to private.
The packaging is consistent, so this might just be a new black market line appearing this past year. It is always a thin box with just enough room for a cart, in flashy, shiny hologram coloring all over.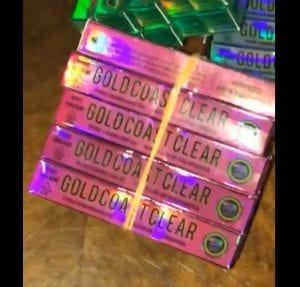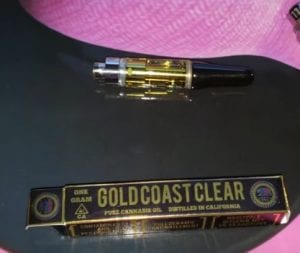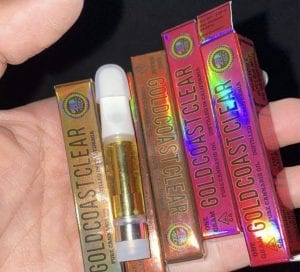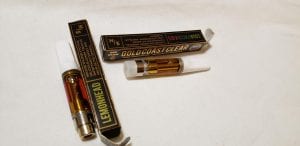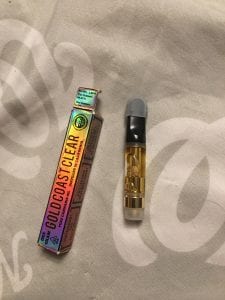 Unlicensed, unregulated brands like Gold Coast Clear may contain anything
There is a deadly epidemic of lung illness tied to black market cart usage. Vaping-associated pulmonary injury has so far claimed 64 lives and hospitalized more than 2700 users – a number only recently overtaken by Corona Virus COVID-19 cases. Unregulated vape carts could contain heavy metals like lead, pesticides, cut such as Honey Cut, or simply bunk. Or they could be fire if you're lucky. But a lot of people in the hospital right now weren't lucky.
If anybody has more information on where these are circulating, please feel free to help us protect public safety by sharing it with the community here in the comments or in our forum.