REVIEW OVERVIEW

SUMMARY
Today we will take a deep dive into the Yocan Orbit, the newest wax pen from Yocan Tech. Yocan Tech currently also offers a wide selection of dry herb, oil, and concentrate vaporizers on their website. We have previously reviewed several of their products, including their Evolve 2.0, Uni Pro, Armor, Vane, Trio, Stix, Rex, Lux, and Falcon Mini. The full retail price for the Yocan Orbit currently runs for $59.99 on their website. We will detail our experience objectively as always in our non-affiliate reviews. For this review, let's talk about their newly released Orbit wax pen.
Check out our video review of the Yocan Orbit here.
EDITOR's note: Read on at the end of this review to find out how you can enter to win one of two Yocan Orbit wax pens in the Yocan giveaway! (March 25 2022 to April 8 2022)
Pros:
Unique cutting-edge design
Cleaner, smoother taste
Excellent airflow
User-friendly features
Easy to clean
Affordable price
Great for beginners
Cons:
The mouthpiece could be slightly longer
The mouthpiece can get very hot
Recommendations: Make the glass mouthpiece slightly longer, so the wax doesn't accidentally end up in your mouth or burn your lips.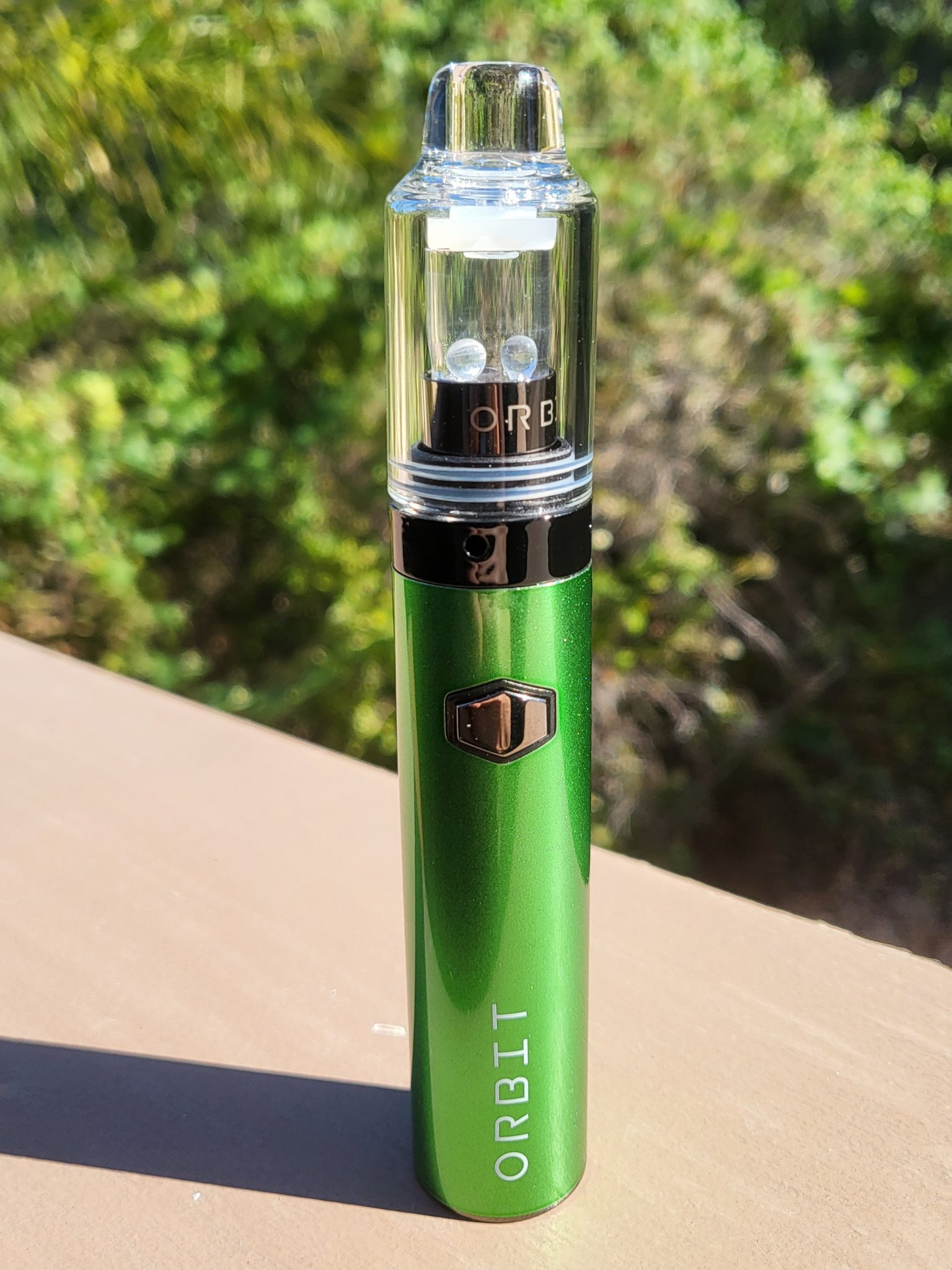 The Yocan Orbit is the closest you'll get to an authentic dab with its unique cutting-edge design
The Yocan Orbit is their latest groundbreaking wax pen, the first one to utilize spinning terp pearls to provide the user a much more rewarding experience than other wax pens. The Orbit wax pen is a huge step up from other Yocan products that mostly use titanium coils, which always runs the risk of overheating your extracts. As a solution, the Yocan Orbit uses a coil-less quartz cup above a fixed coil. This similar feature can be also seen in the atomizers used in E-rigs such as the Waxmaid Ares and other wax vaporizers like the Pulsar APX V3 Volt. Although the strength of the Pulsar APX Wax & Volt is more powerful, the flavor coming off the Orbit tastes cleaner and smoother. Upon opening the kit, you will find the following: 
Orbit wax pen
A pair of dab tools
USB-C charging cable
Hanging ring
Lanyard
User manual
Extra quartz terp pearls
Extra seal rings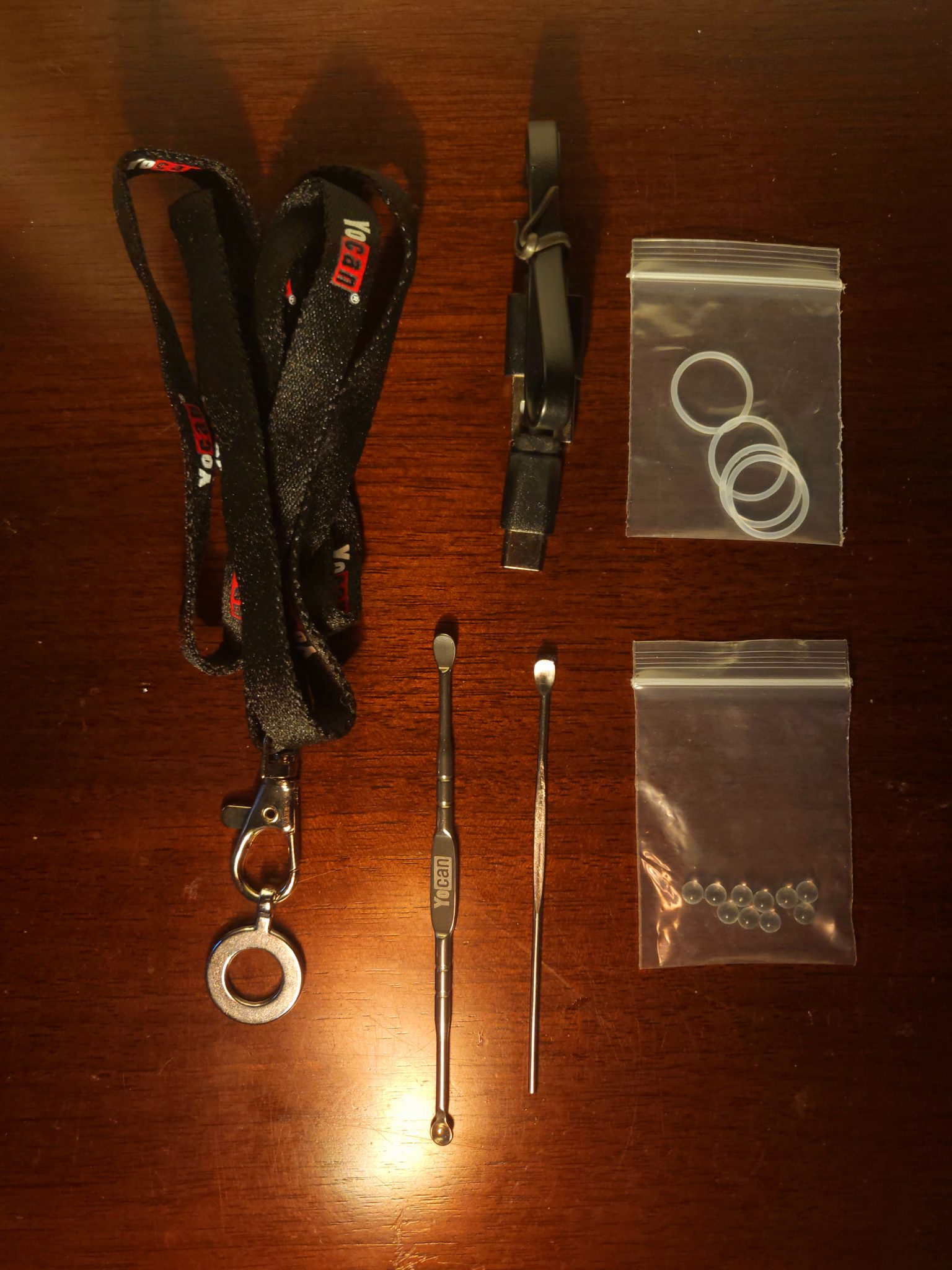 The addition of the spinning terp pearls makes this more efficient than other wax pens with a cleaner and smoother taste
The Yocan Orbit can be easily operated and maintained with its extremely user-friendly features that would appeal to both novice and experienced users. In terms of temperature control, the Yocan Orbit offers three voltage settings: 3.4v, 3.7v, 4.0v. At the lowest heat setting of 3.4v, the flavor is clean and smooth with surprisingly strong clouds. There is also even distribution of heat with minimal waste left in the atomizer, due to the spinning terp pearls. At the next setting of 3.7, there is even better vapor production with greater potency.
However, the glass mouthpiece starts to feel very hot after a few hits, so spacing out your hits is strongly advised. In terms of heat settings, most live resin concentrates felt best between 3.4v and 3.7v, while live rosin concentrates felt perfectly fine at the lowest setting. In addition, the use of the spinning terp pearls also provides a more efficient and visually satisfying experience than other wax pens such as the Dr. Dabber Stella, the Utillian 5, and the Releafy Torch 2.0.
Using the Yocan Orbit for best results:
Charge the Orbit unit with the USB-C charging cable included in the kit.
Remove the glass mouthpiece.
Place your extract onto the atomizer.
Reattach the glass mouthpiece.
Turn on the battery by pressing the power button five times quickly.
Adjust your temperature setting by pressing the power button three times quickly.
Double click the power button to activate session mode. Press and hold the power button for manual heating mode.
Soak the glass mouthpiece and the terp pearls after use. Additional terp pearls and water seal rings are also included in the kit.
Swab any residue left inside the atomizer using a cotton swab lightly soaked in isopropyl alcohol.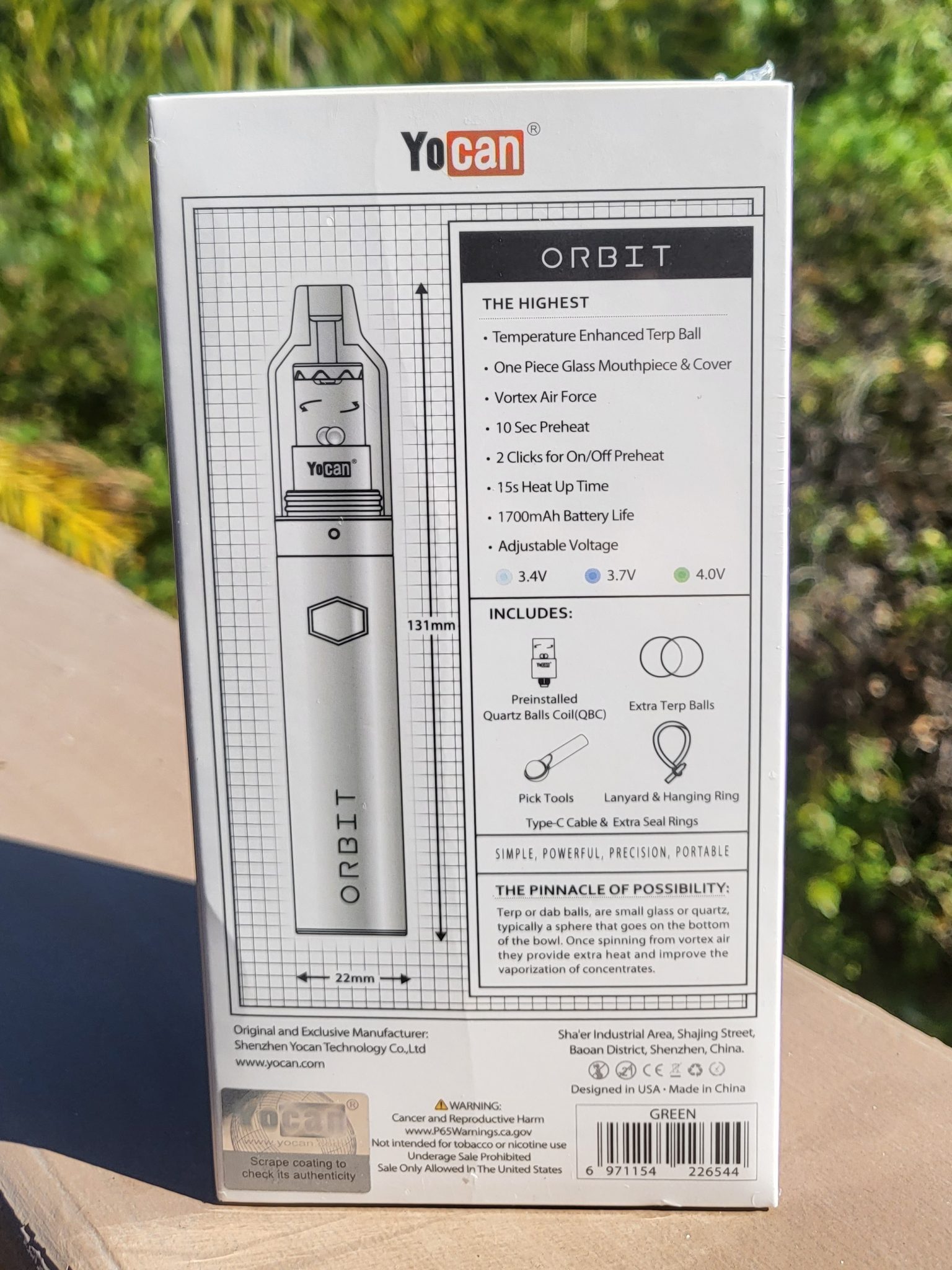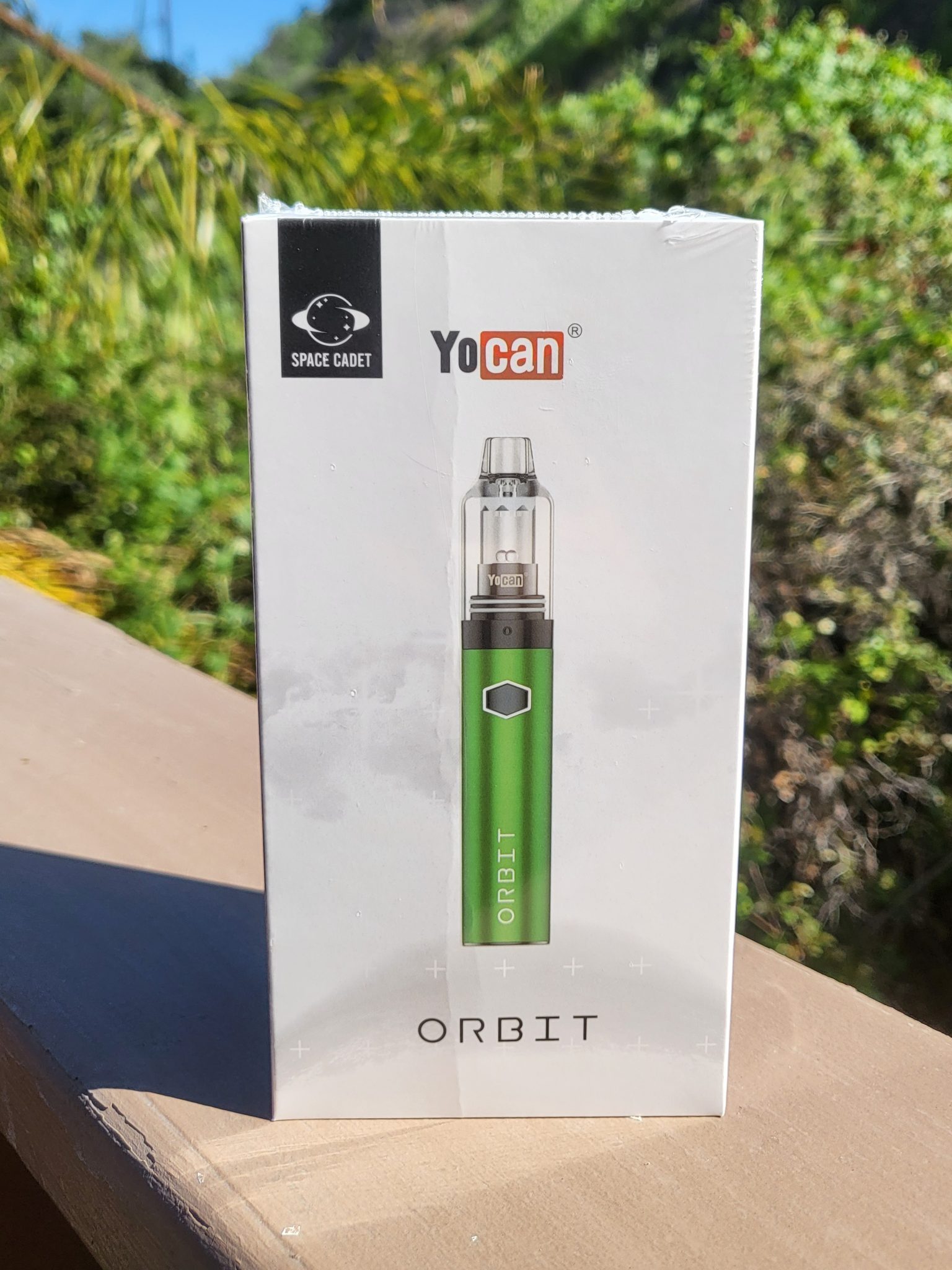 Here's a quick comparison between the Yocan Orbit and other wax pens/vaporizers:
Yocan Orbit
Pulsar APX V3 Volt
Pulsar APX V3 Wax
Releafy Torch
Utillian 5
Dr. Dabber Stella

1700mAh

1100mAh 

1100mAh 

Also 1100mAh

1500mAh

600mAh

3 Temperature Settings (3.4v, 3.7v, 4.0v)

4 Temperature Settings (2.5v – 3.7v)

No Temperature Settings

3 Temperature settings (450-550°F)

3 Voltage settings

(3.0v, 3.5v, 4.0v)

4 Voltage Settings (2.2v – 3.2v)

4 Temperature settings (460-775°F)

Quartz atomizer

Quartz atomizer

Triple coil atomizer

Ceramic/Quartz atomizer

Triple/single-coil atomizer 

Ceramic atomizer

Glass mouthpiece

Glass mouthpiece

Also glass mouthpiece

Glass mouthpiece

Glass mouthpiece

Ceramic mouthpiece

$59.99

$69.99

$69.99

$69.90

$89.99

$99.95

Overall, the Yocan Orbit is a cut above the other wax pens with its use of spinning terp pearls
Ultimately, the Yocan Orbit is highly recommended for its unique cutting-edge design, cleaner flavor, excellent airflow, and easier maintenance at an affordable price. As one of the least expensive options, the Yocan Orbit offers a better and smoother overall experience than other wax pens that are almost twice the price. The Yocan Orbit would also serve as a great introduction for beginners dipping their toes into the world of concentrates. The use of terp pearls with a coilless quartz cup offers a more richly satisfying experience, closer to an actual dab off a traditional quartz banger. On the other hand, I would recommend making the glass mouthpiece slightly longer, so the wax doesn't accidentally end up in your mouth or burn your lips. 
You can purchase the Yocan Orbit on their official website here.

Have you tried the Yocan Orbit? Let us know in the comments or on our forum.
Yocan Orbit Giveaway!
What? 2 Yocan Orbit wax pens to 2 lucky winners, same model you see reviewed here!
When? From March 25, 2022, to April 8, 2022 (just 2 weeks!)
How? Follow instructions at the Yocan giveaway page.
Good luck out there!