REVIEW OVERVIEW

SUMMARY

Urb 8 Delta 8 THC cartridges deliver nice effects and fair strength, but they could use some improvement on the hardware. The cartridge itself hits pretty light, along with that these carts didn't deliver the best taste.
Here we review the URB Finest Flowers, Delta 8 THC cartridge. These carts turned out to deliver nice and smooth effects, but there are some improvements that can be made. The cartridge itself delivers very light hits, preventing you from getting the full experience of the URB. One of the cartridges actually broke on me before even getting a good experience of that strain. Furthermore, in this review, we describe our experience and its value.
Pros:
Fair effects
Oil is very efficient
Cons:
Not that great of a taste
Cartridge delivers light hits
Low-end hardware
Recommendations: Use CCELL hardware, also some improvements in taste would be nice.
Made our BEST DELTA 8 CARTRIDGES list!
Check out our video review below and then keep reading on for the more in-depth review of the URB Finest Flowers cartridge.
URB Finest Flowers Delta-8 THC cartridges deliver fair effects, but very light hits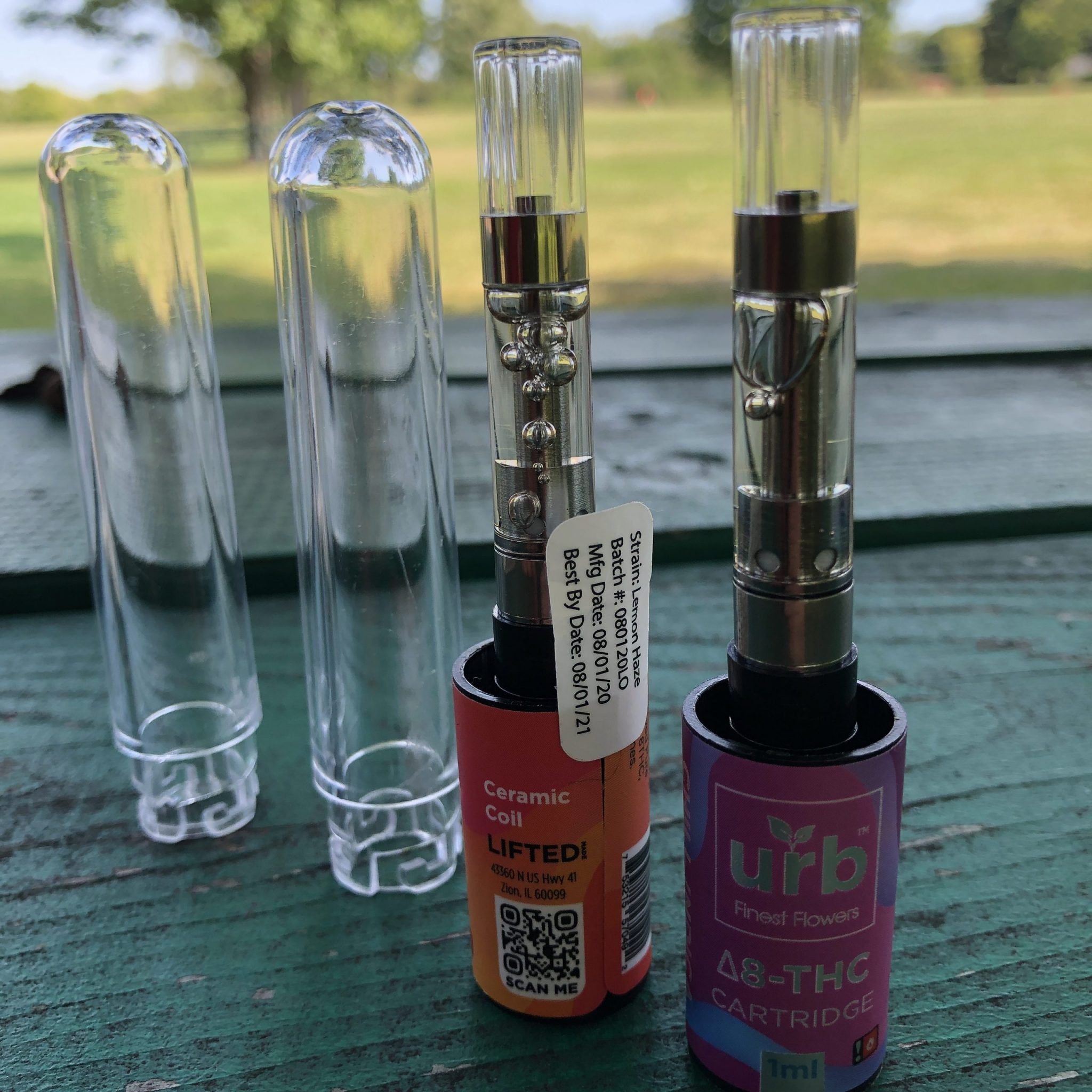 After taking a few hits of these carts, I was a bit disappointed with its performance. Not saying that the oil from the cart is bad, but as to the cartridge itself, it doesn't use the best hardware. Every time I kept taking a hit, it would usually deliver subtle hits. This can be a good thing if you prefer taking light hits or even to conserve your oil. But you can't take any big hits nor will it vape thick clouds. I changed it to multiple batteries that go from 2-3.5 volts and still couldn't get great hits. 
At first, I thought URB Finest Flowers use CCELL cartridge. But taking a closer look at, I found no imprints underneath and it just seemed a bit different than an original CCELL. Also, after taking a few hits, it didn't deliver nearly as good as a CCELL cartridge would.
Thick and clear oil quality delivers fair strength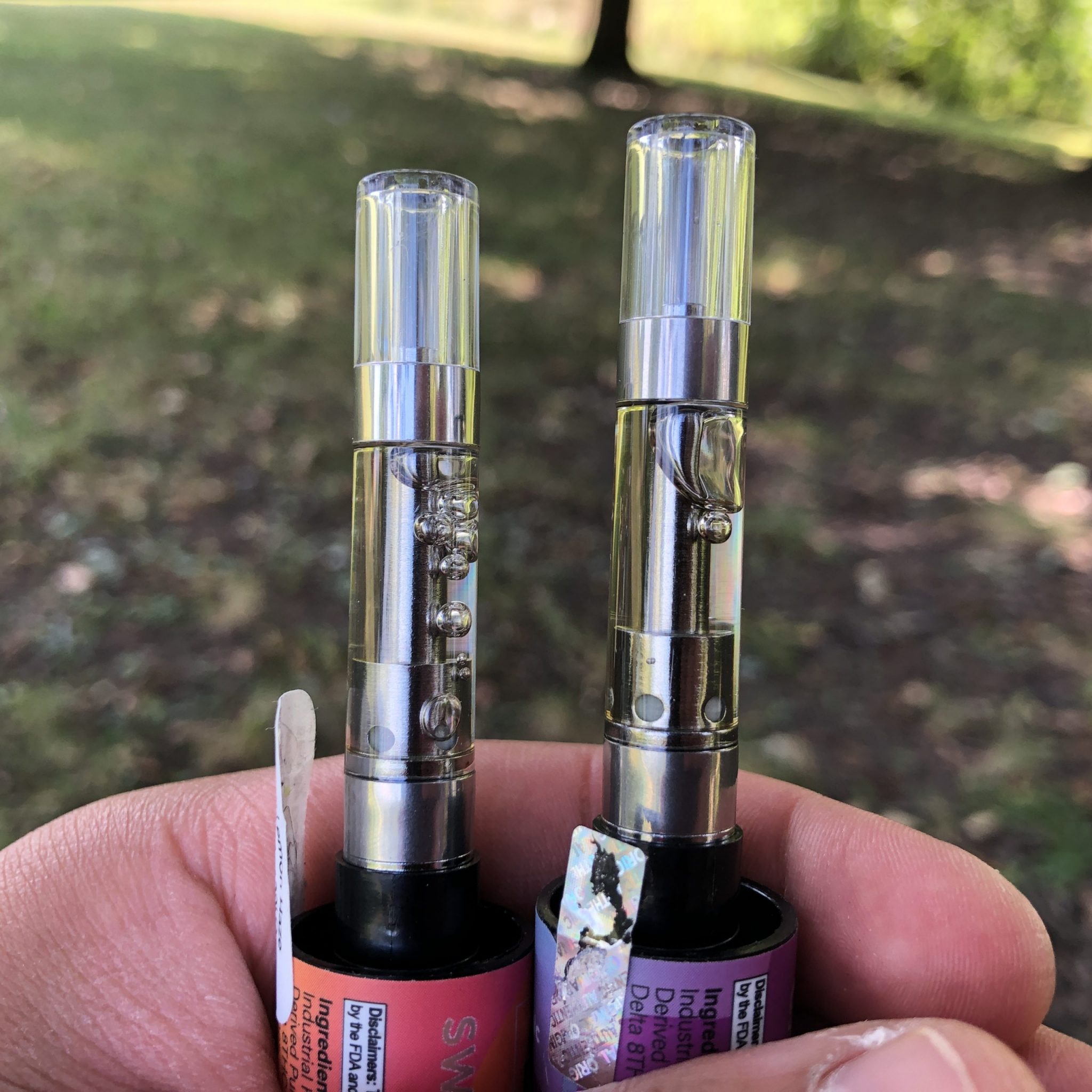 The quality of oil looks great on these URB cartridges. Very thick, nice clear color and doesn't move easily. After taking a few hits, you get nice effects that creep up on you. The effects and strength may depend on your tolerance, but for me, I didn't feel it was as potent. I felt as if I had to smoke this cart consistently to get good effects. This could be because of how light these cartridges hit.
If you haven't tried Delta 8 THC before, I should say it isn't going to be nearly as strong as a regular THC cartridge. But having tried Delta 8 previously, I felt as if these carts didn't deliver high potency. Still good strength and effects, but just not up there.
URB Finest Flowers provides authentic lab results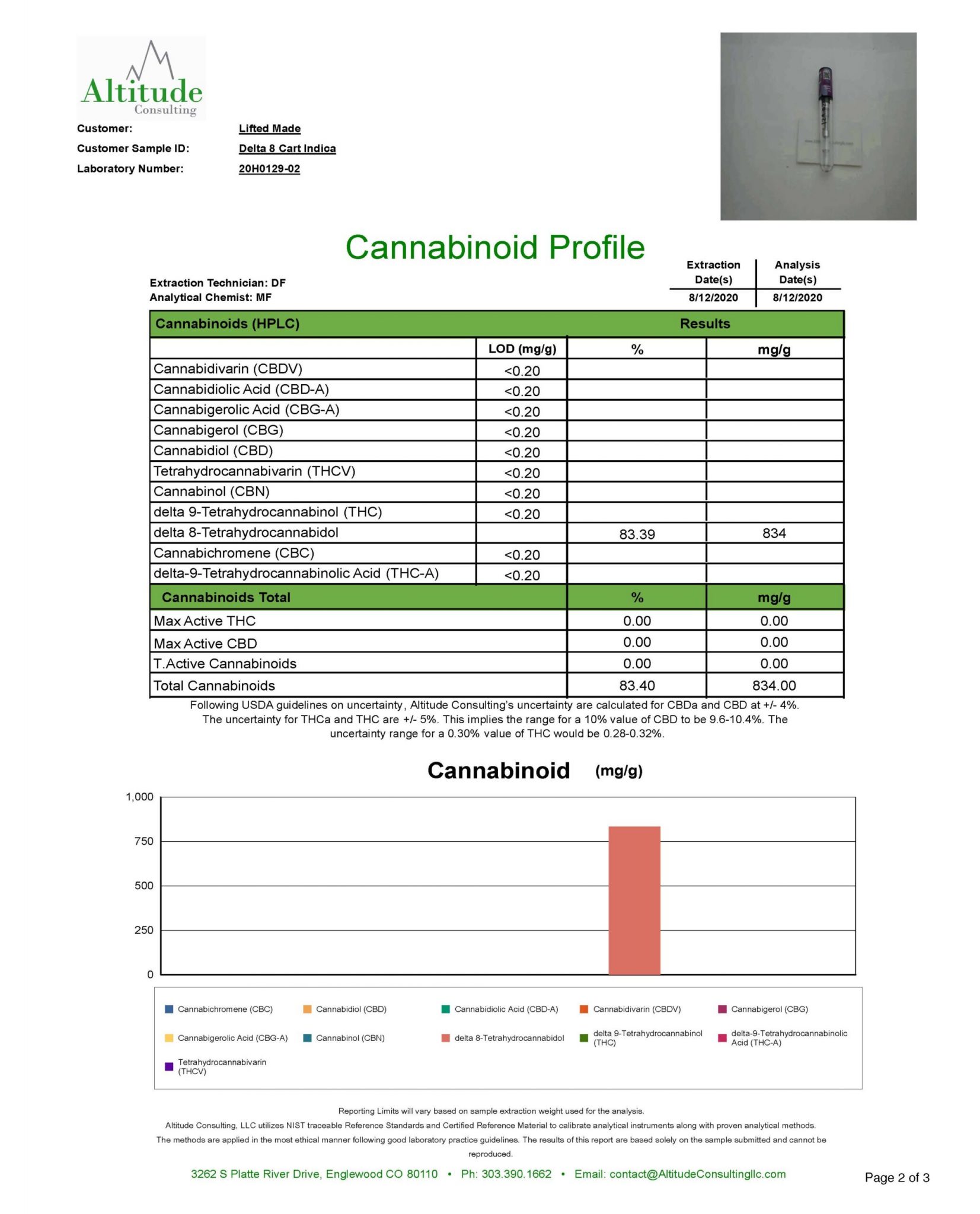 The good thing about URB Finest Flowers is they provide clean lab results. Being around 83% Delta 8 THC, as shown above, URB doesn't seem to have delta 9 nor active THC. On their website, you can find a variety of lab results not just for their cartridges, but all their other products as well.
Lemon Haze – Not the best tasting
We picked up two different strains from URB, Lemon Haze and Purple Punch. The Lemon Haze is a sweet Sativa and it does give good effects. A nice, unexpected yet mellow high. But I didn't enjoy the taste of this cart as much. Hoping and expecting a lemony, zest like flavor, these carts delivered an unsatisfying taste. Hard to explain, it just gives kind of a plain taste and it's a bit unpleasant. Nothing that terrible, it's still bearable and gets you high. But, the strain didn't live much to its taste.
Purple Punch – Couldn't try due to cartridge breaking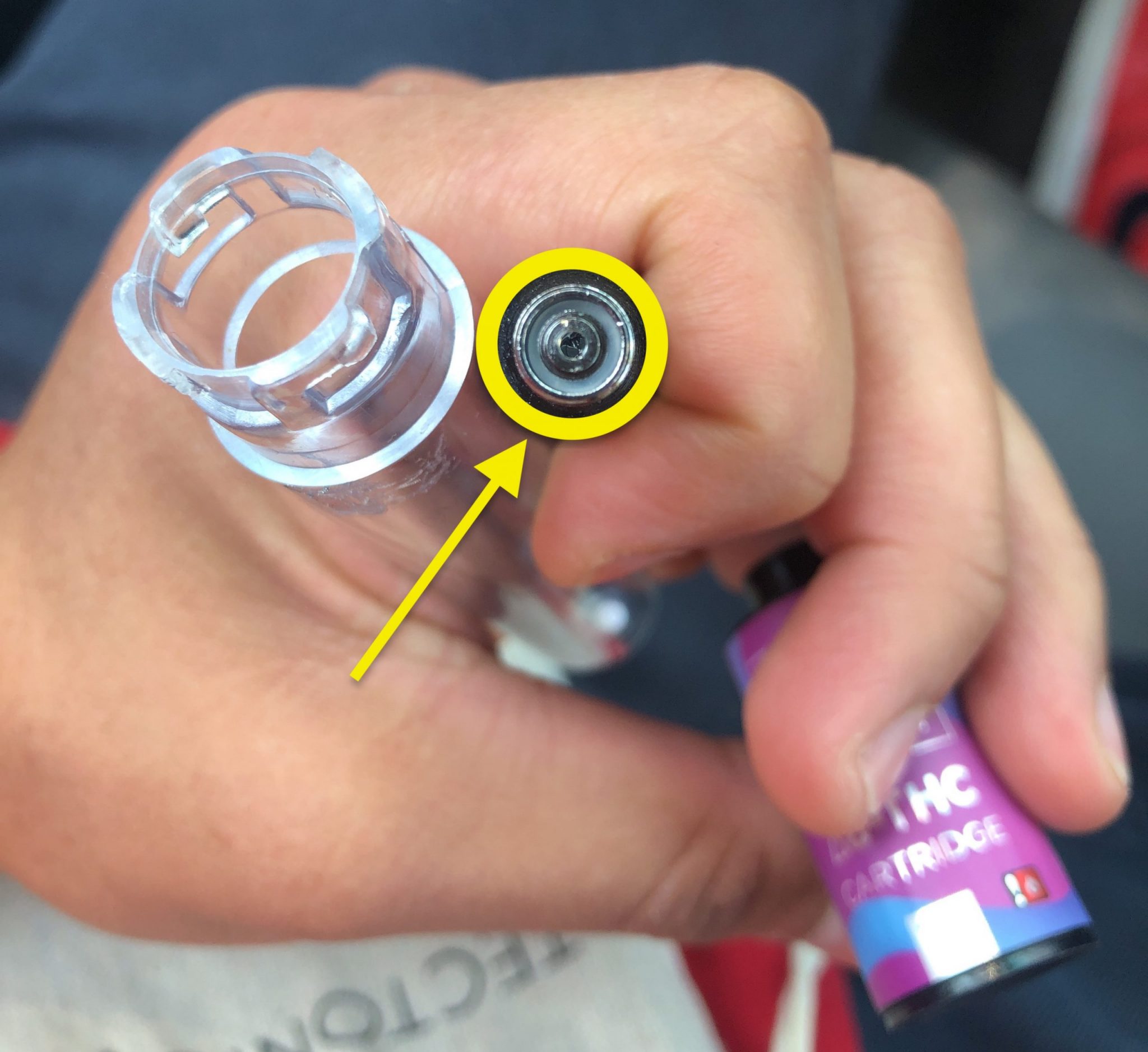 Unfortunately, without getting the full experience of the Purple Punch indica strain, the bottom of the cartridge fell off. This caused the cartridge to fully break and not hit at all. All I did was simply screw the cartridge to my 510 battery, took 2 hits and it started hitting light. So then I just unscrewed the cartridge from the battery and the bottom piece came apart with it, as shown above.
This may be frustrating because when exchanging oil into another cartridge, you'll lose some oil. This URB cartridge is plastic and doesn't open as easily. I ended up wasting nearly half a gram of oil. 
Fairly efficient cartridge, oil burns slowly
Something I like about these carts is how long they lasted me. Maybe it's because of how light this cartridge hits and burns, but URB carts burn very smoothly, slowly and efficiently. 
Regardless of cons, URB Finest Flowers still delivers a nice and mellow high
Disregarding the taste and the hardware on this cartridge, it still delivers good effects after a few puffs. If you haven't tried Delta-8 THC before, it does give a slightly different sort of high than a regular THC cartridge would. First off, everyone's high may vary and will probably be different. But in my experience, Delta 8 gives me a more mellow and quicker high. Not as strong as a potent THC carriage, but definitely delivers great effects. Sort of like a strong CBD cartridge that actually gets you high. With that, Urb 8 does deliver a pretty good high.
URB Delta 8 THC cartridges vs 3Chi Delta 8 cartridges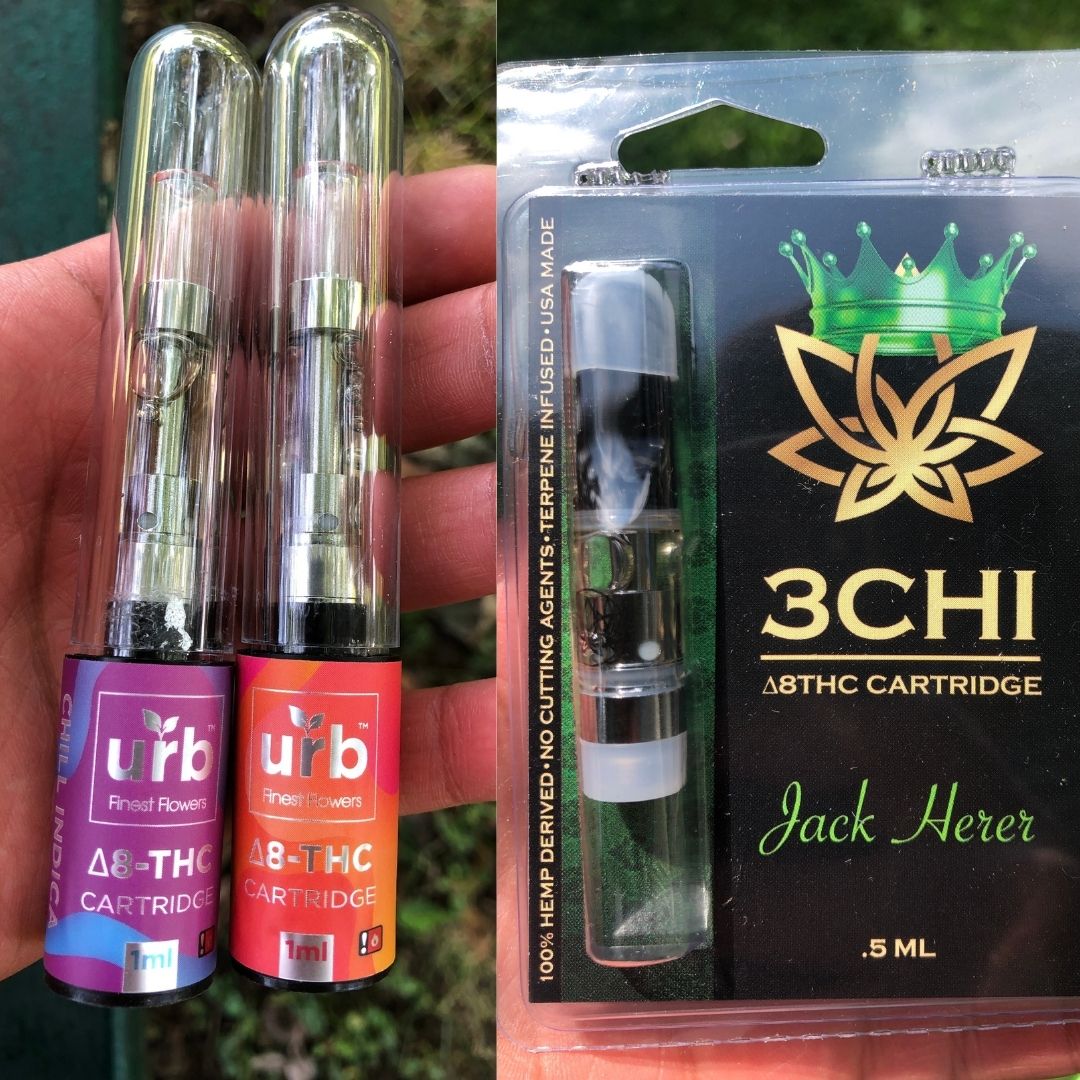 In comparison, I'd go with 3Chi Delta 8 carts over URB any day. Although the URB full gram cartridge is the same price as 3Chi half-gram carts, 3Chi still delivers more value and quality. 
For one, the hardware they use is original CCELL, therefore it hits much better than URB carts. Also, the strain I picked up from 3Chi delivers great taste. For a full gram 3Chi cartridge, it's currently $55, which is only $10 more from their half-gram. For only a $10 difference, I'd much go with 3Chi Delta 8 cartridges.
To conclude, Urb 8 Delta 8 THC cartridge is okay but could use some improvements
To sum up, if the URB Finest Flowers upgrades their cartridge hardware, they would be much better. The oil quality is good and the strength is fair, but the cartridge just hits too light. But regardless, these carts are still a good alternative to states that don't sell recreation weed yet. I did find 3Chi to be better but hopefully, within the next few years, they make some improvements on the cartridge.
Editor's Note: Delta-8 THC's legal status is very foggy right now, with an uncertain legal future at the federal US level.
You can learn more about URB Finest Flowers cartridges on their website here.