REVIEW OVERVIEW

SUMMARY
Here we review the Sauced cartridges, originating from California but now available in Nevada. Simply put, these are excellent products all around. We used four of these and before the review was done we still had one more to go. These are products that we will be definitely getting again in the future, even at full price.  We found these on a deal by going to dankoil.com/lv and seeing the latest distillate deals at Planet 13.
Pros:
Excellent taste
Great strength 
Good glass hardware
Consistent oil quality 
Cons:
Not in more dispensaries yet
Recommendations: Nothing really to change here, maybe seeing the second version of these on a really hard-hitting piece of hardware, like the Ispire Ducore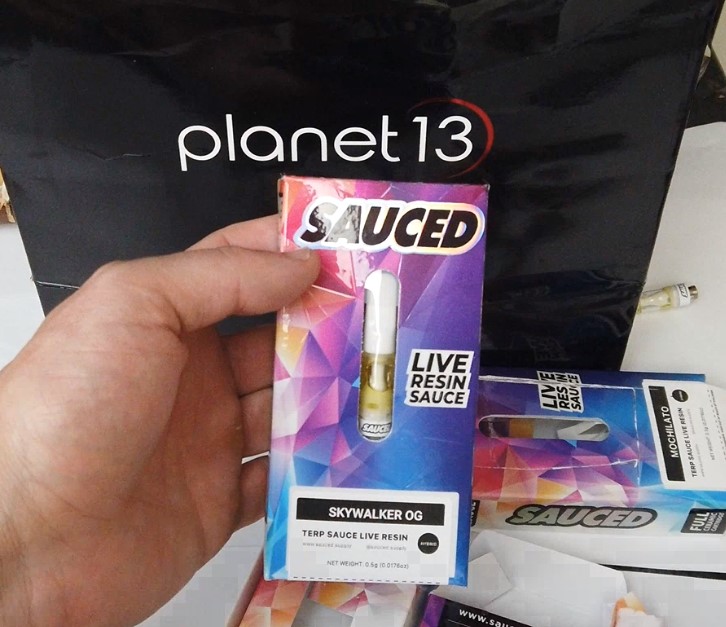 Sauced carts might be the best tasting carts ever
The taste on Sauced carts might be the best around. We always like the taste of sauce carts and live resin carts and this puts them together in a live resin sauce. So far these are some of the tastiest carts I have ever had. They taste extremely natural, kinda sweet, and nothing chemically about it like you would get from distillate carts. I still like distillate, but you can't deny that almost all the time live resin is going to taste better, and the sauce will taste better. Add excellent strength on these things and you get a cart that WOULD get a spot on our Best of Nevada list, but see below.
The hardware used for Sauced carts is pretty unique
It's not CCELL. It doesn't have any label on it but it is all glass and ceramic. The way the holes are placed in the carts is efficient and it looks like it is getting as much oil as it can to the very bottom. Maybe they're even slightly more efficient than the standard hole set up, which you can see on your basic CCELL or AVD cart.
The airflow is excellent. The ability to move the top is very nice just in case something goes wrong, even though none of the Sauced cartridges failed on us so far. Eventually, though, a cartridge will fail here and there, which is something that happens to any brand at some point.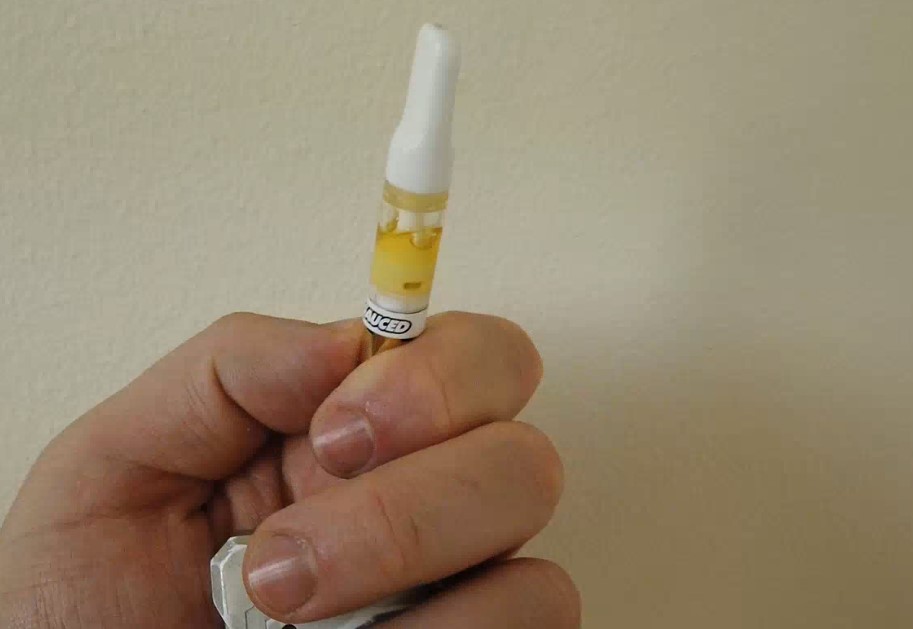 Sauced cartridges have excellent strength
I was really impressed by the strength. After reading the package more I could see where that strength probably comes from. If you look at the testing results you will see that these are manufactured at Taproot. Taproot is the same company that makes Roots cartridges, whose distillate carts are one of the strongest carts available anywhere. So the same extractors in charge of making those cartridges are also making these, at least in Nevada. Roots cartridges also made our list simply because they are great carts.
The effects from these Sauced carts are also long-lasting which adds to overall strength. You don't feel as you need to hit these over and over again in short frequent periods of time like we found on some of the worst cartridges we tried such as Kings Garden and RAD Vape. Sauced carts are definitely top tier for strength and are pretty close to Roots and Cannavative.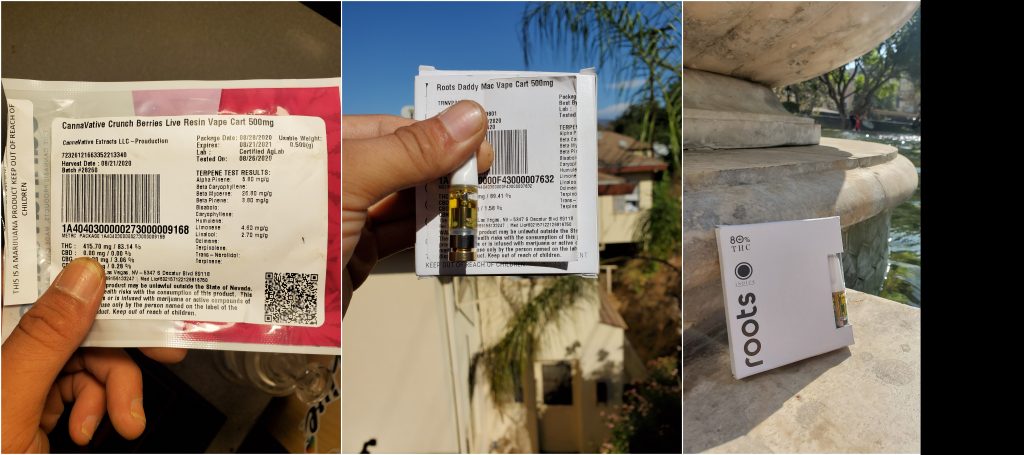 Taste is excellent on Sauced but it does use botanical terpenes and VG
Two things that we saw with these carts that aren't great and that might even upset some people are: botanical terpenes and vegetable glycerin. We will actually do some more research on vegetable glycerin and get some more opinions on this and come back and add to this review late, but some people might not like VG in their cart because it's very reminiscent of some of the old stuff that has been out there. It's these two factors holding this cart back off our list.
Sauced carts hit really smooth
Additionally and surprisingly, they don't use real cannabis terpenes. And if you hit these cartridges you would think that they use cannabis terpenes right away, which is what I thought. I was surprised when I read the label and saw it actually uses botanical terpenes. Generally, botanically-derived terpenes are going to be much harsher and yet here they are not.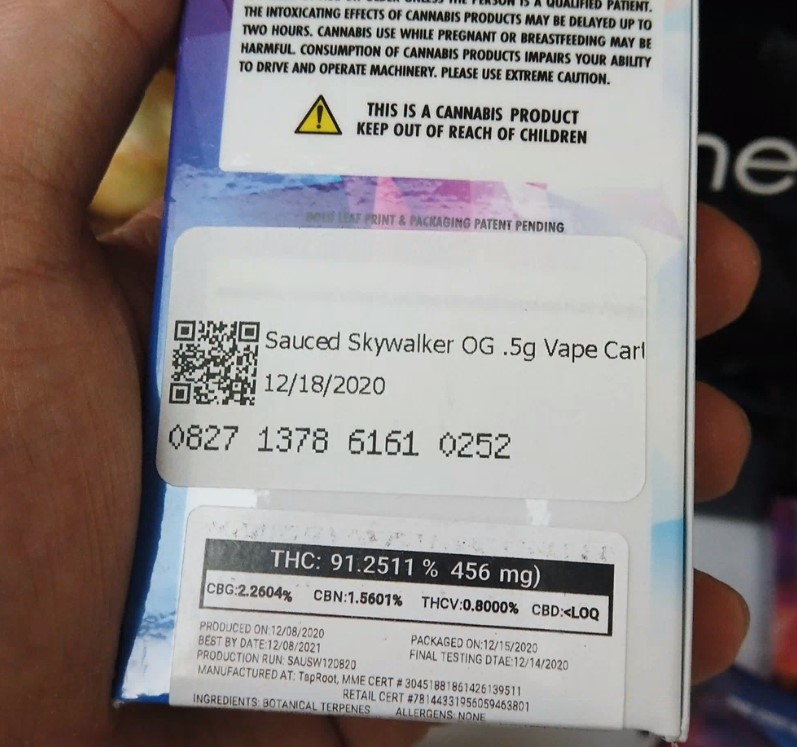 Oil quality is constant from Sauced
The oil quality from these carts is really consistent and they don't get discolored easily. The only thing that may affect the oil quality for some people is the presence of vegetable glycerin and the use of botanical terpenes instead of cannabis terpenes.
The number of puffs is great so far
It vapes slow because the oil is thick and the hardware is efficient. Additionally, the way the holes are placed adds efficiency and the total number of puffs you are going to get off the Sauced carts.
Even at full price, the Sauced carts are worth it
If I was at a dispensary and everything was 40 dollars a cart I would still pick up Sauced. Additionally, you might find these on a deal like we did when they were $25 a piece plus tax. Either way, it's a good deal because it's a great cartridge and it's strong. You really don't have to hit these a ton of times to get strong effects, and that really adds to the value. If I have to pay twice as much to get a cart that four times more effective that's still a good deal, but for Sauced everything is fairly priced, and that is why it is a great value.
Concluding our Sauced carts review
Overall the Sauced carts are excellent. I wish they used real cannabis terpenes. We will be getting more details on vegetable glycerin but these things hit great, taste great, last long, and are a great value. On top of that, they are strong. You can find out more about Sauced carts here.
Have you tried these interesting Sauced carts? Let us know in the comments or in our forum.