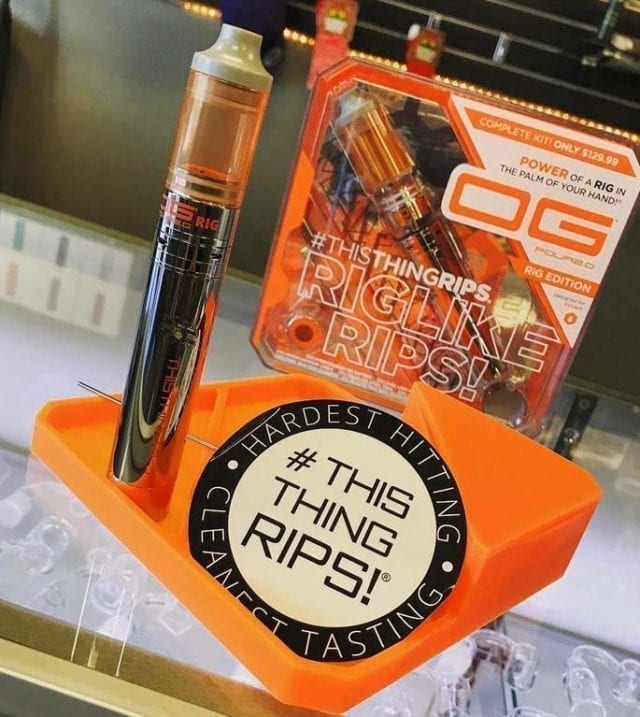 REVIEW OVERVIEW

Versatility / Atomizer Options

2

SUMMARY

Overall this vape pen is junk. The film on the lava quartz is questionable. We do not know if it will melt or not. It does chip off easily. For $130, you can do a lot better.
ThisThingRips OG Four 2.0 Rig Edition – Lava Quartz is a Tint
Edit 10/18/2017: This Thing Rips reached out to us an claimed that the lava quartz is not plastic. They did not state however what the film was. We have reached out to them for further clarification and will post their answer once received.
Design & Quality
The new #ThisThingRips OG Four 2.0 Rig Edition (how's that for a mouthful is one of 2 new Rig Edition vape pens released by This Thing Rips. It's the larger version of their "lava-quartz" (we'll get into that claim in a bit) single coil OG Four 2.0 vape pen.
Battery
The best part of the new "Rig Editions" is a 1100mah battery with a built-in container, that is huge at 22mm wide and almost 6 inches tall. Still not as powerful as The Kind Pen Dream 1500mah battery though. The battery has 3 temp settings like most vape pens, and has a hashtag symbol to go with the This Thing Rips logo on the chrome battery. It has an orange frosted that is very delicate (do not play with it taking it off and on, you'll break it) with a plastic mouthpiece. Under the attachment and glass, it has a removable variable airflow system with 4 air vents to change your airflow.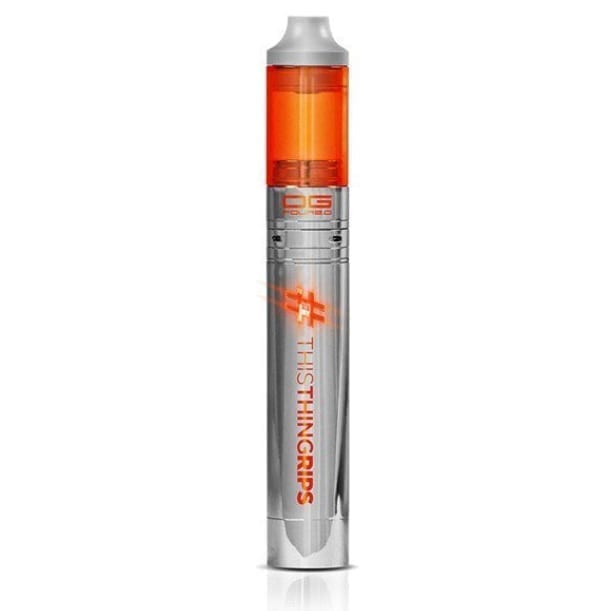 If you've read our other reviews from #ThisThingRips, you'll remember thy have a very big tendency to use misleading statements and a TON of marketing jargon. Forget the "Hypercharge battery," this time around, they straight up lie. Since last year they've been pushing what they call "lava quartz" as "game changing technology," which is orange quartz. They have digital renderings of their single coil wrapped around this orange "lava quartz" and the cup is also a dark orange, as well as promotional pictures with what is an orange piece of quartz (Raw 100% Lava-Quartz), proclaiming itself "the only lava quartz cartridge." If you try to search for lava quartz you only find references from them. Does not seem to be a real product at all.
Atomizer Design
What is lava quartz then? A marketing lie. The quartz rods inside the OG Four 2.0 Rig edition are just regular quartz rods, not orange at all. What about the quartz cup? It's just a regular quartz cup that has been covered on the outside with what appears to be   film of orange tint. It is similar to the ones used in car windows. They literally tinted the windows orange. Then lied that they are using this "superior" quartz that doesn't exist. It was a bonus finding a silicone ring under the quartz cup. We have reached out to This Thing Rips to get an answer regarding what this material is.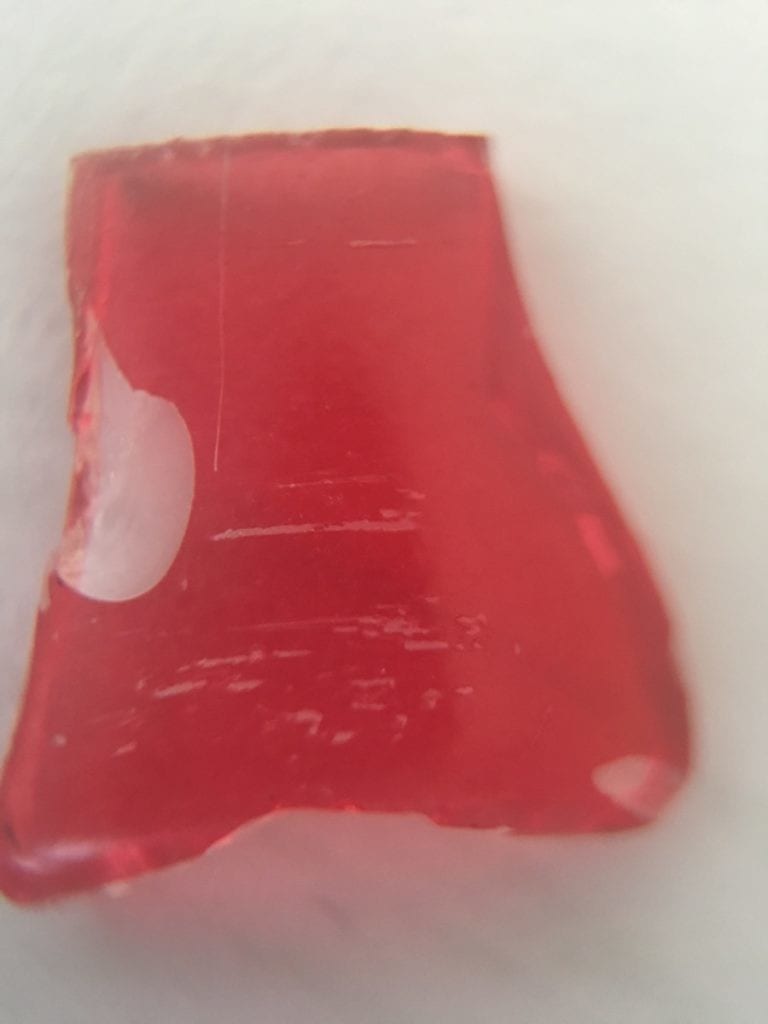 Are they as good as other similar products? Yes, so why the need to lie? What does that mean about the quality and safety of the product?
Their atomizer is a standard 10mm in diameter atomizer that uses regular quartz double coils and a cheap alloy. You can see solder marks on the coil and more evidence that #ThisThingRips prefers to spend money on marketing bullshit and adding more unneeded stuff rather than giving users a quality product. The coil burns your wax even at the lowest setting. It gives that all-too-well-known "vape pen" smell and taste we all used to get from our old Micro Gs. Be prepared for headaches if you're susceptible to pain from smells like diesel.
The worst part? We don't know if the orange film they use to "make" their "Lava Quartz" melts when you use your coil at high temperatures, but the coil had definite marks of orange around the coil. We do not recommend using too much back to back just in case the higher heat will melt it.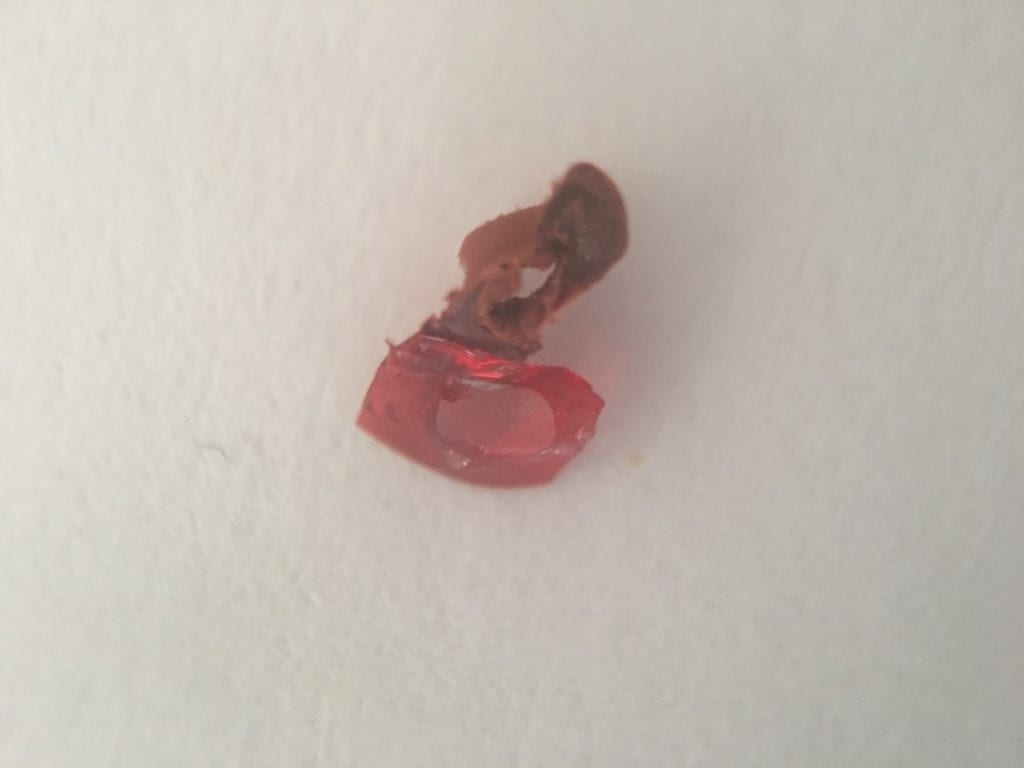 Dab Tray
Like their This Thing Rips R2 Rig Edition, the other reason you might purchase a This Thing Rips Rig edition is the cool looking dab tray. It's 8 inches by 8 Inches with a large compartment on the top that is an inch and a quarter deep. It's useful if you have multiple vape pens and a rig. Then you can use the compartment to put used atomizers or other nails. Like the rest of this product they decided to save money to oversell an inferior product. Bend the silicone to do a routine quality test and you'll see it turn white from the fillers used in the production. You can smell the chemicals when you take it out for the first time. You get a huge whiff of unpleasant old style vape pen smell. Make sure to wash it when you first open it, and don't store wax straight on the silicone, or the chemicals and flavor will cross into your wax.
Ease of Use
The #ThisThingRips OG Four 2.0 Rig Edition is straighfoward to use. Take the orange glass off, place your wax on top of the coils, replace the glass, unlock, press the power button, and inhale. It has 3 settings: Blue is low, Green is medium, and Red is high. Press 3 times to change the setting, and 5 to turn it off.
The built-in wax container is easy to use, you simply screw on and off, and atomizers are screwed and replaced very easily.
Strength
Strength is the main draw for the OG Four 2.0 Rig Edition. It heats up its alloy coil super fast. Within less than 5 seconds the coils will glow red hot. You'll see clouds build up quickly in the chamber. Rip through your wax within a couple of hits.
They claim the "Power of a Rig in the Palm of your Hand." It gets pretty close to when you get your nail red hot and burn your wax. Not the vape pen to be looking for if you want low temp dabs.
Efficiency
The This Thing Rips OG Four 2.0 Rig Edition is actually worse in efficiency compared to its white ceramic sibling the R2 Rig Edition. The quartz coils are efficient, given its larger size. Even though the diameter of the vape pen is 22mm the atomizer is only 10mm. So unlike other larger vape pens you don't have more unnecessary empty space on the sides of the coils. The coils are low enough that it's very hard to miss completely and have the wax just sit underneath the coils.
Even though it's longer and deeper don't overload the atomizer. Otherwise you'll inhale wax unto the glass when it pulls around the coils. You'll still get some wax, especially shatter or really gooey consistencies on the walls of the atomizer.
Versatility / Atomizer Options
You can't use any of the other 4 atomizers #ThisThingRips released prior to the Rig Editions. This means that the only other atomizer available is the R2 Series Rig Editions white ceramic double coil atomizer. The other 4, including the "Roil" and "ReMix" coil-less atomizers, are not compatible because they are eGo 510 threaded.
Therefore the options you are left with are not that good. Cheap atomizers with lava quartz, a tint of unknown material, and coil wire that has obvious crimps in it.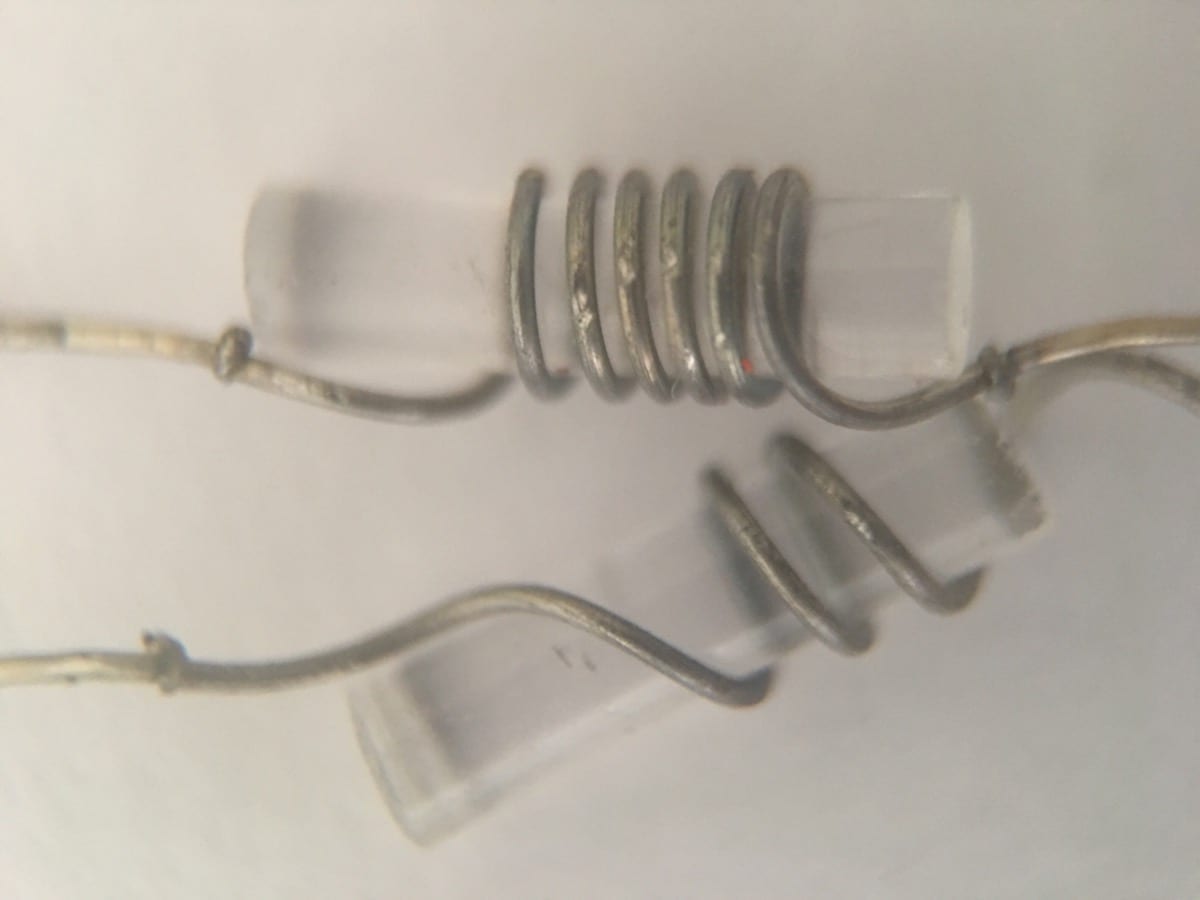 Portability
The This Thing Rips OG Four 2.0 Rig edition's large battery and very delicate glass container make it hard to carry in your pocket. Use the included silicone ring around the glass to try to protect the glass, but it won't prevent cracks. We were using ours when it broke. The built-in container on the battery is a great add on for dabs on the go.
Discretion
The large shiny color and bright orange make this hard to not notice in the day. Even with a little light. The large size will make it impossible to cover with your hand, but the quick heat up time will help with quick hits.
Just expect large clouds of smoke (not vapor, you'll burn your wax with the high temperature, not vape).
Taste
The "Power of a Rig," that means image a red-hot cheap nail to burn all your wax. The taste is awful. The cheap coils are designed to heat up as hot as possible. That means that no matter what you will burn your wax really fast.
The taste and smell leaves even the best tasting wax with an after taste of "vape pen." If you like to live in Terpcity and enjoy the delicious flavor of your wax this is not for you. I also got a headache after smoking it for a while. Reminded me of smelling truck exhaust. You also get the same after-taste.
And honestly, looking at the coils, the film they used around the quartz cup seem a bit melted on the coils. It wouldn't be surprising if the taste is ruined by some of that.
Don't use good wax on this. It will not taste like it is supposed to.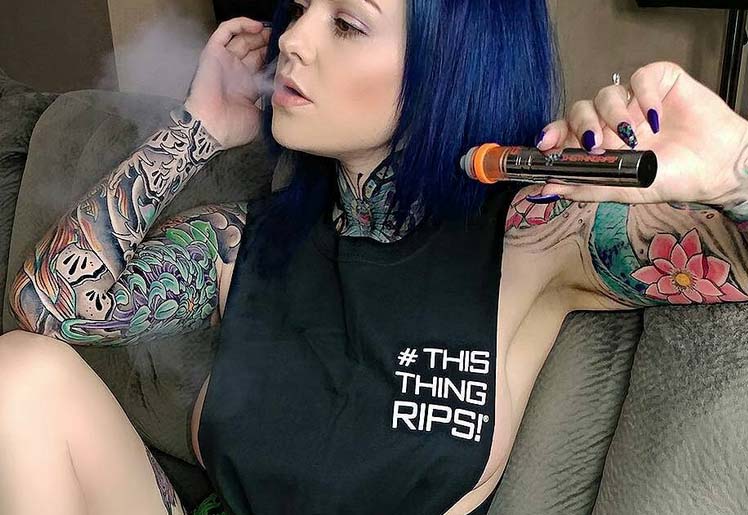 Value
The #ThisThingRips OG Four2.0 Rig Edition is on of the most expensive vape pen at basically $130 ($129.99).  It includes 2 "Lava Quartz" double coil atomizers, 2 glass covers, a very small dab tool, and the large dab mat.
The atomizers use a cheap coil inside a quartz cup that is wrapped in an orange film. This makes the whole "vape pen" part worthless. The battery is pretty cool with its included concentrate container so you can use it with other better 510 attachments.
.The silicone dab tray at most would be around $30 (especially using fillers) so you're paying around $100 for an 1100mah battery with a built-in wax.
They also only have a 90-Day Warranty, compared to a 1-Year warranty most other companies have.
Replacements
There are currently no replacements available, so don't out your film covered quartz cup quickly or better yet, buy atomizers for the R2 Series (once those are available).
A massive headache, other than after using it, is getting replacements because you have to drive to the store every time.
Conclusion
An expensive $130 waste. A vape pen that uses orange tinted film called "Lava Quartz," that may or may not melt when in use. It's just fake marketing hype. You are best off skipping the OG Four 2.0 Rig Edition altogether. So far you might just be better skipping anything from ThisThingRips if the same poor product quality is consistent across the brand. We hope they come out with something better in the future. For this one too, #ThisThingIsJunk.