REVIEW OVERVIEW

Design and Build Quality

5

SUMMARY

Overall a decent cart. This oil could do much better on newer hardware though.
Silver State Trading makes a THC vape cartridge with an interesting color distillate. How does this red colored concentrate SST vape stack up? See here in our review of the Silver State Trading vape cartridge. If you are searching for carts in Nevada, be sure to also check out our list of the best cartridges in Nevada.
Design And Build Quality: Same Cart As Moxie
Build Was Standard, Solid
Silver State Trading uses the same cartridge as we saw in the Moxie cartridge review. These carts are built solid. I dropped this cartridge and many with similar styles and have not broken them, even though they are glass.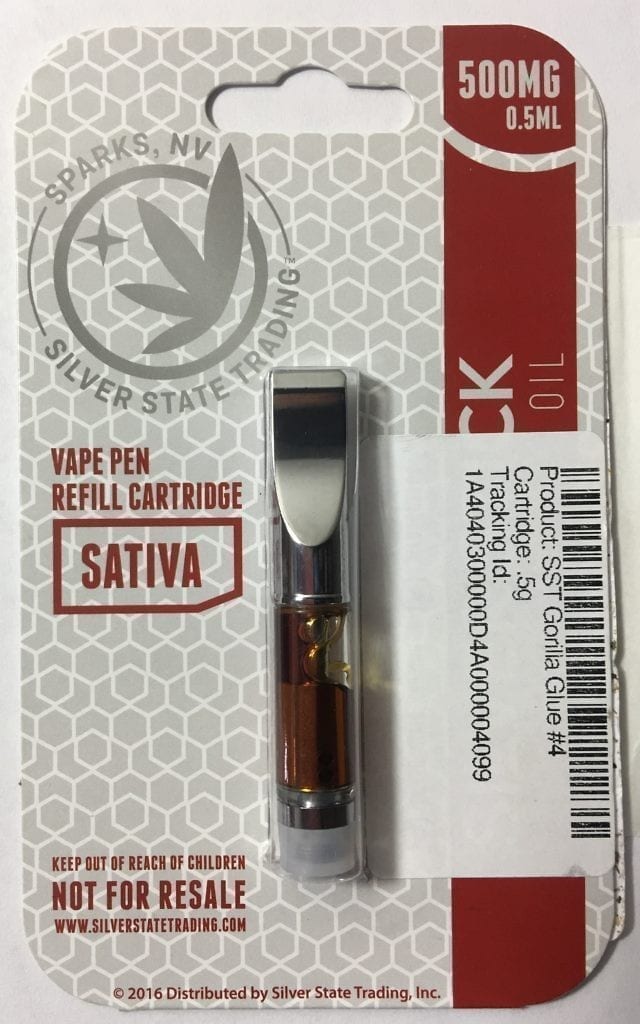 Design Could Be Updated: Bigger Hits Would Result
These are sturdy, but they lack the newer tech of some of the better style cartridges out there. They do the job, but underperform compared to newer, better carts. This vape feels like another one where the hardware does not live up to the software. We would recommend that they change this cart on future batches. Had this oil been on a C-Cell cartridge or better yet a Stiiizy style setup, this THC cart would be ranking much higher overall.
Silver State Trading Has Some Good Oil
Pesticide Free
The oil in this vape is of good quality. There are no pesticides. This vape cart was purchased at NuLeaf in Lake Tahoe, Nevada. NV is strict as can be on testing. Pesticide-laden products are not making it to the shelf in this state.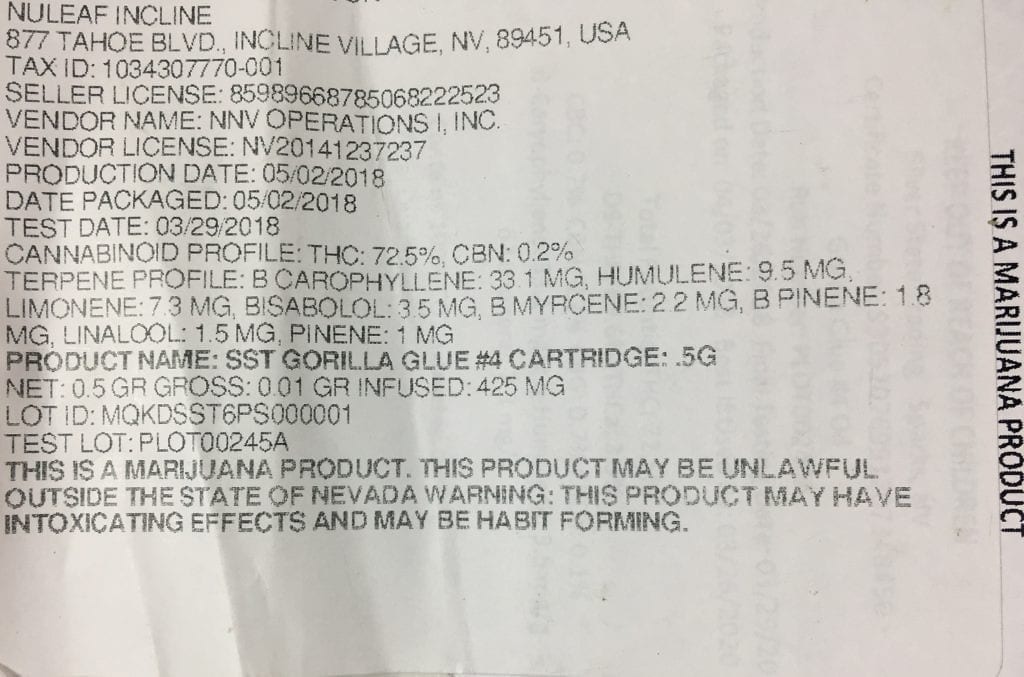 Consistent Across Board, Interesting Color
The oil stayed the same consistency for the duration of the cartridge. The cartridge strain used in this review was Gorilla Glue #4. The strain used for this review is Gorrilla Glue #4. The color is amber as opposed to gold that you see on most cartridges. Nothing hanged on color either.
Decent Strength For Silver State Trading
Strength is decent but not mind blowing. You can tell the oil they are using is good quality, but it could go a lot farther with better hardware to increase strength. Check our Stiiizy review to see another form factor that would work good with this oil. This cartridge is just not able to pull the kind of rips some of the better 510s can either like the stick e vape.
I would like to find a Silver State Trading distillate syringe and use it to refill a Stiiizy pod. Then I would get the effect I am looking for. Going to keep an eye out for this next time I am in Nevada.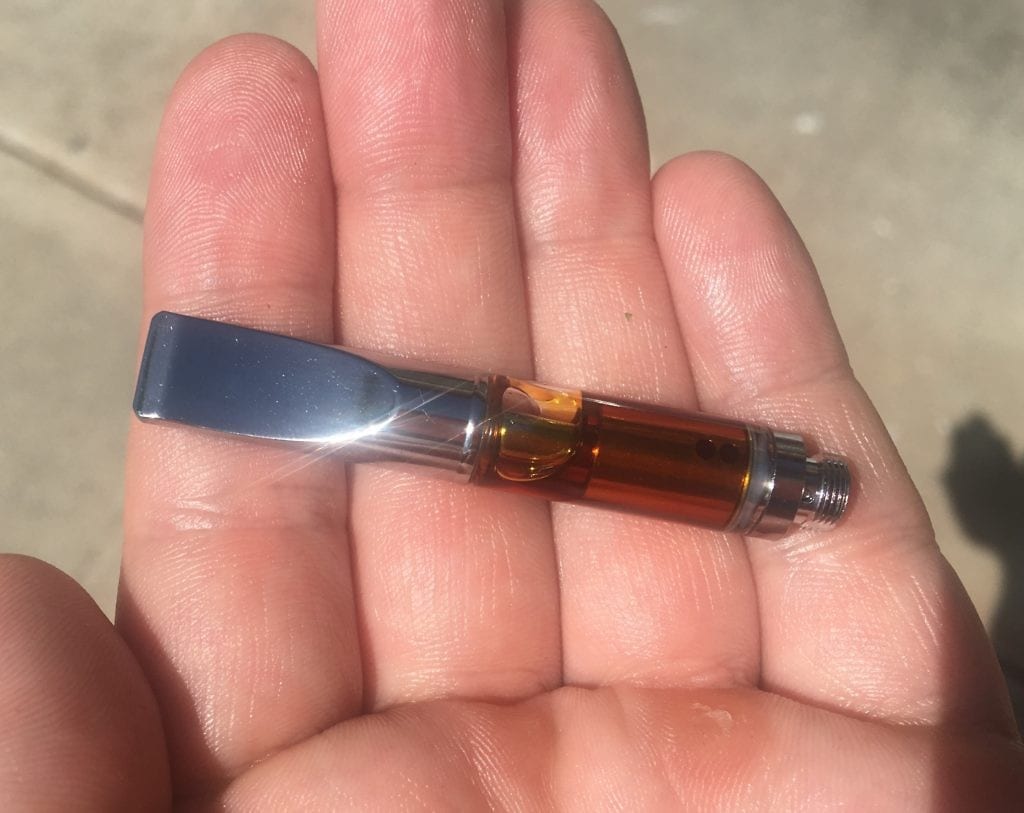 SST Vape Had Great Taste
The taste on this vape cart was awesome. It did not taste like a lot, if any, terseness were added to it. I enjoy the straight taste of wax, but if you like a lot of flavor added, this might not be your vape. I would not change any thing about the taste on the Silver State Trading cart.
Cartridge Is Very Efficient
The cartridge uses holes very close to the bottom of where the oil is, so it is very efficient. Moxie uses the same exact cartridge and you can see a picture of it below.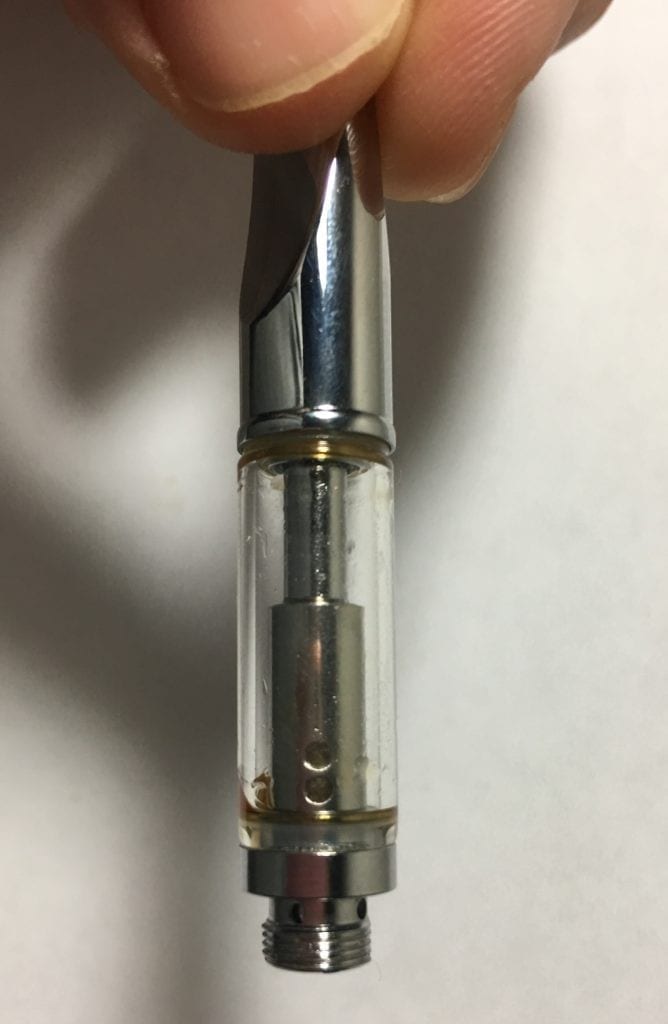 Its down to the last drop efficient. I would trade some of that efficiency for a harder hitting cart though.
Number of Puffs Excellent, As Expected
You get a lot of puffs out of a half gram Silver State Trading cartridge. The oil does not vape off too fast as it is not super thin. Part of the number of puffs being so high is due to the weaker hitting cart technology.
Value: Good Compared to Nevada Prices
Silver State Trading vape cartridges are in the middle end of pricing at $54 per half gram. Prices in Nevada are much higher than other areas, but you are almost guaranteed to be free of pesticides. Compared to other cartridges, this is the middle. The Moxie cart was $57 for comparison. Apply a happy hour discount of 20%, medical discount of 10%, and tax, it comes out to $37.89. If you can get it at that price like I did then its in the low price range for NV, and a much better value.
In California the average cart price seems to be around $30, so expect to pay more when crossing that state line. The safety of no pesticides is probably worth it though. See our vape pen pesticides page that show many popular brands failing tests.
Some Additional Info About SST
Silver State Trading is based in Sparks, NV and can be found at dispensaries in Nevada. In addition to vape cartridges they also make Envy confections (edibles), Jazz Cabbage (flower, oils, concentrates), and Trokie (an interesting looking cannabis lozenge).
In conclusion, doing this Silver State Trading review revealed a good quality oil that delivered decent strength. An improved cartridge design could take this oil a lot further, but even as is this is one I would try again. Flavor was great for those of us that don't like too much added flavor. Trying the SST vape makes me want to try a distillate syringe of theirs when I can find it. I bet in a better cart setup it would be a lot stronger. We look forward to a hardware update from Silver State Trading and we will be re-reviewing this vape cart. You can learn more about SST here.