REVIEW OVERVIEW

SUMMARY

Srene carts are strong, vape slow and are a good value.
When we first tried out Srene, we did a brief video review. The carts were noticeably strong and did not have the greatest taste. Fast forward 6 months: taste is a bit improved, but strength is now super. It's gone from strong to one of the strongest. The company is also known as Srene Crystal Peak, NV.
Pros:
High strength
Thick, long-lasting oil
Taste improved from previous versions
Cons:
Some room for improvement on taste.
Recommendations: Would like to see the taste come up a bit and a glass CCELL cart used instead of polycarbonate.
Licensing Information: SSAC corp #08542800532746610043
Check out our video review of Srene cartridges below, then keep reading on for the more in-depth review.
Srene carts are probably one-hitter-quitter for some
When I get a weak cart like the RAD Vape, I can hit it 10 times and almost nothing happens. Something that is a little bit better than average but not super strong, like the Cookies cartridges, I take about 7 hits.
Four hits on Srene and I am more than good. Srene has caught up to other top brands on strength. The first time I hit Srene carts they were a bit stronger than Cookies, now they are substantially stronger and on par with some of the best out there.
I can safely say hitting a Srene cart is stronger than hitting dabs off a rig a lot of the time.
Below are pics of testing information from the various Srene strains. They are all in the 80s for THC percentage.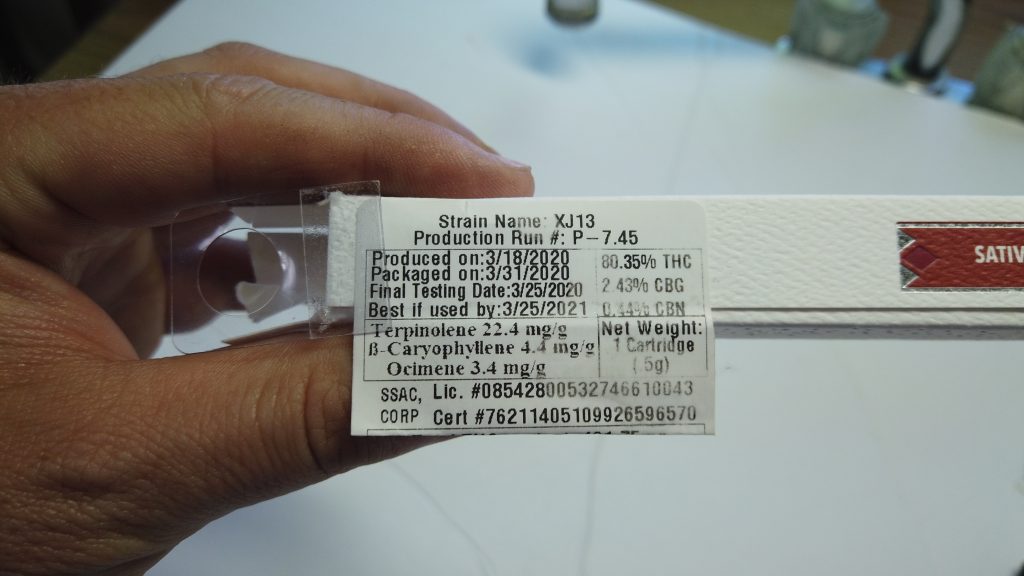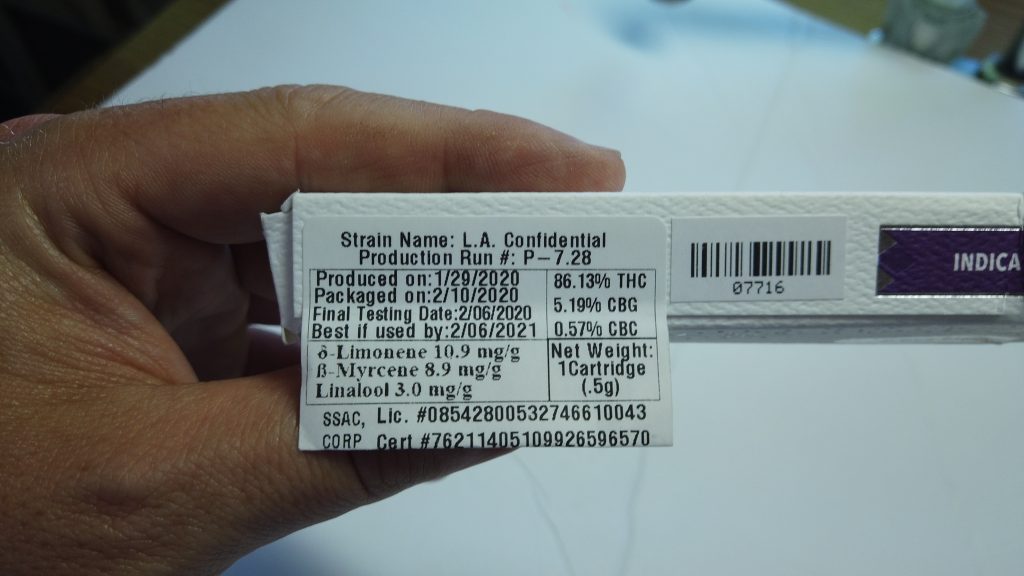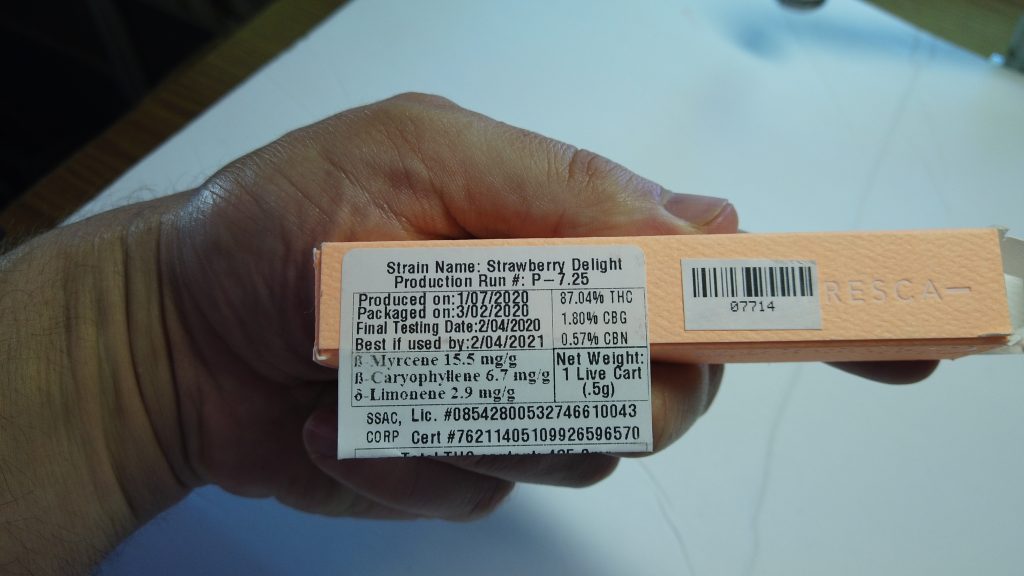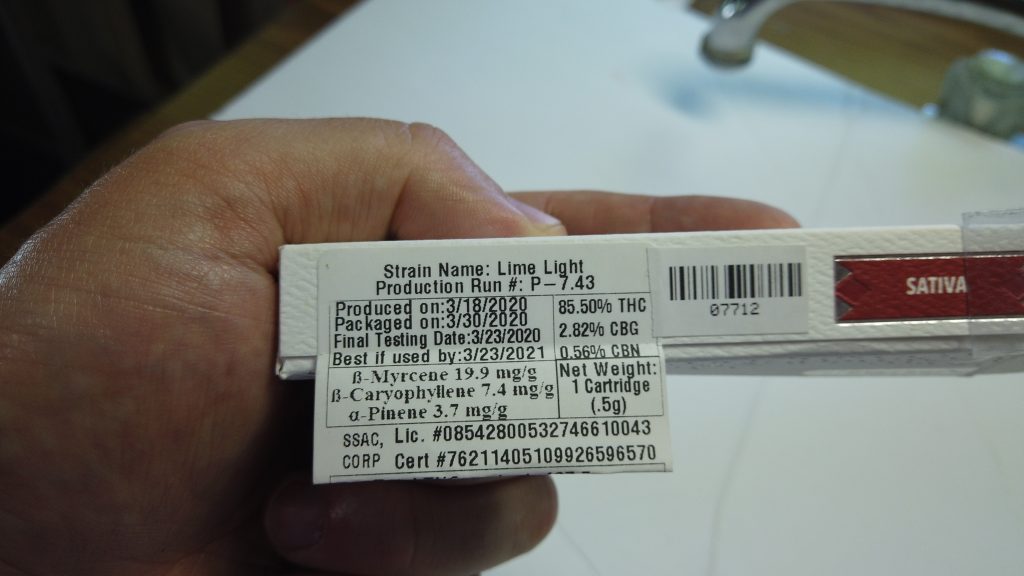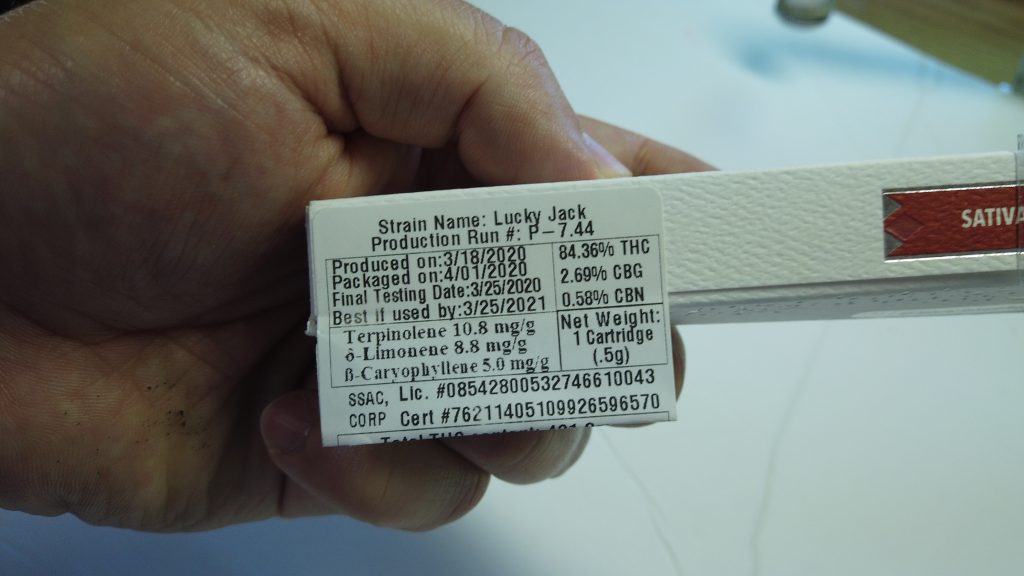 Srene uses the same version of CCELL hardware as Ionic and VVG
Although I prefer the glass TH2 version, the mouthpiece Srene chose here does give superior airflow to the TH2 version. Monster rips are coming out of this cart from the start. Same thing happened on the Ionic and VVG carts. That extra airflow makes a difference.
Taste is decent on Srene, but not its strongest point
Taste is not the best ever, but I do like the taste better than Select Elite. I use Select Elite as a reference point since it's a very common brand in multiple states and seems to have somewhat close cross-state consistency.
Srene is a distillate so it's not going to compete with the sweet taste of MPX Live Resin or Fuze Live Resin, but on strength it's very comparable. Compared to other distillates, its taste is average. Better tasting than The 55, not as good tasting as Cannavative or Roots.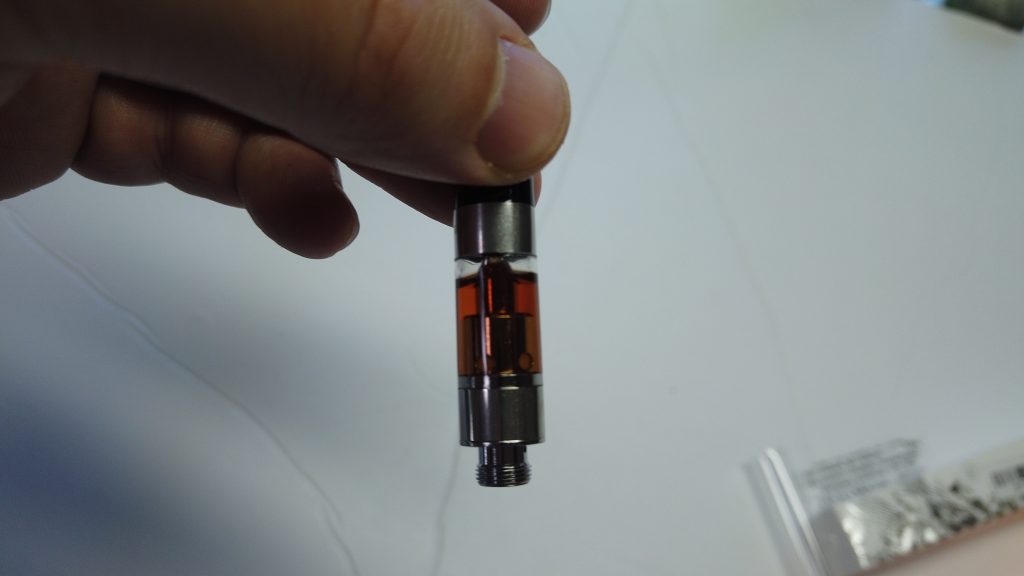 Oil vapes slow and efficiently, lots of hits out of each cart
The oil is nice and thick in these Srene carts. It moves slow and is the opposite of the high liquidity we see on the RAD vape cartridge. Thickness is on par with all the other best cartridges in Nevada.
There's no doubt at $40/half gram, Srene is a good value
Considering the slow vaping, long lasting oil and strong effects Srene carts produce, it is a good value. They've shown they are committed to improving carts further and further and I think it will become even a better value in the future when taste is improved.
Concluding our Srene cartridges review…
We've now been through two generations of Srene cartridges, the second definitely better than the first. Not every cannabis company goes that way. We've seen Stiiizy in California substantially decline in quality since its debut in 2017.
Srene I see as something that will continue to improve, but as is, it's already a great cartridge. You can find more information about Srene on their instagram here since we could not find an official website for them.