REVIEW OVERVIEW

SUMMARY

Though Cobra Extracts cartridges have average levels of THC, their incredibly flavorful oil helps make up for it. Using a solventless CO2 extraction process, all their carts offer pure high-quality oil. Choose from a wide variety of strains at a cost the everyday vape enthusiast can afford.
Flavorful honey gold oil that's but not too high in THC percentage defines the Cobra Extracts cartridge experience. For those who appreciate a concentrate packed with true to strain flavors, these carts might be calling out your name. The psychoactive effects are strong, but the THC levels make them short lived. Read on and devour all there is to know about ELEV8, the new Cobra Extracts cartridge.
Pros:
Pure, Batch Tested Oil
Solventless CO2 Extraction Process
Aromatic & Strong "True To Strain" Flavors
Good Number Of Puffs
Big Vapor Clouds
Cons:
Average THC Content
Effects not long lasting
Recommendations: Their oil process seems awesome but higher levels of THC would be nice to see.
Licensing Information: Adult-Use Mfg. CDPH-T00001713 Distributor C11-18-0000340-TEMP Medical Mfg. CDPH-T00001713
The Cobra Extracts cartridge beats their crumble and shatter
After trying Cobra Extracts shatter and the crumble, their cartridge delivers the best experience. The rich flavor profiles come through stronger, as do the effects when you vape the oil. Using the latest CCELL vaping technology, the carts are efficient and long-lasting. We just wish the THC content was higher in the .5-gram ELEV8 cartridges and the effect lasted longer. For someone most concerned about flavor these are an excellent choice.
ELEV8 carts use a CCELL cartridge that is durable and reliable
When the oil in a CCELL cartridge is almost gone, the inner cloth wick can dry up. Continued use of the cartridge at this point can give off vapor with a burnt taste so always make sure to leave your cartridges standing up.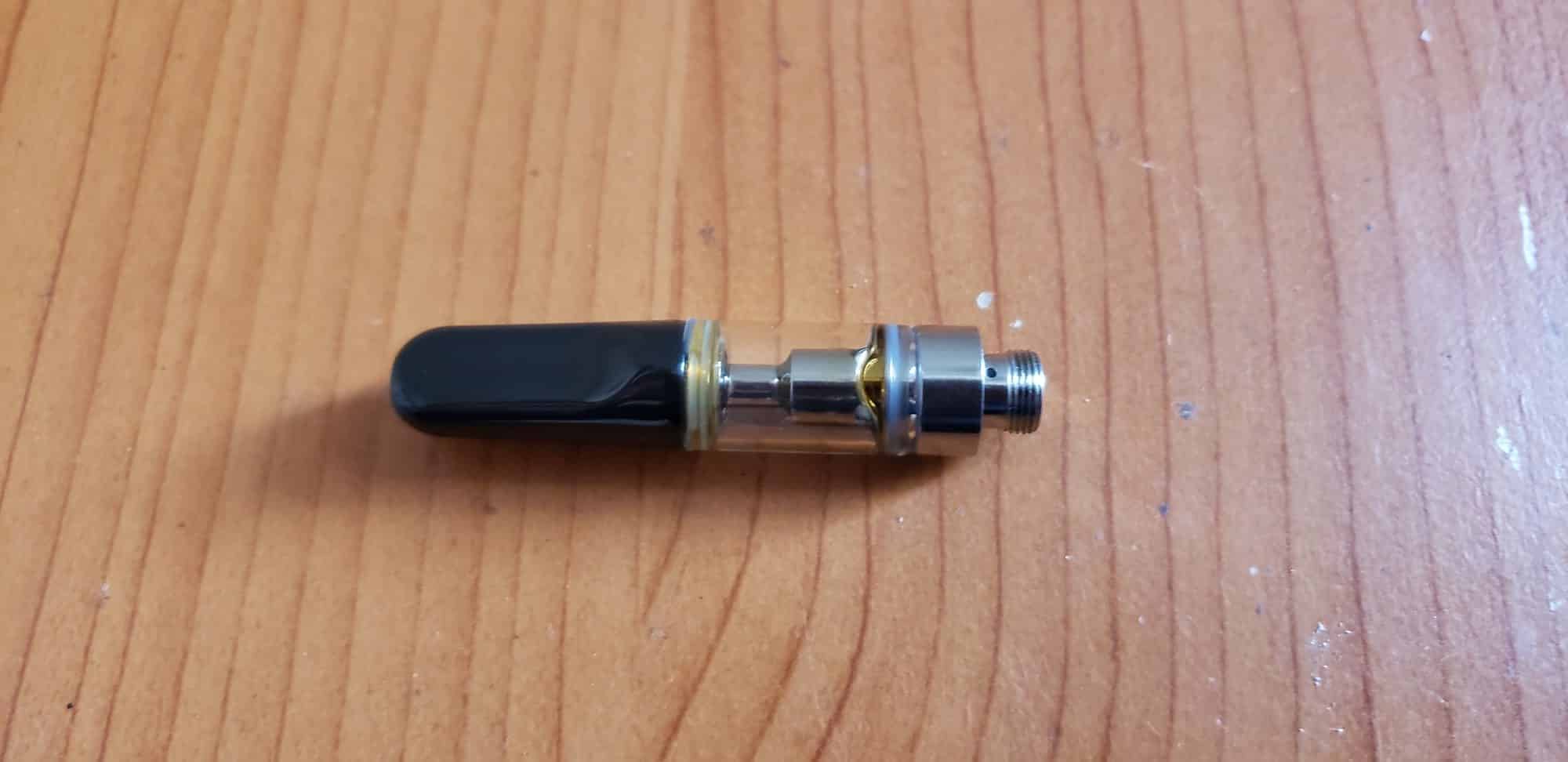 Cobra Extracts cartridges can leave a strong burnt aftertaste if you vape them too low, but this can happen on almost any vape cartridge. They are, however, durable with a strong glass tube, smooth black ceramic mouthpiece, and hardy metal components. ELEV8 carts use the standard 510 threads that will fit most batteries.
The Cobra Extracts cartridge has a golden honey oil
Cobra Extracts compares their oil to the source of their own name, the King Cobra. Their oils have the same gold color and honey-like consistency as the venom of the well-known snake.

Using their own twist on CO2 extraction, Cobra Extracts produces nothing but pure and solventless extracts. Their proprietary extraction process is also part of the reason the oils have so much flavor.
Cobra Extracts carts aren't the most potent
The range of THC in Cobra Extracts cartridges isn't weak, but neither is it packed with psychoactive compounds. It may be due to the delivery method, but the carts seem to have a stronger effect than the crumble and the shatter. It could also be that the strains of cartridges we tried are higher in THC. The cartridges do test pretty high though, between 82% and 93% THC.
Whatever the case, Cobra Extracts cartridges are not as potent as brands like Kurvana ASCND, Select Elite, or Heavy Hitters. They do give a nice euphoric effect and make up for any lack of THC in flavor. Many people are seeking a THC cartridge with not to strong effects that taste good, and this hits that sweet spot.
Cobra Extracts cartridge flavors will surprise you with excellent taste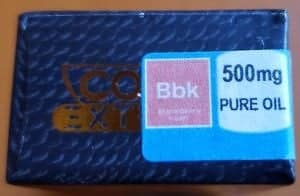 With several different strains to offer, the flavors in each Cobra Extracts cartridge will amaze you. It's truly what sets them apart from other cartridges. Not every vape fan wants an extremely potent cartridge, but they all appreciate good taste.
Cobra Extracts was good enough to send us 6 different cartridge strains that you can see below. Each one is packed with true to strain flavor.
Big vapes won't drain your cartridge down too fast
You can take a long, drawn-out hit off a Cobra Extracts cartridge and it won't use up half the oil. You'll get a huge cloud and really taste the flavor too. Average THC levels can mean an issue in efficiency for those who vape a lot of concentrates. You may go through it faster trying to sustain the effects, but the oil itself seems to vape slowly.
You get a better than average amount of puffs with a Cobra Extracts cartridge
One of the more positive features of the Cobra Extracts cartridge is the number of puffs they give. A half gram cart of the Cobra Extracts gives more puffs than brands like Jetty Extracts, Heavy Hitters, and THClear. It's a trade-off here between carts with more THC or ones with more flavor and puffs.
Using the Cobra Extracts key chain battery
We like to test our cartridges using a premium battery and we prefer to use the Vessel battery since it is our top pick for use with THC cartridges. It's not a bad idea, however, to use the battery that goes with the product if you can. In this case, Cobra Extracts makes a keychain flip battery that looks like the LoKey.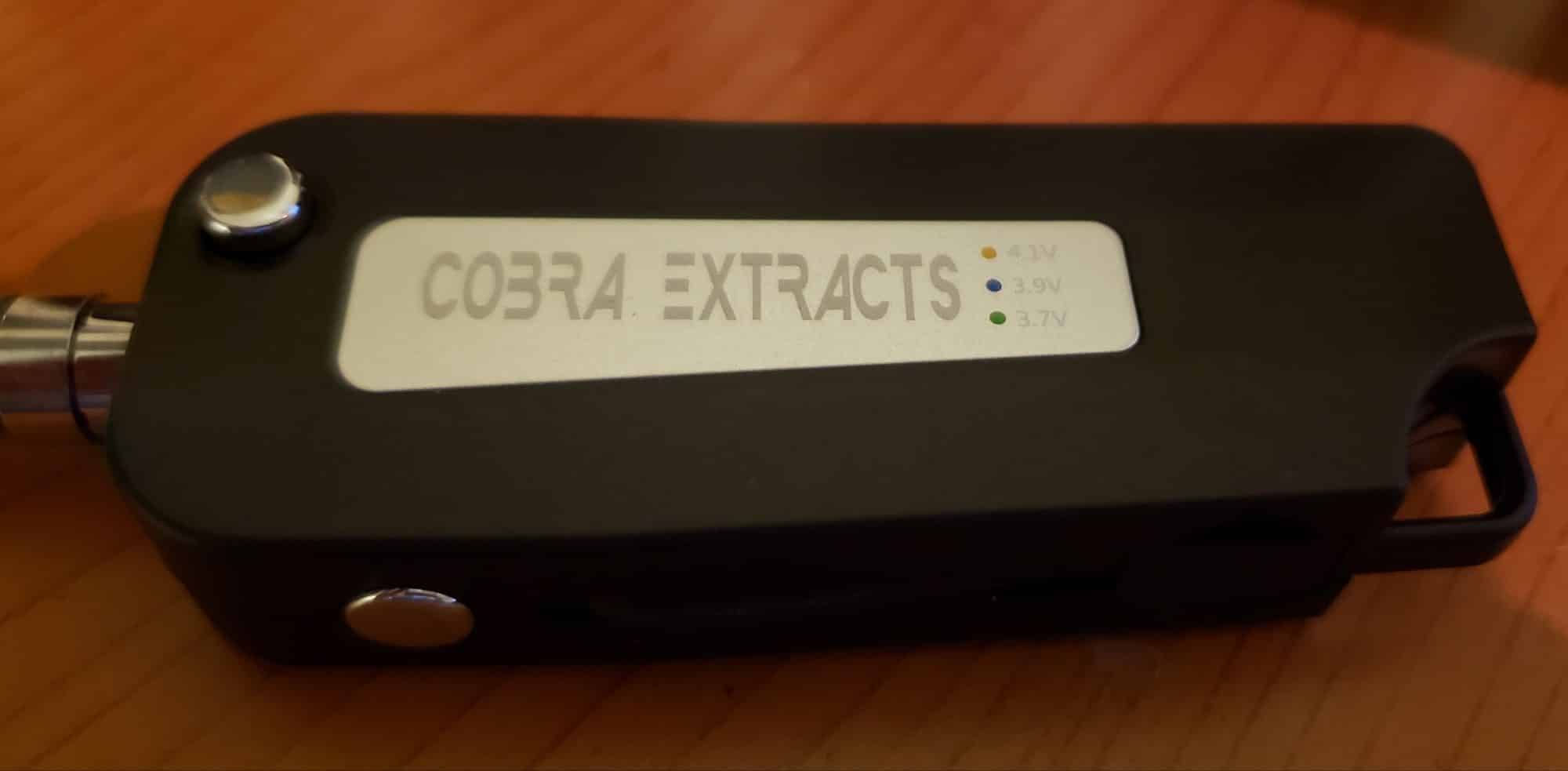 Unlike the LoKey, the one by Cobra Extracts features three different temperature settings. Users can power the unit on or off with five clicks of the button, or switch temps with three clicks. The temperature settings are visible on the battery itself and go as follows:
Green – 

3.7 Volts

Blue – 

3.9 Volts

Gold – 

4.1 Volts
At $30 a cart, the value is also better than average
I would prefer to see the Cobra Extracts cartridges in the 20-25 dollar range and in some dispensaries they may be. Still, $30 is lower than what many of the name brand companies are asking. If you see these carts for a deal or with bulk savings, it might be a good time to pick a few up.
The ELEV8 cartridge review roundup
Look for the Cobra Extracts .5-gram cartridges in the long slide out packages and bearing the name ELEV8. For those who aren't as much concerned about high THC levels and want a bold flavor, these carts are a perfect fit. Whether you prefer a fruity Maui Wowie or a heavy Venom OG, there's a strain of your preference.
Would you like to learn more about Cobra Extracts cartridges? Visit their website here.
What do you think of Cobra's ELEV8 cartridges? Any questions? Leave us a comment below or ask a question about Cobra Extracts on our forum.