Brass Knuckles vs Rove : Vape Cartridge Showdown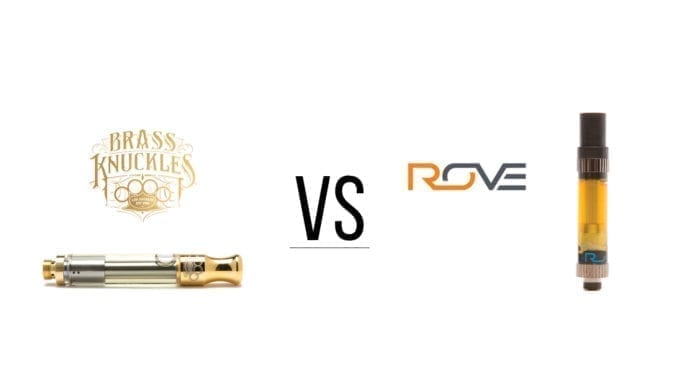 Brass Knuckles vape and Rove cartridges have some of the strongest extracted cannabis oil. They are both available only in legal states such as the one I reside in, California. We decided to create this Brass Knuckles vs Rove vape cartridge comparison for those interested on which one was better. We also have an individual Brass Knuckles review  and Rove cart review individually that can be found on our website.

UPDATE 9/11/2019: DISCLAIMER: In light of more recent news, it has become apparent that black market cartridges, counterfeit cartridges, and fake brands of cartridges have become more widespread than we had ever realized. We urge readers to apply their own discretion, and caution that at no point should readers assume that a review of a cartridge on our site is a guarantee of its safety. We advise readers to always verify their cartridges as coming from a legitimate source.
Brass Knuckles vs Rove: Vape Cartridge Oil Strength.
Both of these prefilled vape cartridges have some powerful cannabis extract. Rove cartridges have noticeably much thicker cannabis oil then Brass Knuckles vape cartridges.
Brass Knuckles cartridges are known to be tested as high as 90% THC, while Rove vape carts test as high as 78%. There were times where I felt like Rove cartridges felt stronger. THC is not everything. I vaped well over twenty Brass Knuckles vape pen cartridges and experienced inconsistency with THC strength. Every Rove cartridge I had was extremely potent. Both nonetheless are some of the strongest available on the market.
Brass Knuckles vs Rove Cartridge Design.
These cartridges are both unique with nice features and flaws. Let's start with the Brass Knuckles vape cartridge: it holds a gram of cannabis extract and has a standard 510 threaded connection. The mouthpiece has a wide single airflow that's bigger than the average prefilled cartridge. Both of these cartridges have glass and can break if dropped hard enough. Unfortunately, the Rove cartridge can't vape the thick cannabis oil inside of it on a cold day. I had to warm it up using a raw clipper lighter for a few seconds until the oil liquefied. Rove cartridges really need to improve their cartridge design so it can handle its thick THC oil. Brass Knuckles wins on this vape cartridge design.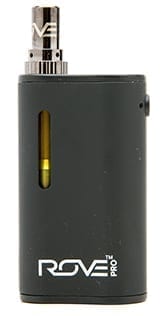 Rove Cartridges have a better track record for clean cannabis oil.
Brass Knuckles cartridges continue to fail lab test for pesticides. People are taking it into their own hands to randomly check the quality of the most popular prefilled cartridges, including Rove and Brass Knuckles vape carts. A popular Instagram user with the username @datdude41510 purchases prefilled cartridges and sends them to labs to test for pesticides or anything else harmful. He will then post the test results on his Instagram account, he recently exposed Brass Knuckles for failing a lab test for pesticides. This very same individual purchased a Rove cartridge and had it lab tested recently as will, lab results came back clean!
Brass Knuckles gives you more hits than Rove.
Rove cartridges are built to produce cloudy hits! Its because of this feature that its easy to finish the cartridge quiet fast. On average a Brass Knuckles cartridge would last me an extra day more than the Rove brand. The Rove cartridge gives you the closet experience to a dab rig hit. Those who are looking for the perfect to go dab pen will love the rove vape pen set up.
Brass Knuckles cartridges cost less on average.
Both have premium price tags compared to the average price for a half or full gram prefilled cartridge. The lowest price for a half gram Rove cartridge cost $35 in the bay area, the highest is $42. A full gram Rove cart is price tagged at $65. The cheapest price for a full gram of Brass Knuckles is at $60 and highest $80.00. There are no half grams available for Brass Knuckles cartridges at this time.
The winner of Brass Knuckles vs Rove is Brass Knuckles. We really liked Rove cartridges but they fell short in comparison against on strength and design. For some people the pesticide issue is most important, and in that case you should choose Rove vape carts..