REVIEW OVERVIEW

SUMMARY

Here we review the KandyPens' Oura eRig. Overall, it is a great device and hits amazing after you start using it for a while and start getting used to it.
Today we look at the KandyPens' Oura, a portable electronic dab rig. We'll detail our experience objectively as always in our non-affiliate reviews. The Kandypens Oura currently runs for $349. This price is more expensive than the Focus V Carta or the Pulsar RoK, and well in range of a Puffco Peak that goes for $379. We write this review having had extensive experience with a variety of e-Rigs.
Update June 2020: When first reviewed, the glass piece broke on our writer. This may happen if you aren't gentle with attaching the glass piece to the base of the OURA. Fortunately, Kandypens provide a lifetime warranty on all parts for the OURA.
Pros:
Elegant aesthetic design

Solid base
Interchangeable buckets make for easy cleaning
Hits great once you get it working
Cons:
The sensor-tap controls are very sensitive
KandyPens' Oura comes in a compact, yet comfortable base and nice glass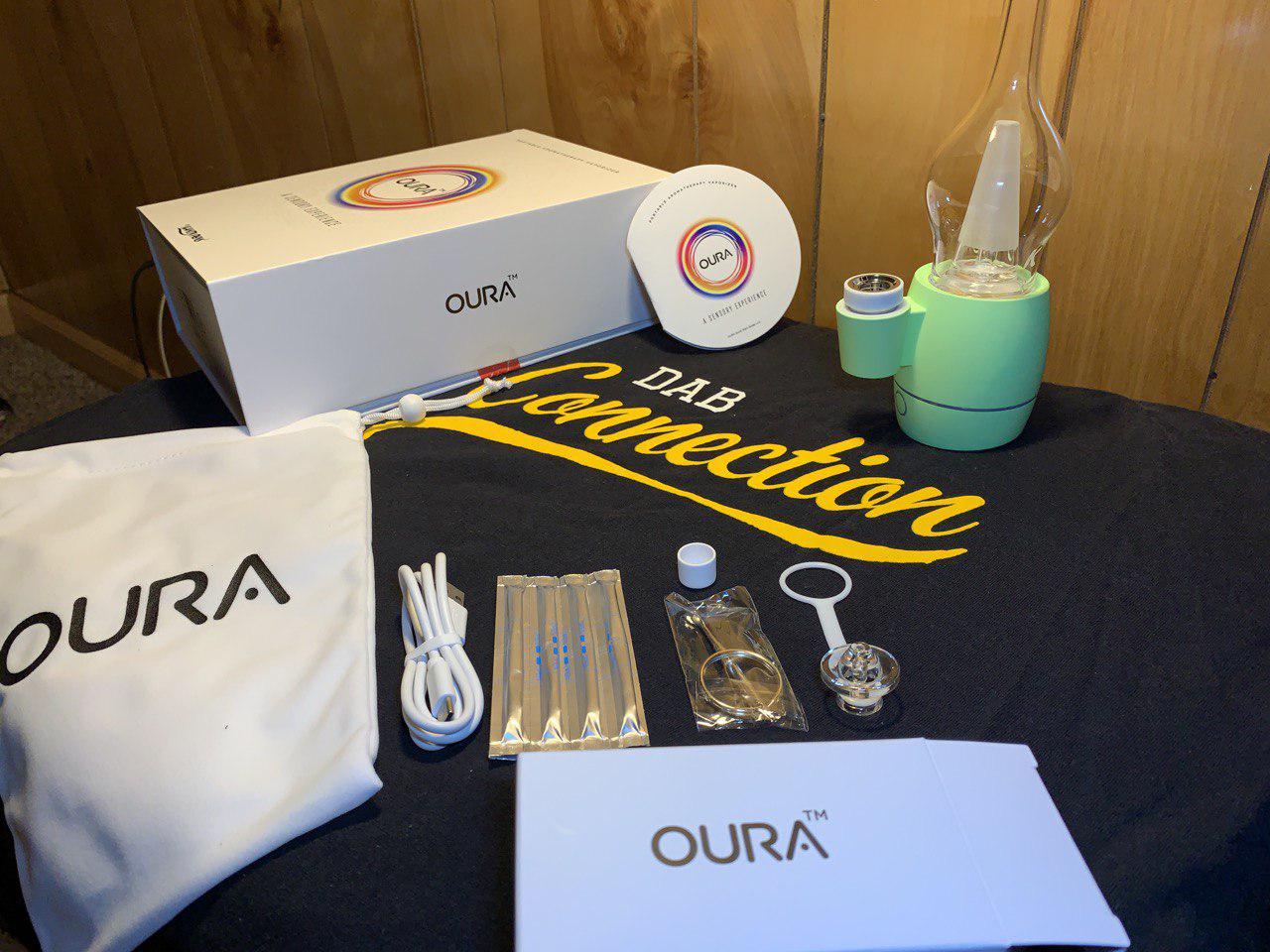 The package comes with the rig in 6 pieces. There's the device itself, a glass mouthpiece, carb cap, a coil, and two interchangeable buckets. As pictured here, it also comes with a standard array of accessories.
Once the rig is assembled, it's down to two main pieces. The main body of the rig, housing the battery, and the glass mouthpiece. The battery unit is fairly thick and solid, being a bit heavier compared to other e rigs. Although it may feel heavy when carrying for some, it does give a really nice and smooth comfort to it. Additionally, the glass piece design is simple and provides great airflow.
Glass piece broke on the previous writer, but the OURA comes with a lifetime warranty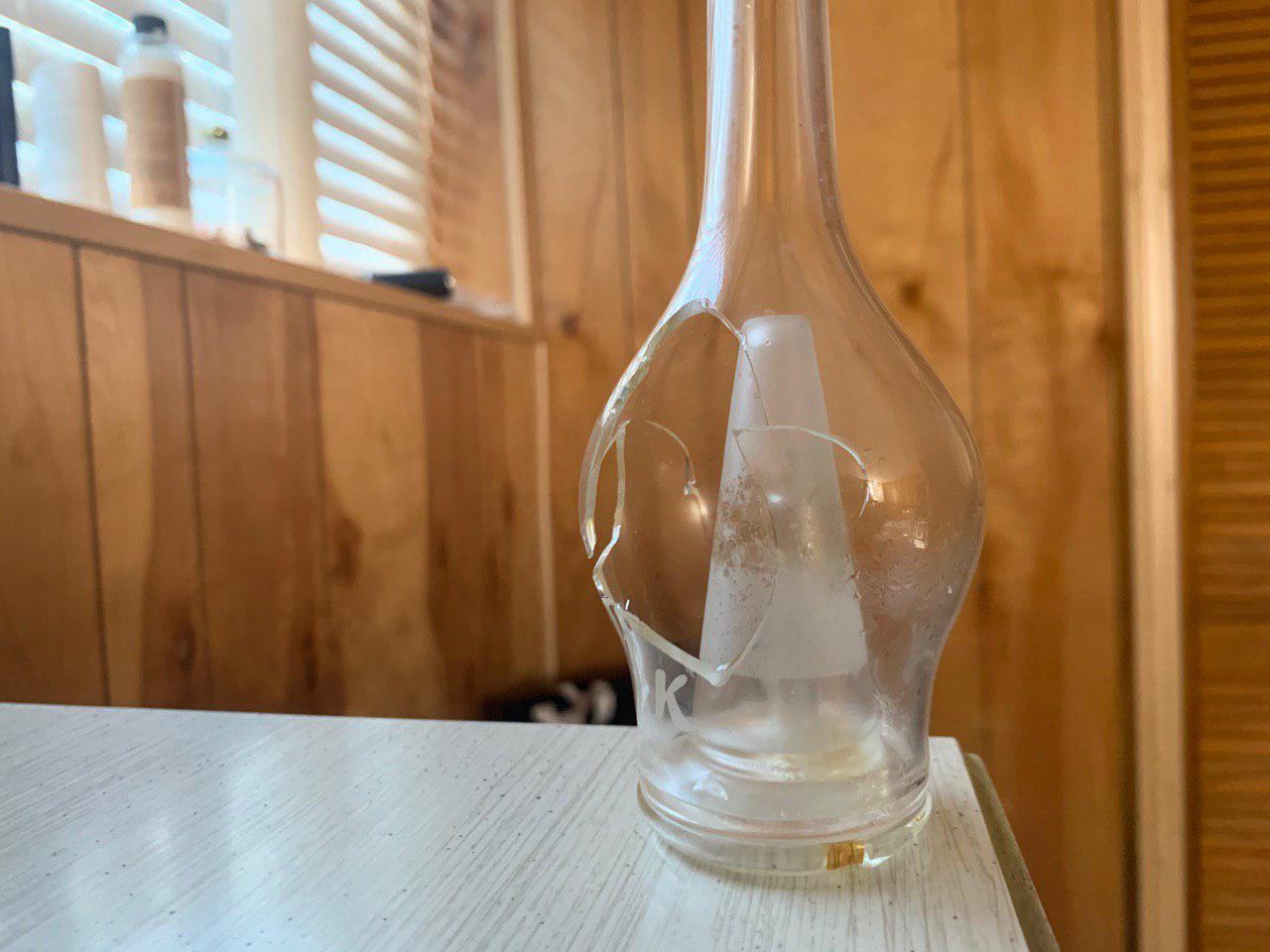 Fitting glass to eRigs is a common point of contention in the dabber's experience. This tends to make or break the experience, so to speak. Unfortunately, in the effort of trying to snug the glass piece together, it broke as shown above. This can happen if you forcefully snug the glass piece into the base. Not to say the glass is thin, but this can happen with any eRig if you're not as gentle with it.
For the record, Kandypens' warranty "includes all parts (atomizer, base, carb cap, and glass)," as listed in the "What is our Lifetime Warranty?" section. We are not sure if this is a truly free warranty as in the past KandyPens offered this type of warranty on wax pens, but shipping costs were as high as some other company's regular atomizers.
Kandypens Oura glass piece new attachment- Aesthetic look and amazing Airflow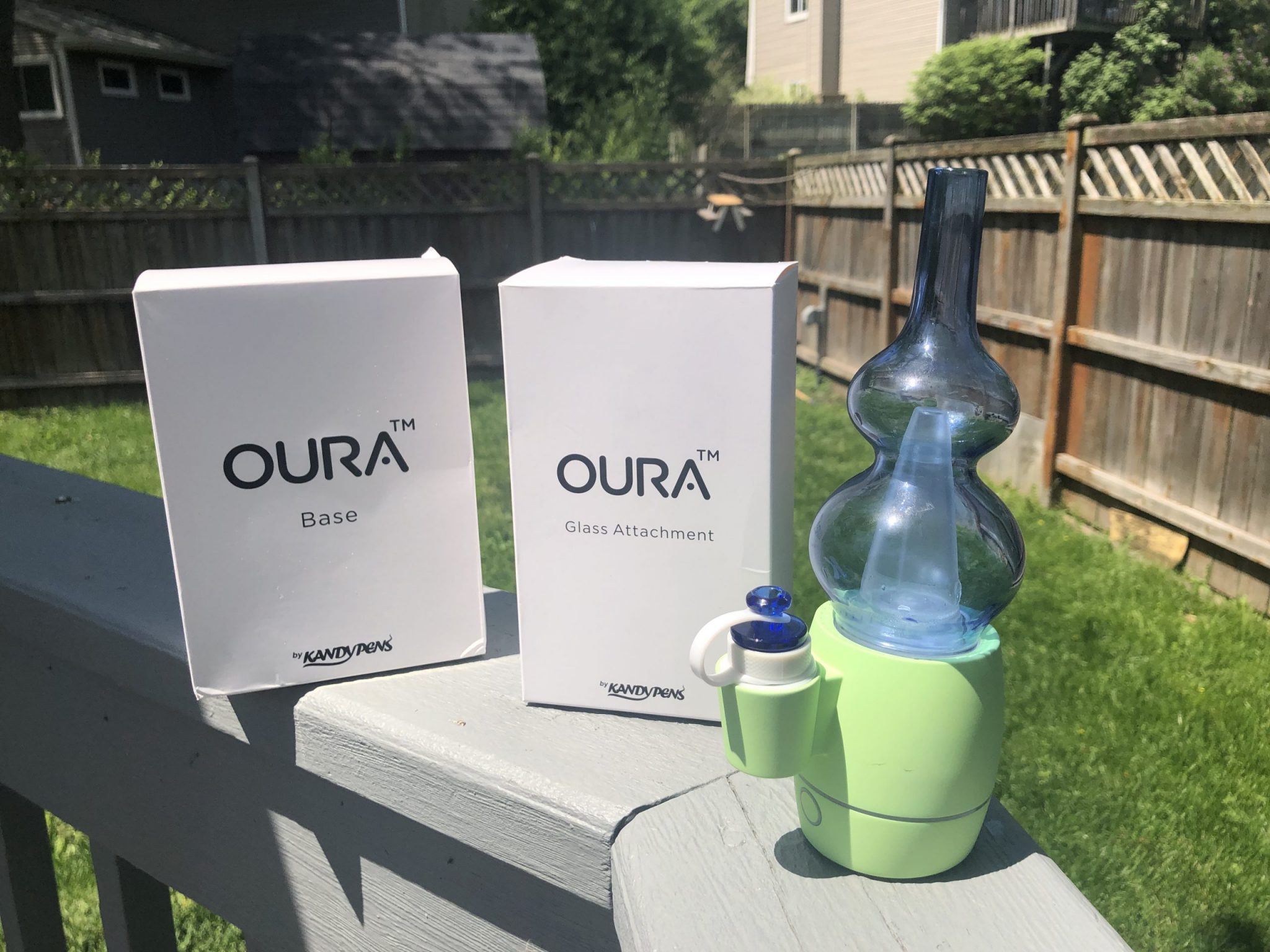 The new custom glass pieces provided for the OURA has an amazing and genuine look to it. The main difference is simply the design, not much difference in regards to the percolator. But the design of this glass piece really helps from preventing water splashing into your mouth. What's great too is you don't have to worry too much about overfilling this piece with water. Because of the way it's built, even when slightly overfilled, you will still get smooth hits and it still and won't drawback water at all.
Furthermore, this glass piece does provide fascinating airflow. Providing really smooth hits and it can get fairly milky when used correctly on high temperatures.
Sensor options are neat but are too sensitive

UPDATE 9/14/2020: Temperature settings changed
Due to an unfortunate misprint in the manual, the temperature settings as given were way off. We have now changed them to the corrected settings here. The higher temp settings might just account for most of the issues we mentioned with this model.
---
The device takes 5 taps to turn on, 3 taps for temperature settings, and 2 taps to activate session mode. There is no button, at least not in the conventional sense. Instead, it has what Kandypens bills as a "smart touch" power sensor, which works by taps, as one would use a touchscreen phone. The temperatures listed are:
The problem with the smart touch sensor is that it can be very easy to change the settings unintentionally. This mainly happens depending on how you hold this rig. You have to find the most comfortable way to hold it, be it grabbing it sideways or from underneath. Otherwise, if you grip onto it covering the touch-sensor, it can be easy to turn on/off or change the temperature accidentally while dabbing. This may be uncomfortable at first, but you get used to it.
Now how do you shut it off? Well, you can by tapping it 5 times, but it also turns out it has a 4-minute auto-shutoff feature. So that is zero taps. This is a great thing and very convenient to help conserve battery life.
I should mention that when heating up, this device doesn't indicate to you when the atomizer is at your desired temperature setting. This may cause confusion for first-time users, not knowing when the device is good to hit. Usually, I'll wait around 10-15 seconds right when I turn it on, just because I frequently use the top two higher temperature settings. If you don't do this (when using the higher temperature) and start hitting it right away, you'll smoke your dabs at a low temp. I first did this and would get disappointed when I didn't get much smoke coming out. But with time, you learn how to use the device better for optimal hits.
Quartz crystal glass atomizer provides strong and potent hits and heats up efficiently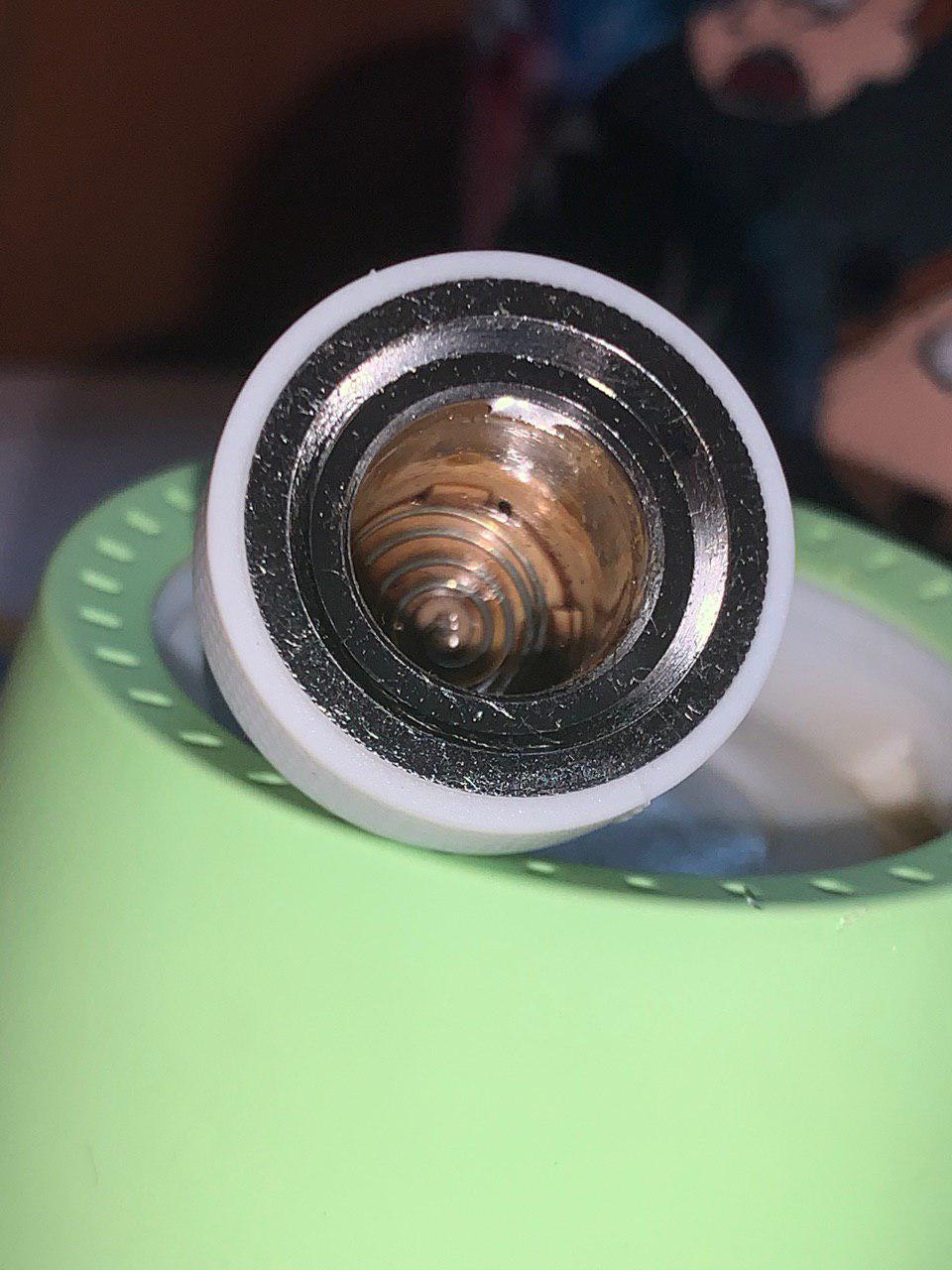 The atomizer has a handmade nichrome atomizer which is what makes this device unique, having interchangeable buckets. This quartz glass atomizer provides very strong and tasteful hits. Given the temperature settings, this atomizer can either give tasteful hits at low temp or more potent hits at a higher temperature. Aside from that, you can take multiple hits and even get multiple sessions off one pack, depending on how much concentrate is packed.
The ceramic bucket provides tasteful and more vaporized hits, but not as strong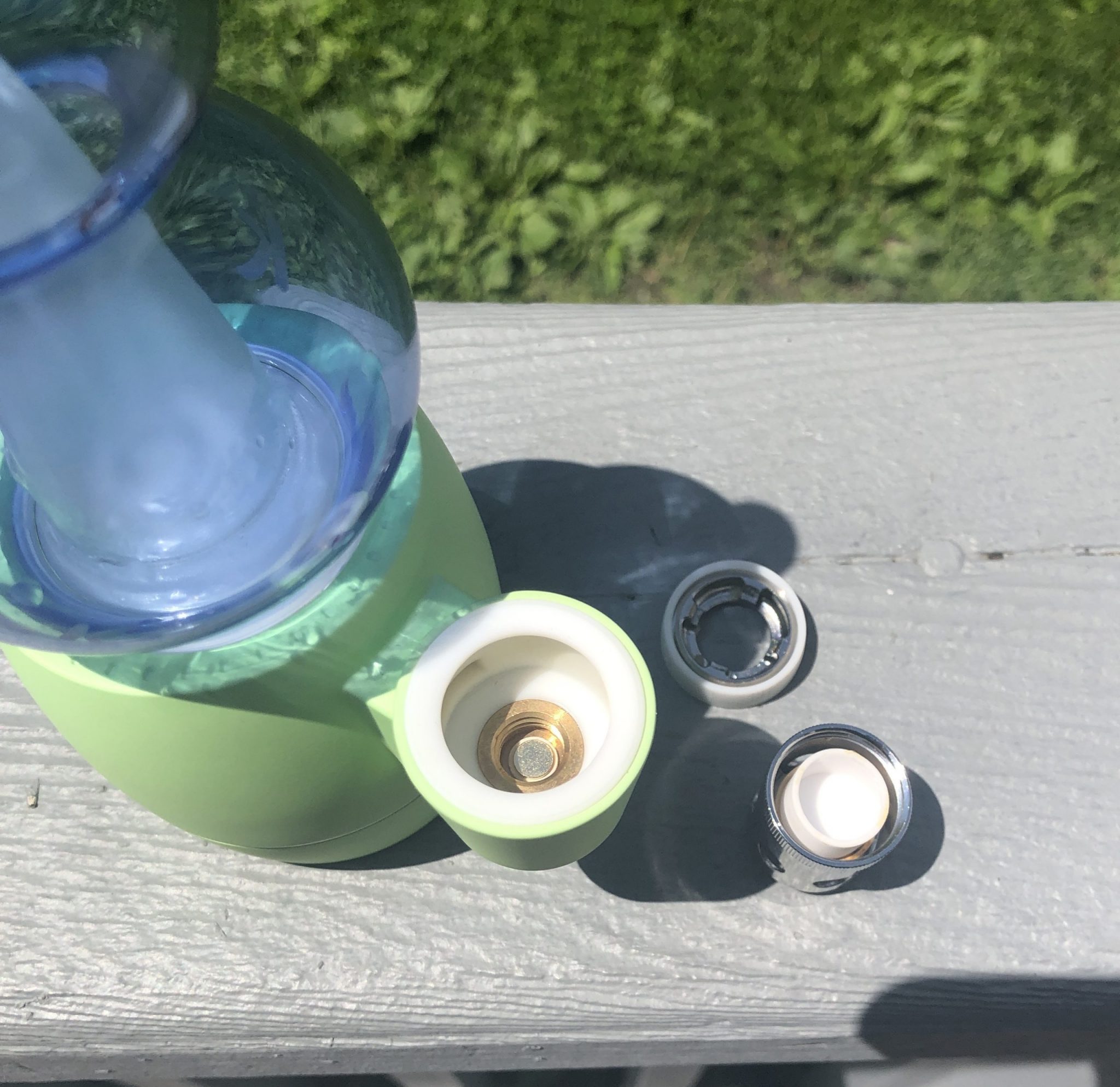 Trying the ceramic bucket, I didn't enjoy nearly as much as the glass bucket. It does give more tasteful hits, but the hits are a lot more vaporized and don't provide nearly as much smoke. Some may prefer this, but I didn't get that strong of a hit while using it.
Cleaning is very simple, but DON'T disassemble if there's residue in the atomizer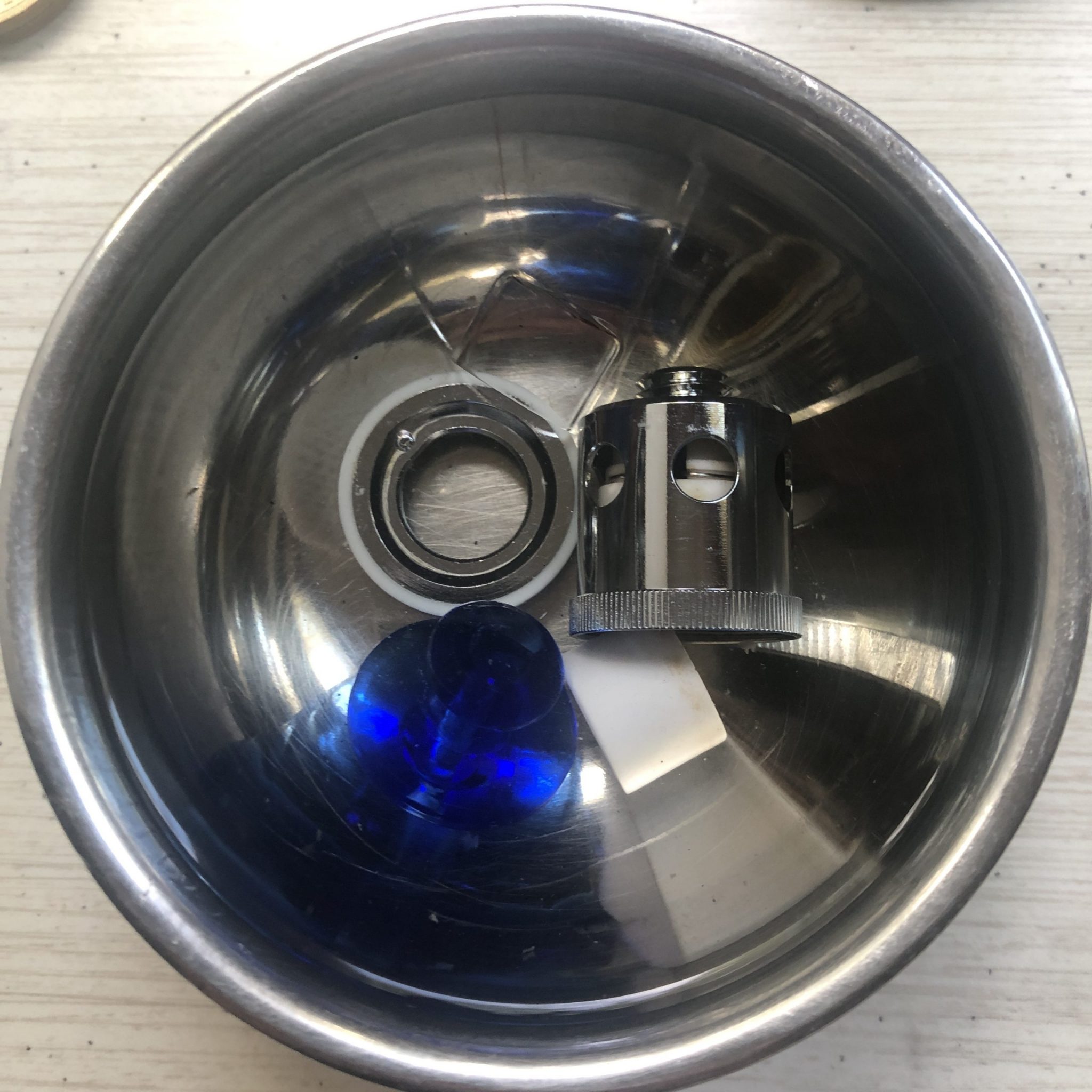 Cleaning the atomizer is very straightforward and uncomplicated. Simply place the whole atomizer in rubbing alcohol (90% preferrable) and just let it sit there for an hour or so. Afterward, you disassemble the atomizer carefully and return it inside the rubbing alcohol for an hour or more if you'd like.
DO NOT disassemble the atomizer before letting the whole atomizer itself sit inside the rubbing alcohol for a while. Also, when disassembling, be very gently taking apart the glass bucket. If anything, it's better to simply let it fall out rather than pulling it out. The reason for this is because when used a lot, residue starts building up outside and underneath the bucket. When this happens, you can damage the whole atomizer if you pull it out just like that. I didn't know this at first and as a result, I ended up breaking apart the atomizer. This can be prevented easily by cleaning properly.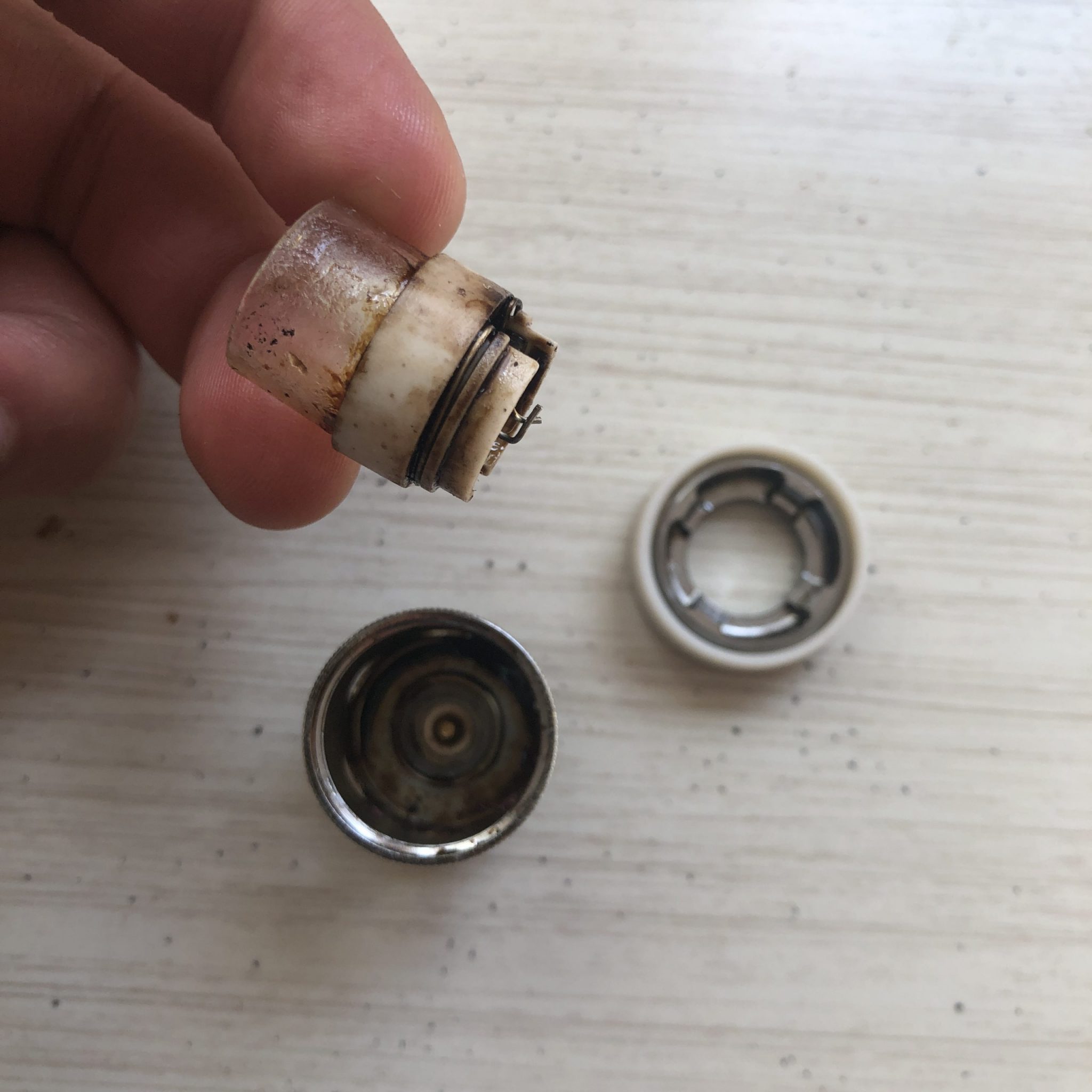 Comparing Kandypens' OURA with the Pulsar RoK and Puffco Peak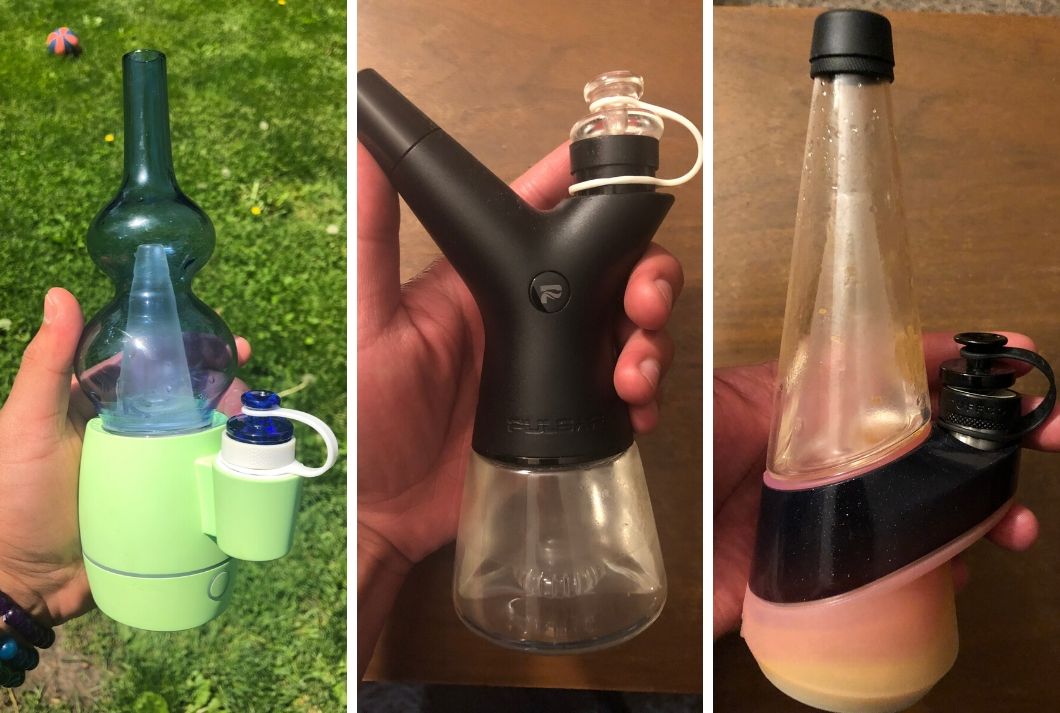 To start, comparing the OURA with the Pulsar RoK, there is a $100 dollar difference. With the RoK priced at $249, it is more cost-effective. But with that being said, in my experience, the airflow is better in the OURA. The Pulsar does hit pretty strong, having max temp at 900 but the OURA does provide more potent hits, with its max temp at 1080. Pulsar's biggest advantage is its price, so it all depends on what you're looking for in a rig.
As with Puffco Peak, it is pretty hard to compare it with the OURA. Both being around the same price, they both provide amazing hits and have great quality. Also, both have the same looking percolator design, therefore both provide great airflow. The main difference is the design and features they provide. I do enjoy the button Puffco provides more than the sensor-touch feature. I also like how the Peak indicates you when it's ready to hit by vibrating. The OURA doesn't do that, you just have to guess and wait a few seconds until it gets to your desired temperature settings. But, the OURA does turn off automatically after 5 minutes of use, making the battery last a lot longer. With the Puffco, there is no auto shut-off feature. So if you forget to turn it off after a session, which is likely to happen, this can drain the battery life by leaving it on even if you're not using it. With these two eRigs, it's difficult to say which is better, it all leads to preference.
It should be noted that recently there was a Puffco lawsuit for defective Peak vaporizer. Some people would complain about their device or atomizer malfunctioning for one reason or another. Apart from that, Puffo Peak only has a year warranty on just the base itself, the OURA provides a lifetime warranty on all parts. Just something to keep in mind.
Overall experience on the KandyPens OURA
To sum up, the OURA is a great product and hits amazing once you know how to use it correctly and maintain it frequently. As with every dab rig, always handle with care, and keeping it clean consistently will give the best airflow. I would always clean it with a cotton swab after every use. Although it's pricey, this can be a great device to carry it you're looking for a potent-hitting, portable eRig.
If you would get a KandyPens Oura you can do so at King's Pipe.
Have you tried any KandyPens' Oura eRig before? Post your review below! Questions or comments? Post below or in our forums!