REVIEW OVERVIEW

Battery Life and Charging

10

SUMMARY
Here we review the SteamCloud EVOD battery by NY Vape Shop. This vape has a longer battery life than many of the made-for-cartridges batteries but still hits well.
Pros:
Fits almost all cartridges
Long battery life
Decent hits
Cons:
Styling is a bit dated
No warranty
Recommendation:  The styling on this could be updated to make it better looking.
UPDATE 8/27/19:
We received a comment regarding Steamcloud about their warranty process. It turns out that their warranty isn't as extensive as other companies, which became an issue after a Steamcloud device ceased functioning a week after purchase. We have reached out to Steamcould and they have claimed that they are changing the warranty. But as of now, this situation does decrease their value score.
Current wording on SteamCloud's website has the following:
"Warranty Disclaimer This website and the materials and products on this website are provided "as is" and without warranties of any kind, whether express or implied. To the fullest extent permissible pursuant to applicable law, SteamCloudVapes.com disclaims all warranties, express or implied, including, but not limited to, implied warranties of merchantability and fitness for a particular purpose and non-infringement."
Below check out our video review of the SteamCloud EVOD then keep reading on for the more in depth review.
The SteamCloud EVOD is a solid build, long lasting battery
Overall, the SteamCloud EVOD does not fail to deliver on hitting THC cartridges. It does everything most anyone would want a battery to do. It also has a good range of settings to customize your hit how you want it. Below you can see our video review of the SteamCloud EVOD and keep reading on for the more in depth review.
Simple design like other eCig style batteries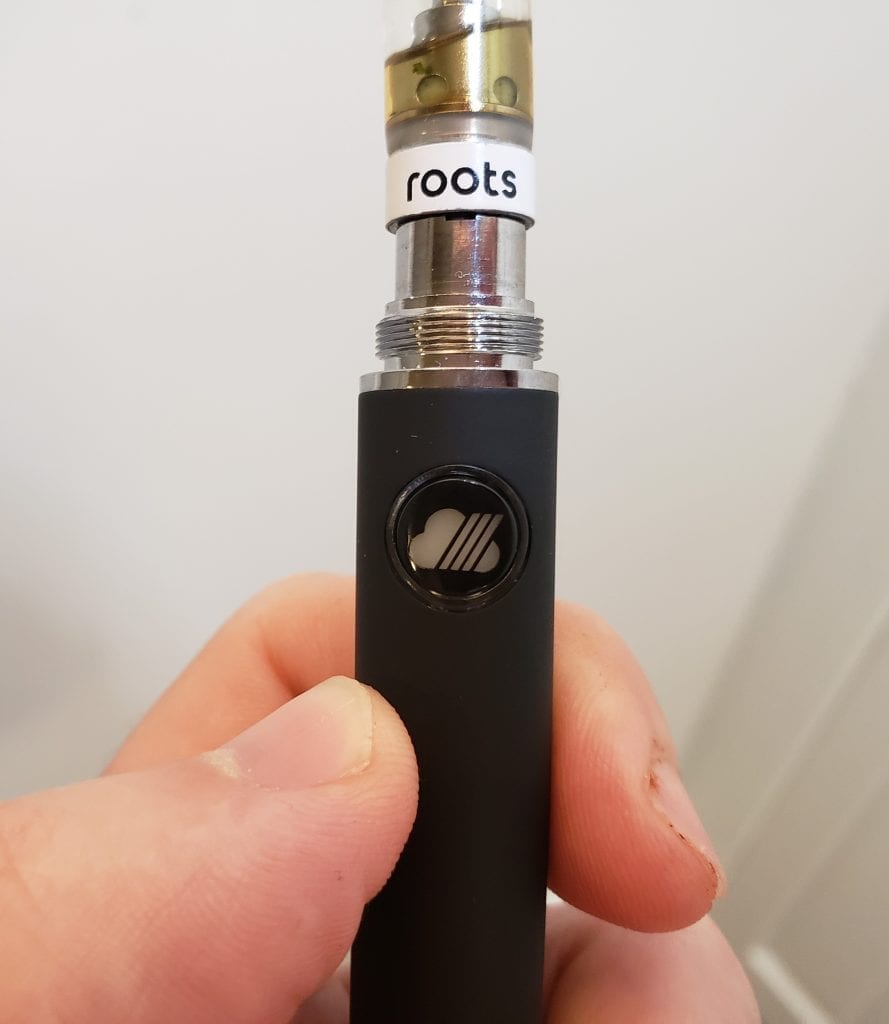 Design is really simple on the SteamCloud EVOD. It reminds me of the standard original eCig kits when they first came out but made batter. Airflow is pretty standard. It is not lacking in any capacity but there is nothing special about the airflow either. Definitely does the job well. I can't say the design is on the same level as the PCKT One Plus or Vessel, but it's also a fraction of either's cost.
Variable voltage up to
The twistable voltage settings make it easy to turn up the heat and hit strength. While most batteries now have you push buttons, this easy old school option is a bit refreshing.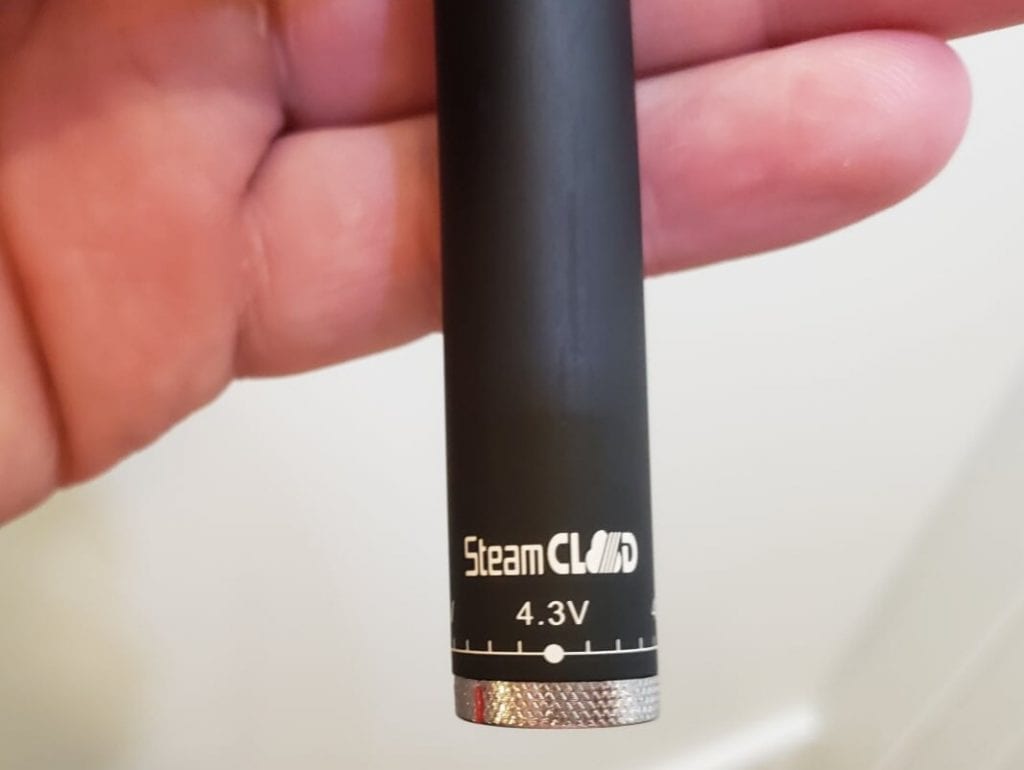 Button is a little different than other EVOD batteries
The button on this one felt a little different than other EVODs. A bit more solid feeling and it does not wiggle as much as some of the cheaper options out there.
Build quality is really solid, better than comparable batteries
Even though the EVOD looks like some of the batteries we have seen at the gas station, it definitely is of high build quality. Feel is solid and the button is better than what you get on a standard random battery. No complaints on build quality at all on this thing.
Battery lats a long time, charging is standard 510 USB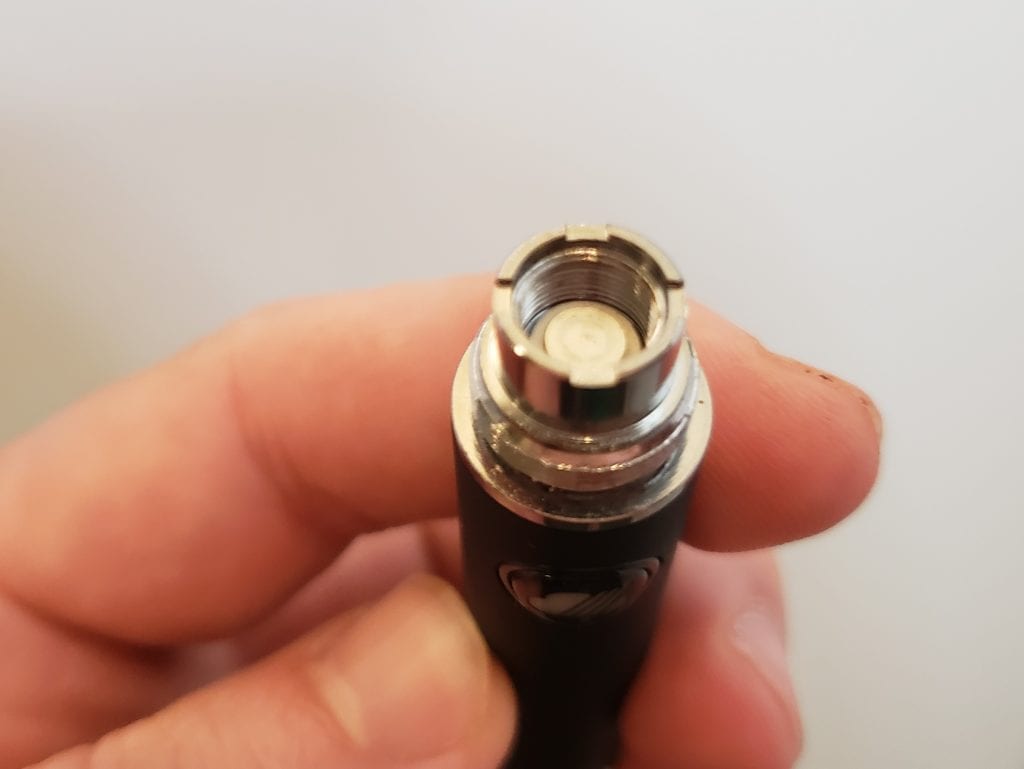 The battery uses the same 510 USB charger we have seen from back when eCigs started. It has a light on it to let you know when it's full charged. The best part about charging the SteamCloud EVOD is you barely ever have to charge it. The battery is 900mah and that lasts quite a while. Most of the for-cartridge batteries have less maH, such at the PCKT One Plus at 550maH or the Vessel at 240maH.
Strength is good at higher settings
The SteamCloud EVOD hits well. The battery can be easily changes to higher settings and then it hits pretty hard. If you want a low hit you can also get a pretty low temp hit out of it at the lower settings.
Value is not bad at all a $19.99
The price on this battery is pretty low. It's a bit cheaper than standard retail price for the CCELL Palm and Silo. There are some cheaper EVOD batteries out there but this one does have a better push button and it has a warranty – see update.
Concluding our SteamCloud EVOD review…
Overall, the SteamCloud EVOD is a solid battery. The battery life is extremely long and its compatible with almost any THC or CBD vape cartridge. It's not the highest end battery or the absolute best airflow, but it does the job of hitting carts well. You can get the SteamCloud EVOD here at NY Vape Shop.