REVIEW OVERVIEW

SUMMARY
Here we review the Wedding Cake Live Resin Batter by City Trees and again, just like their other live resin sugar we tried, this is one of the best concentrates I have tried. This is another super-strong extract from City Trees and one of the best extracts we encountered so far. The smell and taste are excellent and it's hard to find this level of quality anywhere. Wedding Cake (sometimes known as Pink Cookies) is an Indica-dominant hybrid strain from parents Girl Scout Cookies and Cherry Pie.
Super strong
Excellent taste
Great effects
Really energizing
Cons:
Recommendations: We would like to see this in more areas.
City Trees has yet again made one of the best extracts I have ever tried
Just like Live Resin Sugar, when you open this jar the smell is amazing and the taste matches the smell. The quality of the smell and taste also matches the strength. This City Tress x State Flower collaboration is just truly top-notch.
One of the strongest dabbable extracts I have tried
The strength on this one is quite ridiculous. The THC % is quite high, 71.7%. It's the real fire. You rarely came across extracts that are this strong. This is now the second City Tress extract we've tried that is just super stellar.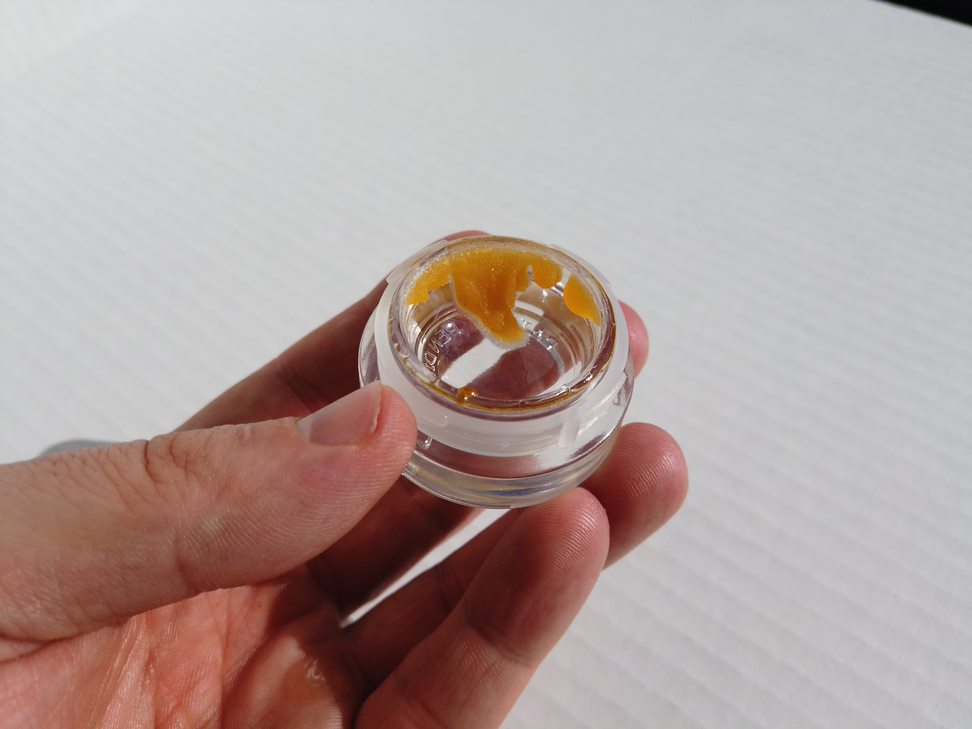 Effects last and they last long
One or two dabs are probably all you are gonna need with this extract if you are usually hitting 3-4 times on something else. If you read our other City Trees review I hate to make it sound the same but this is truly just as good as live resin sugar which means it's just great. You really get a good amount of energy from it and I don't feel I need to go and take a nap like some of the dabs make you feel.
Taste truly matches the smell which is great
You get kind of a fruity smell of this and it uses all real cannabis terpenes. There are no botanical terpenes in the product.  It really tastes close to the smell you feel when you open the jar. City Tress live resin batter came out smooth but maybe not as smooth as the live resin sugar. There was a little break between using these products but I feel the live resin sugar was slightly smoother than the batter. However, compared to any other extract out there the Wedding Cake batter is still pretty smooth.
It's a great value even at full price
It's a great value even at full price with this amount of flavor and strength. At most dispensaries, City Trees Live Resin batter can cost about $30 for a half gram. There may be less expensive concentrates available, but it will be difficult to find anything as nice as this. The flavor and effects on this are simply incredible, making it an outstanding value at normal prices.
Concluding our City Trees Live Resin Batter review
Overall, City Trees Live Resin Batter is a great dabbable concentrate. The flavor, strength, and consistency are all excellent. City Trees is possibly best known for their carts, but their high-quality extracts are coming in strong.
What do you think about City Trees Live Resin Batter? Have you tried it? Let us know what you think in the comments or on our forum.