REVIEW OVERVIEW

SUMMARY
Today I got a ceramic PLAYBOY by RYOT Water Pipe and man is it cool! 
The first thing I noticed when I opened the box was how well it was packed. Everything was in its own wrapper. Nothing was damaged, Nice! The base is wood, so it lands on surfaces softly not to damage your table. This 5-piece water pipe was very easy to assemble without instructions (non-provided.) The lift bowl carb is great. Very easy to use as it works well, slightly tilted and the glass-on-glass lifts out easily and is not hot to the touch. It looks nice too, something to put on the shelf to show off indeed. The maple caps hold in the odor that can come from the water left from smoking. Making it look even more classy. 
You can check out our video review of the PLAYBOY by RYOT Water Pipe here.
Pros:
Nice looking
Quality build
Easy to use
Easy to clean
Caps to hold in smells
Cons:
The mouth end is a bit too big
Glass stem and bowl have no place to go when caps on the water pipe
The price is a bit high, maybe add a case for the above and an adapter for the top to pull
Recommendations: None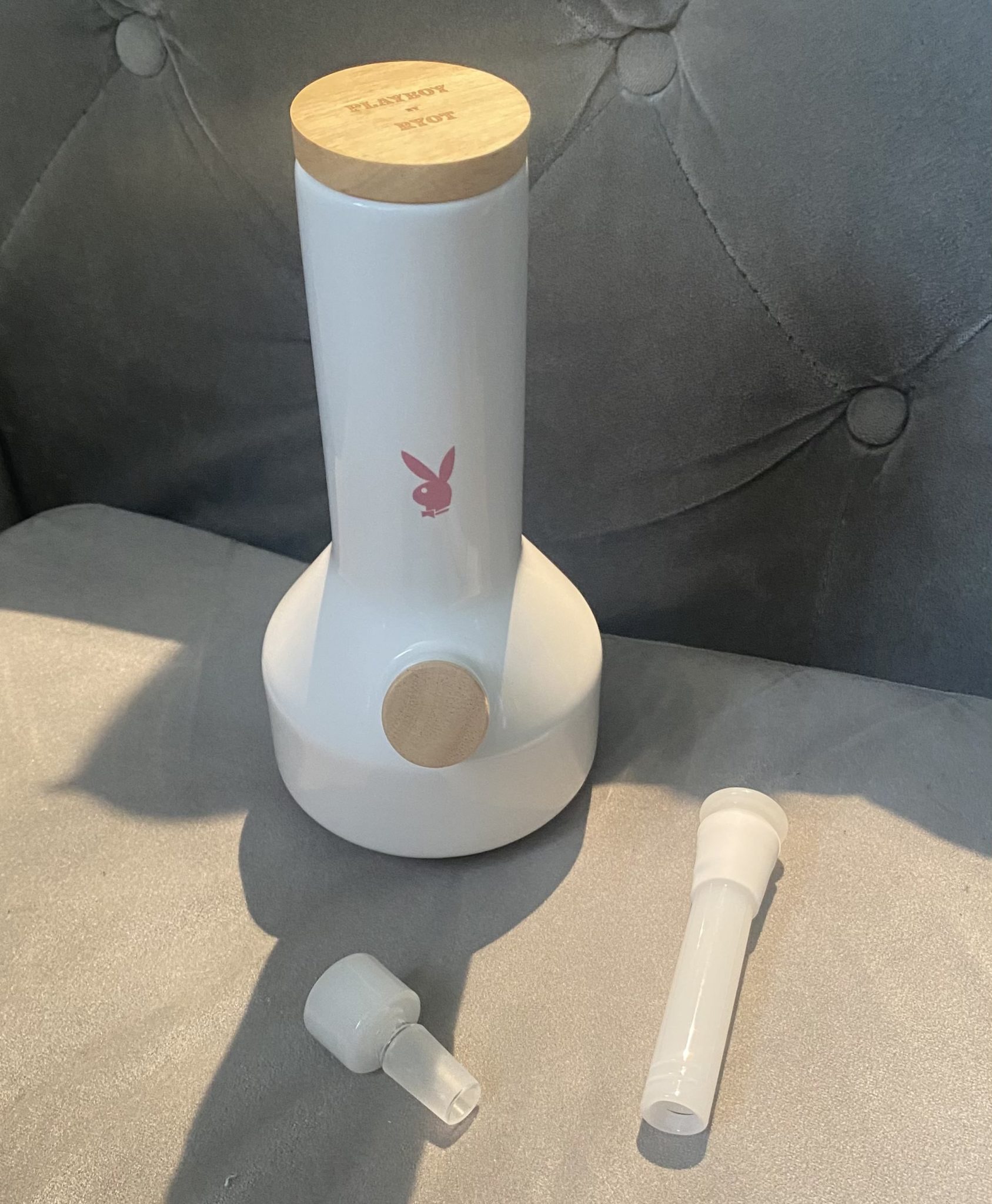 A good product that might be a bit pricey for some
For the price, I'd like just a little bit more. Don't get me wrong, this is a quality-built product that I'm sure  will last me a long time (the stem perhaps not so long as I seem to like breaking those, but we will see in  time.) I really like everything about this water pipe except the mouth part. I have to put my entire face to get a pull, and I don't shave, so a lot of air gets in while pulling. Now I don't think the design should change, as it'll be easy to clean like it is, however a nice maple top, that would reduce the size of the opening down just a bit, would not only look nice, but it would also complete its esthetic. Also, a nice little velvet bag to put the stem and bowl into while it's stored. If that was updated and added with no additional cost, I'd buy it and also gift it as 100% complete.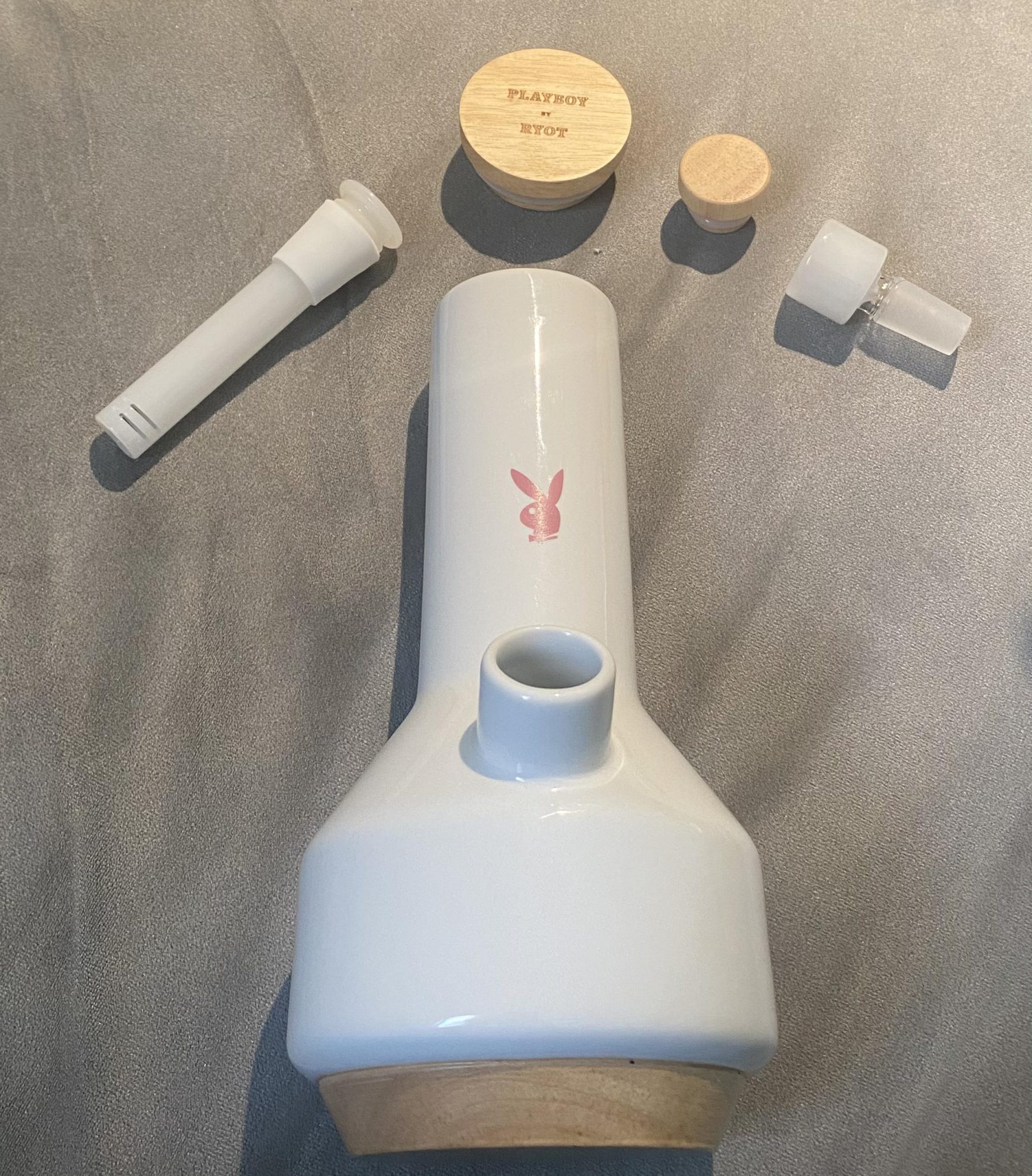 How long will I have and use this item? 
I feel for how it is built; I'll have this in my home for a long time.
I think this classic water pipe style will never go out of style. It's built with thick, clean white ceramic walls and is built to last. The maple wood base not only gives it a soft impact when set down, but it also protects the ceramic from breaking if dropped (as long as it lands on the wood bottom.) This is not a test  I'm going to do, however, as I want it on my bookshelf. The maple lids that keep in the smell of the old water also make it look great when on display. The only thing about the look I'd change is the placement of the PlayBoy logo to 180 degrees on the backside. This would make it more discreet as you could face the bowl side in.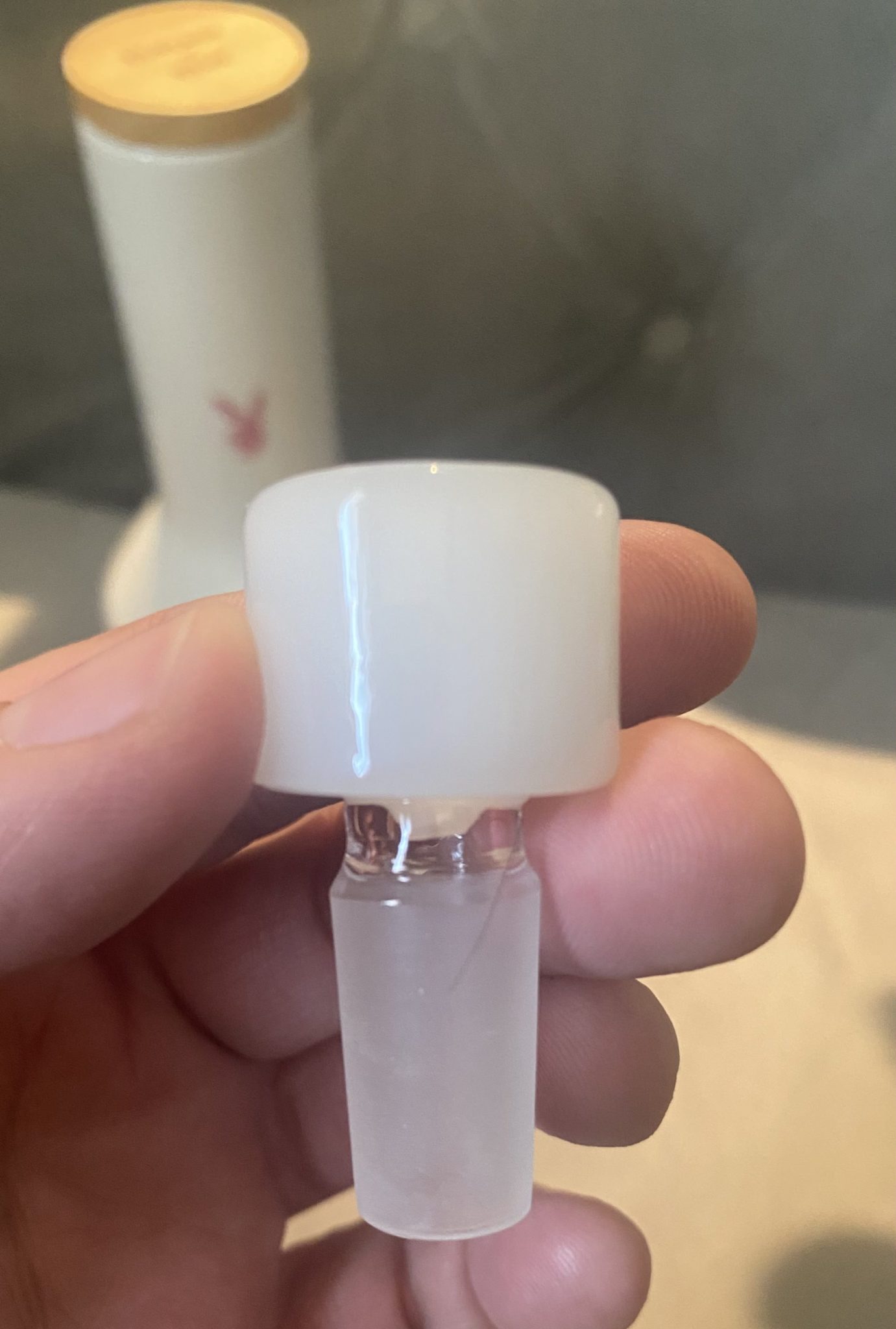 Would I get this at the store? 
As a gift perhaps, as I do not like the size of the opening to pull from. An adapter that reduces this size made from the same maple as the rest, I'm sold! It's a classy look, it's fun to see the PlayBoy logo, takes me back to my high school days and how popular this would have been back then. I do, however, think that this company makes high-quality products that are well worth the money. I'd not only buy more from this company, but I'm also going to start to tell all of my friends to keep an eye out for this company and the Playboy logo items they carry. Ryot, you have a new fan!
You can find out more about Ryot products here.
Have you tried the PLAYBOY by RYOT Water Pipe? Let us know in the comments or on our forum