Los Angeles Kush is a real cannabis brand located at 5470 Valley Boulevard, Los Angeles, California, 90032. They've been happily doing business since 2015, are a fixture at Kushstock, and have won High Times awards for their cannabis products. Take a good look at their distinctive packaging here, because there are fake carts of this brand hitting the streets.
Before we get started, we should note that LA Kush is sometimes spelled out as "Los Angeles Kush" and sometimes abbreviated all the way down to "LAK." In addition, there is also a cannabis strain named LA Kush Cake, which may or may not be related to the actual company.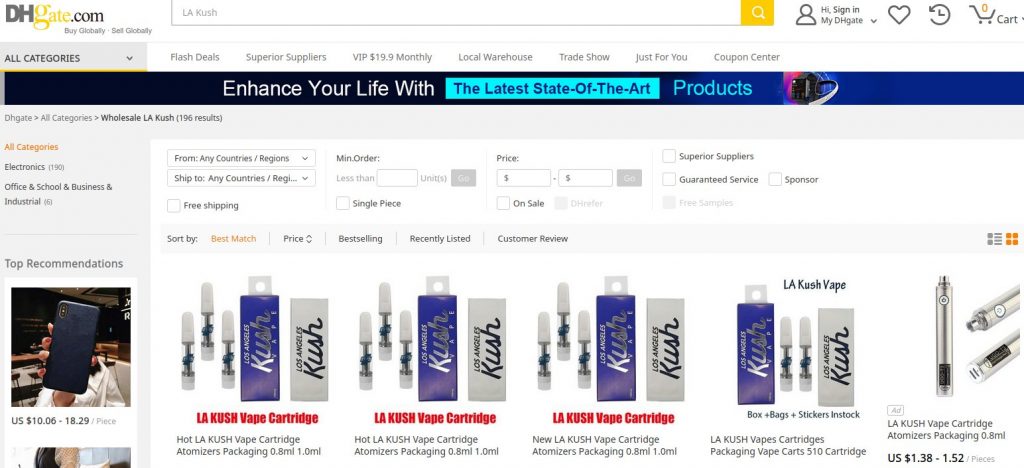 Empty LA Kush cart packaging is on DHGate
We count hundreds of empty LA Kush packaging distributors on DHGate alone! A search there returns ~50 results per page x 5 pages. At the price of $1 per cart, any street plug can obtain LA Kush carts and fill them with whatever.
You will notice right away the difference in the packaging.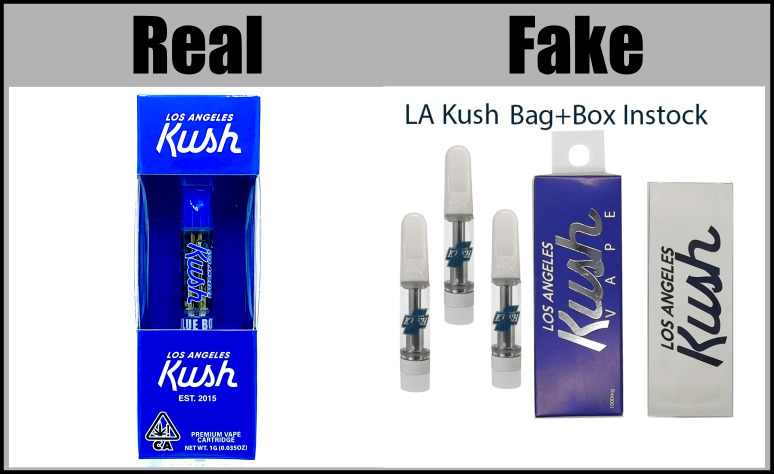 The real LA Kush packages have different box design, different logo placement, and have more information on the package. The carts have strikingly different design. The fake carts are closed boxes with a longways logo and far less design customization on the cartridge itself.
We see this consistently across the board with fakes we've found at empty packaging vendors, so perhaps LA Kush changed their product design to try to shake off the fakes. However, we find far more package variations in the filled vendor section!
Other black market vape cart packaging sites have LA Kush too
We find these counterfeits all over the usual black market vape cart packaging websites. That goes for Carts Packaging: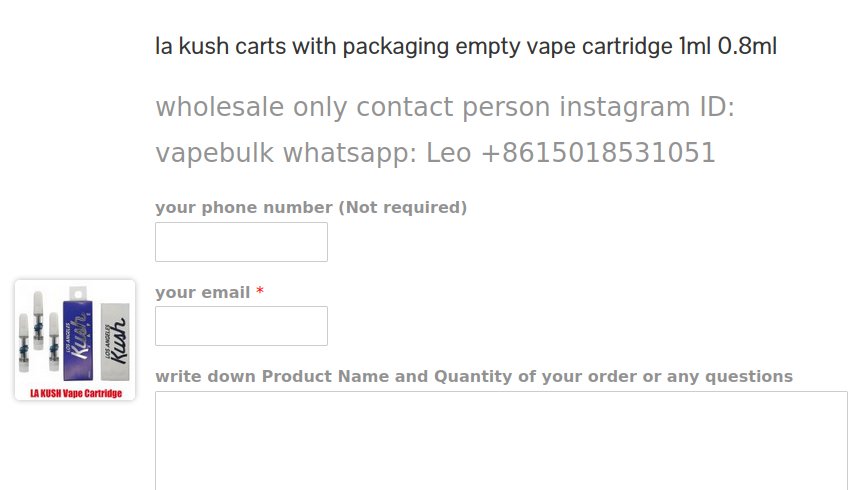 420 Vape Bulk: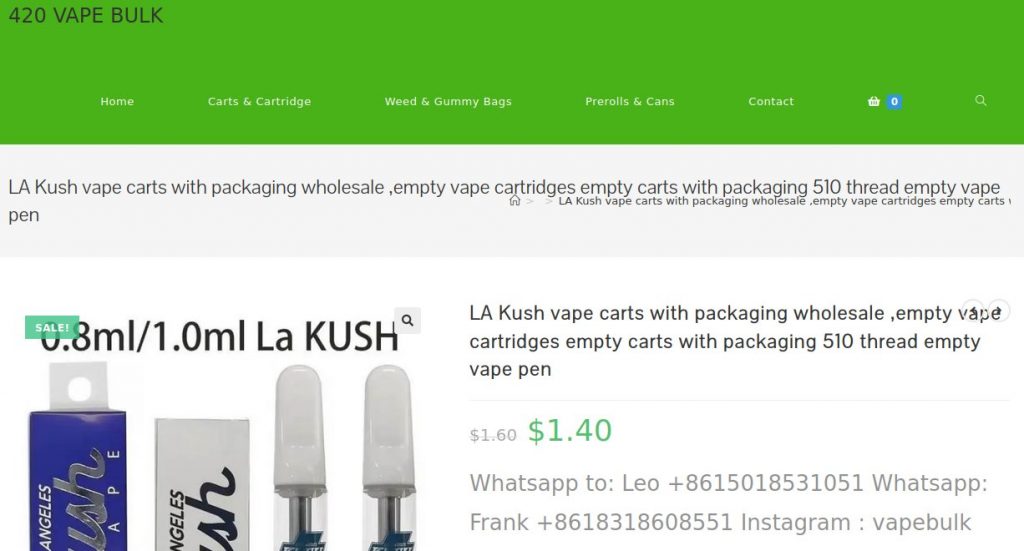 We even find the branded mylar bags for flower at this knock-off joint called CaliforniaMylarBags.com: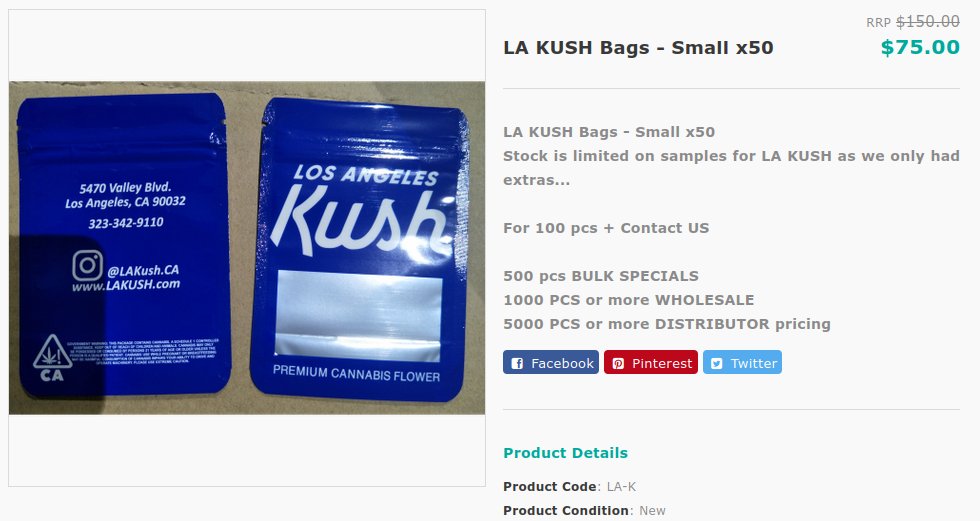 You might guess by now, from a brand that has this much widespread counterfeiting activity, that fake plugs are bristling with LA Kush to sell. That would be correct-a-mundo.
Infinite Internet plugs are pushing fake LA Kush
We barely even know where to start.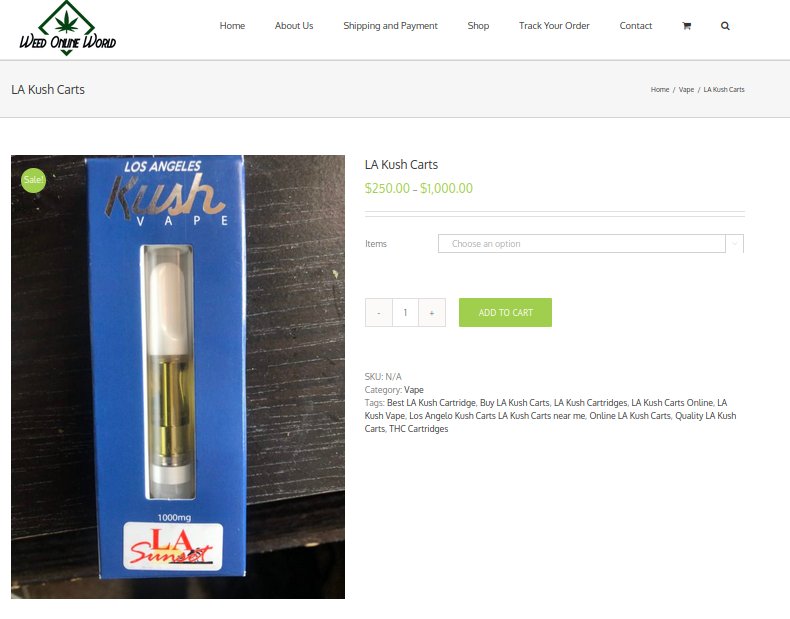 Here we see a different package design, but still not faithful to the current real LA Kush packaging.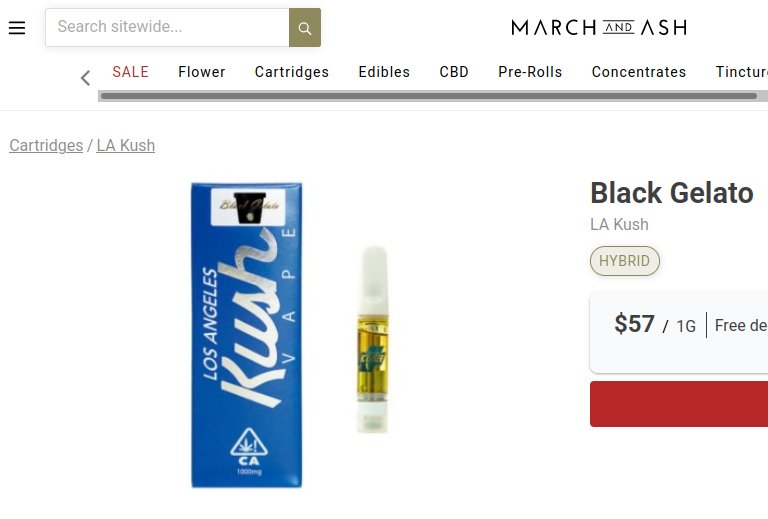 This site shows the same packaging we just got through showing you off DHGate and other black market packaging vendors, but not consistent with actual LA Kush. Hence, they're fakes.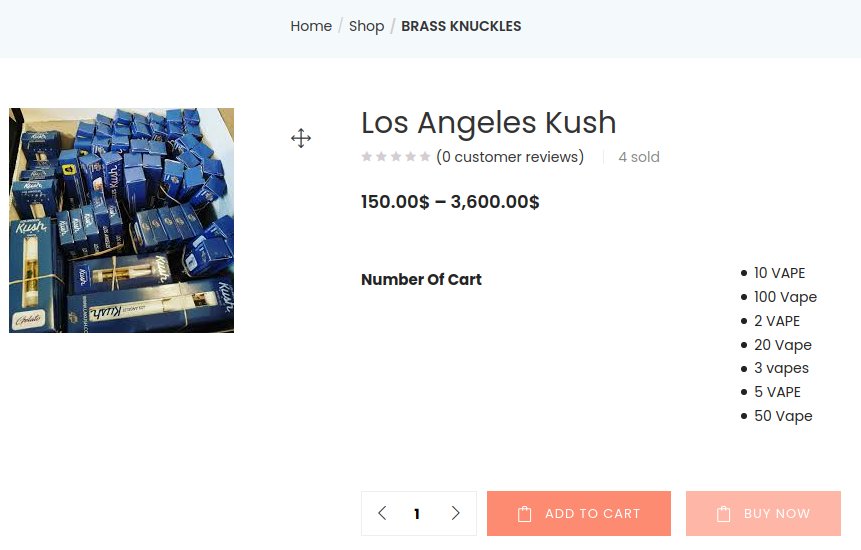 Here we see the classic box full of rubber banded carts. Whenever you see this for any cart brand, they're faked. Real businesses would never tolerate their product being slopped around like that. We also find these on a site calling itself "exoticcartsonline," yet another fake brand.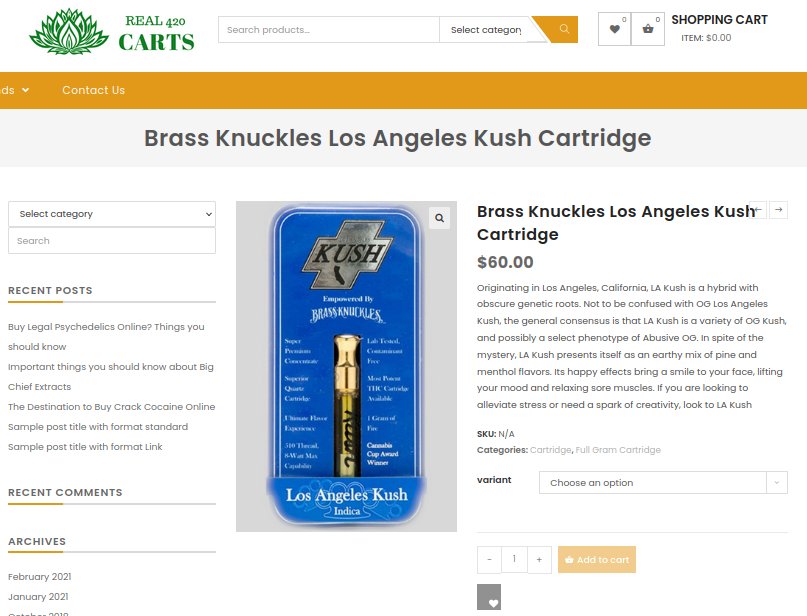 And then there's this gem. In the first place, that site advertises "buy crack cocaine online" in the sidebar there, so that's pretty sketch. For the main package, we have never heard of an official collaboration between Brass Knuckles and LA Kush. However, seeing as how Brass Knuckles is also a heavily counterfeited brand, chances are Chinese package printers just combined them willy-nilly.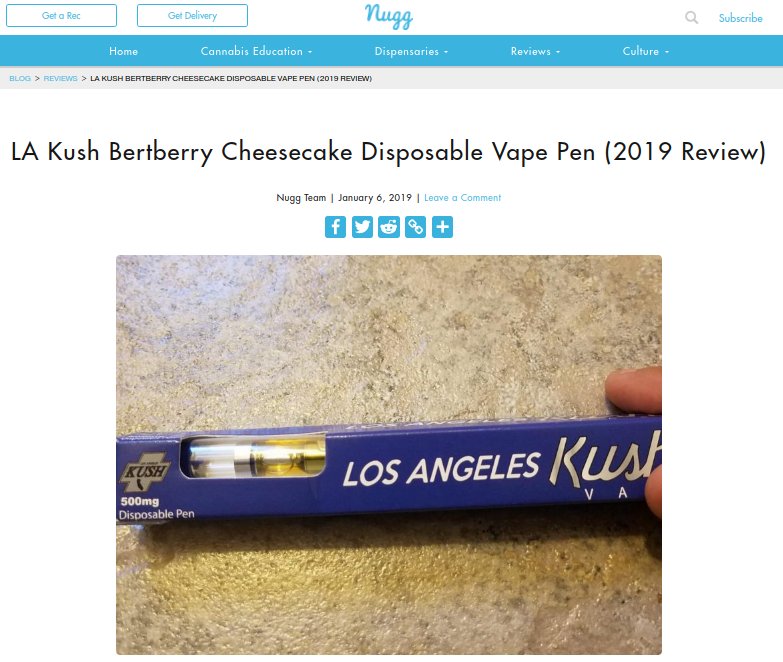 Yet another package variation! This time, we have the same cross-logo from the Brass Knuckles package on the left end, and the "LA Kush" written in a different font on the right. We have a box that looks nothing like the official brand, and the cartridge in there is supposed to be a half-gram disposable pen.
This is a major red flag. Grab any nearby retail product packaging and examine the print. The font is consistent across every time the logo is presented, is it not? That's how you know counterfeit packagers are spitting these out.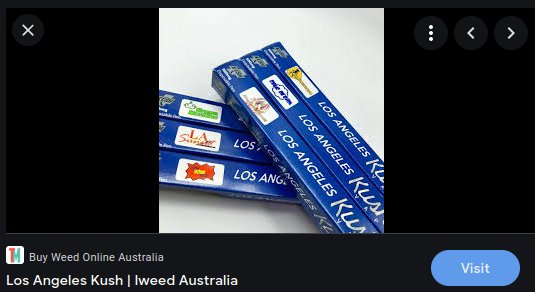 The farther we go down this rabbit hole, the loonier it gets. We couldn't even get this site to load, but it's an image hosted at a site called "iWeedAustralia"! Yeah, I THINK it is unlikely that a California license would apply all the way out in Australia, regardless of their current laws (like the US, AU has spotty legalization here and there).
We know LA Kush fakes are reaching the streets
Good old Reddit has a host of posts up about these. Sure enough, users are posting photos and asking "real of fake"?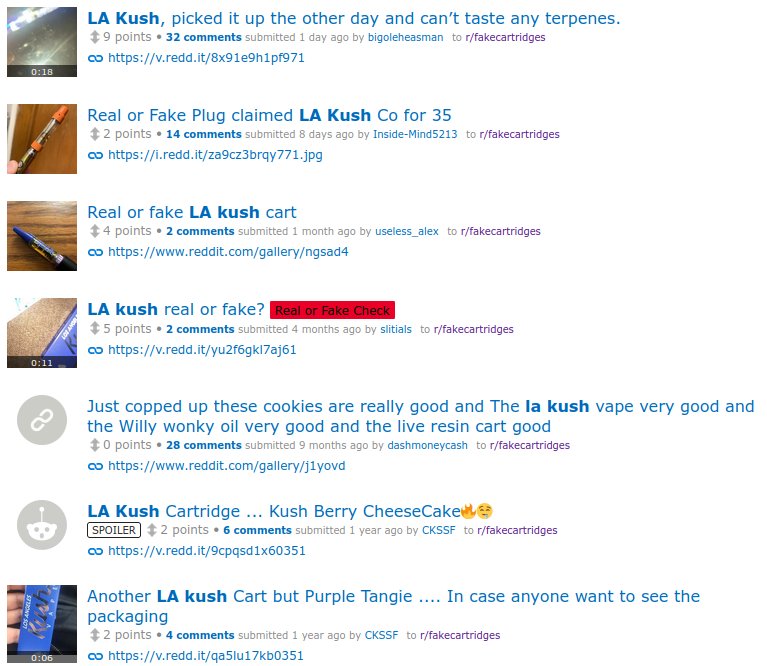 Note these Reddit posts range from a year ago to just yesterday as of this writing, so we know LA Kush fakes are a current concern likely to continue for some time at this rate. Just the bulk on DHGate alone will mean these fakes will flood the market for some time.
We also find such widespread chaos as this Pinterest account, which exists entirely to point to an Instagram account that has since been taken down. It is devoted to LA Kush in some form or another, but by now it could be fans of the real brand, a street plug, fans of the street plug, whatever.
Counterfeit fakes of LA Kush may contain anything
There is a deadly epidemic of lung illness tied to black market cart usage. Vaping-associated pulmonary injury has so far claimed 64 lives and hospitalized more than 2700 users. This was the main health story in the news before COVID-19 cases pushed it off the front page, but people are still getting sick off boof street carts. Unregulated vape carts could contain heavy metals like lead, pesticides, cut such as Honey Cut, or simply bunk. Or they could be fire if you're lucky. But there's a lot of people in the hospital right now who weren't lucky.
Wasn't that weird?
Readers, we're sure there must be some fans of the actual LA Kush company who would help clear up the chaos. Los Angeles Kush employees, we're talking to you too! Anybody with more information to help users differentiate fake from real will be well-appreciated, here in the comments or in our forums.