KRT is a brand we've been meaning to get around to for awhile. It is often shown as "KRT Yang," or sometimes with other Eastern / Buddhism themes to it. Not to beat around the Buddha, but KRT is 100% boof empty packaging with no company behind it, to the extent we can find.
It's not every day we see somebody get a tattoo of a fake brand on their arm: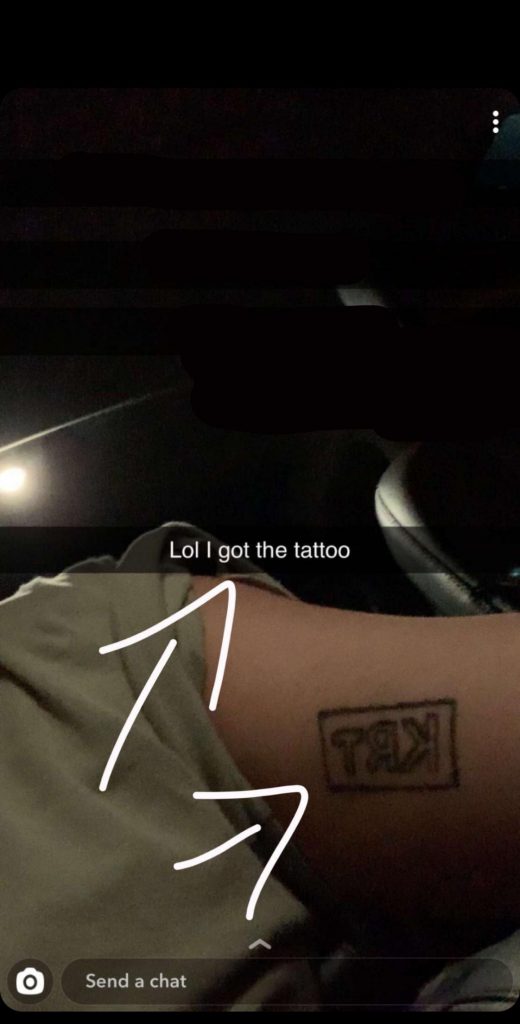 Wow, that is on a whole new level. Buckle up kids, this is going to be one of those *special* fake cart write-ups!
Rule #1 of fake carts: When researching them, you discover a new packaging wholesaler
Your humble fake cart hunter has been curating a list of every known online retailer of fake / black market / unregulated THC vape cart packaging. Today, I got to add a new site to that list, "420 CBD pen":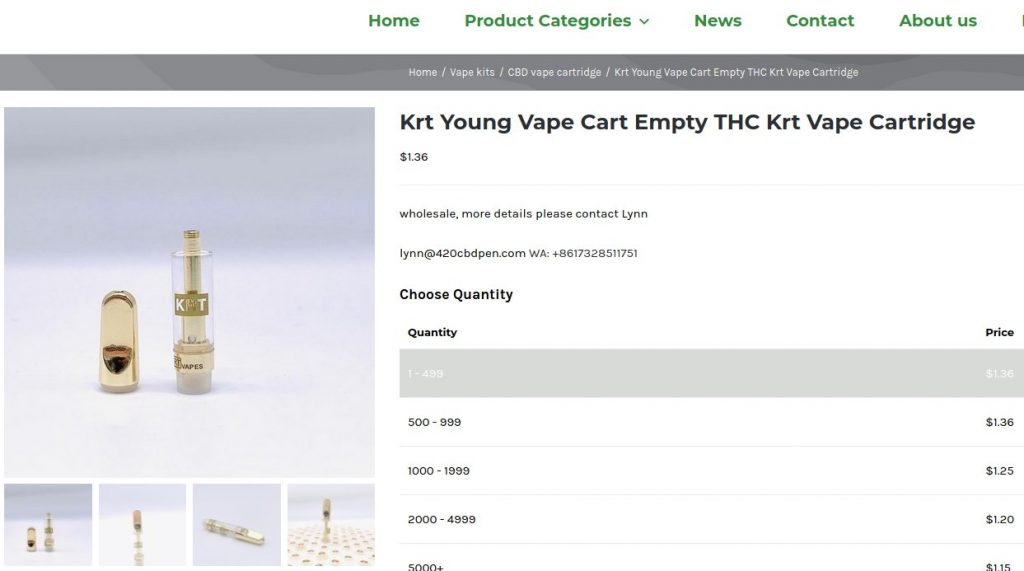 Now you'll note, sites that traffic in fake carts have lately made a very sloppy distinction between "CBD" and "THC." Like "420" and "710," lots of shady sites online have tumbled to the idea that all these mean "weed vapes." Since it's an empty package being sold, there's no difference if you call it an "orange juice cart," it will get filled with whatever the distributor has lying around.
Naturally, we also find KRT cartridge packaging at DHGate: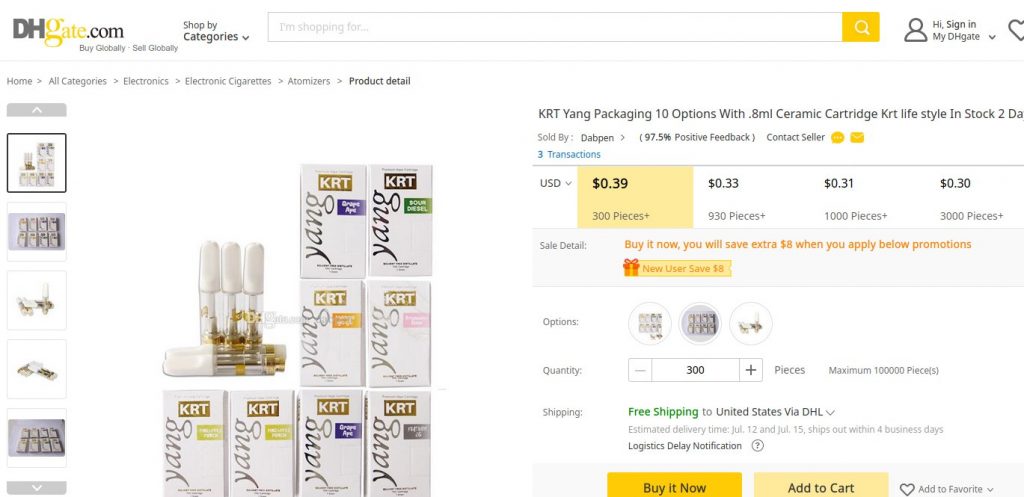 ….which pretty much means you're going to find them everywhere. Another DHGate hit:

You see here that wholesalers will just type as many fake cart brand names into the title as they can think of. This is called "keyword stuffing," trying to come up for any possible hit they think people will search for. Despite Wikipedia's neutral attitude, it is a "black hat" SEO technique. Just as with the confusion with CBD in the previous example, they don't care.
Rule #2 of fake carts: When you get a group photo with other fakes!
There's these three brands that tend to generate a lot of drama in our circle, because while they are counterfeited to infinity and back, there are people behind the original brand either struggling to go legit or trying to convince us of that. I call them "the Three Stooges": Big Chief, Lion's Breath, and Muha Meds. When researching KRT, guess what we found at this street cart vendor Facebook?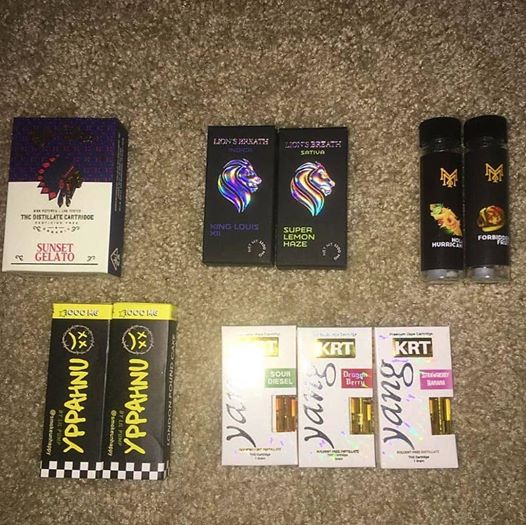 Someday when I retire, I'll have to get this whole photo as a tattoo. This is peak fake cart detective career. It is never going to happen again. I don't know what "Unhappy" backwards is about down there in the lower left, but we'll get to that one when its turn in the list comes up.
Apparently KRTs come in a "Big Black Box," too: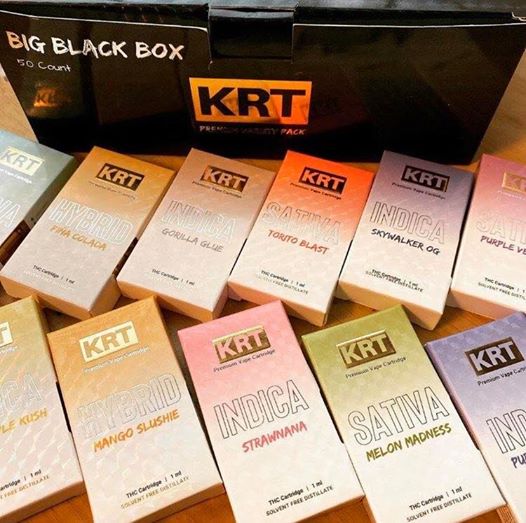 …abbreviated to "BBB" on the ends: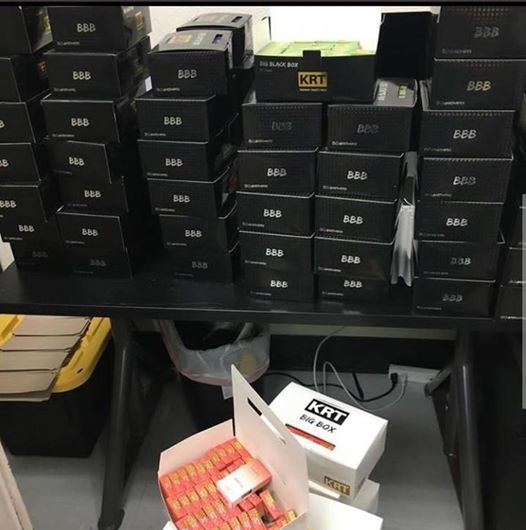 When comments ask about buying, the only reply is one instructing the visitor to ask on WhatsApp.
Rule #3 of fake carts: When you find illicit dealers without even looking at Instagram
Here's another vendor on Facebook, with a row of KRT Yang boxes lined up next to somebody's butt: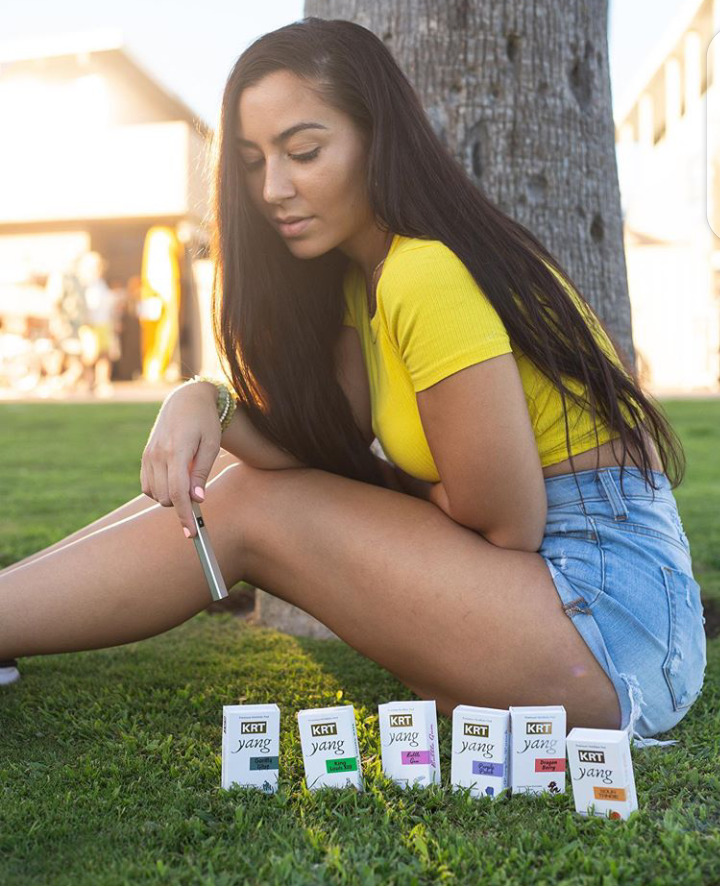 Meanwhile on Twitter, #KRTCart yields a hit. On Twitter all the hashtags flow together – again, all they care about is you wanted a vape, you're here, regardless of what "brand" you were searching for. So the hashtag for KRT appears over a video for Guess Who: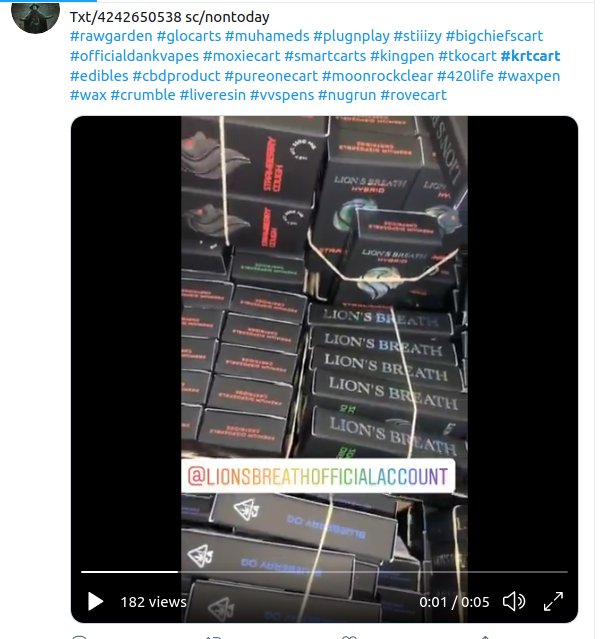 Lion's Breath seems to be stupidly popular on the black market. What, are people eating them by the handful?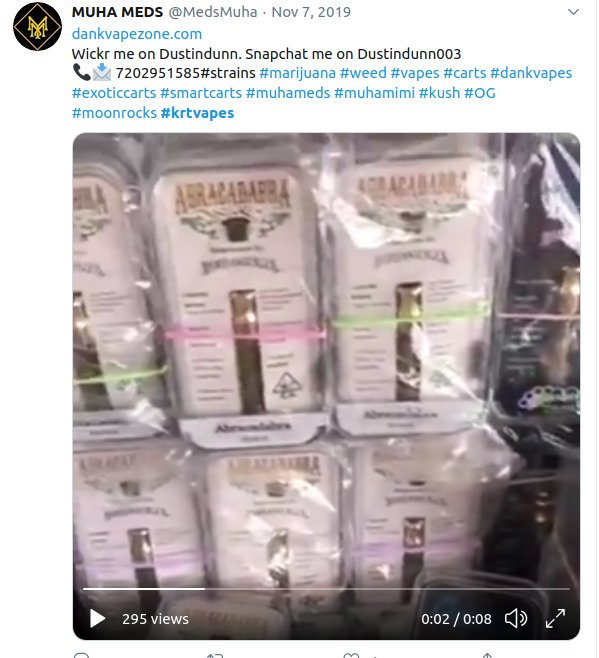 We can top that: An account named Muha Meds with a website called "dankvapezone" (as in Danks) that comes up for a KRT search while showing a video of knocked-off "Abracadabra" Brass Knuckles packaging. Brass Knuckles does indeed carry an Abracadabra line, but it's copied already. Like we say, keyword stuffing.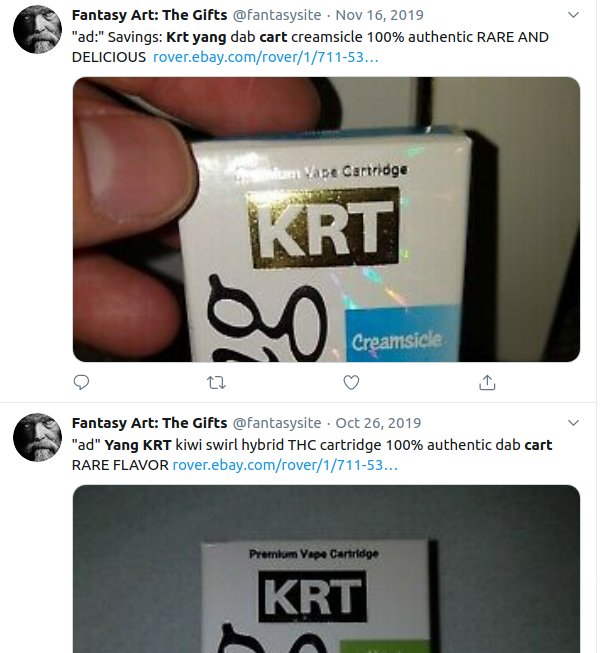 This Twitter account is trying to sell KRT on eBay? The link has since been taken down off eBay.
Street vendors are now just stone cold advertising on YouTube (VOLUME WARNING):
And now for a KRT vendor advertising on Pinterest! Yes, we have a live Pinterest hit, mark that spot on your social media bingo card: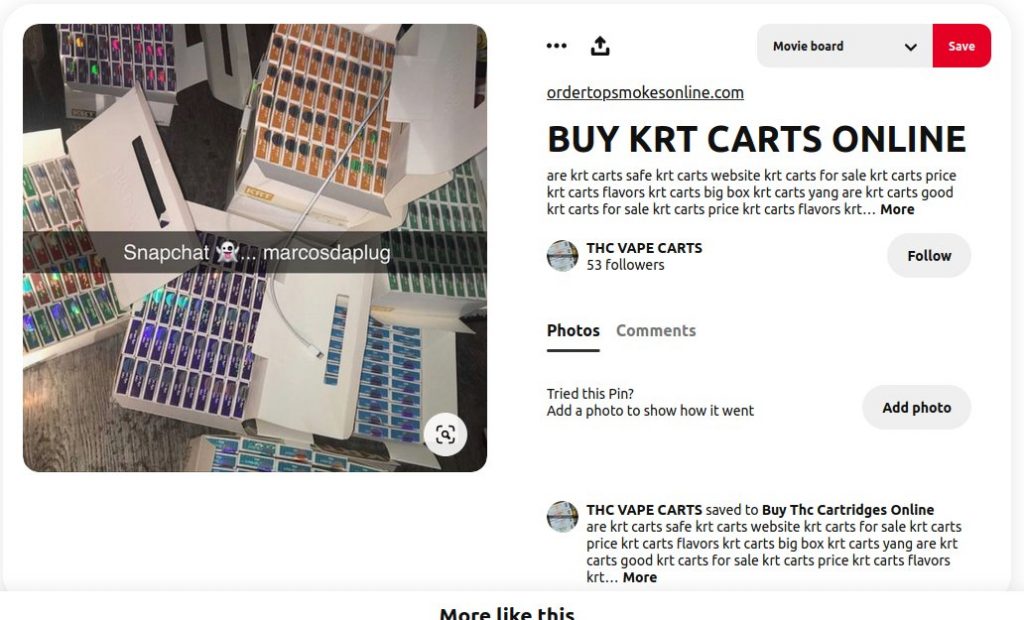 But this vendor says to shout out to them on SnapChat.
We also find the obligatory LeafedOut vendor selling KRT vapes. Then we found this: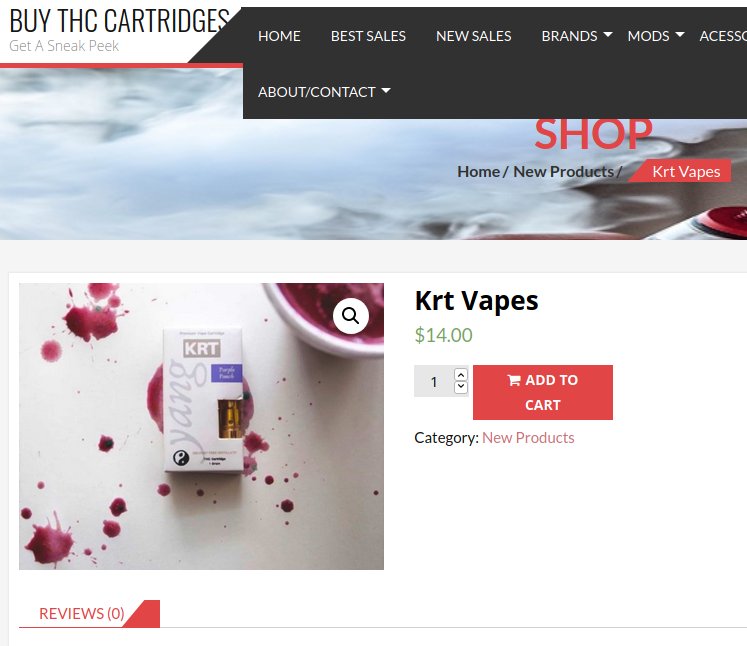 Yes, that says $14! Since scam order sites abound for THC carts, this might be an arbitrary price picked to make people bite. When we zoom in here we notice: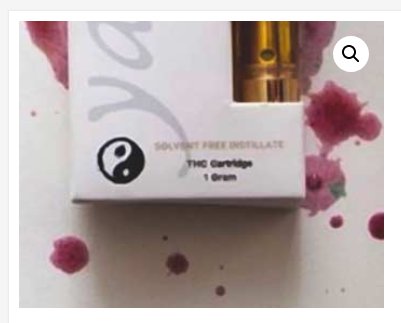 …that yin-yang symbol looks like it was drawn on the box with a sharpie.
And THEN we get to Reddit…
Not even much point to go this far, but here's someone reporting life support from respiratory failure just one month ago, with a list of carts that include KRT/Yang.
This Redditor found the eBay carts. This post is a roller-coaster and we are never getting off.
Wait, we tried again and found the eBay seller. We missed out but made it in time for six bottles of deer placenta.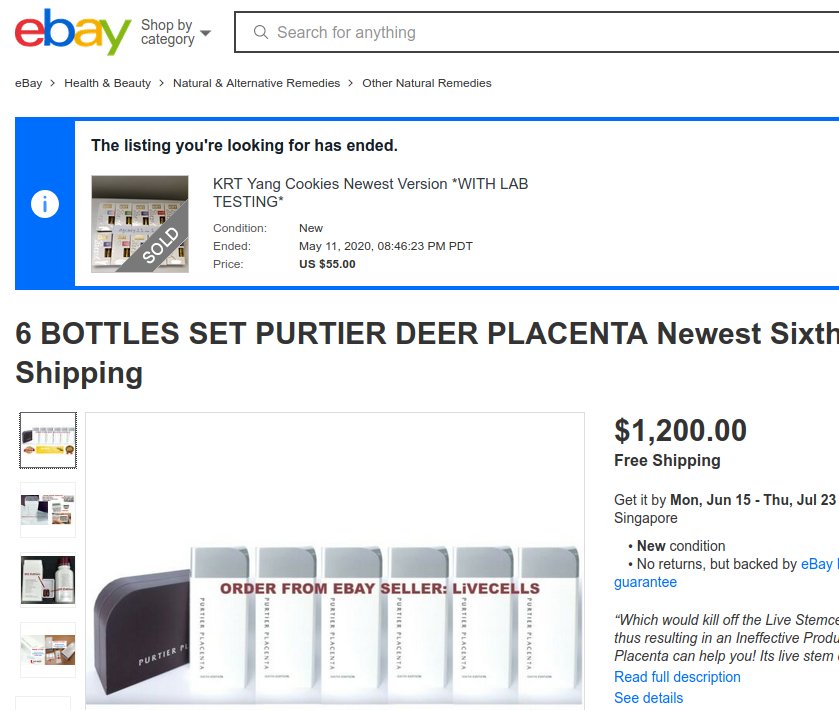 Here's a Redditor doing a quality test on a KRT cart, the gram cart comes in at 0.5 grams.
There's the usual swell of Redditors finding these carts and asking if they're legit, but by now our point has been most firmly made.
But you know what we DIDN'T find for KRT?
Sing along with us, gang!
We didn't find a LICENSE, a COMPANY, a WEBSITE, a PERMIT, not even a state of origin for KRT / Yang vape carts!
UPDATE: the world of KRT on Instagram
A commenter showed up to take exception to our review of KRT carts. First he posts one Instagram which he claims is the "official" one and challenges us to search up "krtvapes" on Instagram.
Well, perhaps that commenter should have tried that exercise themselves first before telling us. Because it's clear that if you're trying to find the original KRT producer by searching "krtvapes" on Instagram, you're going to have a bad time. A full list of every account we find on Instagram just searching for "krtvapes":
krtvapes, krtvapes_oc, krtvapesplugplay, krtvapes.verified, krtvapesohio, krtvapes.weedcards_online, krtvapescare, krtvapes_official, krt_vapes_, krtvapes5, krt_vapes, krtvapes6, krtvapes_colorado, krt_vapes_wholesales, krt.sd, krtvapes_ill, krtvapesofficialaccount, krt_oils213, krt.vapes, krtvape.la, striker_krtvapes, krtvapes.oc, krtvapes.weedcarts_online, krtvapestheofficialbrand, verified_distro, krt_vapes_bmd, krtvapecartsofficial, krtvapes420, krtvapes415420, krtvapes310, krtvapes7, krt_vapes_best, and krtvapess.
That is stupidly ridiculous! This does not happen, not even with gray-market street brands. KRT just won the "DANK vapes" prize for most "official" Instagram accounts. At this point, we are all the "official" owners of the KRT vape cart brand.
Same commenter circles back and links to Instagram account krtsd_3, a completely *separate* Instagram account because there's more when you just search for "KRT" without "vapes." That channel has exactly one post, submitted here without comment: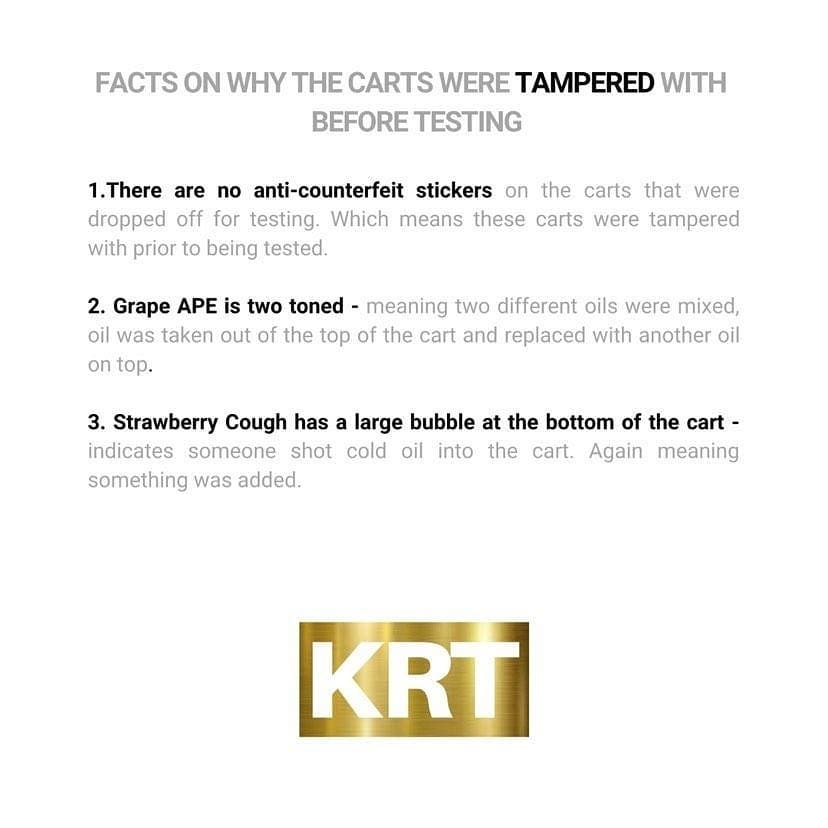 We have no idea what that is referring to. We here at DabConnection have not tested any KRT carts ourselves. Perhaps that was directed at somebody who did.
For further Instagram accounts, we found the following number of Instagram KRT accounts answering to the following searches: "krtyang" (3), "krtcart" (6), "krt710" (28), "krtpen" (8), "krt420" (46), "krtweed" (2). That's over 100 accounts on Instagram alone, all claiming to be _THE_ *OFFICIAL* KRT vapes brand.
Update October 2020: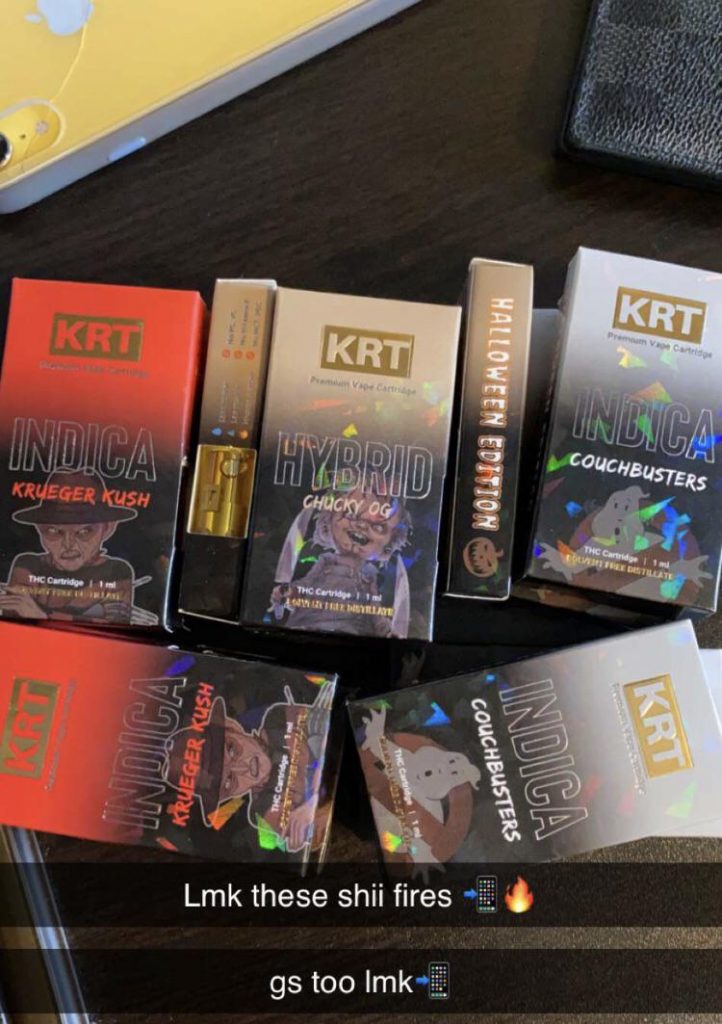 Unlicensed, unregulated brands like KRT/Yang may contain anything
There is a deadly epidemic of lung illness tied to black market cart usage. Vaping-associated pulmonary injury has so far claimed 64 lives and hospitalized more than 2700 users. This was the main health story in the news before Corona Virus COVID-19 cases pushed it off the front page, but people are still getting sick off boof street carts. Unregulated vape carts could contain heavy metals like lead, pesticides, cut such as Honey Cut, or simply bunk. Or they could be fire if you're lucky. But a lot of people in the hospital right now weren't lucky.
If anybody has more information on where these are circulating, please feel free to help us protect public safety by sharing it with the community here in the comments or in our forum.