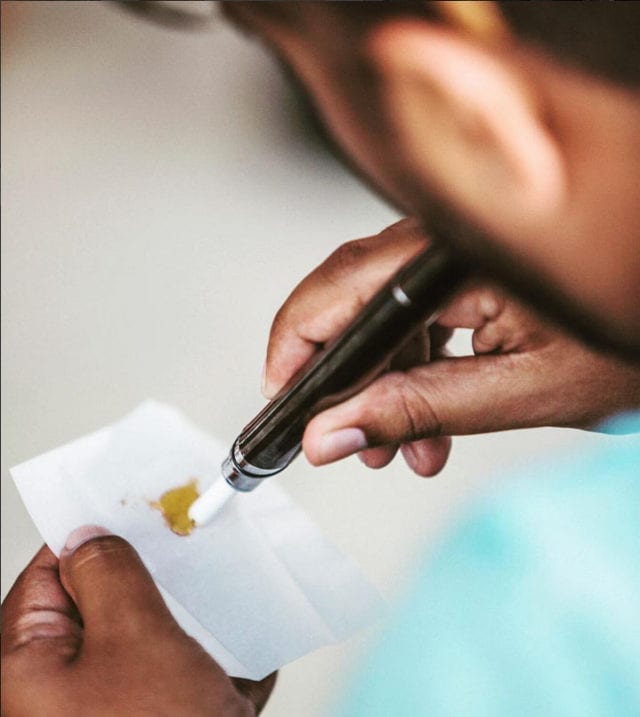 REVIEW OVERVIEW

Versatility / Atomizer Options

5

SUMMARY

The Dipstick Dipper is a great vape pen with a unique design and an innovative air carb. The Nectar Collector design feels like an afterthought and more of a gimmick than its main intended purpose.
Dipstick Dipper Review: Great Vape Pen; OK Nectar Collector
The Dipstick Dipper is Dipstick Vapes newest 2.0 model taking over for the original Dipstick they released in 2016. It's an improvement in every way according to them over the trendsetting design. It adds the ability to be used as a vape pen. Will Dipstick 2.0 take the vape pen market by storm?
Design & Quality
The Dipper's quality compared to the original Dipstick 1.0 is miles ahead of its groundbreaking model from last year. The obvious upgrade from last year is the addition of using it as a vape pen. The best way to describe the look of Dipstick Vapes Dipper is like a huge micro vape pen. Similar to a Micro G or a CloudV.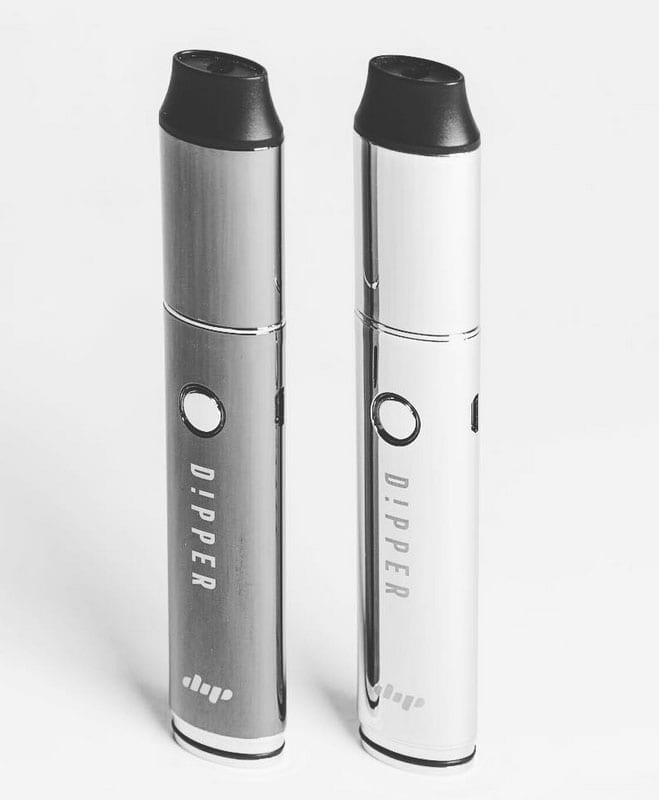 The Dipstick Dipper has two modes: Vape Pen-style and Nectar Collector-style. Use the included quartz double coil atomizer to use it as a vape pen or unscrew the double coil atomizer and replace it with the vapor tip, place the mouthpiece on the bottom, and use as a Nectar Collector. There is a large open-air path 5mm in diameter that travels through the left side of the battery. This either supplies vapor to the mouthpiece using it as a Nectar Collector or air flow to the atomizer as a vape pen. This is actually very useful. Now you can cover it and release when in vape pen-mode to make it act like a huge air carb.
The look is sleek and feels solid, though it has its flaws. The first is the reclaim chamber cover. It's held on securely by the atomizer. This means that every time you remove the atomizer, the thing falls off. We know its removable so you can easily clean the air path, but they could have easily made it so it secures independently in place. In regards to cleaning, this is a breeze with the easy to reach air path. Just use a long cotton swab.
Charging is a breeze with a side loading micro USB port.
The most important part of a vape pen though, is the atomizer. It's sad when such a well made vape completely drops the ball on this matter. The vapor tip is an inch long ceramic hollow rod that sticks straight up and at the tip has what appears to be Kanthal coil that coils around the inside of the ceramic walls. The ceramic is also fragile. One of ours had the tip crack off when dropped once on a plastic surface.
The quartz double coil atomizer has a very deep chamber for easy loading. It does hold more than most other vape pens. The atomizer's Kanthal coil leaves a lot to be desired on taste. Titanium is almost expected in 2017.
Ease of Use
As a Nectar Collector:
The Dipstick Dipper works easily enough. You screw in the vapor tip, place the mouthpiece on the bottom, select your heat setting, power it on, then place the vapor tip on the wax and inhale. The problem is the actual vapor tip. Because the coil is on the inside, the best way to vape wax is straight down. If you go in at an angle, the wax touches the outside of the ceramic rod, and just sticks or bubbles over and drips down.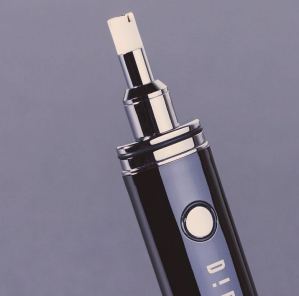 As a Vape Pen:
This is where it excels. Funnily enough the Dipper is a much better vape pen than nectar collector. Screw the included double coil atomizer, put the mouthpiece on the top over the atomizer, set your desired heat setting, power on, inhale. Now you got a powerful vape pen. The bottom airflow also has the added bonus that you can block and unblock as an air carb for bigger hits.
Herein lies the problem with Dipstick Dipper. Almost every time I used it as a nectar collector, it was more of a chore to review it. I continuously kept turning it back to its vape pen mode because  it's just more of a hassle to use a Nectar Collector. Especially given how well it works a vape pen. The 3 heat settings on the Nectar Collector's short coiled vapor tip basically gives you the option of Hot, Red Hot, and Lava. Then you have to angle it just right. Make sure you're using a glass container (not included!) because it's hot… but it's just too much hassle. In vape pen mode, the 3 settings give you a nice range of Low, Medium, and High (Blue, Green, Red). On Green you can sip away nicely on a pea-sized ball of wax for a minute.
When it works so good as a vape pen, its main function, seems like a gimmick.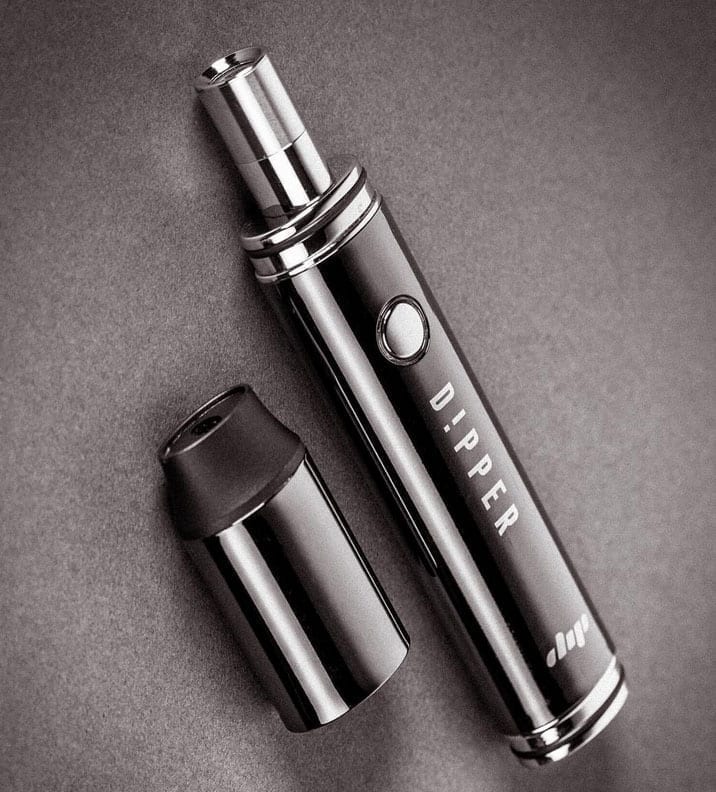 Strength
The Dipper vape is strong hits, but nothing lung clenching strong with in nectar collector-mode, even at its highest setting. As a vape pen, you noticeably harder and bigger hits when you use the air carb below, but even at highest setting, you're never clenching for dear life back from the abyss.
Efficiency
The quartz double coil amazingly had no leaking from the atomizer at all. The coils are low enough that almost all wax below is also vaporized. The long slim atomizer design means you can easily fill your wax on to the coils easily.
The vapor tip though in nectar collector mode, is sadly, not as efficient. The aforementioned inside coil means that if you don't hit straight down unto the coil, wax is going to get on sides of the ceramic and just stay there or drip down. You're thinking, "go in at an angle and scoop up the wax into the coil," which works, but then there is wax that gets stuck on the inside of the ceramic walls. It leaves you feeling that some of the wax is wasted.
Versatility / Atomizer Options
The Dipstick Dipper's versatility sets it apart, basically because no other vape pen allows you to use it as a nectar collector. The problem is: "Jack of All Trades, Master of None."
As a vape pen, it only has 1 atomizer, a quartz double coil kanthal atomizer. As a Nectar Collector, it has its vapor tip. They need to release some coil-less vape pen atomizers and titanium coiled atomizers, and release a better vapor tip that works better and doesn't use that cheap of a coil.
Portability
The Dipper's oval shape means it smoothly fits in your pocket without looking bulky or being an eyesore. It's too big to hide in your hand but at only 5.5 inches; it fits snug in the palm of your hand.
Discretion
Discretion with the Dipper's vape pen mode is great except for the clouds you release. You'll be left explaining that it if someone ever sees it due to its unique design, but you can easily pass it off as a fancy eCig or a huge Juul.
Just don't use the Nectar Collector in public or you'll raise more than a few eyebrows.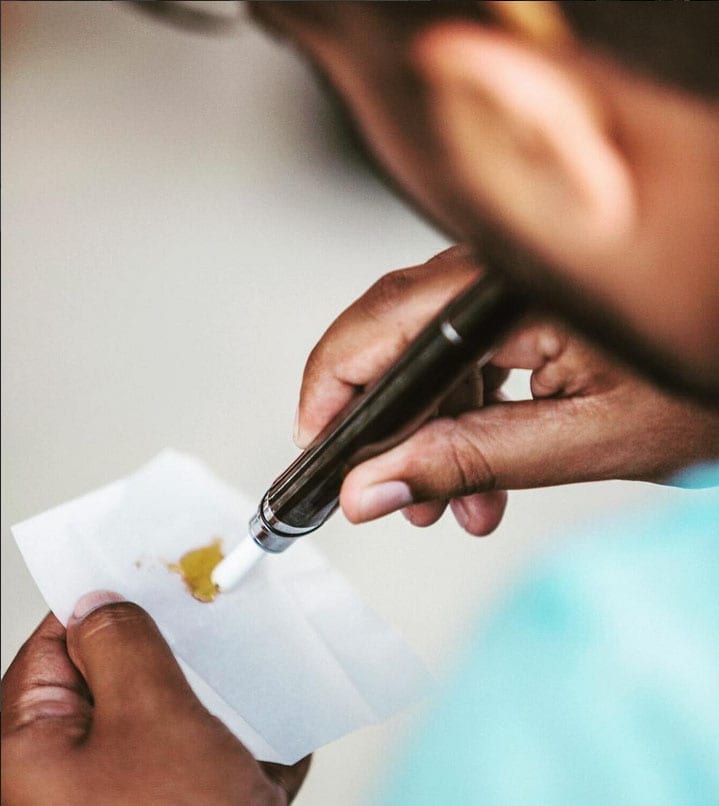 Taste
As with almost every category, Dipstick's Dipper best flavor comes from the quartz double coil atomizer. In nectar collector mode, the vapor tip's coil gives you the harshest taste, smells like metal when you heat it up, and in general just has a  horrible taste reminiscent of 2012 wax pens.
The quartz double coil atomizer gives you good flavor on Green and Blue settings, but make sure to "waste" the last past of the wax near the coil, because it tastes burnt.
Value
The Dipstick Dipper is the most expensive nectar collector-style vape pen at $149.99, but also the only one to work as vape pen, too. It comes included with 2 vapor tips, 1 quartz double coil atomizer, a loading tool, cleaning swabs, and micro USB cable. When you consider the atomizers only cost about $25 retail , you're paying about $125 for the model. Still way too much for a product you'll be mostly using as a vape pen.
Replacement Costs
Replacements for the Dipstick Dipper atomizers are dirt cheap compared to other vape pens, in fact a replacement mouthpiece costs more at $14.95 than any single atomizer.
Quartz double coil atomizers range from $9.99 each as low as $8.33 each in a pack of 3, while the vapor tip comes either as a pair for $14.99 or 5 for $29.99, a little under $6 each.
Dipstick Dipper vs Boundless CF 710
The Boundless CF 710 is considerably stronger hitting than the Dipstick Dipper. The Dipper has the option to be used as a vape pen, which adds to discretion. See our CF 710 review for more info.
Overall
The Dipstick Dipper is a much better vape pen than nectar collector. However, at this price and with the coil types offered, it leaves a lot to be desired for taste and value.